Weber Spirit II E-310 vs Genesis II E-310

If you have ever considered purchasing a semi-stationary grill, you definitely heard about Weber Spirit and Genesis series. These are one of the best-selling modifications on the market that provide perfect cooking and easy exploitation. However, the similarity of these model branches causes certain difficulties in choosing.
Today, we'd like to conduct the Weber Spirit II E-310 vs Genesis II E-310 battle to discuss the main differences between the products. Hope the article will help you make the right choice considering your requirements, conditions, and budget. Let's get started!

Main Differences Between the Models
Here is the list of functional differences between our Weber grills:
Weber Spirit II offers 529 square inches of the total cooking area. Weber Genesis II becomes almost 25% bigger, providing 669 square inches.
The models have 30000 and 39000 BTU rate, respectively.
While both provide two side tables, the Spirit's left is folded, and the Genesis's both are fixed.
The first grill stands on two legs complemented by two wheels for easier transportation. The second grill offers four wheels and no legs.
Also, the Genesis product features a special tank niche.
Customers will see slight changes in the grease management system. In Spirit 310, it's located right under the grill zone. But engineers lowered it to the middle of the cart in Genesis 310.
Inside, flavorizer bars are made of porcelain-enameled cast-iron and stainless steel, respectively.
Finally, the Spirit's warming rack is removable, and Genesis's one is tuck-away.
Comparison Table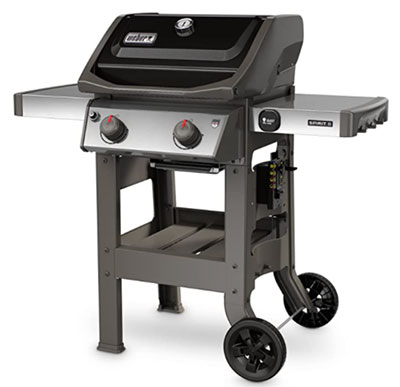 Weber Spirit II E-310 is a large BBQ grill with an impressive cooking area. We've already discussed its increased dimensions in comparison with the earlier Weber Spirit II E-210. If you're interested, you can get acquainted with this information in our Weber 210 vs 310 review.
The E-310 modification gathered all the advantages of Weber engineering. We mean the Weber GS4 grilling system that consists of ignition, burners, flavorizer bars, and intelligent grease management.
The grill boasts 3 separate burners and 3 valves for temperature adjustment. The process is a piece of cake as a built-in thermostat accurately reflects the current °F/°C degrees.
This version works on Liquid Propane. However, you're free to choose a Natural Gas option if you have the necessary plumbing.
Weber Spirit II E-310 is perfect for frequent cooking tasks, large families, and big parties. It allows for roasting a huge amount of food at once and keep it warm while a new batch is cooked, thanks to a warming rack. Besides, you have lots of storage space around presented by two wing tables (the left folds down), an open cart, and six tool hooks.
However, even the best products cannot avoid some drawbacks.
The Spirit II E-310 includes dozens of parts, so its mounting and installation is quite complicated and time-consuming. Many users also note that the cover scratches too easily.
Pros
even roasting with 3 burners and independent flame control valves
a large cooking area for 18+ burgers
infinity ignition
warming rack system for food warming
flavorizer bars
grease management system
wide storage area with two side tables and an open cart niche
six built-in hooks for immediate access to cooking tools
thermostat included
easy cleaned durable materials
2 wheels for easier moving
fuel gauge for fuel level control
Cons
expensive
really challenging assembly and installation
easily gets scratches and dents
only the left table folds down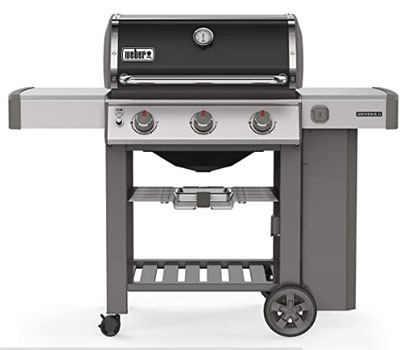 Weber Genesis series was developed on the basis of the popular Spirit. This explains a number of similarities revealed when comparing Weber Spirit 310 vs Genesis 310. At first glance, they are almost identical, especially in design. However, we'd like to describe several crucial moments that may influence performance and your product choice.
The Genesis II E-310 boasts the same GS4 system with an intelligent grease management system, flavorizer bars, 3 high-performance burners, and infinity ignition. The first two units significantly differ from their twins seen in the Spirit II E-310 product. We'll discuss it later in details, so stay with us to know how.
Here, we also have three burners, but the total cooking area was enlarged, making Genesis 310 one of the largest BBQ grills on the market. A warming rack was also changed both in dimensions and construction. In all senses, Weber Genesis is a bigger and more powerful model for the most crowded parties.
Our competitor works on Liquid Propane and even features a unique side-mounted niche for convenient gas tank storage. But, traditionally, you can opt for a Natural Gas modification.
Storage areas were preserved, so we can still enjoy two side tables with six hooks and an open cart.
attention
Please pay attention that though tables became more durable, none of them folds now, which negatively influences the product's compactness. However, transportation is improved thanks to four wheels.
Surprisingly, Genesis 310 inherited both pros and cons of the Spirit 310 model. Get ready for complicated installation and possible scratches.
Pros
the most powerful and quickly heated grill
the largest cooking area to fit 20+ burgers at once
even roasting with 3 burners and independent flame control valves
infinity ignition
tuck-away warming rack system for food warming
flavorizer bars
grease management system
wide storage area with two side tables and an open cart niche
six built-in hooks for immediate access to cooking tools
thermostat included
easy cleaned durable materials
4 wheels for easier moving
gas tank niche
fuel gauge for fuel level control
Cons
expensive
difficult assembly and installation
easily gets scratches and dents
both tables don't fold down
Face to Face Comparison
Model Options
As we've already mentioned, both Weber Spirit II E-310 and Genesis II E-310 support Liquid Propane and Natural Gas. The models are identical and differ only in gas source.
The Spirit series is also available with a closed cart design, fixed tables, 4 wheels, and changed tank location. If you want such models, please look for Weber Spirit E-310 without the «II» sign.
Apart from the E-310, the Genesis grills include the E-315 modifications. They differ in open and closed cart design. That's it.
Thus, we've got four Weber Spirit E-310 product options:

And four Weber Genesis E-310 product options:

Design and Dimensions
If you're looking for a compact, lightweight grill for on-the-go use, we'd recommend you Weber Q series. Neither Genesis nor Spirit will meet such needs as they are developed as stationary models. Dimensions only prove that.
Weber Genesis II E-310 measures: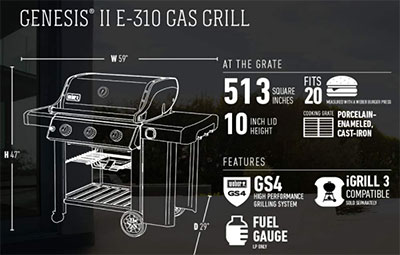 59″ x 29″ x 47″
133 pounds
Genesis will require more space. When considering where to put it, please mind that the tables are fixed here.
However, though Genesis 310 loses in terms of dimensions, it's easier in transportation thanks to four wheels. Its rival offers two wheels and two massive legs for greater stability.
verdict
Thus, when choosing between Genesis 310 and Spirit 310, consider your transportation requirements. Family use means fewer movements, and a stable grill will ensure safer cooking. However, if owners need to change the grill's location, Genesis is a better option. It will suit both private use and even professional purposes like street food cooking.
In terms of design, grills are twins. You will get a stylish product made in moderate black, grey, silver, and steel shades. There is also a white lid color option.
Fuel Type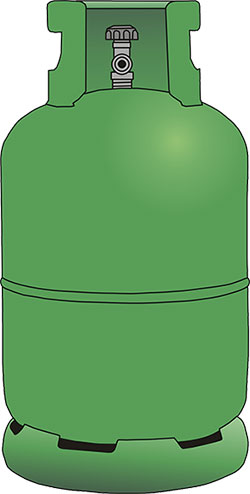 The models discussed use Liquid Propane gas. This gas is usually stored in tanks or cylinders that are widely used for cooking and can be easily purchased.
attention
Weber doesn't provide gas tanks with the grill kits, so please be ready to buy the unit separately.
Both series support the same tank type. According to the user's manual, a tank must be approximately 18¼ inches (46.35 cm) high and 12¼ inches (31.1 cm) in diameter with a marked 20 pound (9.07 kg) LPG capacity or 47.6 pounds (21.6 kg) water capacity. Tanks must be provided with an Overfilling Prevention Device and a Type 1 (CGA 810) tank connection. The tank connection must be compatible with the grill connection.
Both the Spirit and the Genesis come with a special storage area for tanks outside the cabinet base under the right side table. However, while the first grill provides just open space, the second model features a closed niche for neater tank placement.
Once installed, tanks display the gas consumption level through a built-in gauge system.
As we've already mentioned, if you have the required Natural Gas plumbing, you can purchase Weber Spirit and Genesis Natural Gas models. In this case, you need no additional tanks.
Cooking Area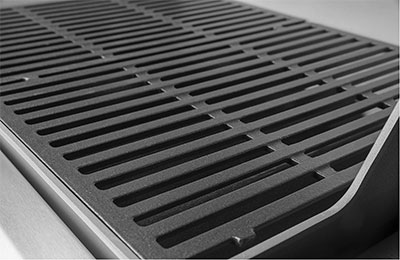 Both grill generations use porcelain-enameled cast-iron cooking grates. Materials and design contribute to a crispy crust and attractive grill strips on your food without burning. Moreover, the grates are easily cleaned.
Weber engineers developed a special reversible grate design, which means the grates vary in width on the sides. A thinner part is designed for delicate cooking like vegetables, fish, seafood processing. Burgers, sausages, and meat require a thick grate side for deep roasting and rich flavor.
When it comes to dimensions, the Spirit II E-310 has 424 square inches of the main cooking area that forms 529 inches together with the warming rack. According to the manufacturer, this grill can roast up to 18 medium-sized burgers.
Weber Genesis II E-310 features 513 square inches of the primary area and 669 square inches of the total surface, including the tuck-away warming rack.
As you can see in the second product, the grates were significantly enlarged and now can fit 20+ burgers.
Warming Rack System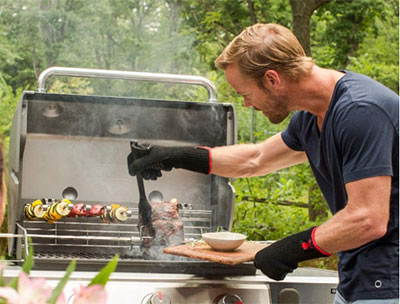 The warming rack is an excellent addition developed by Weber. The rack allows users to warm food while another batch is cooking. Warmed food doesn't take space on the main grills, doesn't overheat or disturb you in any way.
The Spirit 310 product offers a simple and useful removable rack of 105 square inches.
The Genesis boasts of a slightly changed rack design. It's called the tuck-away warming rack and allows you to fold it down when not in use. The whole size is also enlarged and now forms 156 square inches.
Warming racks enter the total cooking area but aren't directly used for cooking. Thus, you get optimal grilling space and convenient in-the-grill storage.
Burners and BTU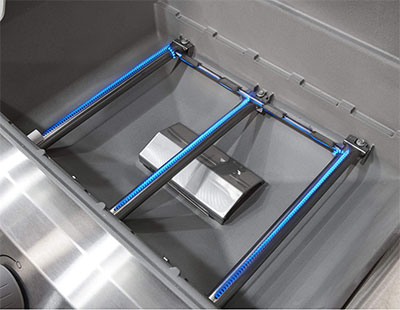 Burners are almost the main part of a grill as the cooking result directly depends on their number and location. Each burner looks like a tube with small holes, inside which gas is distributed. Holes allow flames to come out and heat food.
The more burners and holes you have, the evener heating will be.
The Spirit E-310 and Genesis E-310 are identical in terms of burners. No matter what model you choose, you'll get three burners – on the left, right, and in the middle of the grill. The location is optimal for all types of food.
When it comes to heating power, Weber Spirit II E-310 produces 30000 BTU (BTU here stands for British thermal unit).
The increased space requires greater heating capability. That's' why the Genesis model offers 39000 BTU.
Burner Valves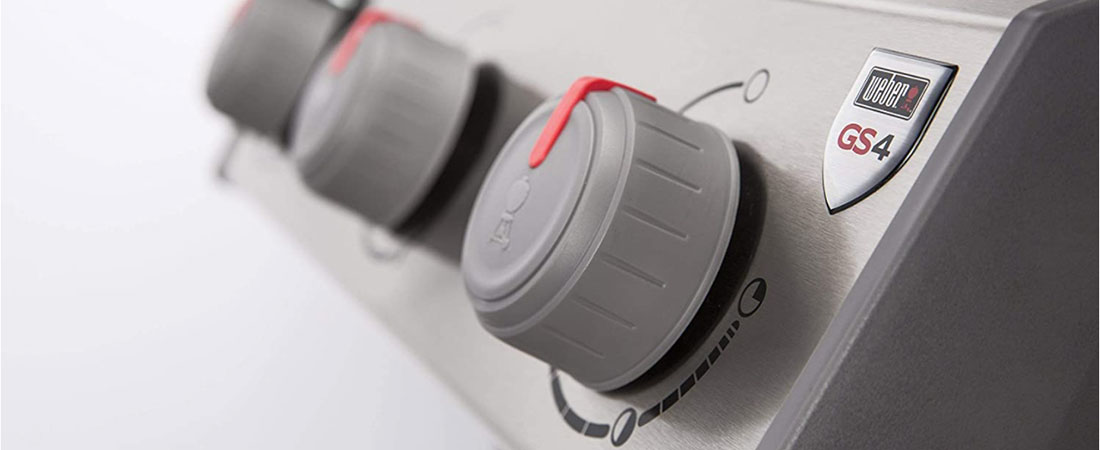 Each burner is equipped with an individual valve for accurate flame control. The scale includes the following heating marks: OFF, Start/High heat, Medium, and Low. Thus, orientating on them, users can adjust the optimal flame intensity.
The temperature rate varies from 0° to 600°F/ 315°C. Use the built-in lid thermostat for accurate control.
You can also choose which burner to activate according to your current cooking preferences and needs. The manufacturer calls it Direct and Indirect heat. When you turn on the flame right under the food, you use Direct heat. Indirect heat means the flame is in the next burner.
Burners' number, position, and independent control make it possible to cook several dishes simultaneously with your Weber Genesis II E-310 or Weber Spirit II E-310.
Ignition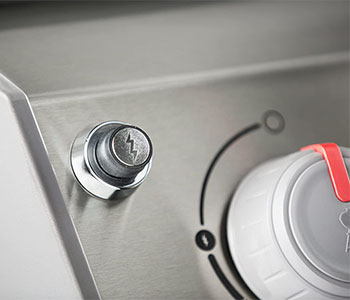 You don't need to use matches for your grill anymore. Up-to-date Weber grills apply easy ignition with one button push.
The button is located in the same rank with valves (next to the left one). The built-in electrode releases sparks that ignite the left burner. Others flame one by one automatically. The system is called the crossover ignition.
Automatic ignition is recognized as the safest and quickest method.
attention
Please pay attention that the manufacturer recommends preheating your grill for 10-15 minutes after ignition for the best cooking results.
Flavorizer Bars


Ignition was the first element of the Weber GS4 system, and now we came to the next stage, called flavorizer bars.
The bars look like V-shaped plates that cover the burners and serve for several tasks. Apart from burner protection against grease clogs, flavorizer bars vaporize meat juices for a delicious smoky scent. And the liquid left gently falls down into the grease management system.
verdict
The only difference here is the materials. Weber Spirit II E-310 uses porcelain-enameled flavorizer bars. Weber Genesis II E-310 is equipped with stainless steel flavorizer bars.
Storage Space (Tables + Open Cart)


In these series, Weber provides customers with three storage zones. These are dual side tables with 6 built-in hooks (perfect for mitts, spatulas, tongs) and an open cart under the main grill area.
Though engineers seem to save common storage design in both BBQ grills at first glance, we'd like to describe a couple of crucial differences.
Firstly, while the Spirit features one fixed table (the right one) and one folding (the left), its rival's tables are fixed in the upright position.

attention

Attention! Please pay attention that many customers get confused by the manual that claims Weber Genesis II E-310 offers one folding table. Older versions of the Genesis II E-310 (model # 61010001) did feature a folding left-hand side table. The current products don't give you such an opportunity.

As we've already mentioned, the folding option contributes to the compactness; that's why Genesis loses somehow. But if tables obstruct your cooking area, you can just remove them.

Tables are made of durable stainless steel and can hold great weight. They measure approximately 16″ (front to back) x 13.5″ (left to right) x 3″ (tall).

And the second difference is an open cart. Weber Spirit guarantees more storage space, even for high, bulky accessories. The Genesis cart is divided by an additional tray grill and is lower because of the changed grease management system.
Catch Pan


Catch pan is an obligatory part of the Weber GS4 grease system. All juices left after evaporation are directed down into a catch pan.
In the first product, the pan is installed right under the grill area on a special tray.
In the second grill, it's set almost twice lower.
Weber also offers disposable drip pans that are put in the metal catch pan. Thus, you won't have to wash it.
Accessories
Both series come with the following kit:

user's manual
10-year warranty
built-in thermostat
The grills are also compatible with iGrill 3 app-connected smart thermometers, though they are also sold separately. So are the and disposable drip pans and gas tanks.
Buyer's Guide: How to Choose the Best BBQ Grill?
Now, when you see how many functional elements there are in a BBQ grill and know how pricey they are, the question of choice becomes even more complicated. Please consider the following buyer's guide to invest your money wisely.
Mind the frequency of grill use. The more you're going to cook, the better and bigger option you can buy.
Mind how many people you are going to cook for.This will also result in the grill/cooking area size.
Mind where you'd like to use it.Though there are universal models, stationary and portable grills differ too much to neglect this factor. Portable grills are lighter and more compact, which is perfect for traveling, camping, etc. A backyard requires a more solid and big option.
Mind fuel type.There are charcoal, gas, and electric grills. Each type has its pros and cons to meet certain conditions and requirements. The final choice is yours, but please do pay attention to this characteristic.
Mind safety measures.The most important things here are a lid, stable legs/cart, safe ignition, fuel connection, and insulation. A user's manual is also crucial.
The other factors to mind are:

accessories included in the kit;
grill materials;
brand reputation;
warranty;
Frequently Asked Questions
1. Weber Spirit II E-310 vs Weber Genesis II E-310: which is better for the money?
Both models are perfect for their areas of application. However, we'd recommend Weber Spirit II E-310 as an optimal grill for backyard use. It's made to last and feed large parties, even though it's smaller than Weber Genesis II E-310. Spirit costs cheaper than the Genesis. Finally, you get a more convenient folding table, heat deflector for anti-burning protection, and more stable 2 wheels+2 legs construction.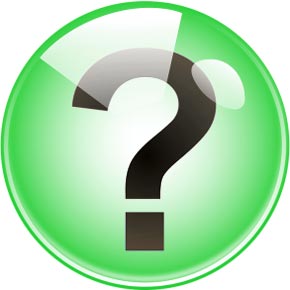 2. What gas tank do Weber Spirit II and Genesis II E-310 grills require?
These models need the standard 20 lb Liquide Propane tanks.
3.Do Weber Spirit and Genesis grills offer Direct and Indirect heat? Can I get all degrees of doneness?
Yes, both Spirit and Genesis II series allow us to use Direct and Indirect heat. Indirect heat is applied for rare, medium-rare, and medium meat. Direct heat provides well done degree.
4. What's the difference between stainless steel and porcelain-enameled cast-iron flavorizer bars? Which is better?
Stainless steel bars are much more durable and easily cleaned. But porcelain-enameled cast-iron bars provide better non-stick coating and heat retention, which is crucial for cooking.
5. What is the warranty for Spirit II E-310 and Weber Genesis II E-310 grills?
Both series carry a 10-year warranty.
Conclusion
Weber Spirit and Genesis are excellent stationary series that guarantee quality, durability, and taste. However, the choice is hard.
We think Weber Genesis II E-310 currently costs too much and provides a too large cooking area for common domestic application.
Weber Spirit II E-310 is our golden mean. The product offers all the advantages seen in the previous grill and more (like a folding table). Smaller cooking grates are still huge enough, even for crowded parties.
Anyway, the choice is yours. And after this review, you see that you can hardly lose anything with these two Weber options. Bon appetit!