Weber 210 vs 310 Spirit II

Ease of use, quality, perfect taste, and flavor – that's all about Weber grills. If you're looking for a reliable stationary model, Weber Spirit generation is the first option to mind.
In this article, we're going to conduct the Weber Spirit 210 vs 310 battle to find out what Spirit II E modification is better for your cooking experiments.

Main Differences Between Weber Spirit E-210 and E-310
Before the main comparison, let's briefly list the most significant differences between the Weber Spirit grills:
The first Weber Spirit II E-210 has 2 burners, while the E-310 has 3 burners.
The second grill offers a larger cooking area.
The Spirit II E-310 also features an enlarged warming rack.
The difference in the number of burners provokes a difference in the BTU indicator.
The final difference is connected with the series model options rather than with the grills themselves. However, let us mention that the brand produces various Spirit grill modifications that differ in fuel types and some construction moments.
Comparison Table
The Spirit E-210 is an excellent semi-stationary grill with independent Liquid Propane gas consumption. The model features 2 burners with 2 flame control valves.
Users are offered a large cooking area, which is enough to fit more than 12 average-sized burgers. We also note quick infinity ignition, warming rack system to keep food warm, and convenient grease management system. Besides, part of the grease is vaporized by flavorizer bars for additional flavor.
All above-mentioned elements form Weber patented GS4 grilling system that ensures cooking close to professional cuisine.
The body and cooking gates are made of high-quality materials to provide easy cleaning and no burning. You're also safe from dangerous accidents thanks to the stainless steel heat deflector.
Let us additionally mention the presence of a built-in thermostat and extremely handy storage areas that include an open cart and two side tables with integrated hooks. Thus, you always have easy access to the necessary cooking tools.
Despite significant weight and dimensions, the Spirit II E-210 stays quite compact and causes the minimum of transportation problems as it features two wheels for easier moving.
Compactness could be even better, but for the fixed right table that doesn't fold down like its left twin. Among possible drawbacks, users also note the complexity of assembly and installation and easily scratched body.
Weber Spirit II E-210 will be an amazing addition to your backyard. Though you cannot take it to a picnic, the grill requires little space, has almost no minuses, and guarantees truly delicious results for the largest parties.
Pros
2 burners with independent flame control valves for evener roasting
large cooking area for 12+ burgers
infinity ignition
warming rack system for constant food warming
flavorizer bars
grease management system
disposable drip tray included
stainless steel heat deflector for anti-burning protection
wide storage area with two side tables and an open cart niche
six built-in hooks for immediate access to cooking tools
thermostat included
easy cleaned durable materials
2 wheels for easier moving
fuel gauge for fuel level control
Cons
not a budget grill
difficult assembly and installation that may require professional skills
easily gets scratches and dents
only left table folds down
No matter how large the E-210 model is, there are always customers who need more cooking space. That's why Weber developed its Spirit II E-310 grill. The product is enough to cook for a whole army. Here, you'll find one of the biggest cooking areas available in the grills.
Now, this space is heated by 3 burners that work on Liquid Propane. Consequently, there are 3 valves for temperature adjustment. A thermostat is traditionally included.
In a word, cooking gates and BTU temperature data are the main improvements. In this generation, the manufacturer kept and applied all technologies described in the previous model. Weber E210 vs E310 comparison shows the same Weber GS4 grilling system (ignition + burners + flavorizer bars + grease management). If you don't want your first batch of meat to cool off while you're roasting the second, just use familiar warming rack.
The manufacturer kept its convenient storage space system with wing tables (though, as usual, only the left folds down), an open cart, and six tool hooks.
As we see, Weber Spirit II E-310 got the same construction with enlarged dimensions. It means assembly and installation stayed quite complicated and even more – get ready to work with a million pieces.
A larger cooking area means a higher price. However, the speed and volumes of cooking will soon refund all expenses, but only if you are going to use your grill all the time and feed lots of people.
Pros
more burners (3 items) with independent flame control valves for evener roasting
the largest cooking area for 18+ burgers
more powerful and heats quicker
infinity ignition
warming rack system for food warming
flavorizer bars
grease management system
disposable drip tray included
stainless steel heat deflector for anti-burning protection
wide storage area with two side tables and an open cart niche
six built-in hooks for immediate access to cooking tools
thermostat included
easy cleaned durable materials
2 wheels for easier moving
fuel gauge for fuel level control
Cons
expensive
really challenging assembly and installation
easily gets scratches and dents
only left table folds down
Face to Face Comparison
Model Options
Before we come to the face-to-face comparison part, let us also note that both series offer additional grill models.
Weber Spirit II E-210 is accompanied by the Spirit E-210 modification that also works on Propane but features a closed cart design, two folding tables, four caster wheels. Besides, the LP tank is meant to be stored inside of the cabinet instead of its original side location.
Weber Spirit II E-310 we examine requires Propane. However, the brand also produces absolutely identical Spirit II E-310 grill working on Natural Gas. Thus, if you have Natural Gas plumbed, please look at this Natural Gas unit.By analogy with the E-210, both LP and Natural Gas E-310 grills are also available with closed cart design, 4 wheels, and changed tank location. But please mind that while the Spirit E-210 offers two folding tables, the Spirit E-310 modifications' tables are both fixed.
Thus, we've got two E-210 modifications:
Weber Spirit II E-210 Liquid Propane grill

(a competitor of our review)

Weber Spirit E-210 Liquid Propane grill with closed cart and folding tables
And as many as four E-310 product options:
Weber Spirit II E-310 Liquid Propane grill

(a competitor of our review)

Weber Spirit II E-310 Natural Gas grill

Weber Spirit E-310 Liquid Propane grill with closed cart and fixed tables

Weber Spirit E-310 Natural Gas grill with closed cart and fixed tables
Design and Dimensions
The Spirit series presents semi-stationary grills. The models are relatively compact and won't take too much space in your backyard. However, construction and weight indicate you cannot use them as on-the-go grills for picnics, journeys, etc.
Weber Spirit II E-310 measures: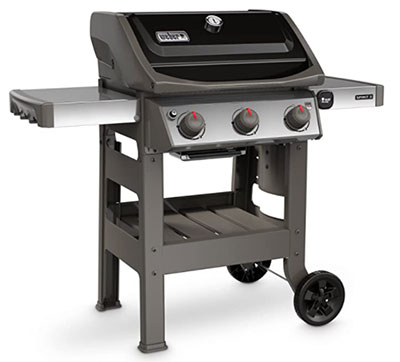 52″ x 26″ x 57″
42″ with the left hand side table folded down
107.8 pounds
As you see, the difference between the Weber Spirit 210 and 310 is not dramatic. The second option is slightly heavier. When it comes to dimensions, grills are almost identical except for the first length measurement.
The Spirit cannot be called completely stationary grills as they feature two wheels. Thus, you can easily move your cooking assistant around the backyard/terrace despite its significant weight. At the same time, once you chose an optimal location, you can be sure of the grill's steadiness thanks to two massive legs.
We'd also like to mention the presence of lids and dual side tables. Though we will come to the latter elements later and discuss them in more detail, let us state they contribute to the convenience of cooking but hurt the models' compactness.
The final moment to discuss here is design. Both grills will easily fit any interior as the manufacturer uses neutral black, grey, silver, steel shades. Webers look stylish, neat, and clean. Those who prefer bright colors can also find their perfect Weber grill – apart from the standard grey-and-black body, there are also white, blue, and red lid color options.
Fuel Type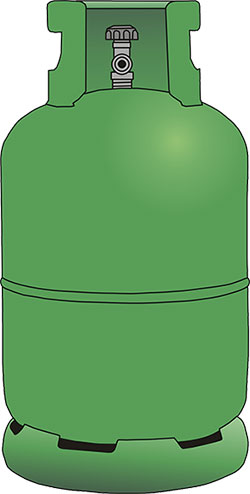 Both models we discuss in our review work on Liquid Propane gas delivered in special tanks/cylinders. Gas tanks are sold separately and are not included in the grills' kits.
A tank must be approximately 18¼ inches (46.35 cm) high and 12¼ inches (31.1 cm) in diameter with a marked 20 pound (9.07 kg) LPG capacity or 47.6 pounds (21.6 kg) water capacity. Tanks must be provided with an Overfilling Prevention Device and a Type 1 (CGA 810) tank connection. The tank connection must be compatible with the grill connection.
The Spirits have special tank areas for their safe storage. The tank should be located outside the cabinet base under the right side table.
For your comfort, the E-210 and the E-310 are equipped with a fuel gauge next to the gas tank. The unit shows how much fuel is left in the tank.
attention
Attention! Please remember that Liquid Propane is an extremely flammable gas. Its vapor can cause poisoning, accidental combustion, fire. Do follow all safety rules described by the manufacturer, use trusted gas tanks only, and check possible gas leakages. These simple measures can save your life!
Cooking Area
Weber Spirit II generation grills come with reversible porcelain-enameled cast-iron cooking grates. This element provides varying grate width for optimal food cooking.
A thinner part is designed for vegetables, fish, seafood – everything that needs delicate processing. A thick grate side is ideal for deep roasting and rich flavor. Thus, we'd recommend it for meat and burgers.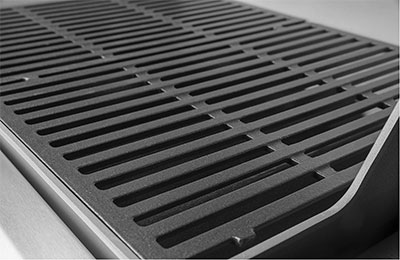 The E-210 model offers 360 square inches of primary cooking area. If counted together with the warming rack, it forms 450 square inches. As we've already mentioned, space is enough to cook 12 (+/- 2) burgers simultaneously.
The E-310 can boast an enlarged cooking area. The total square is 529 inches, while the main part takes 424 square inches. Now, users can fit up to 18 medium-sized burgers.
Warming Rack System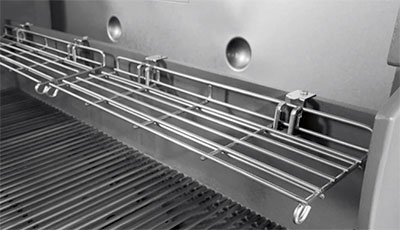 The warming rack enters the total cooking area but is not directly used for cooking. This is a special additional grate over the main cooking area where food is kept for warming.
The grate is removable, so you can apply it only when needed.
However, warming areas of the two Weber grills vary in size. The E-210 product offers 90 square inches. The E-310 has a slightly bigger rack that measures 105 square inches.
We really love the warming rack system as it helps keep your dishes warm while the next food batch is on the way.
Burners and BTU


Gas is evenly and safely distributed around the grill thanks to special burner tubes. Each tube has numerous holes from where flames come out.
Portable and compact grills like Weber Q grill series usually offer one burner only. Our competitors provide evener heating.
The first grill of our review is equipped with dual burner systems. Two burners are located on the left and right sides, thus heating the whole grate without «cold» spots.
The bigger cooking area in the second modification requires certain improvements in the heating. The E-310 uses three burners – the third is placed right in the middle.
Overall, dual and triple burner technologies produce 26500 BTU and 30000 BTU, respectively (BTU stands for British thermal unit).
Burner Valves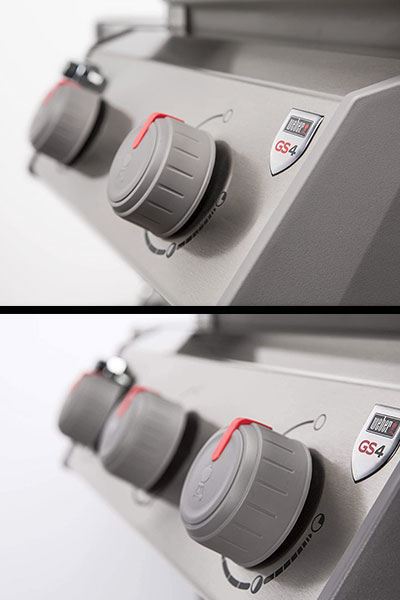 No matter how many burners your model has – each element is paired with its own burner valve. Thus, users can independently control grill sides and adjust flame intensity and location according to their current needs. You can even cook different dishes under one lid at the same time.
When you turn on the flame right under the food, you use Direct heat. Indirect heat means the flame is in the next burner. It's applied for medium-rare.
When it comes to temperature adjustment, you can't specify a certain temperature but can evenly change it with the valve turning. The scale includes:

OFF,
Start/High heat,
Medium,
Low
marks you should target.
The built-in lid thermostat definitely helps set the perfect temperature. Its scale shows we can reach 600°F/ 315°C.
The maximum temperature is reached within 10-15 minutes. The manufacturer highly recommends performing such preheating before every cooking to prevent food sticking.
Ignition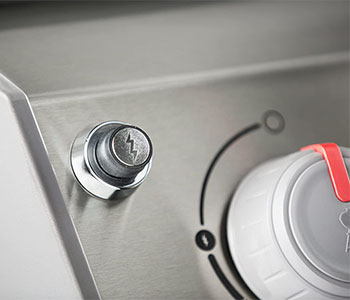 Weber Spirit II E series ensures quick and safe ignition that requires no matches, lighters, etc. The ignition button is located next to the left valve.
When pushing the button, we activate the igniter electrode. It sparks (you will hear the igniter clicking) and ignites the closest left burner.
The system is called the crossover ignition as only one left burner is lit, while others are automatically lit from the first.
attention
To ignite your grill, please turn the left burner valve into the Start/High position.
Flavorizer Bars


Flavorizer bars are special V-shaped plates that are put between the burners and the grate.
The bars have several functions, the main of which is burner protection. All food juices that drip from the grate falls on the bars and cannot clog the burner flame holes.
Secondly, most drippings are vaporized on the heated bars and leave the famous delicious smoky flavor no other cooking method except for the grill can provide.
Finally, the juice left follows the bars V slopes and is gently directed down into the grease management system.
Storage Space (Tables + Open Cart)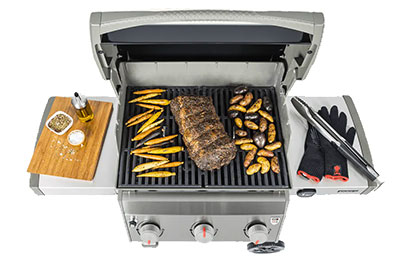 Storage space is one of the coinciding characteristics between the E series grills. The whole system consists of two side tables, tool hooks, and an open cart.
Both models feature two side tables. According to the information provided by Weber Grills official representatives, tables measure 16.34″ (front to back) x 13.5″ (left to right) x 3″ (tall).
As we've already discussed, the system is partly fold-out as the left table can be folded down. Many customers long for the same function in the right table, but it stays fixed.
Though tables could be more compact, we must note their exceptionally solid metal construction. You can safely place full plates, food, drinks here. The Spirit II E series offer much more durable tables compared to plastic fold-out tables of the Weber Q grill series.
Each table has three integrated hooks on its side, which altogether forms six additional storage units for cooking accessories. Thus, you get quick access to mitts, spatulas, tongs, cooking and cleaning brushes, etc.
The final element is an open cart under the main grill space. It serves like a shelf high enough to store bulky cooking items. If you prefer closed storage areas, then try to consider the Spirit E-210 and E-310 modifications where carts are hidden behind the small doors.
Catch Pan
Cart is also crowned by a catch pan for grease and juice excess. This is the final stage of the Weber grease management system aimed at cleanliness support. Besides, intelligent grease collection protects us from possible fire caused by grease combustion.
Once the pan is full, you can easily remove it. However, many prefer to complement the metal catch pan with a disposable drip pan. Thus, you won't have to wash anything – just throw the pan and put the new one.
Accessories
IGRILL 3 COMPATIBLE (ACCESSORY SOLD SEPARATELY, NOT INCLUDED)
Weber provides the same kit in both models. We get:

user's manual
10-year warranty
built-in thermostat
When it comes to the gas tank and disposable drip pans, we will have to purchase them separately.
Besides, Weber E-210 and E-310 are compatible with iGrill 3 app-connected smart thermometers, though they are also sold separately.
Buyer's Guide – How to Choose the Best BBQ Grill?
A BBQ grill may not be a very expensive purchase. However, when choosing the wrong product, you lose not only your money but also sacrifice the food taste and safety. That's why we recommend you to follow this simple buyer's guide. Please mind:
How often you are going to apply your grill, and how many people you are going to cook for. The first point results in the grill size you will need.
Also, consider whether you need a stationary model for your backyard or a multi-purpose portable grill that can be used both in domestic conditions and on-the-go.
In both cases, please make sure your grill is stable on the ground and won't fall in any circumstances to cause injuries. Best of all is to lay out the floor with decking or wooden planks to specially prepare your grill surface. Another option is to purchase a grill chart.
Weight is not that crucial for stationary grills, but it should be considered when choosing a portable cooking device.
Fuel type is an elective characteristic that depends on your preferences. You may choose between charcoal, gas, or electric models.
Grill material influences its weight, durability as well as cooking quality. Metal is the best option in terms of heat retention and lightness for ease of transportation. However, bricks are preferable for stationary grills.
Safety should always be minded when dealing with heating products. Pay attention to the lid presence, fireproof, insulation, safe ignition, reliable gas tank connection (if you have a gas grill), etc.
The more accessories you get with your grill, the more money you will save. The most desirable items are tongs and spatulas, carts, covers, cleaning brushes for burners.
Frequently Asked Questions
1. Weber Spirit 310 Liquid Propane grill or Weber Spirit 310 Natural Gas grill: which is better?
The E-310 Liquid Propane will suit everyone. You should only purchase a separate gas tank. The Natural Gas models suit only those customers who have Natural Gas plumbed out to their house. If you do not have Natural Gas plumbed, please choose Propane barbecues.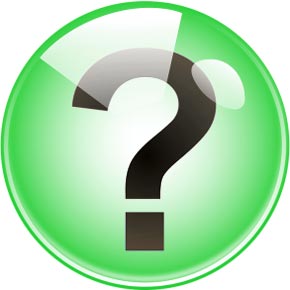 2. What gas tank do Weber Spirit II E-210 and E-310 grills require?
These models use the standard 20 lb Liquide Propane tanks.
3.What is the difference between Spirit 210 and Genesis 210?
The Genesis II 210 model has a larger grilling surface with a tuck away warming rack. The Spirit II features a stand-alone warming rack and a higher BTU rate (26000 BTU vs 26500 BTU).
The Genesis II also has two heavy-duty front locking swivel casters and two larger wheels.
Finally, the Spirit II lid is available in four color options, while the Genesis II is only available in black or stainless steel.
4. Weber Spirit II vs Weber Q grills: which series to choose?
Weber Q grills such as the Q1000, Q1200, Q2200, etc., are excellent portable models that suit travelers and picnic lovers. The Spirit series was made for stationary use. Pick up these models if you're looking for a large grill for big families in your backyard.
5. Are Weber Spirit II grills compatible with iGrill 3 accessories? How much are iGrill 3?
Yes, all Spirit II grills, including the E-210 and the E-310, are compatible with Weber iGrill 3 thermometers.
Conclusion
As you can see, the main issue in choosing between the E-210 and the E-310 is the cooking area. In our opinion, Weber Spirit II E-210 is the optimal model in terms of functionality and price. It will suit everyone.
However, if you're looking for the largest grill to feed dozens of people in one turn, Weber Spirit II E-310 is your product. Besides, it is preferable for homeowners with Natural Gas plumbed as the manufacturer offers the E-310 modification on Natural Gas.
Further reading and references: