Weber Summit or Napoleon Prestige PRO: Battle of the Best Grills

When we speak about the ultimate quality and performance of grilling, there are always two names that come to our mind; Weber and Napoleon. Both brands are known for unbeatable cooking opportunities and technological revolutions they make in the grilling field.
However, since such quality costs a lot, many customers worry about the right model choice. Users and experts are unanimous in calling Weber Summit and Napoleon Prestige PRO very balanced series that satisfy all chefs' needs. So, let's take a closer look at the four best-selling Summit and Prestige grills:

What is the most multi-functional option? Which model can offer the best price-performance correlation? What is the most affordable grill to pick up? All the answers are below!
Comparison Table
Main Differences Between the Models
But before we start the main description and comparison part, let us briefly list the most important differences between the models that may influence your choice. So, please mind that:
All grills greatly vary in cooking area square, including primary and secondary area, the size of side burners, and the total cooking space. Weber Summit S-470 is the smallest. The Summit S-670 and the Prestige PRO 500 are almost equal, but the first boasts a bigger primary area, and the second has a bigger warming rack. Napoleon Prestige PRO 665 bits everyone.
Consequently, we see the same difference in the number of burners and the BTU heat output.
All models feature 4 burner zones, a sear burner, a side burner, a rotisserie burner, and a smoker. However, Napoleon Prestige PRO 500 is the only grill with no smoker burner included.
In all cases, side burners are installed on the tables. In Webers, it's set on the left. Napoleons have it on the right table, and the left one comes with an ice bucket.
Weber Summit series ensure single-level flavorizer bars. Napoleon Prestige PRO developed Dual-Level sear plates.
All burner knobs are lighted. But while Weber offers simple white lighting, Napoleon programmed all its knobs to glow with several colors, which is both an amusement and safety measure against gas leakages. Its biggest Prestige PRO 665 is additionally equipped with a logo display with a motion sensor.
Apart from the LED knobs, we notice lid handle LED lights on the Webers (one on the S-470 and two on the S-670). Napoleon grills use interior halogen lights.
All models have closed wheeled carts. The first brand equipped two of them with locks. With the second brand, you can lock all casters.
Only Weber Summit grills provide LED fuel gauge for gas level monitoring.
When it comes to gas grills, Weber is never stingy concerning the cooking space and grilling variations. Its Summit S-470 model is capable of feeding 8-10 people at one turn and offers as many as four burner options.
Users can apply the main sear station burners, try the smoky effect with the help of a smoker burner, make an exquisite rotisserie dish with a tuck-away rear-mounted infrared rotisserie burner. If even such a capacity doesn't provide you with enough space, a hidden side burner installed in the left table is at your service.
Each burner is controlled with its own LED valve and is activated by a one-push ignition button.
By the way, all monitoring is at the highest level. We note a built-in thermometer and a LED fuel gauge for gas level control. You can cook even at night thanks to a light set into a lid handle. Once the lid is open, it illuminates the working area.
Traditionally, the manufacturer cannot leave its grill without a convenient warming rack, patented protective flavorizer bars, and grease management system.
The main cooking surface is complemented by integrated storage space. There are two side tables with 6 tool hooks and a closed cart for bulkier items. The cart itself features four wheels with safety locks. Thus, despite the grill's great weight, its transportation is a piece of cake.
Please also pay attention that assembly and cleaning processes are tricky, which is inevitable when dealing with such big and complex appliances. The last drawback to mind is venting. Many complain that rain comes into a grease pan through the vents.
Pros
durable construction and materials
large cooking area to feed 10 people at once
4 burner options for all cooking experiments possible
sear burner
smoker burner
rear-mounted infrared rotisserie burner
side burner
independent burner control valves with LED
Snap-Jet individual burner ignition
warming rack system for food warming
flavorizer bars
grease management system
vents
wide storage area (two side tables, 6 hooks and a closed cart)
built-in thermometer
lid handle light
4 cart wheels for easy moving with integrated locks
LED fuel gauge for fuel level control (in Liquid Propane model only)
Cons
expensive
complicated assembly and cleaning
bulky
rain may come inside
LED knobs die fast
Though the previous model is huge, some users may need even more space. That's when Weber Summit S-670 enters the stage.
With this grill, you can cook 24 burgers at once and feed over 15 people. Increased dimensions require more heat, so the unit offers more burner tubes and as many as 6 burners.
Engineers widened the sear burner. Other options between Summit S-470 and Summit S-670 stayed the same. As usual for this line, you can additionally enjoy a smoker burner, a rotisserie burner, and a side burner.
Two lid handle lights are the final improvement here.
Everything from a design point of view makes sense in the Summit S-670.
The manufacturer saved such useful valves, ignition, warming rack, flavorizer bars, grease pans, thermometers, and LED gauge.
Externally, the grill becomes bigger and heavier, but we can still enjoy easy transportation thanks to the wheels. All storage surfaces we love so much stay with us, too; welcome the closed cart with two side tables and six hooks.
Unfortunately, we meet all the same deal breakers. Surprisingly, but despite the same design, many customers complain that the Summit S-670 feels to be made of cheaper materials. Not only do its knob LEDs burn out, but also the bodies themselves break. We've also noticed several issues connected with the rotisserie motor death after a couple of months.
Pros
even more cooking space and more heat
enough space to feed 15+ people
durable construction
6 burners
sear burner
smoker burner
rear-mounted infrared rotisserie burner
side burner
independent burner control valves with LED
Snap-Jet individual burner ignition
warming rack system for food warming
flavorizer bars
grease management system
vents
wide storage area (two side tables, 6 hooks and a closed cart)
built-in thermometer
2 lid handle lights
4 cart wheels for easy moving with integrated locks
LED fuel gauge for fuel level control (in Liquid Propane model only)
Cons
expensive
complicated assembly and cleaning
bulky
rain may come inside
LED knobs die fast
rotisserie motor is not as durable
When we compare Weber vs Napoleon, the Prestige PRO series turns out to be virtually identical in specifications to the Summit S-470 except for some crucial peculiarities. Moreover, the prices are very close too.
Here, Napoleon also offers 4 burners. Surprisingly, but with the same number of tubes, the unit is much hotter. Apart from the main grilling surface, there are also an infrared rear rotisserie burner and a side burner.
But unfortunately, we miss a smoker burner this time.
Space is enough for over 30 burgers. A warming rack for food heating and sear plates (the analogs of the Weber flavorizer bars) are traditionally included. So is the grease management system. This top-level brand provides us with a drip pan and a grease tray to catch grease drippings.
Each burner comes with its valve. The knobs are LED and ensure numerous color options.
As we know, dual side tables can be used as a storage and cooking space. However, the left table also boasts an integrated shelf that can be turned into an ice bucket station for drinks.
Tables are equipped with four hooks and additional bars to hang cloths or tissues. The grilling unit comes with a closed cart with four locking wheels. However, the cart has no gauge for fuel level monitoring.
Any self-respecting grill brand equips its products with thermometers, so we have one here. Also, under the lid, there is an interior halogen light to illuminate the cooking surface for night-time grilling.
When speaking about drawbacks, we noted that the cart is made of quite thin metal sheets and is not as durable and water-resistant as one expects. There also may be issues with the proper door closing. The assembly process is challenging, especially minding unclear manual instructions.
Pros
large cooking area for 31 burgers
great heat
durable grill materials
4 burners
sear burner
rear-mounted infrared rotisserie burner
side burner
multi-colored LED burner control knobs
individual burner ignition
warming rack
improved dual-level sear plates
grease management system
vents
wide storage area (two side tables, 4 hooks, cloth bars, and a closed cart)
integrated ice bucket for drinks
built-in thermometer
interior halogen light
4 cart wheels with locks
Cons
expensive
assembly and cleaning processes are quite time-consuming
bulky
no smoker burner
no fuel gauge
flimsy cart
The final model of our Weber Summit vs Napoleon Prestige comparison, the Prestige PRO 665 grill, is the ultimate cooking beast that can contain as many as 41 (!) burgers at one turn. Almost no other model can bit this. People do buy the unit to feed an army.
Functionally, the product shares lots of similarities with the previous Napoleon Prestige cooker. We see the same kit of warming rack, LED control knobs, ignition, thermometer, sear plates, grease collection, etc. as well as familiar storage space.
However, not only did the manufacturer increased the number of burners (we have 5 now), but it also complemented the Prestige PRO 665 with a wood chips smoker burner and tray. It means that now users get all cooking opportunities presented in Weber grills. Your chef experiments are literally limitless.
Though it's not very functional, many love another interactive addition; a proximity lighting display that shines a Napoleon logo light on the ground when you approach your grill.
Napoleon Prestige PRO 665 is the largest gas grill of the review with all cooking options. Consequently, the performance makes us keep up in terms of the cost.
Please mind that the problems seen in Napoleon Prestige PRO 500 also meet us here.
Pros
the largest cooking area for 41 burgers
5 burners
reaches the greatest heat
durable grill materials
sear burner
rear-mounted infrared rotisserie burner
side burner
smoker burner and tray
multi-colored LED burner control knobs
proximity light display
individual burner ignition
warming rack
improved dual-level sear plates
grease management system
vents
wide storage area (two side tables, 4 hooks, cloth bars, and a closed cart)
integrated ice bucket for drinks
built-in thermometer
interior halogen light
4 cart wheels with locks
Cons
the most expensive model
challenging assembly and cleaning
bulky
no fuel gauge
flimsy cart
Model Options
As you may notice, we've discussed the Liquid Propane modifications only. Indeed, both Webers and Napoleon grills require Liquid Propane gas tanks that are sold separately.
However, if you have Natural Gas connected in your backyard, any of these grills will suit you, too. No matter what model you liked the most, the manufacturers allow you to purchase Natural Gas options.

The models will be identical and differ only in gas source.
attention
Attention! Please pay attention that you will not be able to use Natural Gas grills if you don't have the necessary plumbing. Choose the Liquid Propane models in such a case.
Design and Dimensions
Since all our grills are stationary and provide huge cooking areas, it's logical to expect rather bulky dimensions. Below, we listed the main measurements. Dimensions are presented in L x W x H order:
Weber 7470001 Summit S-670: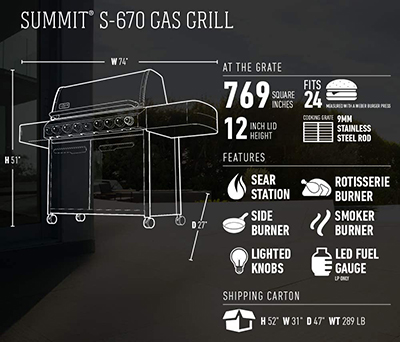 47″ x 30.5″ x 52″
290 pounds
Napoleon PRO665RSIBNSS-3 Prestige PRO 665 RSIB: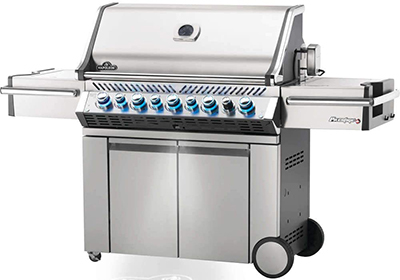 25.5″ x 76.75″ x 51″
334 pounds
Napoleon grills turn out to be bigger options, which is important to mind when choosing a grill. But in general, length, width, and height don't differ that much. Weight is what draws the greatest attention.
As all products are extremely heavy, wheeled carts seem to be a blessing. Moreover, all carts come with swivel locking carters. That means you'll have to pay minimum effort to move/transport these mountains. At the same time, you can be sure of 100% safety since with casters locked, a red-hot grill will never accidentally move.
When it comes to materials, both brands use the same top-quality alloys. Well, such expensive models must comply. The body consists of stainless steel and cast aluminum parts, which are the best for heat retention, durability, and weather resistance. Among more than 500 users' reviews, we didn't find a single complaint on corrosion. But please mind that metal sheets are quite thin, and dents are possible.
Externally, gas grills are made in light stainless steel color. This shade looks neat and stylish in all backyard landscapes and backyard designs.
Fuel Type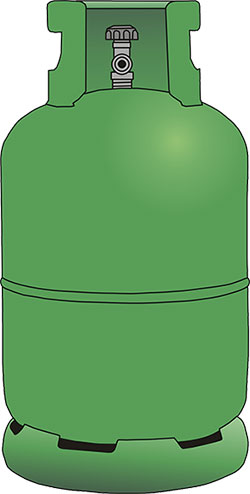 For this comparison, we took the most popular Liquid Propane modifications. The gas is quite popular for cooking works. It's stored in tanks (or cylinders).
All grills require a separate 20 lb LP tank, which is not included in the kit.
Weber and Napoleon's models are equipped with special tank storage areas inside the carts with the hosing necessary. So, you don't even see it, and it cannot disturb your cooking or spoil the appearance.
Moreover, the Weber Summits also boast an integrated LED fuel gauge for easier fuel level control. Napoleons lack it.
Let us remind you one more time that all four products described here are available in Natural Gas modifications. Then no tanks and gauges are needed; just connect the plumbing.
attention
Attention! Regardless of the gas type you use, please remember that gas is an extremely poisonous, explosive, inflammable substance. Make sure you follow all safety instructions provided by the manufacturers during connection and application. Never allow children to come to the grills. Take care of yourself and your beloved ones.
Cooking Area


Weber Summit series features 9 millimeter diameter stainless steel cooking grates with a classic straight grid pattern.
Napoleon Prestige PRO generation boasts of slightly thicker 9.5 millimeter grates made of the same stainless steel. Their iconic wave curves are one of Napoleon's main distinguishing features.
We see no porcelain-enameled cover, which usually improves the cleaning efficiency of grates. The lack is strange for grills of such price niche. However, cleaning and installation are improved since both grate systems come not as a whole, solid unit but in dual sections.
The cooking area differs very much in the models. But in all cases, we deal with the so-called primary or main area that is directly used for food grilling and with the total area. Its square consists of the primary zone and the warming rack.
Weber 7170001 Summit S-470 4-Burner Grill offers 580 square inches of the total cooking area, where 468 square inches are dedicated to the main grates.
Weber 7470001 Summit S-670 6-Burner Grill boasts of the enlarged 624 inch grates and 769 inch² of total cooking area.
Despite the same number of burners as in the Summit S-470, Napoleon PRO500RSIBPSS-3 Prestige PRO 500 RSIB Grill is a much bigger grill with 900 inch² for food roasting and warming. However, the greatest amount of this size is given to the secondary areas. You have 500 square inches for grilling itself. By the way, the '500' number in the name stands exactly for the primary area.
Napoleon PRO665RSIBNSS-3 Prestige PRO 665 RSIB Grill turns out to be the largest option with 1140 inch² of the total area. As we see in the name, it offers 665 square inches for grilling. Thus, it's slightly bigger than the Summit S-670. The warming rack and the side burner take a large percentage of the space.
Warming Rack System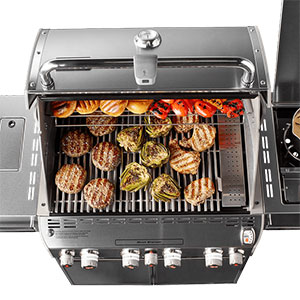 It's difficult to overestimate the benefit of a warming rack that forms the second element of the total cooking area. These additional grates are set above the main grill and use its heat to keep food warm. Thus, you don't take space on the main surface and overheat your prepared dishes. If you don't need the tool, you can just remove it or push it away.
Both Webers offer 112 and 145 square inches for warming. It's enough to locate 6-8 burgers or a batch of vegetables.
Though the Napoleon grills are not significantly bigger in the main cooking area, engineers gave themselves free rein in warming rack construction. The models boast 260 and 335 square inches.
Thus, you get twice more space compared with the Summit cookers.
Burners and BTU


Varying cooking area inevitably means a different number of burner tubes. They're covered with numerous small holes, inside which gas is distributed for even heating.
Besides, we've already briefly mentioned four types of burner zones presented in the models. So, before the detailed grills' description, let's scrutinize each type.
Main or Sear Burner
Broadly speaking, this is the primary cooking area. It includes the whole grates with all burner tubes. The zone is used for classic food grilling.
Rotisserie Burner
This is an excellent addition to your grill that allows for cooking large meat pieces with the optimal heat spread. Rotisserie is irreplaceable for poultry (whole carcass), pork knuckle, etc.
Our models share the same rear-mounted rotisserie burners that use infrared radiation. There is no need to rotate the spit yourself as the unit is equipped with a flip-up motor. All rotisserie systems are tuck-away.
Side Burner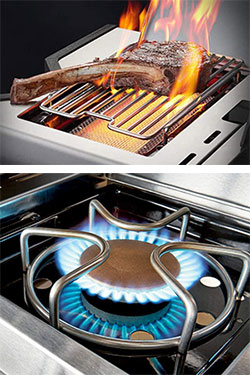 Side burners are unique improvements of the
top-level grill brands
. They're installed on the tables and provide an additional cooking surface.
Thanks to them, you can grill meat on the main grates and stew/boil vegetables in the frying pan/saucepan or even use this area for small cooking tasks when the whole grill is unnecessary.
attention
Please pay attention that Weber's side burners are set on the left table and work with gas. Currently, there is no official information on their size.
The Napoleon's options are infrared and take the right tables. We get 140 in² of additional cooking area.
Smoker Burner
The final burner ensures that famous delicious smoky taste and flavor to any dish. Fill the burner with wood chips and place your food over the tray.
Smokers
are usually located on the side not to take too much space when not in use.
When it comes to cooking zones and heat, Weber Summit S-470 and Weber Summit S-670 are identical. They have six stainless-steel burner tubes. The models boast all burner types discussed above.
The sear burner produces 10600 BTU, a rear-mounted infrared rotisserie burner gives 10600 BTU, a side burner produces 12000 BTU, and a smoker burner produces 6800 BTU. The general output is the only difference.

The S-470 burners form 48800 BTU-per-hour.
The S-670 model provides a 60000 BTU-per-hour output.
Napoleons are not different that much, but we highlight a couple of significant changes.
Napoleon PRO500RSIBPSS-3 Prestige PRO 500 is the only grill that lacks the smoker burner. Here, we see four 12000 BTU stainless steel tubes, one 14000 BTU infrared side burner, and an 18000 BTU rear infrared burner. The total for all of those BTU's is 80000.
Napoleon PRO665RSIBNSS-3 Prestige PRO 665 features tremendous BTU output. It reaches 99000 BTU in general. Five stainless steel burner tubes and an additional smoker burner cause the increase. Other BTUs data stayed the same.
Burner Valves and Temperature Control


All grills come with front-mounted burner valves (also called knobs), the amount of which corresponds to the number of burner tubes presented in the modification. Thus, users can control each unit separately – adjust the flame and heat, turn on all of them, choose certain burners or just one for the current cooking needs. We can also use direct or indirect heat and activate various burner zones.
Moreover, all knobs are LED lighted. Thus, cooking and especially accurate temperature setting are possible in all lighting conditions, even in the dark.
Napoleon has something more exciting. Its knobs are multi-colored and offer green, blue, and red color options. The system is called the LED Spectrum NIGHT LIGHT Control Knobs.
On the one hand, it becomes an excellent entertainment and design tip for evening parties. Thanks to the motion sensors, lights are on when you come close to the grill and shine like polar lights. But at the same time, the function is a much more useful safety measure as you can program the LEDs to glow red when the gas is left on.
All knobs require batteries.
Thermometer and Temperature Control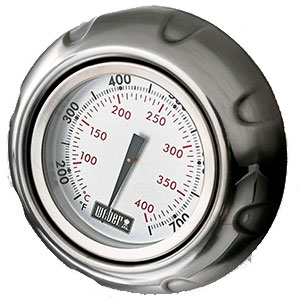 Once you set your grill knobs on Low, Medium, or Start/High heat and it warmed, the built-in thermometers will start to display temperature inside.

According to the scale, Webers can reach 700°F/400°C. Besides, the Summit series is compatible with iGrill temperature sensors that reflect the food heat level directly.
Napoleons offer the same temperature rate up to 700°F or 370°C. Their thermometers also have markings for smoking and searing ranges to help you set the temperature more accurately. There is no official information on the possibility of food sensors' application.
Ignition
Both brands offer very similar automatic ignition systems that vary in names only.
The first grills come with a Snap-Jet individual burner ignition system.
The second models feature Instant Jetfire ignition.
Automatic ignition doesn't require any matches and the like. Besides, it's considered to be the safest and quickest method. These easy to use ignition systems shoot a jet of flame to light each gas burner individually for quick start-ups. All you need is to press one button. Ignition knobs are located in the same rank as burner knobs and work from batteries.
Flavorizer Bars
Meat juices often cause burner tubes clogging. To prevent such incidents, manufacturers equipped the grills with protective V-shaped plates.
In Weber models, they're called flavorizer bars. The units are stainless steel. One item covers one burner.
Napoleon Prestige PRO series features Dual-Level stainless bars called sear plates. The dual-level arrangement means that plates lay checkered, and there are additional bars over the lower burner units. The staggered set up is more efficient as it creates evener heat distribution and protection.
However, apart from the burner protection function, bars provide that famous smoky flavor. Most juice drips simply vaporize on the heated plates.
Those drops that stayed go along the slopes and come to the grease management system.
Catch Pan
Thanks to grease management, users can forget about tedious cleaning and messy grease spots on the backyard ground.
Both brands use similar technologies that partly include burner bars and a catch pan. The latter is set directly under the grill (top of the cart). All grease drops fall here. All you need to do is to pour out the liquid collected after each cooking session.
Those who don't want to deal even with catch pan cleaning can equip the grease management system with disposable drip pans that are put in the metal catch pan.
Storage Space (Tables + Cart)
The storage space of our grills consists of two side tables and a closed cart. All as made of durable stainless steel and can withstand great loads. However, despite the basic similarity, we note several interesting distinguishing features.

The Summit grills' tables are fixed. The right unit is free and can be used for food slicing, dish storage, etc. The left table is occupied by the side burner, but you can close it and use the table as the right one.Each table features 3 built-in hooks that form 6 storage spots for cooking tools.
The Prestige series decided to leave the left table for the side burner. Moreover, the right table is also allotted to an ice bucket for drinks. You can also use it as a marinade bucket. In both cases, you can close these zones and turn them into additional storage and cooking areas.We see 4 hooks and long shiny bars along the table sides. Thus, you can turn these bars into additional spots to hang cloths, tongs, spatulas, mittens, etc.Closed carts allow for storing bulky items like gas tanks, cooking pans, spices. Apart from the Weber, Napoleon offers additional shelves inside.
verdict
All in all, the systems are out of any competition. But in our opinion, Napoleon grills are more storage beneficial.
Lighting


Not only knob lighting helps you cook at any time. All our top-level grills boast integrated grill surface illumination.
The Summits come with handle-set LED lights. Lights are flexible, so when you open the lid, you can slide them along the handle and turn under various angles to provide the optimal illumination of the area you need. While the S-470 has one light, its improved S-670 brother uses two lights.
The Prestige PRO grills are equipped with halogen lights. Besides, the units are installed directly under the lid. Lights are quite bright and efficient, but you cannot change their position for spot illumination. And the direct impact of heat may destroy your lighting faster.
Buyer's Guide; How to Choose the Best Gas Grill?


If you decided to purchase a gas grill, experts recommend answering the following simple questions:
How often am I going to cook?
If you'd like to get a grill for occasional cooking, there is no need to invest in dozens of hi-tech grilling functions like rotisserie burner. But everyday product application or even professional use means a more thorough and expensive choice.
How many people am I going to feed?
The first and the second questions directly influence each other. But besides the equipment, we should mind the cooking area size. The majority of budget products are quite enough to feed 4-6 people. If you're going to cook for parties, pick up large devices for 8+ people. The BTU output is also crucial here. The more you cook, the heater grill you need.
Do I need a smooth or grooved grilling surface?
The first option works best for seafood, fish, poultry. After a few minutes of cooking, a thin grease film appears on the bottom of a smooth grill. It protects food from burning, preserves its juiciness and freshness. At the same time, it's more convenient to grill large pieces of fatty meat on a grooved grill. Thus, excess grease comes out, and a branded line pattern appears on the outside. The result is beautiful baked steaks.
If you're interested in both options, you can find devices with two surfaces in one kit. However, the price will be more significant.
What is my optimal gas type?
Some gas grills can work only on Liquid Propane; some support Natural Gas or methane only. Please choose which option is the most suitable and safe in your conditions.
Price or durability: what is more important to me?
Everything in the grill construction influences its price, from materials to the presence of built-in lighting. If you're ready to invest in an expensive device that will last for decades, please make sure its quality meets your requirements.
However, even budget products for a couple of seasons should be made of approved alloys, especially when it comes to the cooking grates.
Also, mind sufficient wall thickness.
When we speak about the functional side, we'd recommend considering the presence and the need for the following grill elements:
additional grill zones for specific cooking tasks like smoking, stewing, rotisserie processing, etc.;
safety measures like automatic ignition, insulation cover, leakage notification, safe fuel connection, stable legs/cart;
built-in lighting;
storage areas;
accessories included in the kit.
Frequently Asked Questions
1. Weber vs Napoleon: which grill brand is better?
Both brands belong to the top level grill manufacturers. Consequently, they are very close in the diversity of models, quality, and functional filling.
However,
Weber grills
are more affordable and use more durable materials.
Napoleon is your option if you're looking for the largest cooking areas and the greatest heat.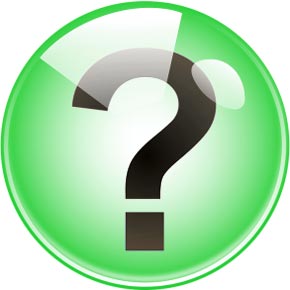 2. Weber Summit vs Napoleon Prestige PRO: what is the best grill model for family use?
If you plan to cook for your family members and several close friends, we'd recommend choosing Weber Summit S-470 or Napoleon Prestige PRO 500 models. They offer close cooking capacity, functions, heat, and dimensions. However, the Summit S-470 slightly wins thanks to the lower price and the presence of a smoker burner.
3. What is the difference between Napoleon Prestige and Prestige PRO gas grills?
Napoleon Prestige PRO is developed on the basis of the Prestige series with several improvements. Thus, the PRO version features thicker grates and a changed rotisserie burner. We also note well-thought-out storage space where the right table is equipped with an integrated ice bucket and the cart has shelves. Finally, the PRO grills come with programmable multi-color burner knobs and built-in light over the grates.
4. Do Weber grills last longer than Napoleon?
Both companies provide a 10-year warranty on their best gas grills. That's why brands are equal in general. Still, Webers may last a bit longer thanks to thicker walls, especially when it comes to carts.
5. Are Weber and Napoleon grills made in China?
Yes, Weber and Napoleon grill brands have most of their productions located in China and the Asian region. However, some units are assembled in the USA from the parts manufactured globally.
Conclusion
Here we are, folks. Grills' comparison is over, and it's time to answer our first questions about the most multi-functional, most affordable options and grills with the best price-performance correlation.
If you'd like to get all cooking opportunities, pick up any Weber Summit or Napoleon Prestige PRO grill. All our four participants are perfect for avid barbecue fans who are going to use them frequently.