Char-Broil vs Dyna-Glo: Top Brand Models Comparison

Summer season is coming, and it's the best time to start thinking about a new charcoal grill for your backyard family evenings and small parties. Don't be afraid of biting prices and hundreds of models. If you need to make the best choice with a limited budget, here we are with our Char-Broil vs Dyna-Glo brands comparison.
Both companies are famous American manufacturers. Char-Broil is the most affordable option. Unfortunately, the price makes us sacrifice durability a bit, but all grills are solid enough to last for several seasons. Dyna-Glo is more expensive and managed to come close to the Weber level.
Both have their strong and weak points and dozens of decent grills. To help you sort it out, we resorted to the customers' choice. Today, we're going to compare the best-selling models with the highest ratings. They are:

Let's find the best charcoal grill for you together!
Comparison Table
Table could not be displayed.
Main Differences Between the Models
Despite the varying appearance and two different brands, our five competitors share lots of functional and constructional similarities. The main differences lay in grate size and charcoal access. Here is the list of the most important distinguishing features to consider:

Dyna-Glo Premium and Char-Broil Gourmet are the largest grills in terms of cooking areas. Char-Broil TRU-Infrared and Dyna-Glo Heavy Duty are more moderate options.
All units feature warming racks for food heating but for the TRU-Infrared Kettleman.
Also, the Dyna-Glo Dual Zone Premium grill is the only product in our review that can boast dual grilling zones.
Devices significantly vary in grate materials. The more expensive Dyna-Glos are made of porcelain-enameled cast iron. The Kattleman features a unique porcelain-enameled TRU-Infrared design. And the American Gourmet offers the simplest cast iron grates.
Though we'll see the damper systems in all grills, they differ in the number and construction of vents, which will be discussed later.
Only Dyna-Glos grills are equipped with charcoal doors for quick charcoal chamber access.
Models slightly differ in storage tables, but the Char-Broil Kettleman is the only product that has no side tables at all.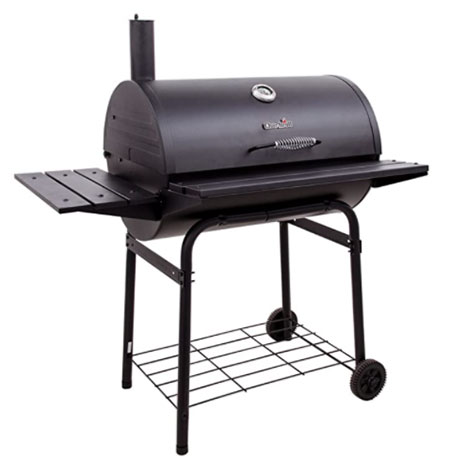 The first model is presented by the Char-Broil brand that tried to balance price and maximum performance this time. We see a truly large grill of classical cylindrical horizontal construction for optimal cooking space and heat retention.
For comparison, the model is big enough to grill three slabs of ribs or up to 20 burgers at once.
The main area is complemented with a swing-away warming rack, which is a rarity for budget grills. All grates are adjustable, so you can control the heat.
For even more precise heat regulation, the manufacturer recommends using four vents located on the bowl side. The current temperature will be displayed on the built-in lid thermometer.
Cleaning won't take much time due to a removable ash pan.
Apart from the cooking zone, we can enjoy a spacious storage area that consists of two fixed right and front tables. The grill stands on a cart with the bottom wire platform provided as an additional space for bulky items' storage.
The model provides lots of space for cooking and keeping ingredients, tools, and accessories close at hand while grilling. We can say it totally costs this money, not exceeding your expectations. And they should be lowered when it comes to materials.
The product feels flimsy and may lose heat. Also, please pay attention that many customers complain about packing quality.
Finally, we noticed a challenging assembly. However, the ease or difficulty of assembling is quite subjective here ad it depends on your experience, skills, and tools available.
Pros
very large grill for 20+ burgers
handy warming rack included
adjustable grate height for heat control
vent system
thermometer included
a removable ash pan for easier cleaning
convenient storage zone with two big tables and cart shelf
wheeled cart for easy transportation
affordable option
Cons
non-durable materials
challenging assembly, especially for beginners
difficult access to charcoal (you'll have to remove all the grates)
poor packing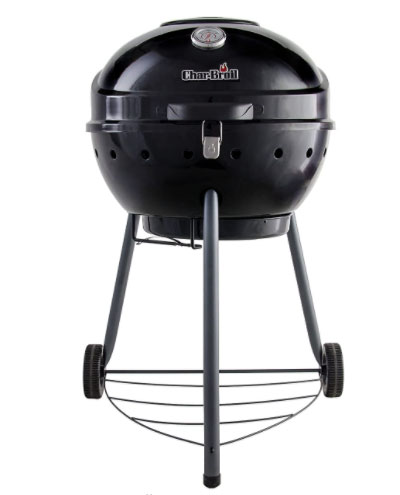 Despite the same brand, our next grill's design is absolutely different from the predecessor. Firstly, we noticed a changed round bowl shape. Grate becomes smaller and contains about twice less food. However, heat retention is still outstanding, as well as the grate characteristics themselves.
As we see from the name, the Char-Broil Kettleman features TRU-Infrared grates. Their material spreads heat more evenly, prevents sticking, and requires less charcoal.
As usual, the Char-Broil grate is adjustable to bring the heat closer or further to the food, depending on your needs.
Three large vents on the top and 360-degree bottom air inlets ensure heat increase. A temperature gauge will show the current grate temperature.
Though we miss hand tables and the like, the manufacturer still provides us with a small cart storage platform for things like charcoal bags. The wire is set too wide to hold smaller items.
Charcoal access is another drawback. Once again, you'll have to take out all grills to add coal or chips. A removable ash pan may also feel too tough at first and hard to empty.
Please also pay attention that grate paint will come off very quickly and may stick to the food.
Customers love the Kettleman for less charcoal consumption, improved temperature retention, and easy assembly. A worthy compact option to try, especially for the money.
Pros
requires less charcoal than other grills
improved design and materials for better heat retention and spreading
TRU-Infrared grate to prevent flare-ups and sticking
adjustable grate height
3 vents and 360-degree bottom air inlets
built-in thermometer
a removable ash pan
wheeled cart with a storage platform
compact design
easy assembly
the most affordable product
Cons
no storage zones like tables and warming racks
grate paint comes off
inconvenient charcoal access
stiff ash pan
Dyna-Glo offers us a new level of grilling experience with its unique dual cooking chamber design.
You can divide the large cooking space into two isolated boxes to grill for a small number of people or to grill two different dishes with their own temperatures simultaneously. Remove the steel firebox divider to unite the boxes for giant cooking projects.
The model finally solves the problem of charcoal access, as both cooking zones come with separate charcoal trays and convenient doors. An ash tray is united and seems to be too shallow for such charcoal capacity, which is a minus.
With Dyna-Glo, we come back to the cooking areas capable of holding over 20+ burgers and even more. A warming rack is also included as well as such a necessary thermometer.
Four handles you can see in the model serve for ventilation and grate customization. The two handles on the front adjust the grates' height. The black handles on each side open the air vents on each side. Complemented by the chimney, they form a whole damper system. However, practice shows that even closed vents let a bit of air through. Double walls are what save the heat.
Dyna-Glo returned us our favorite side tables for handy ingredients and tools' storage. Pay attention that tables are fixed. A familiar cart with 2 wheels and a bottom storage zone is included.
Anyway, it's affordable, especially if we mention the functionality offered. It has everything anyone needs for grilling and even more with its dual chambers and simultaneous cooking of two dishes.
The product is worth purchasing due to an excellent construction concept. But please be ready to sacrifice the quality a bit.
Pros
suits for the largest parties and cooking projects
warming rack
removable firebox divider for single or dual cooking zone
adjustable grates with individual height handles
convenient charcoal access
vent system
thermometer included
great heat retention thanks to double walls
two side tables
wheeled cart with an additional storage area
Cons
paint comes off
shallow ash tray
vents aren't perfectly sealed
Did you like the Dual Zone but would prefer no dividers, double cooking areas, and the like to save money?
Very reasonable desire and Dyna-Glo supports you here. Welcome the Premium Grill.
At the same time, we see one large grate of the same size as before. It means you can grill the largest rib slabs with no bustle about grates' leveling and wall removing. Consequently, the charcoal grill, door, and ash tray are the ones.
All other features are absolutely identical. You'll get the same grate height adjustment, warming rack, insulation, vents, thermometer, storage tables, cart.
Unfortunately, drawbacks also come in the kit. They stayed the same, vent sealing and material/cover durability being the most important.
We recommend Dyna-Glo Premium to customers who'd like to cook a lot but without simultaneous grill experiments.
Pros
suits for the largest parties and cooking projects
warming rack
adjustable grate
convenient charcoal access
vent system
thermometer included
great heat retention thanks to double walls
two side tables
wheeled cart with an additional storage area
a nice discount
Cons
paint comes off
shallow ash tray
vents aren't perfectly sealed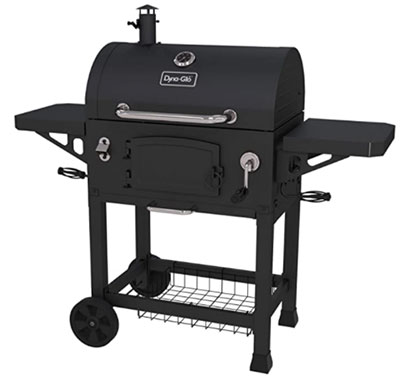 Dyna-Glo Heavy Duty combined all the brand's best features for high-quality basic cooking and packed it in a more compact wrapping.
Lots of users just don't need to grill 25-30 burgers at once. But despite the number of food pieces, the amount of charcoal necessary for heating will stay the same. That's when smaller, i.e., medium-sized grills come in handy.
This model will fit about 15-18 burgers. We also note triple grates, which is a wiser decision in terms of cleaning convenience. However, all grates adjust altogether and work as a whole.
While choosing this modification, you'll still save all the features of the two previous grills. We mean the charcoal chamber door with an ash tray, vents, tables, cart, thermometer.
Perhaps, Dyna-Glo Heavy Duty is one of the best grills you can get. Low price means certain well-known drawbacks like worse heat insulation, poor painting, and shorter lifetime. But the model gives us much more than it should for the price, doesn't it?
Pros
optimal cooking area size
warming rack
adjustable grate height
easier grate cleaning
convenient charcoal access
vent system
thermometer included
two side tables
wheeled cart with an additional storage area
easy assembly
affordable model
Cons
paint comes off
heat retention requires improvement
Design and Dimensions
Almost all grills feature quite bulky dimensions in our review. Please pay attention to this section before choosing a fitting grill for your backyard.
Char-Broil TRU-Infrared Kettleman 22.5 Inch Charcoal Grill: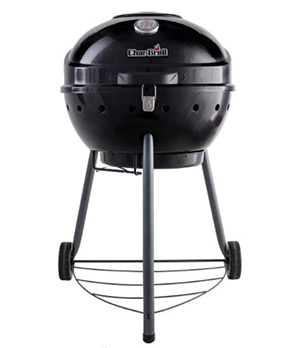 29.9″ x 27.4″ x 14.8″
36 pounds
Dyna-Glo Premium Charcoal Grill: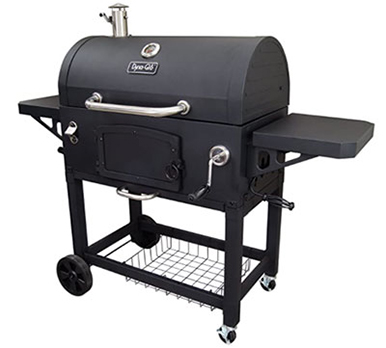 60.22″ x 50.51″ x 28.16″
96 pounds
The Kettleman by Char-Broil is the most compact option that will fit any cooking zone. This is also true for nicely balanced medium-sized Gourmet and Dyna-Glo Heavy Duty grills. If you're going to pick up the Premium models, please consider the storage area beforehand, as they are the biggest and heaviest.
attention
When it comes to the body materials, one has to admit that all products are not as durable as we'd like. Both manufacturers use stainless steel sheets with some additional alloy elements.
Their thickness and weather resistance is ok but won't last for more than 4-5 years, which is proved practically. Paint and top cover layers are the first to quit us.
However, colors are chosen in a utilitarian manner. All grills feature a stylish black look, except for the Dual Zone Premium made in stainless steel. Colors are not the brightest, but they definitely contribute to the neat look and match with any backyard design.
Cooking Area


The cooking area is one of the key features customers pay attention to. Our five models offer a wide range of sizes, from small grates for family use to almost industrial-level beasts.
If you're looking for something moderate, choose Char-Broil TRU-Infrared Kettleman 22.5 Inch Charcoal Grill. It features 360 square inches of total cooking surface, which is enough for 8-10 meat pieces. By the way, 22.5 Inch in the name stands for the grill diameter as it has a round shape. The grate is single and has a porcelain coating. Its TRU-Infrared design is one of the best among the models discussed.
The next comes Dyna-Glo DGN486DNC-D Heavy Duty Charcoal Grill with its 486 square inches. This is a significantly bigger option for up to 15-18 portions. The area is divided into three hi-gloss porcelain-enameled, cast-iron grates.
Char-Broil American Gourmet 800 owns 4 small grates that altogether measure 568 square inches and are made of simple cast iron. Unfortunately, this is the less impressive material we see here in terms of heat retention and cooking qualities. However, it deals ok with basic tasks.
The left Dyna-Glo DGN576SNC-D Dual Zone Premium and Dyna-Glo DGN576DNC-D Premium are identical. We see 576 square inches dual grates made of porcelain-enameled cast iron.
The three last grills are large enough to feed 20-25 people at once.
verdict
Verdict: While size depends on your own preferences, grate materials are what interest us most. Thus, we'd recommend you all devices except for the Char-Broil Gourmet, which loses compared with other competitors.
Warming Rack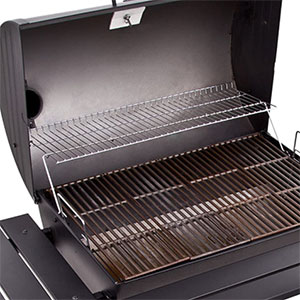 In the section above, we've discussed the so-called primary cooking area that includes the main grates only. However, many grills also come with warming racks. These units are not directly used for cooking but for food heating.
Warming racks form the secondary cooking area and enter the total inches. Once the rack is unnecessary, you can remove it.
Among all models, only Char-Broil TRU-Infrared cannot boast of a warming rack.
Its Char-Broil brother, American Gourmet, comes with a 272 square swing-away warming rack.
Dyna-Glo grills share very similar warming rack dimensions that form 240 square inches for the Premium and the Dual Zone Premium.
The smaller Heavy Duty modification offers 200 square inches for food warming.
Traditionally, racks are made of the same materials used in the main grates.
Grate Height


All grills offer us a nice grate height adjustment feature. Thanks to it, users can control the heat more accurately and change the cooking conditions depending on the dish or current conditions.
When we compare Char-Broil and Dyna-Glo, the last models definitely win this battle as they provide convenient handles for fast grate setting. In some cases, like with the Dual Zone grill, we even have several independent handles for each grate.
The Char-Broil grills need manual grate adjustment. It's more complicated, especially if you decide to change the height during the cooking when grates are red-hot.
attention
Though we have no official data, users claim we can lift grates up and down within 3-4 inches from the charcoal grill.
Vents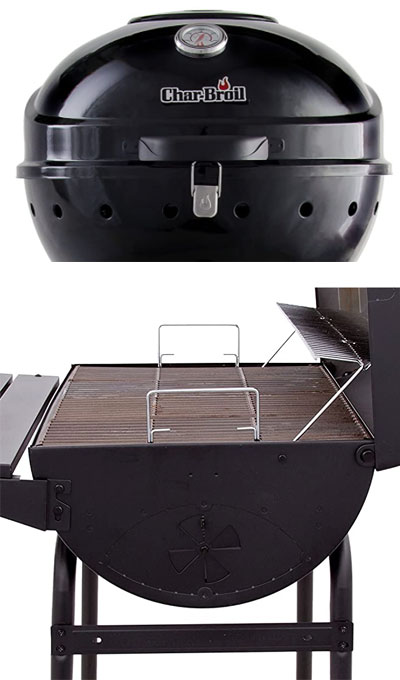 As we've already discussed in the descriptions, all grills in our review are equipped with vent systems. Users can manually regulate the opening and closing, thus influencing the heat intensity (when open) or extinguishing (when closed). In Char-Broil grills, it's made directly by setting the dampers. In Dyna-Glo, they use side handles.
The number and size of vents are crucial. The more and bigger vents you have, the greater the oxygen flow and heat you can reach are.
Please mind! All our grills feature not only special vents with dampers but also additional non-closing elements like 360-degree bottom air inlets in the Kattleman and chimneys in other units. That's why in fact, we cannot completely cut off the oxygen flow.
However, proper sealing and tight closing are also important here. If you cannot close the holes to the end, air will keep circulating and influencing the heat inside without your control.
verdict
Verdict: While with the grate adjustment, handles seemed to be an excellent decision, they are more complicated in use for vent control. Besides, surprisingly, but more expensive Dyna-Glo devices suffer from loose vent closing more frequently. That's why we'd prefer the Char-Broil here.
Thermometer
You'll be glad to know that both brands take care of their customers and equip all grills with obligatory lid thermometers.
According to the scales offered, the Dyna-Glo products can reach 350°C/ 600°F. Consequently, you can cook within these limits and control the heat. The Char-Broil's scale ends at 550°F.
Please pay attention that, as usual, the manufacturers recommend performing preheating before cooking procedures.
attention
Since we deal with budget grill models, none of them offer thermometer ports for heat sensors or probes.
Charcoal Chamber

Char-Broil tries to keep prices low. That's why we often miss certain parts crucial for user convenience. Both models discussed have quite large charcoal chambers, but you'll get no doors or other direct access to this section. That's why the filling process requires removing all cooking grates.
Dyna-Glo equips all series with doors. Handles are heat-resistant, but we still recommend you not to touch them with your hands unprotected.
On average, chambers fit about 4 pounds of charcoal.
Ash Pan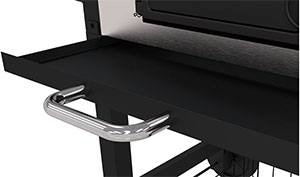 No matter what model you'll choose, you can be sure that it won't cover your backyard with ashes. All grills feature steel removable ash pans.
Pans are installed on the bottom of the grills right under the charcoal chambers. Most of them offer quick slide-in design.
Ash pans are designed in correspondence with the current charcoal chamber capacity. Users confirm they're big enough to contain all the charcoal burnt.
Storage Space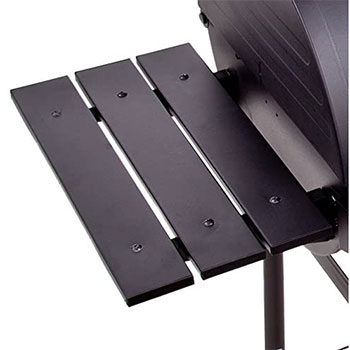 We always use lots of accessory tools like tongs, mittens, plates, spices, etc., not to mention the food itself during cooking. Grills equipped with special storage zones where all these units can be put meet greater popularity. What's about our grills?
Four out of five products feature dual table zones. All Dyna-Glo come with two side tables. Each side table is approximately 12″ wide.
Char-Broil American Gourmet 800 offers one side table located on the right and a large front table as long as the grill body itself. The manufacturer doesn't provide us with tables' dimensions. However, the grills' length and tables' length comparison allows us to conclude it's similar to the Dyna-Glo units.
Please pay attention that all tables are fixed, i.e., we cannot fold them down when unnecessary like in Weber Spirit II E-210 or E-310. But if your grill cannot fit the cooking zone or you don't really need tables, you can always remove them.
The Char-Broil Kettleman is the only product that lacks any built-in storage shelves on the grill level. However, it's got a cart storage platform. So do the other models. These areas are designed for fuel storage mainly. So, we recommend filling them with charcoal bags or wood.
verdict
Verdict: Choose any grill, and you'll get enough space for tool storage. The Kettleman is the less convenient option here. But this minor drawback is entirely forgivable considering its most affordable price and other advantages.
Buyer's Guide – How to Choose the Best Charcoal Grill?


With a good charcoal grill, you'll have to spend the minimum of your time and effort to get delicious smoky meat. However, a good product choice has its secrets, which we're going to reveal below.
Number of People to Feed.
No matter what grill type you're looking for – this is the first thing to consider. Please also choose the model, minding how often you will use it. The answers to these two simple questions will help you set the right budget limit and save money.
Grilling Modes.
Ensure the grill design allows you to adjust the distance from the hot coals to the cooking grill with food. If you're planning to buy a serious BBQ unit that you expect to use for years, look for only those grills that allow for different ways of cooking.
Grate Material.
Grates themselves should heat evenly, give this heat to food, prevent sticking and burning. Easy maintenance is another moment to remember. All this is impossible for poor grates made of cheap metals. Experts recommend considering cast iron or porcelain-enameled options.
Durability.
Check your models for durability and quality of materials. If you're making a long-term investment in a grill, you would certainly want mechanical failures to bypass you for as long as possible. So make sure the unit you buy is made of proper alloys like stainless steel.
Wall Thickness.
This factor directly follows the material and durability part. Check the thickness of the walls to make sure they will stand great temperatures and retain heat inside. Only the combination of high-quality materials and the right thickness will guarantee you an optimal purchase.
Ignition Convenience and Vents.
A properly designed unit should provide easy access to the charcoal container and an adjustable air supply for easy ignition. The number and design of ventilation holes influence the temperature regime, which is crucial for cooking. If you'd like to grill various products (meat, sausages, fish, vegetables), we'd recommend paying special attention to this moment too.
Cleaning.
Nothing but charcoal can give food that special smoky taste, but it leaves more dirt than
gas or electricity models
. That's why we also recommend focusing on the ease of cleaning and maintenance. The most user-friendly
charcoal grills
are those with an easy cleaning system and removable ash bowls. There are also modifications with side compartments for quick ash throwing.
Brand Reputation.
Nobody canceled the concept of reputation. If a company has earned its credibility in the market over the years, you will most likely get a good product. After all, companies do not become worldwide corporations by making trash. Besides, a large, reputable vendor is likely to have better customer service and support than smaller retailers.
Other things to consider include:

grill bowl sealing for better heat retention
the presence of thermometer and food temperature sensors
convenient cart for easy transportation and usage
storage compartments like side tables, shelves, hooks for tools
Frequently Asked Questions
1. Char-Broil vs Dyna-Glo: which is the best grill brand?
Both manufacturers occupy top places in medium-price grill lists.
Char-Broil is a deal for customers on a tight budget and for those who need a grill for a functional couple of seasons.
Dyna-Glo offers better materials, durability, and functionality for a higher price. That's why if you feel freer in terms of a budget, we'd recommend Dyna-Glo grills.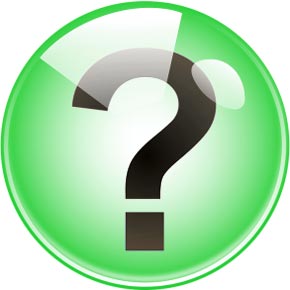 2. Char-Broil vs Dyna-Glo: which charcoal grills last longer?
According to the users' reviews, Dyna-Glo grills last for about 5 years, while the Char-Broil units live for 2-3 seasons. Anyway, the lifetime of a grill will depend on the exact model, materials used, and maintenance.
3. Do Char-Broil and Dyna-Glo provide a warranty on their grills?
Warranties vary greatly depending on the model you purchased. So please check this beforehand.
On average, the Char-Broil brand provides 1-2 years of warranty. Its American Gourmet 800 comes with a 1-year warranty. But the TRU-Infrared Kettleman is protected within 10 years.
Dyna-Glo charcoal grills are warranted for 1 year. This is especially true for the Premium series.
4. Can I use wood instead of charcoal for my charcoal grill?
Though wood burns longer and in a different way than charcoal, you can use it instead of charcoal for your cooking achievements. However, please check the manufacturer's recommendations and wood amount requirements beforehand.
5. How can I clean my charcoal grill?
Manufacturers recommend performing cleaning after every cooking session. First of all, make sure the coals are completely extinguished and the grill is cool. Rinse your grill and grates with water and allow to air dry before using again. The use of a soft brush is allowed. Wipe out the interior with a cloth or paper towels. Then clean out all remaining ashes. Ashes collect moisture, which can lead to premature rusting and decay.
Periodically coating the interior surfaces with vegetable oil will aid in the protection of your unit.
Conclusion
So, now when we know all the truth, what charcoal grill should we choose?
That's it. Hope you liked the battle and found your perfect charcoal grill. See you in the next review. Enjoy your shopping and bon appetit!