Sun Joe SPX3000 vs SPX4000 – Don't Buy a Pressure Washer Without Reading this Review


Today, I will be comparing the Sun Joe SPX3000 vs. SPX4000.
My father had a gas-powered pressure washer he got on a garage sale a few years back, but I remembered it leaked horribly. So, I was hoping to get a powerful washer without dealing with the terrible smell of gas and oil. I came across the Sun Joe SPX3000 online and since it has a strong following, I ordered one right off the bat.
Yup, I was pleased with my purchase until a good friend of mine, came to my house and compared the Sun Joe SPX3000 vs. SPX4000, which he currently owns. To make a long story short, he lent me his Sun Joe SPX4000 so that I could see for myself what I am missing.
If you are in a hurry and you want to know which of these two is the best electric pressure washer, then here's what I can tell you in a nutshell: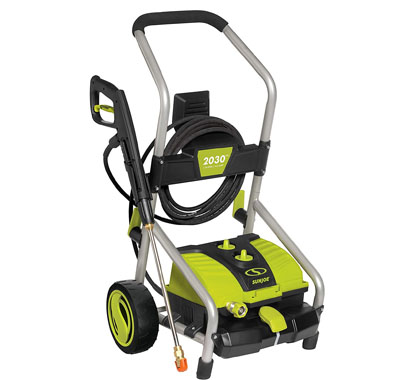 The SPX4000 delivers the same performance as the SPX3000, but it has two dials for the pressure and soap. Even without detergent, this thing is a beast!
Main Differences Between the Models
The SPX3000 might be a bit more affordable than the SPX4000, but it is important to note that this model is not less powerful than the latter. Both machines use the same 14.5 amp motor.
The Sun Joe SPX3000 looks rather bulky and weighs more than the SPX4000.
Using the same motor means both models can reach a maximum pressure of 2030 PSI, pushing 1.76 gallons of water each minute. However, the SPX3000 lacks an option to choose between High and Low pressure.
Both models do not have a hose reel.
The Sun Joe SPX3000 has two detergent tanks with a combined capacity of 60.8 fluid ounce capacity, which is 6 ounce greater than the SPX4000.
Comparison Table
Dimensions
15.6 x 13.5 x 33.9 inches
Pressure Select Technology
Dimensions
15.6 x 13.5 x 33.9 inches
Pressure Select Technology
Pressure Select Technology
Last update on 2022-07-01 / Affiliate links / Images from Amazon Product Advertising API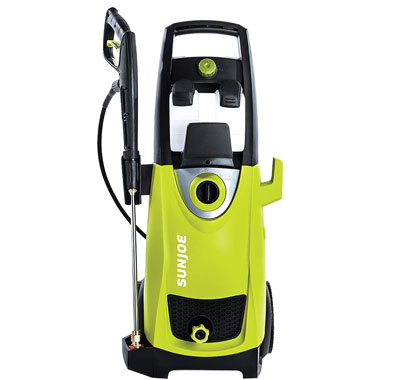 As a first time user, I was greatly surprised to find how easy it is for me to configure the SPX3000; it only took me about 20 minutes to assemble the other parts. My neighbor scoffed at my purchase but believe me, it competes with her loud and expensive gas-powered pressure washer!
Packed with 1800 watts of power, it shoots out a mighty blast of liquid up to 2030 pounds per square inch. The SPX3000 also pumps up to 1.76 gallons of per minute to make quick and light work of heavily soiled areas.
For an electric pressure washer, it did a fantastic job at removing grit and moss on my flagstone walkway. So far, I have had a fun time cleaning everything — the kennel, garage doors, outdoor furniture, vinyl sidings, window shutters, and more.
The best part? I don't have to kill my back and shoulders trying to start the machine! All I have to do is fill up the two detergent tanks, plug the machine, and I am good to go! To top it off, the gun includes a built-in total stop system trigger that automatically shuts off the pump when the trigger is not engaged.
Moreover, the unit comes with a 34-inch extension wand, allowing me to reach every nook and cranny — something my good ole garden hose could never do! You can also control the spray with five quick-connect nozzles. Therefore, you can tackle different surfaces as you change the stream types.
At 31 pounds, it only weighs as heavy as a corgi and it comes equipped with big, chunky wheels to make it a breeze to roll it around. I also like that the handle is sturdy and a cinch to remove for storage.
Pros
Eliminates mildew, grease, oil, tar, mud, rust, and more
The water connection on the front is a cinch to hook up and does not leak
Its upright configuration takes a smaller amount of space when storing
No more noisy gas engines and chemical smells
Cons
Only has one pressure setting
The lack of a hose reel means you have to wrap the cord around the arms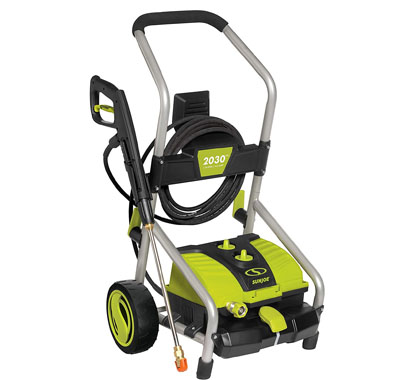 The first thing that caught my eye are the knobs. Unlike the SPX3000, it comes with two dials: one for the pressure and another for the soap.
For the setting, you got High Pressure, Low Pressure, and Stop for the first knob. Since you can adjust the pressure as low as 1450 psi, you can now clean more delicate areas, such as stained wood and laminar sandstone. Being able to lower the pressure gives you more confidence when cleaning your car.
Another thing that has changed is the reservoir for the soap. This time, the SPX4000 only has one tank, which has a maximum capacity of 51.4 fluid ounce. Likewise, the tank can be found at the bottom part of the unit.
The SPX4000 includes the same accessories. You will find the soap nozzle, 40-degree, 25-degree, 15-degree, and 0-degree tipped nozzles. I used the 25-degree nozzle for washing a dirty car and rinsed it using the 40-degree nozzle. However, you do not want to use either of these when washing delicate sensors on the car.
The gun is pretty lightweight and easy to wash an entire car holding it one-handedly. There is a socket where you connect your high-pressure hose. The gun also has a yellow trigger — nothing special; it does have a safety feature.
The SPX3000 also has a pretty long power cord where you can wrap around the arms. But depending on where you will be using the washer, you might need an extension cord for it. I did wish the hose was longer, so I could get my revenge on the algae and moss in the garden steps that caused me to slip.
All in all, the SPX4000 can do everything the SPX3000 can do and more. You may have also heard about the 4001. But basically, the only difference between the SPX 4000 vs. 4001 is that the hose which connects the unit to the gun is a little longer in the newer version.
Pros
Eliminates mildew, grease, oil, tar, mud, rust, and more
You can set the pressure between 2030 PSI or 1450 PSI
Also has a variable knob for dispensing soap
More stable due to its low center of gravity
Eco-friendly and less noisy compared to gas-powered washers
Cons
There is still no hose reel for this model
Face to Face Comparison
Design
Right from the start, you can tell the biggest difference between the Sun Joe SPX3000 vs SPX4000 is the design.
SPX3000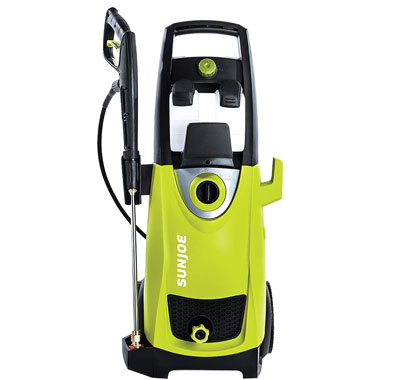 On the other hand, the SPX3000 looks taller and slimmer, but it actually feels a bit bulkier than its more expensive sibling.
Pressure Output
You should not consider any power washer with a PSI under 2000. Anything less than that, you may as well get a brush and a bucketful of water to clean your patio.
The Sun Joe SPX3000 and SPX4000 are the same in terms of pressure output. Each model is packed with 1800 watts of power, pushing pressurized water out at 2030 pounds per square inch.
attention
These units are not meant for industrial cleanings, but for the price, you can expect any of these models to deliver excellent cleaning performance in your home.
important
However, the Sun Joe SPX4000 has an edge over the SPX3000 in this department simply because it has a low-pressure setting. You can easily switch between High and Low by turning the knob. A whopping 2030 PSI is strong enough for some cars and more delicate surfaces, so this feature is quite handy.
Ease of Use
Next, let us look at the usability of each pressure washer.
The hose on both machines is 20-feet long. Likewise, the power cord for each unit measures 35-feet in length.
Take note; none of these washers come with a hose reel. Therefore, you will need some time and a little effort when storing back the hose.
Both models come equipped with large wheels, giving you almost no trouble when pushing it on uneven terrain. But at 27.8 pounds, the SPX4000 is easier to drag around, making it more convenient for older people to use.
Accessories
The Sun Joe SPX3000 includes the following accessories: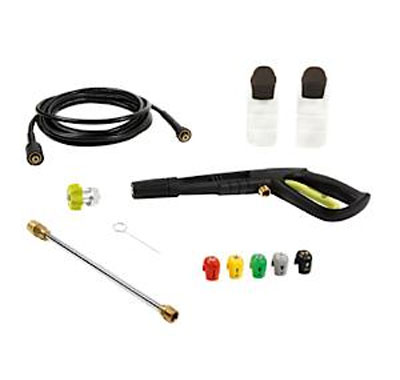 30.4-ounce removable detergent tanks
(5) quick-connect spray tips
34-inch extension wand
20-foot high-pressure hose
35-foot power cord with GFCI protection
garden hose adapter
needle clean-out tool
The SPX4000 also comes with the same set of accessories, except that it only has one detergent reservoir, which has a total capacity of 54.1 fluid ounce.
You will also get the same five spray tips that will ensure you get the exact jet that you need for the task at hand. Like the SPX3000, it also lacks a hose reel, but it comes with the same 25-foot hose and 35-foot power cord.
Tips & Reminders
The leftover water in the unit can cause the pump's internal gaskets to seize up. So, use a pump protector lubricant after using the pressure washer.
Do not tighten the screws into the plastic components too tightly.
The red nozzle can be extremely piercing; it can cut skin, boot leather, and hard vegetables like carrots.
Frequently Asked Questions
1.How do I connect my Sun Joe pressure washer?
The Sun Joe comes with a manual, making it easy for users to assemble it.
2. Is 2030 PSI safe for washing a vehicle?
The Sun Joe SPX3000 and SPX4000 makes washing cars quick and easy. However, you should watch out for the initial burst of water that comes out of the wand when you first turn it on.
3.Can you use vinegar in a pressure washer Sun Joe SPX3000?
You can dilute white vinegar with water, but you should never combine it with other cleaners.
4.Can I use pressure washer Sun Joe spx4000 without detergent?
Yes. The pressurized water is strong enough to lift stubborn dirt and clean debris between crevices.
Conclusion
After comparing the Sun Joe SPX3000 vs. SPX4000, I reckon these two are the same except that they are styled differently. Besides, both pressure washers use the same motor and deliver the same performance.
While these machines might not compare to my dad's gas-powered workhouse, they are powerful cleaning tools nonetheless. Any of these units are ideal for light-duty power washing outdoors.
Both units deep-clean very, very well and the nozzles that come with it are easy to change out.