Top 3 Best Biscuit Joiners: Dewalt DW682K vs Makita PJ7000 vs Porter Cable 557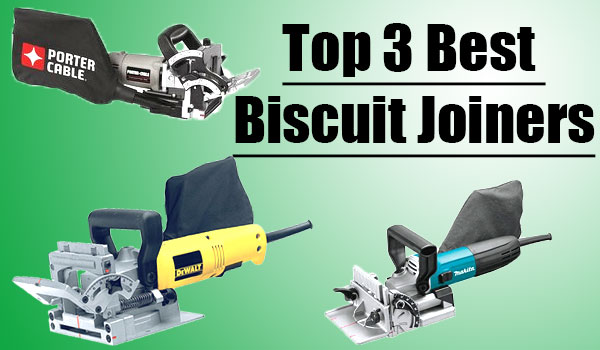 If you are a wood craftsman or a DIY enthusiast, you've probably heard about biscuit joiners such as Dewalt DW682K or Makita PJ7000. These tools cut the fat when it comes to joining wood and making sure the bonds last. If your work entails a lot of wood joining, then it's time you consider saving time with this revolutionary tool.
But for many guys out there, shopping for the best jointer is where the problem is. I can say it's because these tools are not so popular, and also, there is little information out there. That's what we want to break.
Having used over 10 different joiners so far, I decided to write this review of the top 3 best biscuit joiners. I know you are wondering what I was doing with these plate joiners; I run a woodshop in Florida, so one jointer is not enough for the business. That's why I try to get a different model every time I need a new one.
So, without further ado, let's get down to business.

Comparison Table
1. Makita PJ7000 Comfortable Handling and Ergonomics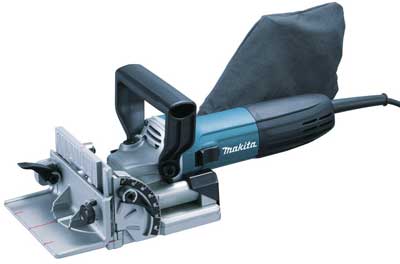 Pros
Lightweight design
Improved handling
High precision and accuracy
Runs quietly
Cons
Poor construction
Cord overheats
There are those tasks that don't require heavy cutting, but at the end of the day, you need to make over 100 joints. This is where Makita PJ7000 the Makita 3901's replacement, comes in handy.
This is a lightweight and very comfortable joiner to use and has a wide top handle for a tight grip when working. It measures only 5.8 lbs. and has a Rack-and-pinion vertical fence system. So, if you want something that's easy to use and offers high accuracy, this is your best match.
If you are looking for a basic jointer that can do the common joints like T-joints, butt joints, miter corner joints and the rest, this is a model you should check out.
Makita is known for high power tools
, and this is just one of them.
Packing a low-noise operation 6.5Amp motor, the cutting spindle averages 11,000RPM and as long as you are using a blade in good condition, cutting is effortless. I'm saying this because the original blade it comes with has a very short lifespan, and if you don't get a genuine replacement, cutting becomes a problem. You can use this tool with #0, #10 and #20 biscuits and can be adjusted to 90° with stops at 0, 45, and 90.
If you want a wider angle adjustment, check out Porter Cable 557; it extends to 135° and costs almost the same as this. It comes with a dust bag and tools case, accessories that make it a great tool for on-the-go woodworker.
However, as much as I like this joiner, its construction is not that good. The switch broke within a week of use, and the power cord tends to heat upon long use. A quick fix would be to wire it with another cord.
2. DEWALT DW682K Rugged and Durable Design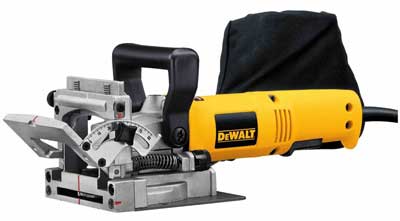 Pros
Durable all-weather design
Can still cut wider angles
Clear alignment markings
Includes vacuum adapter
Cons
Apart from my Porter Cable, this is the only other biscuit joiner that I've used for the longest. I bought the first one when I was training to be a woodworker, that's 10 years ago, and the performance is still top-notch, the same as the exterior. It has fallen down several times, and funny enough, it gets back to work, unlike others. Last year, my Ryobi JM83K fell from my 3 ft. workbench, and that was the start of unending trips to my technician. Also, its body is strong and doesn't get scratches easily, only dirt. Its performance is also great, and that's why it's Amazon's choice for the best biscuit joiner.
Besides the rugged design, DEWALT also offers a few advantages over the other models. First, even though it has a 90 ° fence, it can still cut the 135° angle with a small 45° notch that has been cut out of the bottom of the fence. In addition to the 90°, the tool makes 135°. I also liked the blade alignment markings that are easy to read and the adjustment knobs will firmly hold the unit so that you get the exact mortise sizes for the perfect key-lock fit. With a standard 4″ blade, you will get clean plunges and precise cutting all through as long as you don't put downward pressure. I realized that when you do this, the weight of the unit plus your force may tilt the blade, and you'll lose precision.
Another observation I made is that it doesn't clean all the wood shavings, but when you plunge in twice, you are left with a clean groove ready for gluing. Regarding dirt management, I'm glad I am able to use my PowerClean vacuum with it as it has two hose adapters; one for the bag and the other for an external extractor.
Makita PJ7000 vs Dewalt DW682K comparison shows that the latter boasts a more powerful motor, though the RPM rate is lower. DEWALT included a reliable 6.5 Amp motor that can do 10,000RPM and works with minimal noise emission. If your work entails #0, #10 and #20 biscuits and you want something that will serve you for a long, this is what you should get.
My only problem with DEWALT DW682K is the exhaust port that faces the user. If the beg is not attached, all the dirt is directed to your face.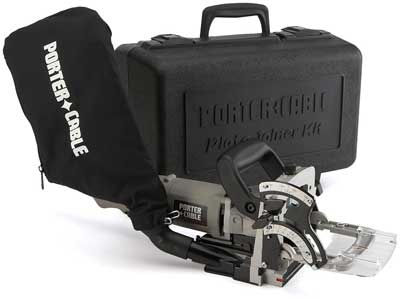 Pros
Extends to 135°
2 blade sizes
Reduced vibration
6 biscuit sizes
Solid extruded plastic case
Cons
This is my best biscuit joiner so far, and it actually takes the editor's choice slot in this review today.
It boasts a solid, lightweight design and comes with all the standard features. What makes it a top choice for professional carpenters is the fact that the fence extends up to 135°; very few models in the market have this capability. Besides, it is compatible with all the biscuit sizes you can think of thanks to the 4″ blade and the extra 2″ blade.
By design, I won't say much, but I wish it would have been much lighter. At 7.5 lbs., it's quite heavy, but the good thing is that the vibrations are reduced. This time Porter Cable played about with the design and not the electronics and mechanics in the motor. The model is the most powerful of this review, even when comparing Porter Cable 557 with Dewalt DW682K. I won't say the 7 amp motor is efficient, but the idea of attaching the handle to the fence as opposed to the motor is brilliant. You don't feel the vibrations directly, and, moreover, you get better control of the unit.
But the best thing about this model is its versatile cutting abilities. A major competitor of it DEWALT DW682K greatly loses the battle here because while it has a 4″ blade only, Porter Cable has a 4″ blade and another 2″ for smaller projects. Isn't that awesome! Apart from this, it cuts up to 135°, which makes it stand out from the likes of DW682K, Makita and the rest.
If you thought that's all, you've not heard about the 7 cut settings; precise and accurate. The most important thing when it comes to biscuit joiners is the biscuit size. While your standard jointers offer 3 sizes, you can do it all with Porter Cable. It can cut all grooves; FF, #0, #10, #20, Simplex, Duplex and Max.
If you are venturing into professional woodwork, this is a really cool tool that needs to top your wish list. If you have the perfect location, you will get all types of orders; from small projects like photo frames to large projects like cupboards.
The good thing is that this Porter Cable Plate Joiner will do all the small projects and medium projects. The carrying case is one of a kind, a solid box that holds all your items intact.
But still, there is something I wish Porter Cable had improved. At 7.5 lbs., the 557 is very heavy for a mid-range plate joiner – but note, I'm not complaining about its usability.
Biscuit Joiners Buying Guide


Now that you know a few of the market's best jointers, it's time I take you through everything you need to know when buying these tools. But just before go deep, let's look at some important things you need to know.
What is a Biscuit Joiner?
As the name suggests, a biscuit joiner is a powerful tool for making solid joints on wood by using a lock and fit key principle. Even though it may not be popular amongst many DIY enthusiasts, it's an everyday tool for woodshops.
This tool got the name because it uses biscuits to join sheet goods. What makes the name is the fact that they look like breakfast biscuits, with textured surfaces. Biscuits are made from dried hardwood, which is then compressed using a hydraulic press. This makes it shrink to absorb the water in the glue, and then it expands, completely filling the spaces in between. Biscuits come in 3 standard sizes; #0, #10 and #20 and measure 4mm. However, there are other variations, for example, the 2mm #FF that's used for assembling smaller boxes. If you have the Porter Cable 557, you must have heard about these biscuits; it's among the few joiners with a 2″ blade for cutting these small #FF biscuits.
verdict
Just like the main tool, it is imperative to get the best biscuits because they are directly determining the strength of the joints. Also, you should store them in a cool, dry place lest they get moist and swell even before you glue them.
How do biscuit joiners work?
For starters, this tool works in 4 easy steps; groove, glue, insert and clamp.
The entire power tool is registered on top of the workpiece at a flat angle using the fence. Then the blade, depending on its size, spins very fast and makes a crescent groove on the wood. This crescent groove is also made of the other wood piece. Now, these two grooves are of the same shape and almost the same size as the biscuits. Now, grooving is complete, so the next step will be gluing. Here, water-based glue is recommended so that the water aids in swelling. Once the groove is glued, the biscuits are now inserted into the groove and clamped. Within no time, the biscuits start swelling and will fill the entire groove creating a very tight and solid joint.
Common biscuit joiner applications
If you ask any Tom, Dick and Harry, they will tell you that a biscuit joiner is for joining wood. But the elephant in the room is, what types of joints do these tools make? That's what we will address now.
Here are the main joints a biscuit joiner is capable of rendering.
Miter corner joints
Butt joints
Widening joints
Frame joints
T-Joints
From this, you can see that these tools are a must-have if you are into woodworking and even DIY wood projects. So, if you are thinking of venturing into the popular wood DIY projects like tabletops, cabinets, cupboards, shelves and frames, then you need to consider getting a biscuit cutter if you want strong and sturdy furniture.
However, it's important to note that biscuits may not be an alternative to traditional joinery as we know it. It's actually the weakest compared to traditional joints like tenon, mortise, and dovetail.
Advantages of biscuit cutters
Even though they may not be the best choice in all situations, a jointer offers quite a lot of advantages, and that's why it's still a favorite tool for any craftsman.
In case you are wondering what value will it add to your workshop, here are the two main benefits they offer.
Saves time: Compared to dowels and other wood joinery techniques, a plate joiner is fast. This tool has been designed to do all the work for you.
Solid joints: The joints these tools make are better than anything you can get out there. This is courtesy of the precision and perfect key-lock fit the biscuits offer after swelling while inside the groove.
Important Factors to Consider when Choosing a Biscuit Cutter
Just like when shopping for other tools, there are several important things to look out for. However, note that it's quite hard to get everything you want in one tool. Just know that it's a matter of compromise; at times, you may have to sacrifice feature A for feature B. That said, let's look at the things you need to consider when buying a biscuit jointer.
What brand are you buying?
If you look at the market, you will realize that it's already flooded. You will get popular brands that you've heard of before and some very new brands you've never heard of.
I once bought a GENERIC joiner, and I got the rudest shock of my life when it ceased powering on after a week. I took it to my technician, and he asked for a PART replacement. 3 years later, I've never got a compatible replacement.
Were it from a popular brand like BLACK & DECKER, Makita, and the rest, the chances were high it would be functional until now. More so, I would have at least got a replacement part.
But I must mention the fact that these less-known brands are very cheap compared to the household names. Also, you may find a reliable one from this lot, so if you are on a really tight budget, don't be afraid to try cheaper options like WORX WORXSAW and Genesis GCS545C;
Ergonomics
This refers to all the factors that affect handling. Like most power tools, a good biscuit joiner should be ergonomic. The user should be able to handle it comfortably without getting overly tired.
First, the entire unit should be lightweight. Even though you will use this tool with both hands, it still needs to be lightweight because, on a normal day, you may use it for a straight hour or so, and with the constant lifting and carrying, your wrists get tired.
Besides, the handle should offer a tight and, most importantly, comfortable grip. These tools have very powerful motors, and the vibrations they produce make using them quite a cumbersome activity. A comfortable handle will, however, cushion you from the strains. If possible, get one with a rubber material on the handle; rubber helps a great deal in reducing vibrations!
My advice here is that you get a barrel grip handle. I like it because it is in the body and allows you to get a good hold of it and keeps your hand in line with the cut. This is unlike the other type, D-style that has a handle that extends from the body.
Corded vs. Cordless
Just like many power tools, there are also corded and cordless biscuit joiners. A lot of people disregard this aspect and end up buying tools that limit them.
Corded joiners are the most popular because of their raw power. They come with an electric cord that supplies power to the motor. Besides raw power, corded joiners are easy to maintain because they only need electricity to run; no battery replacements or charging. Also, they can work for as long as there is electricity compared to cordless joiners that require frequent charging.
On the other hand, cordless joiners can be used anywhere because you are not limited regarding to power a source or cord length.
However, in as much as cordless joiners may look very convenient, few are times you will need them in places where there is no power reach. So for me, you'd rather sacrifice the convenience and chose raw power; that's what a corded joiner offers.
How solid is the fence?


The fence is the part of the main unit that aligns the tool to the correct cutting angle and depth. It is imperative that you carefully assess the fence because you want the right cutting angle and depth too. If any of these two parameters go amiss, don't expect a solid joint. When talking about the fence, there are a few things you need to look out for.
First, check the cutting angle and see if it will match your current and future needs. In the market, you will realize that most biscuit cutters go to a maximum of 90°. Such models are great for the basic joint types but if you want an advanced plate joiner, look for something that extends wider than 90°. You will find models that stretch up to 135° like Porter Cable 557, and this is what I would advise anyone to go for. Others like DEWALT DW682K stretch to 90° but can still cut 135° angles.
The other thing you should check is the cutting depth, and here it's all about the height adjustment. Make sure you get a tool with an elaborate height adjustment to get the correct plunges. In particular, pay attention to the knobs; they should be easy to adjust and, most importantly, firm to guarantee zero drifting.
What's the blade size?
The size of the blade directly determines the accuracy and precision of your plunge. There is a range of blade sizes, and the nature of your projects determines the joiner you will go for. The standard blade size is 4″ and caters to all DIY projects. For us, this is also the blade size we use though occasionally, we may need larger blades or smaller blades. If you are making small projects, you might need a 2-inch blade, and the perfect tool to go for here is the Porter Cable 557 that has a 4″ primary blade and another 2″ blade for such projects. Apart from size, the blade should be very sharp to guarantee an easy and effortless cut and, most importantly, accuracy. It should also be able to incise a parallel cut because the biscuits are straight too; any slight miss will bend the biscuit, and the joint won't be a strong one.
verdict
With this in mind, make sure you are buying a plate joiner with the exact blade size that suits your joinery needs. If you do a range of furniture, I would advise you to get one with a versatile blade like Porter Cable 557 as it has two blade sizes.
What biscuit sizes do you use?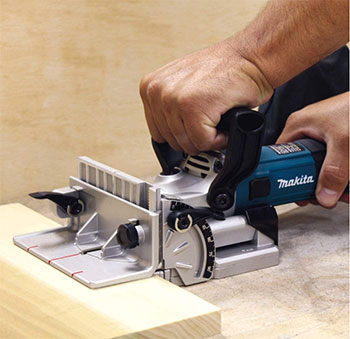 Remember there are several types of biscuit sizes, the common ones being #0, #10, and #20. There's also FF that is synonymous with small wood projects as well as Simplex, Duplex and Max.
Remember, not all biscuit cutters can handle all these sizes, so you have to be careful when shopping. Fortunately, for all these above models that I have reviewed, you can use #0, #10, and #20. As a matter of fact, the #20 is the most used biscuit size, and this shouldn't be a major concern. But if you deal with different products from time to time, I highly recommend that you get Porter Cable 557 because it notably handles ## biscuit size, something other plate joiners in its price range really lack.
How's the motor power?
Motor power is another important aspect that you should look out for when shopping for biscuit cutters. Like everyone knows, the higher the motor power, the better. But I'll tell you this for free; high motor power is not something that should worry you much. What no one seems to be telling you is that smaller motors are better because they deliver accurate and very precise cuts.
Besides, the bigger the motor, the heavier it becomes; I'm sure you don't want a very heavy tool. From what I know, anything in the region of 10,000RPM is just fine for wood joining tasks. You can get such performance with a 4 Amp to 7 Amp motor.
What I want you to note is that a blend of power and efficiency is what you should emphasize on.
Depth halts and stop pins
I know a lot of incidences where the blade can go deeper than expected or cut a wide groove than what you want. But this is something of the past now that some brands provide extra precision features.
Look out for depth halts in your preferred biscuit cutter. These additional precision features help to make sure that the blade goes to the depth you wish, not an inch more. In the event the blade wants to exceed the set depth, it is stopped.
On the other hand, stop pins ensure the blades are held in their right place to get a precise cut just as you wish.
Is user safety a priority?
Tools help a great deal in our daily work but can be very dangerous also. In my career, I have seen some horrendous accidents which leave a lot of carpenters maimed. The good thing is that manufacturers are now incorporating safety features in these tools.
Make sure you get a biscuit joiner that has been designed with safety in mind. One of the top safety features to look out for is a lock-off switch. Many are times the jointer powers on accidentally, and in case you escape unhurt, know you're lucky!
How will you manage the waste?


Wood joining and cutting will leave you with a lot of sawdust and wood waste. Besides, it leaves a lot of allergens in the air and if you are allergic like me, you know the aftermath. So, if you want a clean working area, it's important to consider the 3 options available.
First, you may choose to go bagless and leave the wood waste to just drop on the floor. I really don't recommend this if you deal with wood joining daily like me.
You can also opt to connect the bag if the tool you bought comes with one. The disadvantage with these bags is that they require frequent emptying, and often, they get clogged. If you use joiners from time to time, you can stick to this bag, and it will help you keep your work area clean.
However, for guys like me, there's no way I'm going to use the bag. What I've done, I have a dirt extractor system, so I just connect the joiner with it, and all my worries about wood waste are gone.
I won't tell you to go for any particular method here, it's up to you to decide. Know the amount of waste you will be anticipating and make the right choice.
attention
always check the hose compatibility with popular dirt extractors if you are using these tools for commercial purposes.
Useful Joining Tips
Wood joining may not be an easy task, especially for newbies. Fortunately, throughout my years in woodwork, I have some tips that will make your project a dream come true.
1. Always use the handle
Many people lose precision because they ignore using the handle. Remember, the designers had a reason for constructing these jointers with handles. For many guys, it may be easier to hold the fence down with one hand. What they don't realize is that when holding the fence, it's likely that you will tilt the tool and lose your measure. Also, holding the fence is quite dangerous because your hand is drawn closer to a cutting blade.
I strongly advise that you learn to hold the handle; it gives you more control.
2. One hand, one task
During my earlier years, I used a lot of effort to get work done because I was doing it the wrong way. After checking the fence and the tool's face is in the right position, apply downward pressure with the hand that's on the handle and forward pressure with the other one and not vice versa. Try this for a smooth and effortless joining.
3. Position yourself first
It is always advisable to position and lock your arms first before switching on your joiner.
Then make the cut by shifting weight with your lower limbs and not by pushing with your arms. Applying pressure with your arms will tilt the tool, and you'll lose accuracy.
4. Cutting the safe way
We don't need to discuss how dangerous the blade can be, but here's a simple tip to reduce the risks of cutting. First, hook the thumb on the handle's top, leaving out your fingers on the top of the fence. In this position, it's easier to plunge the cutter by just squeezing the handle and fence together. You also realize that your hand is very far from the cutting blades.
5. Use water-based glue
These tools are called biscuit joiners because the actual biscuit plates look like breakfast biscuits because of the textured pattern. Actually, in woodwork, these texture surface serves a purpose. They swell up after assembly, thus making the bonds stronger, the results; tighter joints!
But just how do they swell? Just like ordinary wood does, these plates swell when exposed to water or moisture. Here, the type of glue really matters. Most glues used in this job are water-based, so the moisture in the glue swells the plates. You don't have to wet the plates before fixing them like when using a non-water glue. I don't like such glues because wetting the plates yourself may at times swell too much such that they don't fit anymore.
For this reason, I always recommend water-based glues.
6. A dry run is important
If you are a DIY enthusiast new to wood joining and using plate joiners, I strongly recommend dry runs.
We sometimes perform dry runs, especially during extreme weather, just to make sure everything fits perfectly. Nothing sucks like realizing you need a correction when the glue is drying, or the biscuit has already swelled. So, if you don't want to waste materials, don't ignore this.
7. Use a dust bag
For me, I'm used to sawing dust, wood chippings, and other wood messes but, for a DIY project at home, you don't want to make the place dirty, especially on a windy day.
The advantage is that there are bags that collect the dirt, so getting a plate joiner with a dirtbag like Makita PJ7000 may be a clever idea.
Safety Tips
I know these tools can be dangerous at times, so it is imperative that I give you a few tips to help you stay safe.
1. Use it for the intended use only
I know it sounds like a clever idea using your tools for some other tasks you discovered. However, from a safety perspective, you should desist from this. Besides damaging the tool, you might injure yourself if you use it for other jobs apart from its main use.
2. Beware of moving parts
The moving parts of the tool are to be avoided at all costs when the joiner is running. A little mistake, and you might lose your fingers. I won't talk much here because I already suggested the correct posture when handling biscuit plate joiners.
3. Wear appropriately
If you come to my shop, you will find everyone in the right attire and safety wear. I don't do this because the law says so, it's because I know the risks of improper attire. When working with these tools, keep off jewelry, ties, loose clothing, and anything that may be caught by moving parts.
4. Unplug it when idle
It's common to find people leaving drills, joiners and other power tools running just because they will be back shortly. Regardless of the pause duration, switch the joiner off and, in fact, unplug it if you are not using it. A running power tool is a time bomb; it may fall and get damaged because of the vibrations or even injure someone.
Biscuit joiner maintenance tips
Even though it's unanimously agreed that the build quality and construction determine durability, maintenance and how you use your tool plays a part.
Right now, I have some power tools that I bought over 5 years ago, and they are still in top-notch condition. So, what's the secret?
The first thing I do after every use, I make sure all the joiners and dust bags are cleaned. If you see the Makita that's been in use for over a year, intensively, you won't believe it. I realized that when dirt remains on these tools for too long, they lose their appeal. After cleaning, make sure it's stored in a cool, dry place.
Also, check replacement parts and make sure they are always in order. Lubricate the joiner frequently whether you are using it or not. Also, make sure the blades are sharpened or replaced when necessary.
verdict
Above all, always ensure proper use of your tool. Don't use it for jobs it was never meant to do.
Frequently Asked Questions
Do I really need a biscuit joiner?
Biscuit joiners are quite expensive tools. That's why you should think well before purchasing it. The unit will be of great use for professional craftsmen who work with wood. Eager DIYers will also often apply the tool.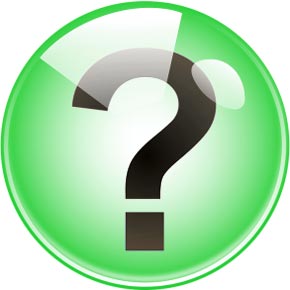 What materials can I work with with my biscuit joiner?
Biscuit joiners are designed to work with all types of wood. You can also apply a tool on plywood, thin planks, and other sheet materials.
What is the required voltage for electric biscuit joiners?
The majority of biscuit joiners need a common 120V outlet.
Should I use glue with my biscuit joiner?
If you're going to make joints, your tool will help strengthen them. However, it cannot do without glue as it is the main thing that fastens the parts.
Final Words
That said, we have come to the end of our review. If you think it's time to get a plate joiner, set your budget and get any of the ones listed above. They make wood joining an easy task and the bonds they create last forever. But make use you use the best biscuits, apply enough glue and that's it!
Do you have any of the above tools? What's your experience? Tell us in the comments section below!
Further reading and references: