A Comparison of Three Best Router Tables in the Market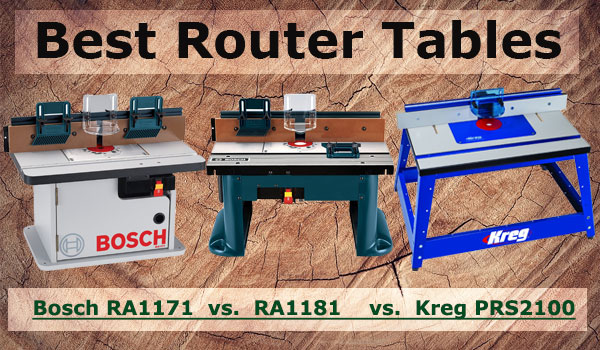 You will agree with me that a router table is an invaluable addition to any workshop. But then, you have to get the best model to boost productivity at the job site and also, to get value for your money.
So, what's the best model in today's comparison review of Bosch RA1171 vs. RA1181 vs. Kreg PRS2100?
If you are scouting for a router table, but you don't know which one to go for, these three are great options.
We have compared the most important features and aspects that come into buyers minds when looking for a good router table.
But just before we go deep into the comparison, let's have a short overview of these three models and see what each has in store for us.
1. Bosch RA1171 Cabinet Style Router Table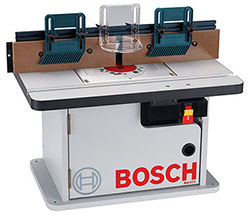 This is a cabinet-style table saw that features a laminated table top with a reinforced aluminum router mounting plate for the best usability.
Here are several features that made this router table one of the best-selling in the market.
The unit offers a compact yet solid design with several safety elements integrated. We love a safety start lock that prevents unauthorized use, a plastic guard pin that covers and directs work pieces, and predrilled holes to fix the base.
When it comes to performance, this router table would fit the common light-duty to medium-duty routine tasks. There are adjustable MDF face plates and also two adjustable feather boards. Users can work with different work pieces, including even tall and awkward parts.
The accessory slot accepts extra feather boards and 3/4 inch optional accessories. The model is compatible with a variety of routers.
You can easily slide work pieces and remove all dirt, thanks to two dust collection ports.
Bosch RA1171 is perfect for the all-day woodworker. If you are on a budget, the Bosch RA1171 will definitely be a great purchase when you look at it from the price to features ratio.
2. Bosch RA1181 Benchtop Router Table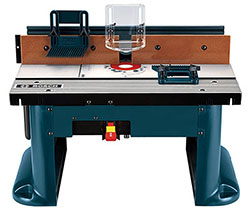 If you are looking for a lighter router table, this is an excellent option as it has a benchtop design. This means there are no extra wood panels that complete the cabinet style.
Bosch RA1181 improves the old model, adds several new features, and solves the flaws.
The worktop is made from aluminum. So we don't only have a solid plate, but the whole working surface is aluminum.
The table is equally spacious to accommodate a range of routing needs. Integrated adjustable MDF face plates and feather boards allow for adjusting the working unit as you want and ensure improved support and control. That's why Bosch RA1181 is suitable even for beginners.
You can traditionally apply many routers and accessories. Moreover, the model has a special accessory pocket for convenient storage.
All safety tips stay with us, luckily.
The unit will cost slightly more compared to the previous router table. Also, users get one dust port.
However, an improved design, more solid materials, and greater support and control during work are truly worth it.
3. Kreg PRS2100 Bench Top Router Table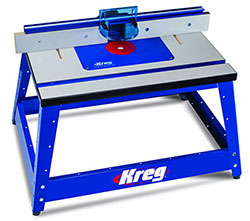 Kreg PRS2100 also has a benchtop design and is much lighter than Bosch models. Users like it because of its high precision and stability, especially on uneven terrain.
By the way, the model may seem too simple, especially compared with Bosch router tables. But we found many similar functions that contribute to high performance.
One of the highlights of Kreg is an MDF worktop that can offer a smooth surface for smooth sliding. The table top is super-large and features an Easy-Slide surface. There are also plate levelers with the so-called Level-Loc rings. All these additions improve the accuracy of work and allow us to use any routers.
The table and stand have a rubber anti-vibration cover. It means no noise and disturbing movements of the table and your work piece. Dust and dirt particles will not disturb you either, thanks to a dust collection port.
Kreg PRS2100 has a few shortcomings with plastic components, but then, its accuracy and efficiency are out of this world.
Bosch RA1171, Bosch RA1181, Kreg PRS2100 Comparison Review
Style: Benchtop vs. Cabinet Style Router Table
We have several types of router tables. We highlight cabinet-style and benchtop, among others.
So, that forms the first basis for our comparison today.
Worktop design and material

If you want the best router table, you need to examine the size of the worktop, material, smoothness, among many other factors.
So, how does Kreg compare to Bosch?
Stand and stability

Here, it is the stand that is put to the test, so let's see what Bosch RA1171, Bosch RA1181, and Kreg PRS2100 offer.
Fence design


If you have used other woodworking cutting tools, you have probably heard about the fence. Router tables also have this feature so it will be essential to know what it does and most importantly, what the Bosch RA1171, RA1181 and Kreg PSR2100 offer.
Featherboards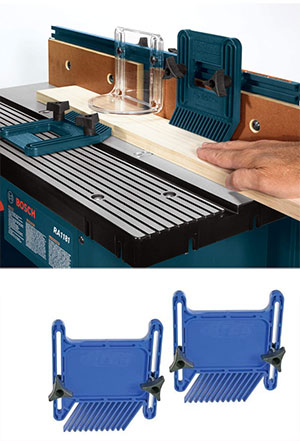 Waste management

Safety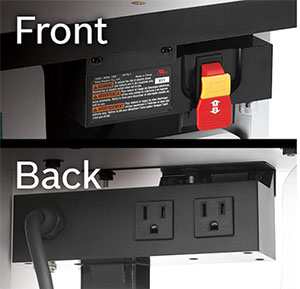 A good router table should be kickback safe and should guard the operator from flying pieces and waste. But that doesn't mean you should not put on your safety goggles.
Also, the startup should not be so straightforward now that kids can be a little cheeky.
So, how do Kreg and Bosch compare when it comes to features?
Assembly
While the smaller woodworking tools may come assembled, a router table will require some assembly. When you order one, it will be shipped in parts which any average DIY enthusiast should be able to assemble. Regardless of your user level, an easy-to-assemble router table is desirable so that you may get to work soonest.
What's in the box?
So, what do the three models in this comparison review come with?
Cost and value for money
Now, before coming to the end of the comparison segment of Bosch RA1171 vs. RA1181 vs. Kreg PRS2100, it's time we look at them from the cost and value for money perspective.
What is the cheapest router table to buy? And besides the prices, what model offers the best value for money?
In this segment, we want to deliver now our verdict on what's the best router table saw for the money between Bosch RA1171, Bosch RA1181 and Kreg PRS2100.
To be honest, all the three table routers are worth the money, and that's the reason they made it into this comparison review.
Bosch RA1171 may not be the best Bosch model in the market, but the fact that it is a cabinet table saw, and is affordable makes it a worthy contender for the ultimate router table.
On the other hand, the Bosch RA1181 improves the old model, adds several new features and solves the flaws the RA1181 had. But then, you miss out on the excellent cabinet design.
When it comes to Kreg PRS2100, it is a little bit more expensive and has a few shortcomings with plastic components, but then, its accuracy and efficiency is out of this world.
But if you are on a budget, then definitely the Bosch RA1171 will be a great purchase when you look at it from the price to features ratio.
Wrapping Up
There you have it folks, a Bosch RA1171 vs. RA1181 vs. Kreg PRS2100 comparison review.
These three are the best medium range router tables in the market that will offer great value for money.
Even though they may have several differences, they are all worthy products.
Buy the Bosch RA1171 if you want the best cabinet model and well as the best inexpensive router table.
For those looking for something that is easy to assemble, I recommend the upgraded model of the Bosch RA1171, the new Bosch RA1181. Even though it is slightly expensive, it offers excellent value for money.
Lastly, Kreg PRS2100 will be a great alternative to the two Bosch models. Though it is a little bit expensive, its versatility and precision are of great value to the professional woodworker.
Further reading and references: