The Best Tool Chests to Buy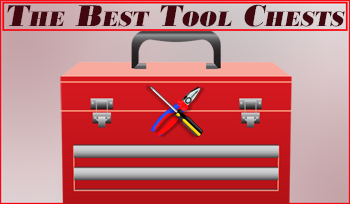 Do your tools get lost every now and then? Do you find it hard to organize your bulky specialty tools? Are your tools too many for traditional toolboxes? If yes, then it's time you consider getting a tool chest.
Remember, these storage equipment are different from traditional toolboxes from the fact that they have chests.
But for many guys out there, choosing the best tool chest is the hurdle and that's why we decided to write this review of the best. So, without further ado, here is our listing of the best models that should top any garage owner's wish list.

Image

Model

Material

Portable Movement

Storage drawers

Check
Price

Excel TB133A
Durable steel
3 drawers and 1 tray
Check Price
Viper V218MCTL
18G steel frame
2 drawers and 1 tray
Check Price
Craftsman 56475
Strong metal and stainless steel
4 drawer chest with large top compartment
Check Price
Giantex TL30208
Aluminum
4 wheels
3 removabledrawers and 1 large storage cabinet
Check Price
Handyman Heavy Duty
Heavy Duty Steel
4 Omni-directional wheels
1 top box drawer, 3 small drawers, 2 trays, 3 large drawers, and 1 big bottom cabinet
Check Price
Keter 217603 5 Drawer
Steel and durable polypropylene
4 Omni-directional wheels
5 drawer modular tool organizer and storage system
Check Price
Best Choice Products
Durable steel
4 Omni-directional wheels
1 top box drawer, 3 small drawers, 2 trays, 3 large drawers, 1 big bottom cabinet
Check Price
Excel TB2040BBSA
Cold rolled steel
6 ball bearing slide drawers and top tray
Check Price
1. Excel TB133A – Best Affordable Tool Chest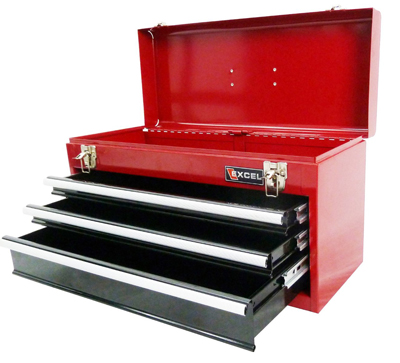 Pros
Very cheap
3 drawers + 1 tray
Compact design
Ergonomic grip handle
Cons
Poor construction
No secure locking
Even though it might not be the best tool chest in terms of build quality and durability, I like the Excel TB133A because of its affordability. Retailing at around $40, this can be a great deal for anyone looking for a tool chest on a tight budget.
It comes with 3 drawers and the main compartment for keeping larger tools. Basically, it has whatever you'd want in a contemporary tool chest!
Like earlier mentioned, the only good thing about this chest is the price. You won't get another alternative that offers the same features like this one for anything below $50.
When it comes to size, it is not very big and that's why you will hear it being called a 21-inch mini tool chest. If you have limited space, the compact design has got you covered. With this in mind, it may not be best for those with many tools, especially large specialty tools. But for someone with average tools, it is such a great organizer and will comfortably handle your spanners, pliers, wrench and other small tools.
The major parts have been crafted from cold rolled steel and even though it looks strong, you will be disappointed after it takes a few hits in the garage. It easily gets dents and loses shape to the point that it doesn't close without being forced, and even if you force it with the two lock latches on either side, you will still note that it is not properly aligned.
Regarding the drawer pulls, I can't complain much but don't put very heavy tools; the tray will sag and you won't be able to pull the lower drawer.
I also liked the grip handle which comes in handy when carrying the box but it will surely snap out when you overload it with heavy stuff. What I really felt Excel should have included is a better locking system other than the steel latches; anyone can open it. I'd have loved to see a key lock or at least a padlock slot.
All in all, the Excel TB133A is still a great solution that will reduce too much clutter around and most importantly, will help you keep your tools in one place.
2. Viper V218MCTL – Best in Class Ruggedness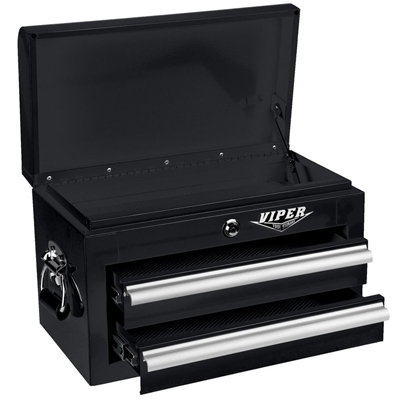 Pros
Heavy duty construction
Wide color variety
Fully lockable
Firm bolted handles
Cons
Quite expensive
Small capacity
This model is smaller than the Excel TB133A which has 3 drawer and a top tray and costs twice as much. But then, this is for a reason; it sports a simple, strong and sturdy design that helps it withstand even the harshest conditions. Regarding load limit, it is equally hardy and unlike these cheap chests whose drawers sag when loaded, this one is a really hard nut to crack .
If you have a few, but heavy tools, this model should also be on your wish list. The 18G steel frame makes it strong and durable and won't get dents easily.
Though not the best, it is among the toolboxes that garages and construction sites should have; no hits can damage it. At least, for this model, you can keep heavy tools in each drawer and still, they will open smoothly courtesy of the 50lbs. load rated ball bearing slide system.
The tray also offers quite some space to keep your tools though I don't recommend heavy tools.
The particular chest we had during our week-long tests had a very weak lid. We realized that the hinges were not welded properly so this could be a manufacturer's defect or just an oversight for that one chest. If you want a fully lockable storage, this is among the best courtesy of an internal locking bar and a single key lock system that locks both drawers simultaneously.
To allow you carry heavier loads, I realized Viper used bolted handles which are more firm and strong than riveted handles like those in the Excel TB133A. You can lift the box without any worries of the handle snapping.
My only problem with this model is the price tag and capacity. It retails at almost $100 and has only 2 drawers when the likes of Excel TB2040BBSA have 4 drawers and retail at almost the same price. But if you are looking for durability, it is a great choice and furthermore, it comes in a range of colors!

Pros
Compact and lightweight
Comfortable and ergonomic handle
4 drawers + top tray
Fully lockable
Very affordable
Cons
For those who want a toolbox that they can carry easily, this Craftsman drawer would be a great purchase. Besides portability, you can put it almost anywhere; from your garage to your bedroom table.
It measures 22.4 x 16.6 x 10.5 inches and weighs around 25 lbs. only. But then the compact size doesn't compromise its ability. You can still keep some heavy tools and it will withstand the weight. The handles are also ergonomic and comfortable; you won't get tired carrying it.
Craftsman 56475 is a 4 drawer tool chest built to offer an easy way of organizing your tools and also carrying all of them in one place. It has 4 drawers for keeping your tools and a top tray as additional storage space.
A word of caution, don't rely so much on the top tray. The material is not the best but still puts its best foot forward when heavy tools are put inside. But I don't like the fact that the lower drawers are hard to slide out or inside when the upper drawer has something inside.
But I must commend its build quality; it once fell down with a 40 lbs. load and apart from the scratches on its bottom, everything else was intact. As a portable toolbox, the safety of your tools is a real concern and that's why Craftsman added a padlock hasp and staple besides the latches. This is something that makes the Craftsman 56475 superior to the likes of Excel TB133A which lacks any lock system apart from the latches. My only issue with this model is the handle.
Though it does its job just well, I prefer side handles for easy two-person carrying – but this is not a major bother.
Retailing at around $50, I recommend this tool chest for anyone looking for a portable toolbox that is easy to carry and has the capacity of storing all your tools in one place. If you are the on-the-go handyman or mechanic, this is the real deal!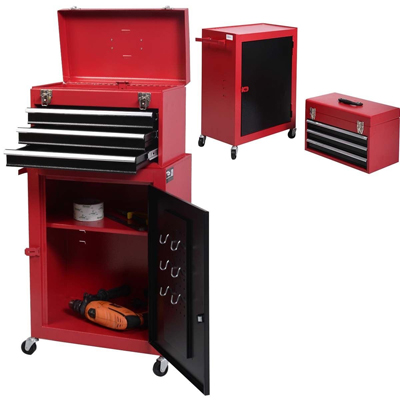 Pros
Very affordable
Detachable storage box
3 drawers + top tray
Cabinet holds heavy tools
Caster wheels
Cons
Get more for less by snapping this deal from Giantex that comes as a combo; mini tool chest and a cabinet storage at a very fair price.
The Giantex TL30208 comes with a large cabinet storage with a full set of caster wheels. There's also a tool chest with 3 drawers and a top tray. This entire unit goes for $110 only which is very fair bearing in mind you are getting two storage options for the price of one.
If you have very many tools; large and small, heavy or light, I recommend you get the Giantex TL30208. It boasts a range of top-class features that make it stand out from the crowd. What I really like about it is its versatility.
Remember, this is a tool chest for keeping tools like spanners, wrenches, screwdrivers and so on. The storage box, on the other hand, can keep heavier tools like your drill, biscuit cutter, and so on.
In fact, the box is partitioned into two compartments and the inner side of the door has hooks for hanging tools. The build quality is not up to the mark but for the price, you shouldn't complain. The icing on the cake is the wheel system which allows you to effortlessly push it around your workstation.
Regarding the chest, it is very similar to Excel TB133A though this one has better construction and has a handle at the top and not the sides. The 3 drawers can be easily pulled in and out but will sag when heavy tools are put inside it.
On the downside, I think Giantex got it wrong when it comes to security. From the fact that most handymen will carry the chest while on the go, and not the storage box, the padlock system ought to have been on the chest and not the box, or better still both. Latch locks are not the best as anyone can just open them.
But still, security shouldn't be a major concern that would derail you from snapping this deal; if you want value for money, buy the Giantex TL30208 and kill two birds with one stone.

Pros
Detachable storage box with drawers
8 drawers
Key lock
Omni-directional caster wheels
Oil absorbent foam
Cons
Weak chest handles
Quite expensive
Though very expensive, this is the real deal for garage owners and other handymen
.
The Handyman Heavy Duty is a top of the range tool chest that combines a top chest and a detachable storage box just like the Giantex TL30208. But this one is more superior bearing in mind it has a more solid design and drawers on both the chest and storage box. This gives you room to store a range of tools from the large ones to the smalls ones. What makes it a great buy for garage owners is the fact that it has an oil absorbent foam, and bearing in mind garages are synonymous with oil, it makes it the perfect tool chest for garages.
From its look, this is a really solid and heavy duty garage organizer. It gives you a lot of options when it comes to storage. I liked the chest that has 3 small drawer and 2 full-size drawers as well as the detachable box with 2 additional full-size drawers.
One interesting feature and perhaps what makes this piece a great deal for automotive garages is the foam materials in the drawers as well as a top tray that absorbs oil. Personally, I hate cleanups where you have to wipe your tools before storing them. This one just fits me well because I throw the spanners inside even without wiping them. Just like Giantex, the cabinet is very spacious and would store large tools like riveters, drills, joiners, jacks wrenches and planers among others.
There are also hooks on the sides for hanging other tools. The wheels, on the other hand, make your work easier; with just a little push, you can move around with your tools easily.
But I wish it had a push handle like Best Choice Products; it makes pushing and pulling such an easy task.
Regarding security, it's such a nice thing that Handyman included a key lock for the chest so even if you leave your toolbox unattended, no one can intrude as is the case with chests with latches only. Unfortunately, this chest has riveted handles on the sides which may snap out if you carry very heavy stuff. I hoped Handyman would be wise enough to use bolted handles like in Viper V218MCTL. I really hate rivets because they can easily come off when stretched to the limit.
It is clear that Handyman is such a great garage organizer and the oil-absorbing foam just makes it the perfect tool chest for mechanics, and other handymen who deal with oiled parts.
Pros
5 drawers + top tray
Deep drawer with partition
Central locking
Rolling wheels
More chests can be attached
Cons
Keter is known for some innovative storage solutions including the Keter Masterloader that comes with rolling wheels.
If you are a machinist who's into electronics repair, watch repair, and the repair of these small appliances, this might be a great toolbox that will help you keep your tools safe.
What I like most about it, and the reason why it featured in this review is the fact that you can customize it and also attach more chests to grow the number of drawers. It also has very small drawers and compartments to keep the small tools and parts.
The first thing I like about this chest is the design; it has a minimalistic design finished with a black accent. It can blend well with any room or premise and is a real space saver. I also like the small drawer and large drawer layout. If you have large tools, you can put them in the bulkier drawer at the bottom while small tools and parts fit in the small partitioned drawers.
This particular chest is a 5 modular set that has been built for handymen who have many small tools. It combines a 2-drawer on the lower deck and a 3-drawer on the upper deck. Actually, you can stack another chest on top of it so when you buy more tools, you just need to buy a 1, 2, or 3-drawer and stack it up with the easy-to-use latch systems.
I know a friend who runs a mobile repair shop and he now has a 10 drawer tower. But when setting up such tall chests, set it up on a corner and make sure it has the support of two sides of the wall.
It also has rolling wheels that make pushing easy and the handles too come in handy when carrying it. Keter also included an integrated handle system, central key lock, among others.
But in as much as I like this tool chest, there's one thing Keter ought to have improved; the drawer system. It constantly gets jammed especially when full but the trick I learned is to grease the ball bearings often. When well oiled, it glides in and out smoothly.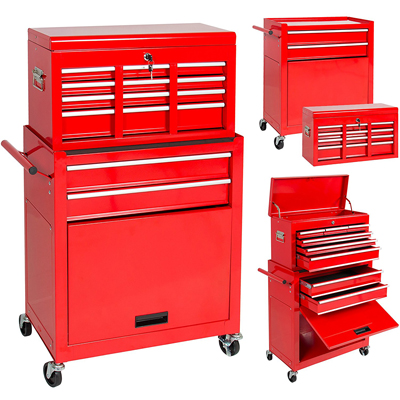 Pros
Detachable storage box with drawers
8 drawers
Key lock
Caster wheels
Push handle
Oil absorbent foam
Cons
I am a garage enthusiast myself and I know there are some specialty tools that won't fit in your toolbox. More than often, an old bucket will be your toolbox; at least it can hold a handful spanners and the handle comes in handy when carrying.
But this is not the modern mechanic – Smart mechanics have tool chests and the Best Choice Products SKY2521 is among them. It owes much of the design to Handyman Heavy Duty only that it lacks a few features and more so, it has some extras too. But most importantly, it also has a foam material that dries oil.
Like earlier said, this chest is very similar to Handyman's and the easily discernible difference would be the finish. But from the fact that it costs just the same price as the heavy duty Handyman Tool Chest, I won't recommend it if you have the common heavy garage tools.
The steel material is not as heavy as what's used in heavy-duty storage boxes. You wouldn't want to move it an inch when you put your heavy tools like hammers, wrench pipes, spanners, jacks and so on.
The belly this chest gets when loaded just tells you it may not be the best buy, especially if you have Handyman Heavy Duty in the picture. But then I like the idea of a push handle; it might look simple but very helpful after a long day of work.
It also has caster wheels but also, when loaded, you hear them squeak and even fall off. Other features like a key lock, drawers, chest handles and the rest are all intact. I really like the features but I'd have really gotten into it if it had a heavy duty design. Or at least, it should have been cheaper.
From my observation, this is just a clone of Handyman and so, it won't offer you value for money. But still, it is a great garage tool and will offer you excellent service as long as you don't strain it.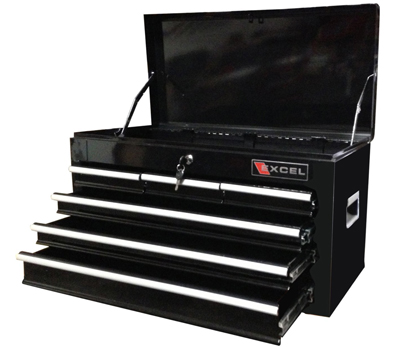 Pros
Effortless opening and closing
6 drawers + top tray
Key lock
Recessed side handles
Cons
Nothing sucks like a jammed drawer, especially when in a hurry. That's why I searched for a chest that has the best drawer mechanism to ensure smooth, effortless opening and closing. I have tested over 15 and used 7 different models and I tell you, none matches the Excel TB133A. The system uses ordinary ball bearings but they run on firm EVA drawer liners that allow free motion and ensure the ball stick in their path.
If you have many tools and you're only interested in a chest, this is a great tool chest that should also feature on your wish list.
Standing at 21 inches, it has drawers; 3 full-size drawers with the upper deck divided into 3 parts to make 3 extra drawers for keeping small stuff.
Unlike the Excel TB133A and other models like, Handyman Heavy Duty, and the rest that have protruding side handles, this one has recessed ones. I like them because you don't have to worry about snapping off but then, they hurt a little, especially when carrying heavy tools.
The other tool chest with recessed handles that you can consider is the Waterloo Shop Series that has 7 drawers but then, it costs higher. I'm also glad that in this model, Excel included a key lock system and you are provided with an extra key.
However, just like the Excel TB133A, this model has a very poor construction. You will be lucky to receive yours without any dents. Also, it can't withstand the weight of heavy tools and will sag or the drawers start getting jammed.
But regardless of this, it's a tool chest worth spending money on. But only if you have no plans of putting your heavy tools inside it because if you do, chances are high you won't last with it for long.
Buying Guide: Tool Chest Shopping
In this segment, we will try to teach you the ropes when shopping for tool chests. But before that, we need to have a deeper understanding of tool chests.
There has been a lot of confusion on whether a tool chest is a toolbox or they are two different things. The truth of the matter is that a toolbox is very different from a tool chest even though they all serve the same purpose.
Basically, a toolbox is a heavy metal box for keeping your tools. On the other hand, a tool chest is just a toolbox but with drawers and hence the name, tool chest. This is the major distinguishing feature between the two.
Why do I need a tool chest?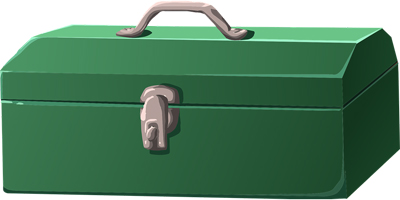 I know for many people out there, it may not be convincing to spend $50+ on a tool chest but these storage solutions have a lot of advantages.
First, they help to organize your garage. Instead of having tools scattered all over the place, you can easily keep them in one place with a tool chest. There's nothing bad like looking for your spanner all over the house because you don't remember exactly where you left them the last time.
Second, tool chests help to keep your tools safe from theft. When it comes to safety, these chests come with key locks or padlock hasps and staples to help you lock your tools every time. Personally, I like chests that come with cylinder locks as they are hard to pick. Traditional locks may also come through especially when you look at it from a cost perspective; they are a bit cheaper and offer quite some good security. You will also get latches that securely close the top drawer but on the downside, anyone can still open them so if you leave the chest unattended to, you are risking.
Another advantage of chests is that they protect your tools from damage. Even though most tools are rugged, there are some that may be damaged when left outside. With chests, you can keep them away from damaging conditions like heat, water, and so on.
Lastly, these storage solutions make portability an easy task. You can carry all your tools in one place effortlessly. If you want the best chest for portability, get a compact sized one with handles like the Craftsman 56475 which is our pick for the best portable tool chest or rather, Keter which has rolling wheels.
That said, a tool chest is a very worthy investment but when shopping, make sure what you are buying will fit your tools; that's not negotiable.
Mechanic's vs. machinist's tool chest
Mechanic s and machinists use different tools the discerning difference between them being the tool size.
While mechanics use large tools like spanners, wrenches, sockets and so on, machinists use small tools. With this in mind, mechanic tool chests will be large, often with big drawers if any. On the other hand, machinist tool chests are not big and come with small drawers and compartments for keeping the small tools and parts. A good example of a machinist's chest is Keter which is compact sized and has very small drawers and compartments.
So, when shopping for these chests, bear in mind the size of your tools and get the right chest for the job!
Types of tool chests
As you are aware, there is quite a range of chests, classified depending on their design and portability.
The first question you need to ask yourself is, what type of tool chest fits your needs?
Here, needs may be varying; a mobile shop's tool chest wouldn't be the same as a truck shop's tool chest.
That said, here are the main types of tool chests that you will find in the market.
Stationary
These chests are very big and bulky and though they may be movable, they are moved less often. Perhaps the only time they need to be moved is during cleaning or moving out. For the automotive enthusiast with lots of tools, stationary tool chests are the best option. They offer ample storage spaces and that's why they are also favorites in auto-shops and car yards.
The only problem with these chests is the bulkiness. You need quite a huge space to put one.
Once you have bought one, it is important that you make a wise decision on where you're going to place it because once you start putting tools inside, moving it may be quite a hassle.
Rolling
Rolling chests are neither big nor small. They are large to hold quite a huge amount of tools and offer effortless portability courtesy of wheels. These chests may come as single units or two detachable units; the chest/storage box combination being the most popular.
If you have a small garage or workshop, this is will be a great buy; it can house all your tools; from garage tools to plumbing tools!
Good examples of these chests include Handyman Heavy Duty and Giantex.
Portable Tool Chest
If you are a handyman who must move around with tools, then you need a portable tool chest. These are small tool boxes with drawers that you can put these small tools like spanners and screwdrivers and carry it easily.
What I like about these chests is their ruggedness; built to withstand any harsh outdoor conditions. While others have to be carried, we have some like the Keter 217603 and Keter MasterLoader that have rolling wheels too. You just push them; no strains!
Workbench Tool Chests
As the name suggests, these are chests that have hardy top platforms that are used as workbenches. These chests are not as bulky as stationary chests and will take quite some abuse because of their ruggedness. They may also have caster wheels to help move tools from one place to another.
If you want to save space, this is a very clever choice. Instead of having a separate workbench and a tool chest, just get this one and it will handle both tasks. Some top considerations here would be
Trinity Workbench
with Chest or Waterloo W100 Series.
Truck Box
You must have seen the toolboxes truck owners keep at the back. For big trucks like Ford and GMC, you will get a tool chest; often 2 or 3 tiers. They are built with high-grade diamond plate steel to withstand the hits it takes from the tools during bumpy rides. These chests may come with the stock build of the truck or can be bought and bolted on the bed of the truck.
Examples of truck box chests include Dee Zee DZ8546B, BAK Industries BAK BOX, Weather Guard 674501, among others.
Tool Carts
Though not really meant for storing the tools, carts can also be classified and tool chests because you can organize your tools and even store them on the trays. By design, these are just tool chests as we know them but instead of drawers, they have open tiers. They also have wheels and are primarily used to help mechanics move around with tools.
Some examples of carts include US General Roller Cart Tool, Olympia Tools 85-188, and Excel T301C.
Tool Chest Materials
Steel, aluminum, and plastic are the main materials used to construct these chests. Each of this materials has its pros and cons.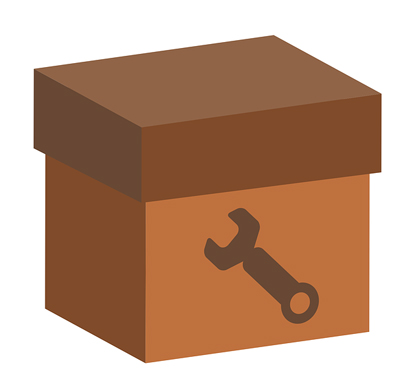 Steel is the best material for constructing a toolbox because of its ruggedness. No matter how hard it gets knocked, it hardly gets dents. Its durability in incomparable but on the downside, it is very heavy. Also, steel tool chests are expensive.
However, if you want a blend of affordability and ruggedness, you can opt for stainless steel. This is an alloy of steel, lighter and cheaper but of better quality than aluminum.
On the other hand, aluminum is light making it a great choice for portable tool chests. They are also cheaper compared to steel tool chest.
On the downside, they are generally weak and some cheap may even come with dents and scratches, damages they get during transportation. But note that not all chests made from aluminum are flimsy, it all depends on the heaviness of the aluminum sheet used.
Lastly, we have plastic and carbon fiber which are also used to make portable chests. What makes them best for portable chests is their ruggedness. They are also lightweight making them the perfect balance between durability and portability.
Though rare, tool chests can also be made from wood.
Factors to consider when buying a tool chest
So far so good, we've only told you which the best tool chests in the market are. So, it's time we tell you what to look exactly in your next tool chest.
So, without mincing more words, here are the important factors you need to consider when out shopping.
1. Type of tool chest
The first thing you'd want to do immediately you decide to buy a tool chest is to know which type best suits your needs.
Like earlier discussed, there are several types of tool chests each designed for a specific group of handymen. You will find from very large tool chests to small portable tool chests. There are also stationary tool chests and rolling chests for easy portability.
Others are classified depending on the type of tools they can accommodate. We have machinist tool chests that have small drawers and compartments as well as mechanic tool chests that can bear the weight of heavy tools!
Before paying for any tool chest, make sure it fits your needs.
If you have an auto shop and ample space, I highly recommend a large chest because as the business expands, you will get more tools. For those with a small garage, get a rolling tool chest; at least it helps in moving around with your tools and actually, it will accommodate quite a number of both large and small tools. For the freelance mechanic, get something small and portable like Handyman Heavy Duty that will allow you carry the few important tools you need for your project. Another clever idea for those with limited space is to get a workbench tool chest that doubles up as a tool storage kit and as well as a workbench.
2. Ruggedness
Truth to speak, tool boxes, tool chests, and even tool bags take quite a lot of mistreatment. Many are times you will throw your spanner or wrench inside it without any care. When you arrive at your site, you will definitely drop it down instead of laying it down with care. In the market, how these chests respond to these hits varies from one model to another. There are heavy duty chests and light-duty chests and so far, heavy duty chests are the best for the obvious reason; they last longer.
When I say this, I remember the first tool chest I bought; it really disappointed me. It often showed signs of weakness when loaded and in a month's time, it had a big belly that was almost touching down. From that time, the ruggedness of a tool chest or tool box is a high priority when shopping.
There are a couple of aspects you need to focus on when looking at ruggedness.
The material matters
First, the material used is very important.
I don't have to repeat; steel is the best material when it comes to tool chests but then you have to deal with weight and the high price too. But for portable chests, the common materials used are aluminum and plastic because of their lightweight. In as much as they are not the best when it comes to ruggedness, you can still find one with high-grade material that makes it as solid as a heavy duty chest. Thick aluminum or carbon fiber is used giving it the strength to withstand the weight.

When shopping, remember the mantra of 'what you get is what you pay for. ''Keep off these cheap tool chests; they are a waste of money and time!
What's the build quality?
There are several aspects you need to assess when we talk about build quality.
Joints
How are the joints like? What technique has been used? The common technique is welding joints to connect the different parts of the tool chest. Here, check the number of weld joints; the more the joints, the sturdier the unit.
Handle joints
Check the handles too because most tool chests come with very frail handles that snap out after a short period of use. Personally, I recommend that you get something with bolted handles as opposed to rivets. I can assure you, bolted handles can't snap out but riveted handles will weaken with every carry and finally snap out. If this sounds like a serious consideration, you'd want to check out the Viper V218MCTL that is our pick for the best affordable heavy duty tool chest.
Any reinforcements?
To make these units sturdier, there are several reinforcement techniques used. Check for reinforcements like c-channels, double walls, and corner posts. They help to keep all the jointed parts glued to one another.
Is drawing easy?
Most chests have drawers and one of the things most chest owners complain about is the drawers. Even though during the first days, opening and closing drawers may be smooth, the system wears off and gliding becomes a problem. This can be a real headache especially when you want a tool real quick. That said, the drawer build is also an important factor that will determine whether the drawer will last or not. This is in light of the fact that the constant jamming when you push or pull it weakens the entire unit because of the resistance.
The most popular drawer systems are ball bearing slides or simple rollers. But simple rollers are not good at all and that's why ball bearings took over. But it goes beyond this; you will find some excellent ball bearing drawers and very useless ball bearing drawers. Here, other factors like the rail system and the duty of the bearings matter. Get a chest with heavy duty ball bearings; they won't deform at all. Remember, gliding problems come in when the rail is weakened or the ball bearings get even little deformity.
3. Security
Considering the fact that one of the advantages of tool chests is security, it is imperative to consider the locking system of any chest on your wish list. Different models have different locking systems; from latches to high-tech locks.
Let's see the advantages and disadvantages of each.
Latches
These are the most basic locking systems and only secure the top drawer cover. A good example is Excel TB133A that has a latch on each side. The problem is that the drawers are not lockable. The advantage of these chests is that you get easy access to your tools. But the thought of anyone getting into your toolbox is such a put-off.
Padlock hasp and staple
This locking system used a padlock to securely lock your tools inside your tool chest. These locks only lock the top drawer while the drawers may or may not have key locks. The advantage of this system is that no one else gets access to your toolbox; only those with the key.
Key locks
The advanced tool chests come with key locks which securely lock your tools. You don't need to buy padlocks or anything; it comes with an inbuilt lock.
There are two different types of locks; cylinder locks and traditional locks.
I really like cylinder locks because they are pick-proof. But on the downside, they are expensive.
On the other hand, traditional locks are cheaper and offer quite some good security. Even though they are susceptible to lock picking, it's hard for a thief to target a tool chest unless you have some more valuables inside there apart from spanners, screwdrivers, wrenches, hammers, e.t.c.
Please note that these key locks lock drawers and in most cases, the single key lock will lock all drawers.
4. Brand
Even though not an agreeable idea always, it's important to consider the brand you are buying from. Brands are popular because of the trust their clients have in it.
Little known cheap brands are synonymous with defective products and substandard build quality and so is the case with tool chests.
I recommend you get a known brand and even though they may be quite expensive, always remember, cheap is expensive.
Also, top brands are better when it comes to aftersales support. I once broke the caster wheel of my Waterloo Rolling Tool Chest and the good thing is that it was still under warranty. I called Amazon and I was redirected to the seller who picked it up and in a week, I got a replacement. That's the trust with top brands!
So, what's the best tool chest?
This is hard to call because tool chests are made for different purposes. But from a general perspective, a good tool chest should be able to accommodate your tools; both in number, size, and weight. If you have many tools, go for a chest with many drawers. For small tools, get something with many small drawers and if they are heavy, get a heavy-duty tool chest. Also, buy from a trusted brand and check the warranty too in case it gets damaged.
Frequently Asked Questions
Tool chests are extremely useful for storage system organization if you own a workshop and lots of tools. Not only do they help put each tool on its place, but they also provide optimal storage conditions recommended by manufacturers. However, if you're a beginning craftsmen or a professional who often works on different locations, you'd better look for more portable options.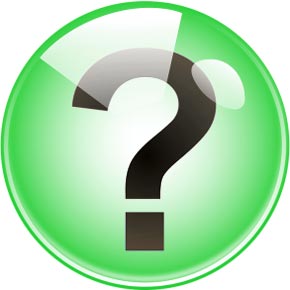 Are tool chests expensive?
An average price for a tool chest varies from $150 to $200.
Stationary or rolling chests: what's better?
This issue fully depends on your preferences. Wheels provide you with freedom of tool transportation, which is useful for craftsmen who have to work in several places/rooms and move. However, wheels may disturb people who work in one workshop by occasional moving.
What is the best tool chest with key lock system?
We would recommend you two models that offer incomparable safety and storage space – Handyman Heavy Duty and Best Choice Products SKY2521.
Wrapping Up
Now, we've come to the end of our review of the best tool chests that you should buy in 2020.
If you liked it, tell us in the comments section.
You can also tell us about your experience with these tools.