DeWalt DWE7491RS vs Bosch 4100-09 vs Bosch 4100-10 vs Ridgid R4513
Which is the best mobile table saw today? Fact, it is not easy to pick a single saw from the many variations on offer.
Today's job site table saws flaunt innovative designed, powerful features and safety functionalities. The only chance of of table is by equipping with knowledge on about the top models on offer, how well they perform tasks and versatility.
We have highlighted the top tables that we have found to be most efficient, highly ergonomic, and easily portable.
Through this detailed guide, we will enlighten you on the key elements that make each of the saws below standout.
The job site table saws under our ladder are the DeWalt DWE7491RS, Bosch 4100-09, Bosch 4100-10, and the Ridgid R4513.
As an introduction, here is a side-by-side comparison of the four tables. Check them out:

DeWalt DWE7491RS vs. Bosch 4100-09 vs. Bosch 4100-10 vs. Ridgid R4513 – Comparison table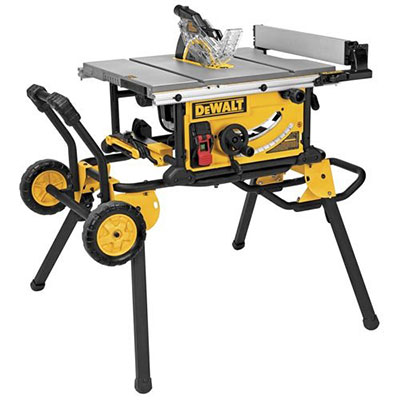 Pros
Powerful motor-The DEWALT DWE7491RS is equipped with a 15 amps motor. The saw cuts with force courtesy of the powerful motor that produces enough power to drive the ATB blade through pieces hardwood in the workshop.
Easily portable- This DeWalt table saw model has a wheeled rolling stand that makes it competitively mobile.
Ample working surface – The aluminum table has a surface measuring 21-7/8″ X 26 3/8″. Such a space is adequate for ordinary woodcutting activities around the workshop. The chart also provides a firm support ideal for making narrow rip cuts.
Cons
Limited use with dado blades – DeWalt DWE7491RS is not compatible with the hardy dado blades. You, thus, cannot use the saw to make grooves on your woodwork masterpieces.
The DeWalt DWE7491RS table saw flaunts a rugged, ergonomic design. It comes with a wheeled rolling stand for mobility and stability.
It is fitted with a 1.5-inch and 2.58-inch dust collection ports on the blade and at the rear end respectively.
This DeWalt model is powered by a 15 Amp motor that draws 2hp power. The resulting power is sufficient to drive the blade through hardwood, lumber, and plastic.
Lastly, a flip-over ripping fence that you will find valuable when guiding the wood pieces towards the blade complements these features.
2. Bosch 4100 Features an Innovative Stand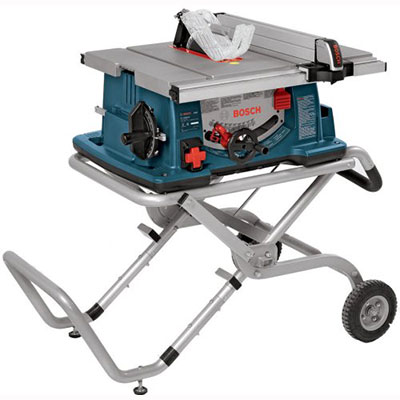 Pros
Durable cast aluminum top – This job site table saw has its table designed from superior cast aluminum for durability and firm support for the blade.
Under table storage – It has readily accessible storage compartments where you can keep your rotary fasteners, wrenches, nut splitters, and toolset casings.
Highly portable – The collapsible stand has two, 8-inch pneumatic wheels that improve the mobility of this 60 lbs. table saw. The stand is powder-coated to boost its durability.
Powerful – A combination of 15 amps, 3650 RPM motor and SquareLock rip fence make this saw ideal for tough and high precision cutting.
Cons
Lacks precision – If you are a professional in woodworking, you may not enjoy cabinet saw precision out of this saw.
Very bulky – This table saw is the heaviest of the four models. It is not ideal for use outdoors.
The Bosch 4100 table saw series features a Smart Guard System. The system incorporates a 3-position convertible riving knife, a barrier guard assembly, and anti-kickback pawls. These protect users neutralizing the effect of a kick back and catching flying wood chips.
The saw also parades a cleverly designed gravity-rise stand.
The stand, among others, has a pulling handle and two transport wheels that will help you to push the table saw around. A 2.5 built on the rear side of the saw helps keep the working surface and safe.
3. Bosch 4100-10 Professional rip capacity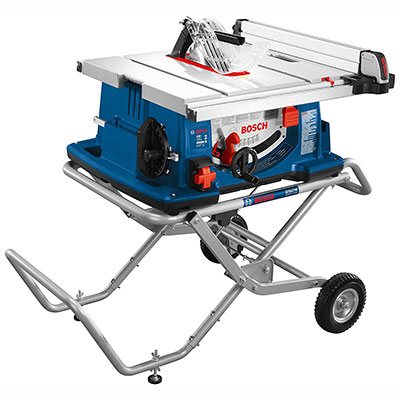 Pros
Large working surface – The machined aluminum tabletop measures 29 in. X 21-1/2 in. This space is sufficient for ordinary sawing jobs.
Highly portable – A combination of a gravity-rise wheeled stand and the built-in sub-base makes this table saw model easy to move from job site to job site.
Smooth and quiet operation – Bosch 4100-10 has an inbuilt Constant response circuitry and a soft start component. The two features give you control of the speed under load while also reducing the start-up torque.
Performance consistency – To boost performance, the saw has an inbuilt Squarelock Rip Fence that allows for fine adjustments along the rails. The rip fence firmly locks into position for consistent cutting performance.
Cons
Irritating screeching noise – Some users may find the metallic sound that this saw produces annoying noise. This may hamper their productivity.
Bosch 4100 is defined by outstanding portability and professional rip capacity.
It comes with a cleverly designed gravity-rise stand and a one of a kind Smart Guard System.
The guard system is equipped with anti-kickback pawls, a modular blade guard, and a riving knife system to safeguard your hands from the sharp blade.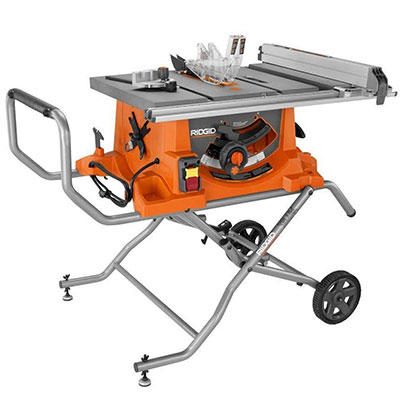 Pros
Light in weight – The table saw weighs a partly 95 pounds. This complements well with wheeled stand and makes the table saw highly mobile.
Powerful – Powered up by a 15-ampere motor, the saw delivers up to 5000 rpm no load speed. The saw is a good fit for heavy-duty woodwork cutting.
Versatile – Ridgid R4513 is designed to accommodate various accessories and attachments. This makes Ridgid suitable for both commercial and domestic use.
Cons
Low quality handles – While the saw functions well, the push handles are designed of plastic. These are likely to buckle as they weaken with use.
When it comes to outdoor woodwork projects, Ridgid R4513 reigns.
The saw is compact in design and delivers fine cutting qualities often associated with larger saws.
You will especially like the center knob placed on the side of the tabletop. The knob allows you to tighten the blade for the ideal bevel cut and depth.
While conventional saws have the no-load speed that averages around 3450 rpm, Ridgid R4513 boosts of a terrific 5000rpm speed. The improved blade speed combined with the motor's high torque element will translate to increased productivity in the workshop.
DeWalt DWE7491RS Vs. Bosch 4100 Vs. Ridgid R4513: Which Saw Wins?
It is time to get to the finer details of these four portable table saws. In this part, we discuss the key aspects that you should focus on to make an informed buying decision.
In the first part, we will review the key elements that define each model. We will then compare the four saws and give our verdict of the best table saw among the four based on the areas discussed below.
Let us dive right in:
1. Miter gauge

A miter gauge is a unit that holds workpieces at an angle so that you can make specialty cuts on the pieces you are working on. A miter gauge has a calibrated protractor to help you mark the points where you need those precise angular cuts.
DeWalt DWE7491RS miter gauge features a locking mechanism with 27° positive stops. The cutting angle range varies between 0° and 45°. To make cross cuts on your workpieces, set the miter gauge at an appropriate angle and then slide the workpiece towards the saw's blade. Even then, DeWalt models lack the T-tracks that allow users to initiate wider crosscuts.
Ridgid R4513 miter gauges are a notch higher when it comes to quality and suitability to the cutting tasks. Actually, Ridgid miter gauges come with a lifetime warranty against breakage. Beyond that, the miter gauge is designed to slot into the saw's T-style miter track. The T-track holds the miter gauge bar, and this makes it easy to make wider crosscuts.
Bosch models, although high in quality, lack the much-needed T-tracks. This means you won't make any wide crosscuts if you use Bosch table saw models in your workshop. Even then, what Bosch lacks in T-tracks, it makes it up with other fine features such as built-in arbor locks that make it easy to change the blade.
verdict
When it comes to miter gauges, we will pick Ridgid's model anytime. They are versatile in application, high quality, and are backed by lifetime warranty.
2. Rip Fence

A rip fence is a long structure that runs parallel to your saw's blade. The fence guides maintain the wood pieces you are working on in parallel alignment so that you can make clean, accurate rip cuts.
The DeWalt table saw comes with a well-tuned pinion and rack fence system. The fence is easy to set and holds the pieces firmly in a position which yields excellently ripped pieces. The pinion fence is also easy to set up. The downside is that the fence accumulates dust with continuous use which makes less efficient.
verdict
If you are searching for a saw that will match your busy woodworking business, Bosch model is a great pick. It is durable, easy to set, and it can handle intensive sawing tasks. The Ridgid R4513 telescopic fence is ideal for small sawing projects.
3. Saw Blade

The cutting part of the job site table saw is designed with a varying number of teeth on each saw. There are four classes of saw blade designed, which include the flattop grind design, alternate top bevel blades, triple-chip grind (TCG), and combination (ATBR) blade design.
Bosch 4100 table saws have a 10-inch ATB blade with 24 tooth pattern. The pattern of the ripping teeth makes the Bosch saws ideal for ripping particle board, plywood, hardboard, melamine, and MDF.
The RIDGID R4513 comes with a 10 inch, 36-tooth ATB blade that easily cuts through cut dado of up to 3/4 inches in thickness.
DeWalt is equipped with a carbide tipped blade with 24 tooth pattern. The blade is set that it allows a 13/16-inch dado. The 10-inch carbide blade is ideal for both small-scale DIY projects as well as use for professional woodwork endeavors.
verdict
Any of the four saw blades herein is a good fit for ordinary wood sawing projects. But if you are planning on tackling larger sawing projects, DeWalt's saw blade is an excellent choice as it allows you to insert 13/16-inch dado.
4. Rolling stand
A rolling stand is the base structure that supports your tabletop. The stands have wheels that make the job site saw mobile to move from one working location to another.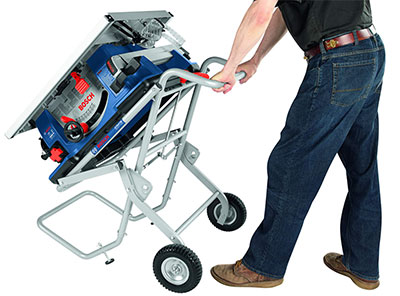 For the table saws we have used in our workshops, the
Bosch's
gravity-rise stand has come out as the ultimate portability structure. The super-durable sub-bass provides firm support for the table saw, and this makes it possible to make precise cuts on the wood.
The Ridgid R4513 model sits on a collapsible gravity-rise base that's easy to push around the work zone.
DeWalt DWE7491RS saws are the least mobile since the rolling stand does not possess the flexibility the Bosch and the Ridgid models. Even then, the treaded wheels of the DeWalt are far durable than any of the other three models.
verdict
if your concern is getting a high job site table saw, then consider purchasing Bosch 4100. You should, of course, ensure that the saw also your suits your other needs beyond portability. That's what Bosch offers.
5. Saw's Safety Features
Your number one consideration when sourcing for any woodwork-cutting tool is your safety or that of your crew. Different job site table saws employ different protective mechanism.
Modern-day tables are equipped with a smart guard system that incorporates the anti-kickback that safeguard you from the fast-moving blade and flying wood chippings from reaching and hurting you.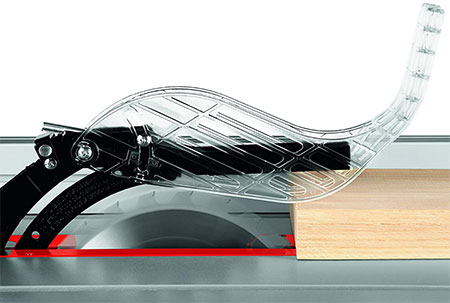 Bosch and Ridgid units feature a Smart Guard System that incorporates anti-kickback pawls and riving knife. These components eliminate the possibility of an injurious kickback when the saw blade pinches the material at an angle. Besides the protection, the smart guard system allows having a clear view of the blades contact point.
In addition to the smart guard system, the Bosch table is also equipped with an arbor lock mechanism that allows you to change the blade quickly and safely.
On its side, DEWALT DWE7491RS features a push stick and a blade guard in place of a smart guard system. The two elements protect you from getting injured by the sharp and fast rotating blade. The two components may not match the safety levels offered by Smart Guard System.
6. Dust control
It's true that the 15-ampere motor on your mobile table saw makes it powerful and fast. The caveat, however, is that the powerful motor also scatters the sawdust all over the working surface making it tidy and unsafe. This dust can impede visibility especially for carpenters and remodelers who need to see every detail of the material they are working on.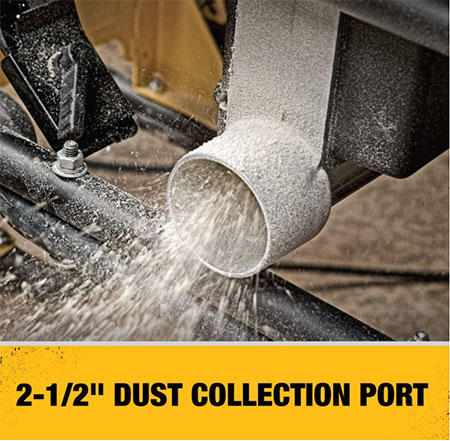 First up is the
DeWalt DWE7491RS
equipped with two dust ports: a 2.58″ port placed on the saw and a 1.5″ port placed close to the blade guard assembly. The two dust ports are designed such that you can connect them to a vacuum to ease the extraction of the sawdust. While the dual dust capability translates to an efficient dust collection, it also comes with a caveat; you will have to rig the collected dust.
The Ridgid R4513 and Bosch models have a single, 2 in. dust port placed underneath the aluminum table. The Ridgid R4513 has a plastic box set around the blade to channel the dust to the collection port.
verdict
If I was to choose between the three models based on dust collection view, I'd certainly go with the DeWalt model as the second, 1.5 port gives it an edge over the other two.
7. Motor
In job site
table saws
, the motor rating determines the speed at which the blade rotates and how easy it can rip through materials. The power of the motor affects the cutting force of a saw's blade as well as the energy that the saw consumes when in operation.
All the three models are equipped with 15-amp motors.
Whether you use DeWalt DWE7491RS, Bosch 4100-09, Bosch 4100-10, or the Ridgid R4513, you can expect to complete your woodcutting tasks within minutes.
8. Horsepower
Horsepower is the power the saw develops once it is plugged in a socket. A job site table saw that draws 2 hp of power develops sufficient power to rip through materials that are 2 inches thick.
DeWalt DWE7491RS and Ridgid R4513 draw 2 hp and thus develop enough power for mild woodwork tasks.
Both Bosch models are equipped with 15-ampere motors and draw 4 hp. They thus generate a high amount of cutting force on the blade making the two models ideal for labor-intensive sawing overtures.
Our Verdict: DeWalt DWE7491RS Vs. Bosch 4100-09 Vs. Bosch 4100-10 Vs. Ridgid R4513
If you often move your workshop tools around, you will find Bosch 4100-09 overly burdensome for your convenience. You are, thus, left to choose between DeWalt DWE7491RS, Bosch 4100-10, and Ridgid R4513 table saw models.
The key factors to consider at this level are portability, suitability to the task at hand, your safety, and versatility of use of the saw.
DeWalt DWE7491RS is best suited for woodwork specialists who specialize in remodeling parts of furniture as it gives more accurate ripping. The underside storage components give ample safe to keep hand tools. This is essential if you work in a crowded space or if you are working on projects outdoors. Even then, you won't enjoy the safety standards that comes with having a job site table saw equipped with a smart guard security system.
RIDGID R4513 features an ergonomic design is highly portable and boasts a 5000 no load rpm. It comes with a captivating 30.25³ x 21³ tabletop making it the largest portable saw in this group. The barrow shaped stand provides the necessary support aluminum table while you are at work. The trade-off, however, comes in the form of loud voice which may be irritating especially if you are working indoors. The plastic handle bit isn't sturdy enough for constant movement. Overall, RIDGID R4513 ticks many of the boxes that woodworkers would check in a portable saw.
If you are after a job site table saw that gives you mild combination durability, ample working space, safety, and portability, Bosch 400-10 is a great choice. While it has a lower no-load RPM in comparison to the Dewalt and Ridgid models, the innovative gravity-rise stand makes it portable and easy to use.
Frequently Asked Questions
1. How much are table saws?
Prices for reliable budget models start from $300. The most expensive and powerful tools for professional tasks cost about $600, while the prices may reach $800.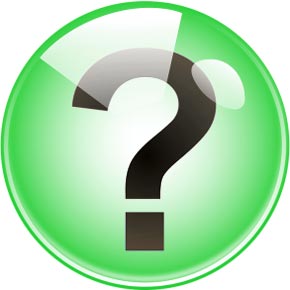 2. What is the best table saw for beginners?
We would recommend DEWALT DWE7491RS model for unexperienced craftsmen as it offers a relatively moderate price, excellent performance, and a nice protective system with a push stick and a blade guard to save you from getting injured.
3. What materials can I cut with a table saw?
Most models are suitable for cutting works with wood, tile, plastic, plexiglass, and even thin metal.
4. Table saw vs miter saw: which type to choose?
Table saws are more suitable for professional tasks as they can work with thicker materials and do deeper cuts. Also, they come with convenient and high tables. Miter saws are recommended for domestic use and DIY projects.
5. How long do table saws last?
Like any other tool, table saws require regular maintenance. If all recommendations are followed, you saw will last at least 5 years and longer.
Parting shot
A table saw is a vital woodworking tool in your workshop. As such, it is essential to get the facts right before committing to make a purchase. After all, an ill-advised purchase will affect your crew's productivity besides the associated financial dip. Whether you are purchasing your first mobile table saw or you are just upgrading, this detailed guide points to the elements check out.
Further reading and references: