Makita vs DeWalt Miter Saw – Quality and Accuracy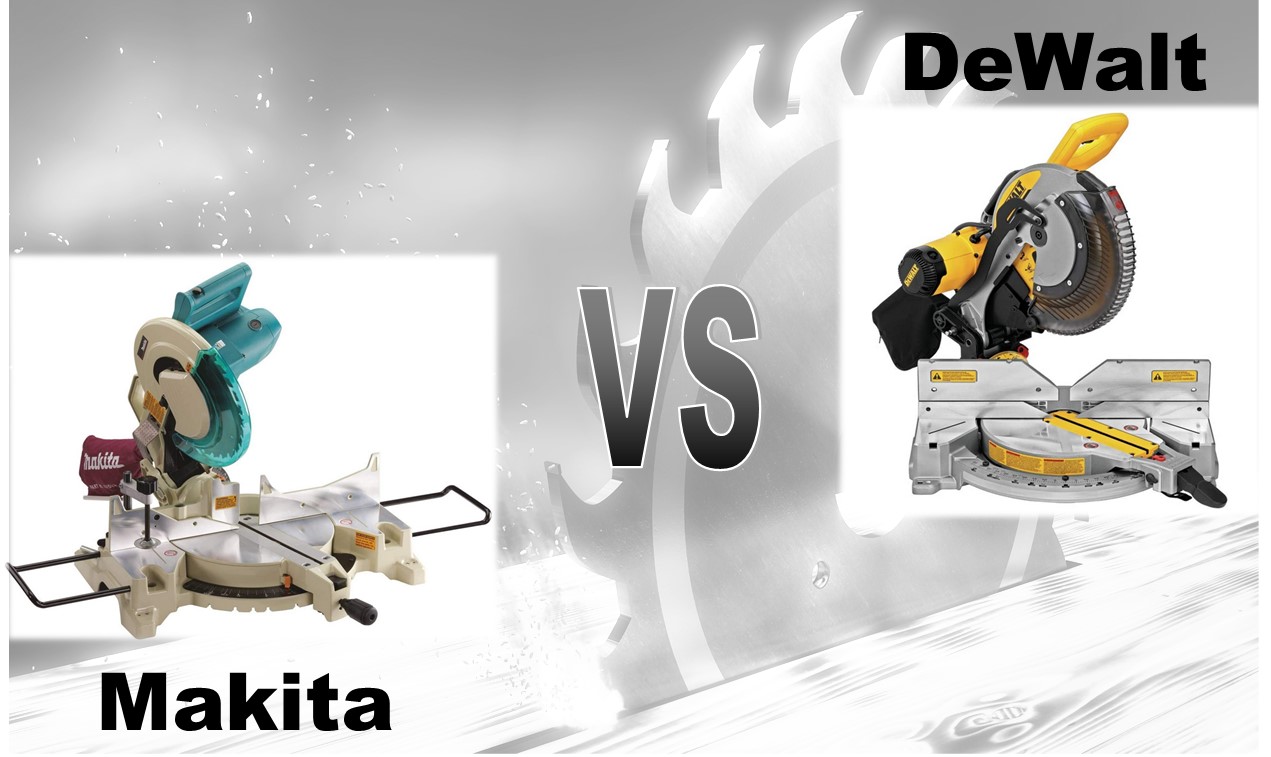 Here is a comparison of the Makita vs DeWalt miter saw. They are some of the bestselling 12-inch miter saws that these quality brands have to offer.
A miter saw is a saw used to make accurate crosscuts and miters in a workpiece by positioning a mounted blade onto a board. A miter saw consists of a powered circular saw that can be positioned at a variety of angles and lowered onto a board positioned against a backstop called the fence.
In this post we review compound miter saws which produce bevel cuts, miter cuts, and compound cuts in addition to the basic crosscuts. The Makita LS12221 VS DeWalt DWS716XPS comparison.

Differences Between the Models
Taking a detailed look at Makita LS12221 and DeWalt DWS716XPS reveals two very good contenders for this comparison review. We found some similarities but buyers should also pay attention to the weight of the saw. What does a lighter saw mean? There are definite pros and cons so read on to find out.
Comparison Table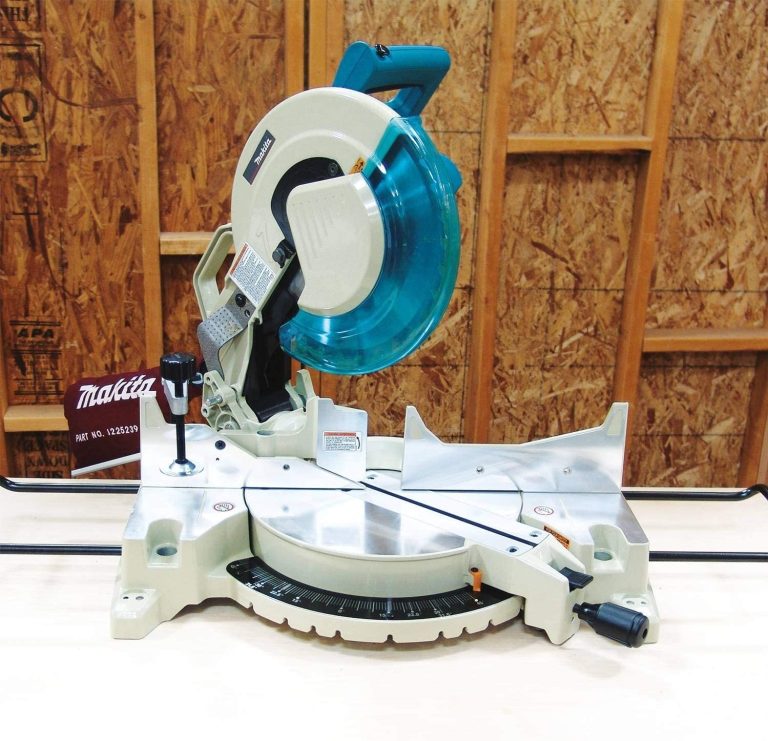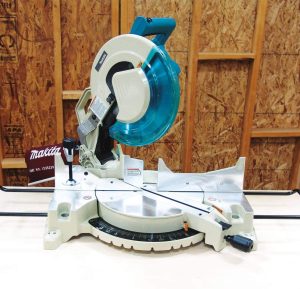 We realized this to be a great saw straight out of the box, the blade that comes with the saw doesn't struggle on anything. The cuts made were perfectly clean.
We recommend this miter saw for those needing to move it around easily. The lightweight saw makes it great for transferring it around to various job sites.
This 12 in. Makita Compound Miter Saw combines power, performance and ease of use for most common miter cuts. Ideal for a range of applications including woodworking, cabinetry, deck building, framing and more. The dynamically balanced, 15 Amp, direct-drive motor is engineered to never slip or bog down like belt-drive units. It features a precision-machined aluminum base for accurate cuts. For ease of use, there's a horizontal D-handle design for comfort.
Pros
Strong smooth power
A well-built saw that cuts very accurately
A small price to pay for near perfection
The blade that comes with the saw makes very clean cuts
Being lightweight makes it a good saw to take to a job site
The handle on the top is great for carrying it around
Cons
The handle is set quite far back
Sawdust catcher could be better
Swapping out the blade can be tricky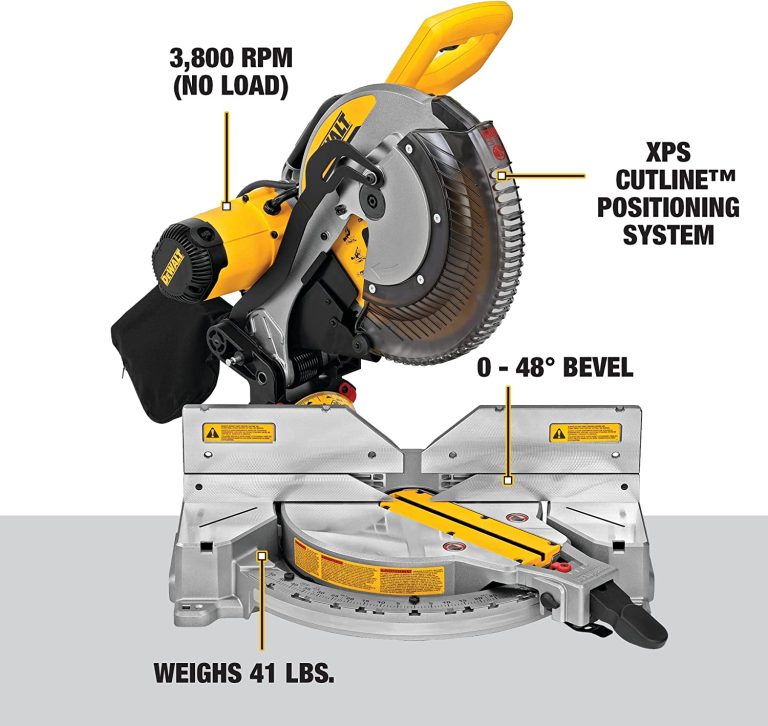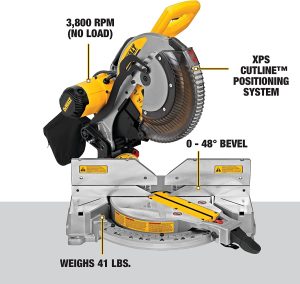 This DeWalt compound miter is larger and much easier to gauge than previous models. The cut line is an added bonus and the light is great for making cuts when natural light is limited.
The saw cuts like butter! After getting it set up we soon found out the XPS system works very well, making it easy to hit your line on either side of the blade.
The DeWalt DWS716XPS 12 in. Double-Bevel Compound Miter Saw is powered by a 15 Amp motor that drives 3,800 RPM to deliver extended power and durability. Integrated CUTLINE LED work light system provides the 12 in. miter saw with an adjustment-free cut line indication for accuracy and visibility. This electric compound miter saw features a stainless-steel miter detent plate with 14 positive stops. A cam miter lock system delivers repeatable accuracy and durability with easy adjustments. Tall sliding fences support 6-1/2 in. of base molding vertically and 6-5/8 in. of crown molding vertically nested. High-efficiency dust duct is concentrated at the point of cut for maximum collection. This dual-bevel miter saw has a built-in carry handle for portability.
Pros
The DWS716XPS looks, feels and operates like a professional's tool
The XPS system is very accurate
The compound miter is much easier to gauge than previous models
Saw is larger and has a more powerful motor but is still quiet enough
Locks into position perfectly
The LED light system requires no adjustment like a laser would
Cons
Dust removal doesn't work as expected
Safety switch seems small and flimsy
The clamp included is cheaper and harder to use
Also read: Dewalt dw745 vs Dewalt dwe7485 Table Saws
Conclusion
The miter saws compared above are shown to be outstanding models for both professional masters and DIYers. They offer great accuracy combined with reliable safety systems, at the same time keeping affordable prices.
Tests also show that some minor drawbacks such as weak dust collection do not greatly influence the operation.