Best Heat Gun – DeWalt vs Milwaukee vs Greenworks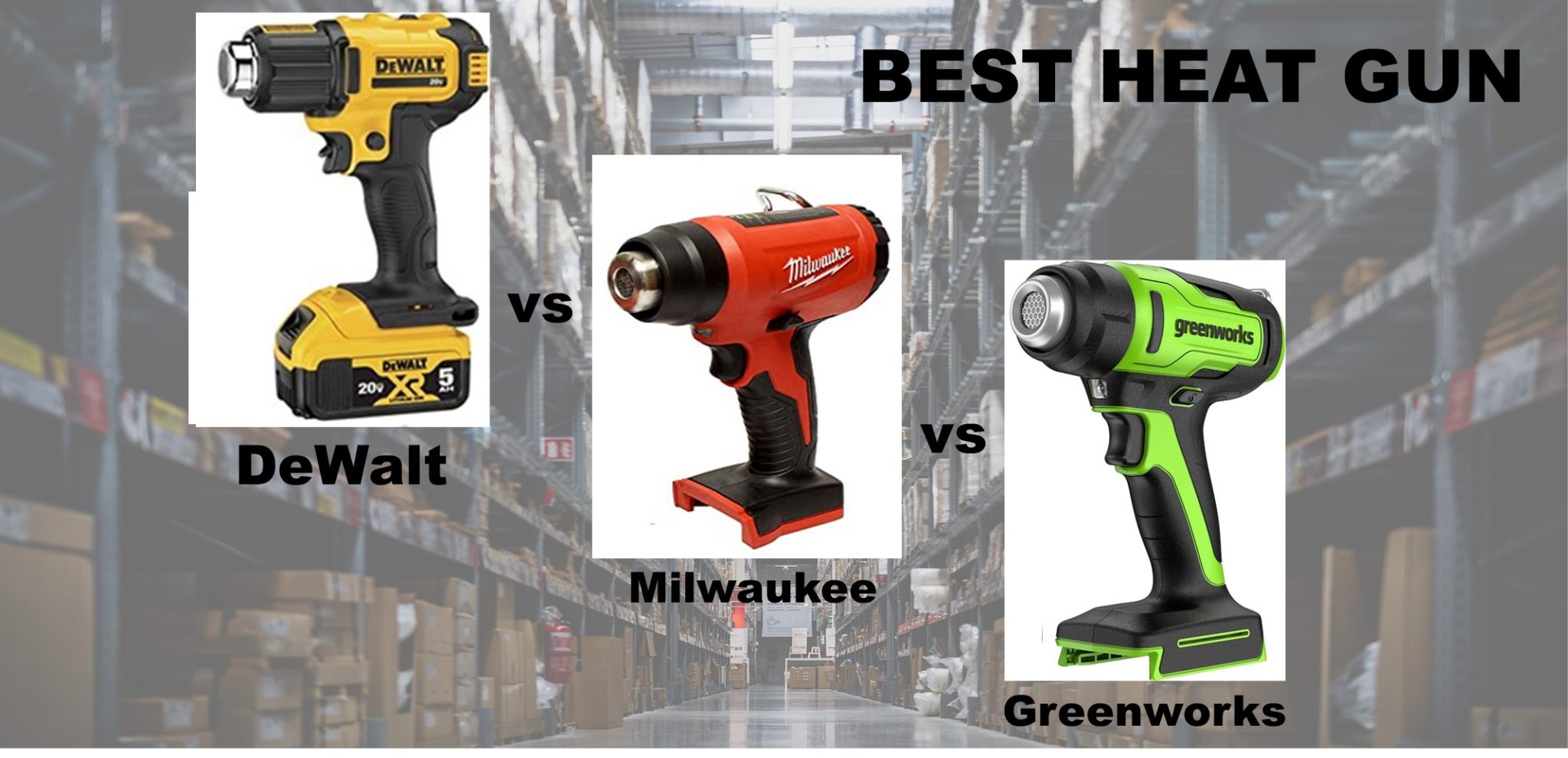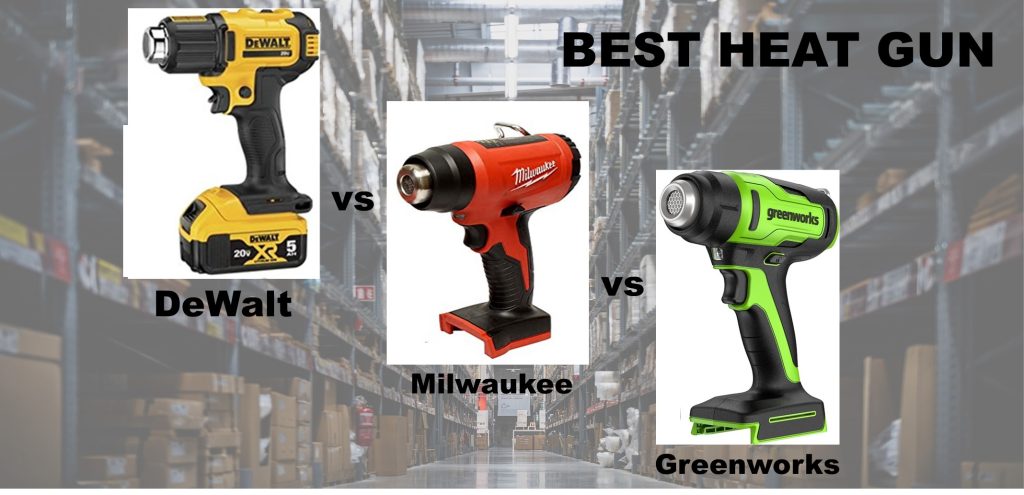 Trying to find the Best Heat Gun? Although not necessarily the first thing that everyone thinks of putting in their toolbox, the trusty heat gun may just become that indispensable tool you find you can't do without and going for over and over again. Whether the project on hand is to strip paint, remove rusted bolts, or simply collapse heat shrink tubing for a wire harness, a heat gun is often the best tool for the job because of the high temperatures it can reach.
Read on to find out about the three cordless heat guns in our comparison review:
So what exactly are heat guns?
Heat guns are similar to hair dryers in operation.  Simply put, they use a fan for blowing air over a heated filament. They usually have controls for multiple fan speeds to adjust air velocity and a given range in Celsius or Fahrenheit for setting the temperature.  The air can also be channeled or directed in certain ways using various attachments that can be fitted on the heat gun's output nozzle.
Cordless = Game changer
One of the things to consider when buying a heat gun is the power source. Many heat guns have a power cord that you can plug into a standard outlet. However, there are times when that standard wall outlet isn't very close, or you can't be bothered with extra hassle and/or hazard of an extension cord (think tripping risk, higher amp draw due to heating element, not wanting that extra cord when working on a ladder, etc.)  That's when cordless models come into play. Take a look at a few different models and choose one that looks right for you.
Comparison Table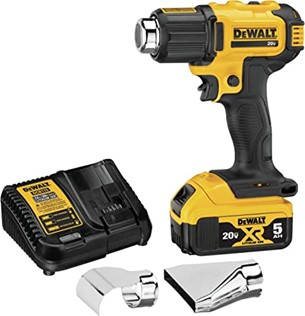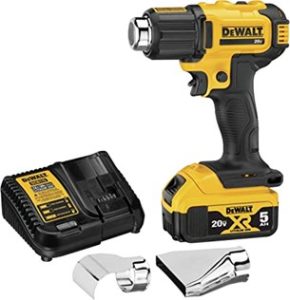 If you don't see any outlet nearby while working, you can choose DEWALT 20V MAX Cordless Heat Gun and power it with 20-V rechargeable batteries also. And it'll work for almost 40 minutes in one go. The highest temperature this gun can reach is 990°F. For "hands-free operation", you can use the lock-on button also. And to see the items you're working on, there is an LED light available as well. It comes with a hooked nozzle and flat nozzle attachment, along with a charger and battery.
Take a look at some of its pros and cons:
Pros
Its battery life is longer than many other heat guns (up to 42 minutes of runtime per charge)
Hands-free lock-on trigger
Improve visibility with LED foot light
It comes with nozzle attachments.
Cons
Doesn't run as hot as some other models
Get the complete tool with battery and charger

HERE
Or save yourself a few bucks if you already have DeWalt 20V batteries and charger and spring for just the heat gun itself

HERE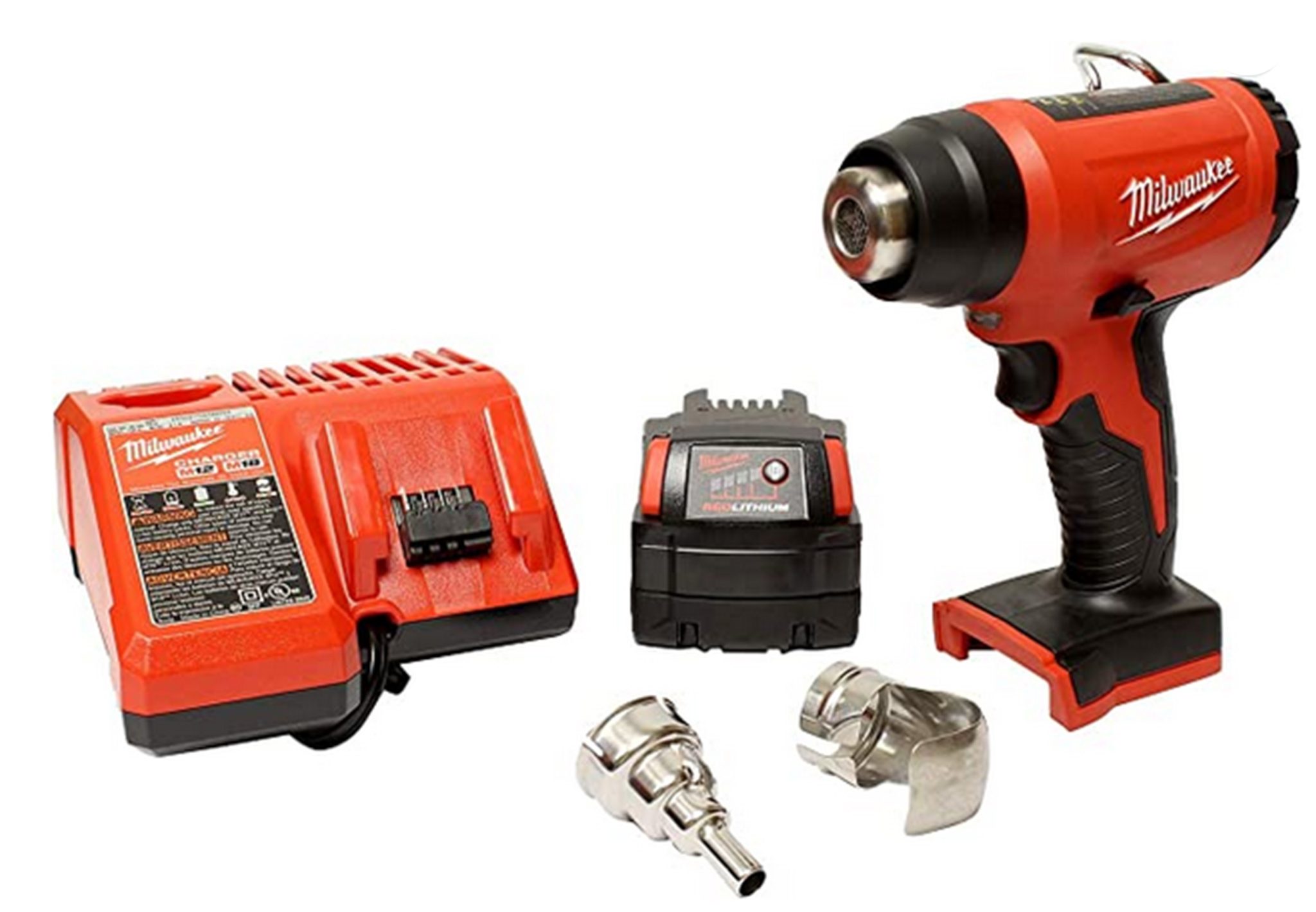 This heat gun is mainly used for quick heating and provides you with heat-shrinking temperatures in less than 10 seconds. However, it takes a long to reach its full potential, which is 875°F. It has a compact design with a hanging hook also. The entire kit includes a reducing nozzle, guarded nozzle, charger and a 5Ah battery. Among the tool brands that were launched quite early with their cordless models, this was one of them.
Here are some of its pros and cons:
Pros
It has a high-quality heating coil which doesn't take long to reach operational temperatures.
It is an easy-to-use product
Unique attachments
Cons
If you want to use this heat gun at its best, you'll have to wait for it to reach the maximum temperature. So, you cannot use it if you need high temperatures quickly.
Heat gun with battery & charger

CLICK HERE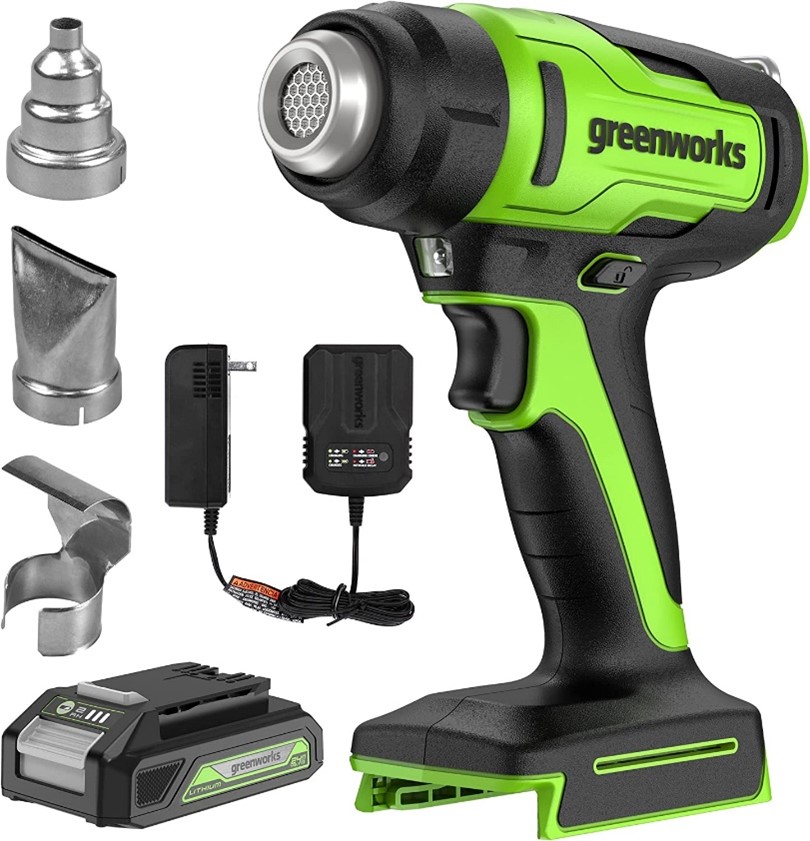 Greenworks is a name of trust, and so is the case with its heat guns. Its 24V battery can work with "Lawn Care" equipment and as many as 100 other power tools. The best part is that its maximum temperature is higher than most of heat guns, regardless of whether they are cordless or not, with a phenomenal 1080°F potential. And it can reach this temperature in just 9 seconds. It also has 3 nozzles, similar to many other heat guns.
Its cordless design is portable for any location; you can use it in different environments. Moreover, its compact design lets you fit it in tight spaces. This makes it ideal for the removal of crafts, wrapping and paints.
Here are some of its pros and cons:
Pros
There is an LED light for illuminating the workspace and an overmold grip for holding it and keep working for long, even in the dark.
Since it is equipped with a motor of 24V, it has 20-25% more power to offer, and its lifetime is also more as compared to many heat guns.
It comes with a three-year warranty, so you are allowed to use it in peace.
It is the best option among non-butane guns because of its price also, which is $99.99, along with a battery and charger.
Cons
You may find it difficult using it in lower heat levels since it works mostly at higher temperatures.
Conclusion
While choosing a heat gun, it is important to take into account its temperature output. If it's variable, you'll be able to work at both lower and higher heat levels. Also, you can use their compact designs for heat shrinking, decal and paint removal. Among the ones mentioned above, DeWalt 20V MAX Cordless Heat Gun is the best one. We recommend this as an economy grade heat gun. Best multi-purpose heat gun for various applications.