Dremel 3000, 4000, 4300, 8220 – Comparison of the Best Dremel Rotary Tools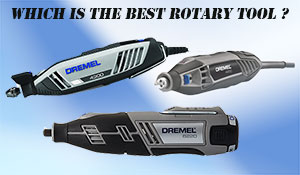 If you are a woodworker looking for the best Dremel rotary tool, this Dremel 4300 vs 4000 vs 3000 vs 8220 comparison review will help you select the best tool that will fit your needs as well as a budget.
Light and versatile, rotary tools can be used in a slew of ways in the workshop. Such include polishing, sanding, and carving tasks in the workshop.
You may already be wondering why we chose Dremel from the dozens of rotary tool brands on offer. Dremel tools surprisingly have a wider range of applications owing to the sheer number of rotary accessories and job-specific attachments.
Dremel is among the best brands when it comes to roraty tools. But still, you might be in a fix trying to figure out what fits you best from the wide product range offered.
In this Dremel comparison review, we want to help you select the best tool by comparing the most popular Dremel rotary tools in the market. But before we go deeper, here is an overview of the models.
Comparison table
Whether it's carving, surface polishing, grinding, sanding, or cutting, the Dremel 3000 rotary will do the work to your satisfaction.
This tool is compatible with a varietal of accessories including the high-speed cutters, cut-off wheels, and carbide grinding stone among others.
The twisted EZ nose cap doubles up as a wrench that you can use to either loosen or tighten parts and accessories. This way, you won't need to source for a wrench to fulfill tasks that need tightening.
Regarding the tools suitability for the tough jobs in the workshop, a 1.2 amp motor powers Dremel 3000 tool. The powerful motor, combined with a speed that varies between 5,000 to 35,000 rpms means you cut through materials with precision.
When you order a Dremel 3000 tool, it will come with a manual that guides you through the setting of the tool and adjusting the speed. This means you can set the right tool right away and start working on your projects.
If you often have to open up materials such as plastics and pieces of metals or you need to make perfect-circled patterns on some hard materials, a Dremel 4000 is the tool for the job. This rotary tool has an attractive array of accessories and attachments designed to help in cutting, smoothing, or removing parts of a hard material with high precision.
To give you total control of the tasks, the tool has a slim, ergonomic body shape coupled with a 360o soft grip makes it easy to handle and manipulate the tool for precise cuts. The carbide made accessories packed with the tool are easily compatible with the EZ twist cap so that you can change the tools with ease as the projects you are working on demand.
A combination of a powerful 1.5 amps motor and an electronic feedback circuitry allows you to customize the tool's speed for consistency in performance.
Lastly, the Dremel 4000 tool can work with any Dremel accessory that you can lay your hands on in the workshop. This does not save you on the costs of purchasing other tools but also minimize clutter.
Dremel 4300 hands you flexibility as it is powerful, easy to use, and compatible with a range of rotary attachments and tools.
This tool comes with a three-jaw chuck that makes it even easy to change the accessories to suit the current tasks around your workshop. For your comfort and better productivity, the tool features a redesigned airflow that helps lower the temperature of the tool so that you can work uninterrupted.
A new, inbuilt pivot light illuminates the project you are working on for precise cutting and your safety. Besides, if you are working on demanding tasks, the tool has electronic feedback that allows you to set the speed so that it fits the applications at hand.
In a word, Dremel 4300 is that loaded workshop tool that will help you attend to a variety of surface finish tasks around the workshop.
If you are on a budget but still need a Dremel rotary tool that will do the job, the nifty Dremel 8220 is the tool to turn to.
A combination of a slim design, a 360-degree grip handle and an absence of a cord makes this Dremel highly flexible and ideal for people who need to move around their working zones. Such flexibility translates to better utilization of workspace and improved productivity.
Besides the ergonomics, the Dremel 8220 tool has a powerful motor suitable for the 5,000 – 35,000 RPM speed range.
For your safety, the tool has an on/off speed switch so that the tool will only be on when you are ready to work. The switch keeps the tool off if you are not using it preventing the occurrence of possible injuries in the workshop.
Dremel Comparison Review
Now, coming to the main agenda of the article, it's time we compare the four Dremel rotary tools face to face.
important
Perhaps the best way to do so is to analyze the important factors you always consider when buying a rotary tool.
After that, we will tell you how each model fairs on in each category and give our choice on the best model for every category. So, without further ado, let's get down to business.
1. Design, ergonomics and build quality
The design and material of a rotary are critical areas that you should score right. The design of a rotary tool has a significant impact on its pricing, ease of handling, and most importantly, your productivity. It also saves you time and money.
The Dremel 4300 rotary tool features replaceable motor brushes that minimize friction between the parts of the motor thus increasing your tool's lifespan. Additionally, the presence of ball bearings between points makes the critical points on the tool to move smoothly thus minimizing wear and tear.
The Dremel 3000 has a compact design for easier handling and precise cuts, as well as minimizing vibration. Further, the tool features a rightly placed grove that houses your small fingers thus preventing them from blocking the airways. Dremel 3000 has a majority of its components made of plastic material, which makes it less durable.
Dremel 4000 model, in contrast, is designed from durable material and is less likely shatter in pieces in case of an accidental fall.
Besides a slim, compact design, Dremel 4000 has ball bearing construction that helps it operate smoothly and quietly. The tool has a six feet long cord to ease your movements as you work. For total control during work, Dremel 4000 is designed with a 360-degree grip pad so that you can use it in whichever position you like for better results.
The tool-less Dremel 4300 leads when it comes to style and design. It has a rotating pivot light so that you always have a clear view of whatever you are working on it. It also features ball bearings that allow smooth operations besides giving you better control as you cut through materials.
The Dremel 8220 model doesn't come with restricting elements, and this makes it the king of flexibility. It has a slim body shape and a handle grove that will perfectly fit into your hands. It's also lighter than any of the other four models highlighted in this guide. The cordless Dremel 8220 is equally durable with its body made of a rugged plastic while its battery can last for years before needing replacement.
verdict
Our verdict: The four tools are designed to make your time in the workshop smooth, more productive, and even inspiring. Except for Dremel 3000 that has its body made of plastic, all the other models are sturdy enough for the workshop undertakings.
2. Speed: variable vs. single
Rotary tools either with a single or variable speed depending on the intended use.
Often, you will need to use a variable speed tool to complete challenging projects that demand a high level of precision. In essence, a tool with variable speed will make it easy for you to attend to tasks such as shearing bolts, cutting drywall, and sharpening your tools of trade.
Single speed tools are often used on smaller projects where precision isn't central to the completion of the project. Such a tool is ideal for small-scale DIY projects around the homestead.
The Dremel 3000 is designed with a 2/28 variable speed with a range of 5,000 – 32,000 RPM though the manufacturer states it can reach 35,000 RPM too. This range of speed makes Dremel 3000 model tool versatile enough for everyday cutting and surface finish tasks around the workshop.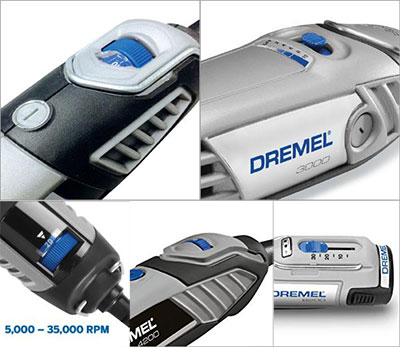 Dremel 4000 rotary tool is an improvement on the Dremel 3000 models with its strengthened 1.6 amp motor that gives it a 5000- 35,000-RPM variable speed. The slight adjustment in the speed puts this tool in good stead for handling those tough jobs where preciseness is required. After all, the high speed gives you maximum control and saves time necessary to complete a project.
Just like the other tools, the Dremel 4300 also has a variable speed ranging from 5000 RPMs to 35,000 RPMs. This makes the tool convenient for attending to a range of tasks around the workshop.
The Dremel 8220 model rules when it comes to flexibility due to the cordless design. Its generous, 5,000 to 35,000 RPM variable speed makes it the daily rotary tool for individuals who need an easy to manipulate yet powerful tool in their workshops. The high speed means you can easily polish up those tight corners on the material you are working on with accuracy.
verdict
Our verdict: While all the four tools have a flexible speed range, we would go with the Dremel 4300 model for a busy workshop. Besides the variable speed, this tool comes with a larger pool of accessories; thus it can be used to complete a broader range of taxing workshop jobs such as cutting hardwoods, cutting metals, and even cleaning up grout.
3. Power
The performance of a Dremel rotary tool is dependent on some factors including the power and technology of its motor and the ability to pre-select or adjust the speed of the tool.
Let's have a closer view of the motors powering the models we are discussing.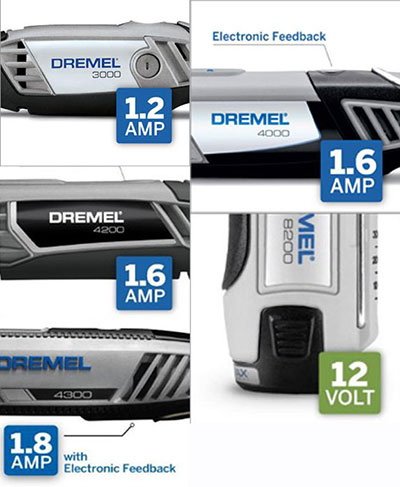 First, the Dremel 4000 model features a motor built using the latest technology for consistency and power in cutting materials. The tool has replaceable motor brushes that ease the revolution of the motor and improve the tool's lifespan. All in all, we get 1.6 amp motor rate. You will also like the electronic feedback control feature that enables you to customize the tool's speed to fit the tasks.
Dremel 4300 is powered by a 1.8 amp motor that delivers incredible speed ideal for demanding applications. The amp is ramped up by electronic feedback for you to vary the speed to match the project and improve convenience.
Dremel 3000 also has a powerful motor of 1.2 amp that makes it well suited for ordinary workshop tools.
As opposed to the above models, the Dremel 8220 model uses a 12 volts lithium-ion battery for power. The battery has a work span of up to 60 minutes before requiring to be recharged. For this, Dremel 8220 affords much-needed flexibility in your work.
The 2-corded Dremel 3000 is a level above its predecessor Dremel tools with its twist nose cap. The redesigned nose cap features an integrated wrench that makes changing and attaching easy and fast thus saving you time when changing one kind of project to another. Beyond this, this version of Dremel is also equipped with a combination of side vents and the main fan for a cool, smooth operation.
The Dremel 4300 rotary tool is fitted with a Universal 3-jaw chuck so that you can attach a variety of Dremel accessories on the tool. The accessories complement the tools 35000-RPM maximum speed making Dremel 4300 super powerful.
The refurbished tag on the Dremel 8220 may make you think of this tool as less powerful and unsuitable for complex applications in the workshop. You will be surprised at how effective this tool is when at work. The Dremel 8220 has a quick collect lock so that you can easily change the accessories. It also features an ergonomic handle that complements its lightweight. Regarding performance, Dremel 8220 is powered by Max Lithium-ion battery that works for an hour before needing to recharge.
verdict
Our verdict: Basing on the source of power for each model, our recommendation is twofold: if you are looking for a tool that will give you flexibility but still help you achieve a lot, then go with the wireless Dremel 8220. But if you are looking for a powerful rotary tool that you can use continuously without having to recharge, then opt for the Dremel 4000 or 4300 model.
4. Compatibility/ Attachments
You will agree that the performance of a rotary tool is hinged on how easy it is to restructure the tool to suit the demands of the tasks you are working on.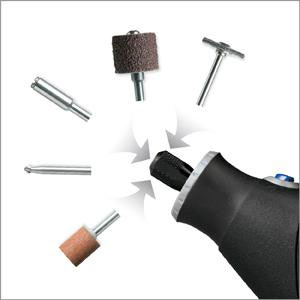 The Dremel 3000 is shipped with two attachments and 28 accessories. This large pool of accessories means you can complete a wide range of tasks with this tool alone.
Dremel 4000 is an improvement on Dremel 3000 as it is shipped with four attachments and 34 accessories to boot. Such accessories make the tool ideal for use on metals, plastics, fiberglass, and hardwoods. The tool is also ideal for finishing tasks such as grinding, polishing, and routing.
Dremel 4300 has an equal number of EZ accessories totaling to forty. The tool naturally fits users especially for attending to hobbies, DIY projects, workshop cutting, and surface finish chores.
While the Dremel 8220 is more flexible, it has fewer accessories of 28 and only two attachments. For this, the model may not be ideal for busy workshops where you may need to complete a range of woodwork, cutting, and surface finish tasks.
verdict
Our verdict: For everyday chores and DIY projects, Dremel 4300 is a great fit. It has the right number of accessories and is powerful enough for the toughest jobs around the workshop.
Dremel 4300 vs 8220
After this lengthy comparison, it is clear that Dremel 4300 and Dremel 8220 hold some ground against the other three models. It is only fair, then, to compare their features and areas of applications.
Dremel 8220 is light and cordless making it perfect for carrying surface finish tasks around the homestead or in a small workshop. It accepts a range of accessories meaning it is the only tool you need to complete chores such as sanding, polishing making holes in the workshop.
Dremel 4300 is far much heavier but accepts more accessories than Dremel 8220. With a speed range varying between 5,000 and 35,000 RPMs, this tool is ideal for busy workshops as you complete on tasks within a stipulated duration and with precision. Besides, its runtime doesn't depend on batteries, so we can recommend this tool for time-consuming tasks.
PROS Dremel 4300
Electronic feedback feature that allows you to tailor the speed to match your project needs
Compatible with every Dremel accessories saving unnecessary costs of purchasing new accessories
It's durable thus ideal for a busy workshop
It has replicable motor brushes and ball bearings for smooth operation
PROS Dremel 8220
It is easily portable thus ideal for outdoor use
It's compact in design and lightweight making convenient for prolonged use
Has a large number of accessories that you can leverage on to complete your workshop tasks
The Lithium-ion battery can hold charge for up to an hour- an improvement over the previous Dremel 8000 series models
Dremel 3000 Vs 4000
Dremel 4000 was designed to replace the less powerful and venerable Dremel 3000 series. Of the many user-friendly features in this tool, you will especially like the twisted nose cap that not only provides a wrench function but also enables you to change the tool's accessory with ease.
For a punch of power, the Dremel 3000 tool has an improved motor with a power rating of 135 W. This gives the tool an extra punch when it comes to attending to demanding applications.
When Dremel invented the Dremel 4000 tool, it aimed at giving users a wide range of Dremel accessories for versatility. The tool is ideal for small grade projects around the workshop or the home. It has a variable speed, is powered by 1.6 amp motor and comes with 34 accessories, which is an improvement on Dremel 3000.
PROS Dremel 3000
Has an easy-to-hold design so that you don't tire on working with the tool for long durations of time.
It's cheaper than the later Dremel tool versions. This saves you cash that you can use to accomplish other tasks
The tool has variable speeding making it the right tool for tasks such as sanding, carving, grinding, polishing, and even cutting.
PROS Dremel 4000
It has a solid shaft making it strong enough for tough surface cutting and finishing jobs
The tool comes with 34 accessories, three more than the Dremel 3000. This makes it more versatile.
Has unique features that enable you to accomplish tasks such as creating a perfect circle on drywall either for decoration or during repairs.
It has an easy to handle speed dial so that you can start working right after receiving your order.
The tool has replaceable brushes to safeguard your tool's motor and extend its lifespan saving you maintenance costs.
Frequently Asked Questions
Are Dremel rotary tools suitable for cutting in stone?
Yes, you can safely apply Dremel 4000, 4300, 3000, and 8220 models in stone works. However, the manufacturer recommends using Dremel specialized EZ545 diamond wheel, 575 Right Angle attachment, and the like.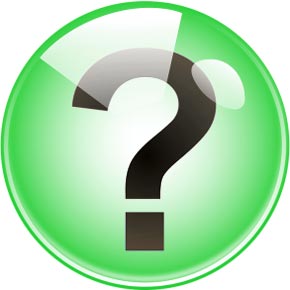 Do Dremel tool units come with the universal chuck?
Not all models offer the universal chuck for general applications and a 1/8 collect for more aggressive applications. However, the manufacturer provides this unit in the 4300 tool.
What is the voltage of Dremel rotary tools?
Are Dremel accessories interchangeable and can be used with all models?
Many tools are compatible with all Dremel models. However, there are unique units for certain appliances only. Please, check the compatibility beforehand.
Wrapping up
When it comes to equipping your workshop, the trick to minimizing on cost but still boost productivity is to choose tools that are compact, durable, and highly versatile.
important
A Dremel tool doesn't only increase your productivity but also aids in keeping your working area organized and clutter-free.
This guide helps you choose the right Dremel tool to fit your workshop and project needs.
Further reading and references: