Ryobi vs Milwaukee vs Black & Decker Cordless Drills


Even if you are not a professional worker or repair master, you certainly happened to use a drill at least once in your life. Assembling and disassembling of shelves, cupboards, furniture repair, and so on – all these tasks can hardly be fulfilled without such a valuable, multifunction, lightweight equipment.
Today, we'll carefully examine and compare three cordless drills of three well-known manufacturers – Ryobi vs. Milwaukee vs. Black & Decker. The drills compared are Ryobi P208 One+ 18V, Milwaukee 2606-22CT M18, and Black & Decker 20V MAX.
Ryobi is a famous Japanese brand, founded in 1943, which, at first, used to produce automobile components and telecommunication systems. Later, Ryobi entered the builders` hardware industry and started instrument production. After the decades of world conquest, it expanded its influence in Europe, North America, New Zealand, and Australia. Moreover, Ryobi owns the Milwaukee brand, which manufactures one of the cordless drills of our review.
Our third company that produces building/repair instruments is called Black & Decker Corporation. This is one of the American pioneers of the power tools industry, as it has been functioning since 1910. Black & Decker is quite popular in the USA and owns more than a dozen brands, the goods of which can be found in all American houses.

Main Differences Between the Models
Though the drills feature similar essential characteristics, this Ryobi vs. Black & Decker vs. Milwaukee confrontation allows us to pick out the following differences between the power tools: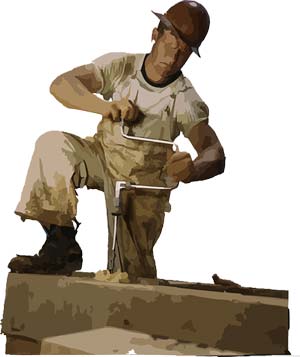 Milwaukee 2606-22CT M18 set includes two Lithium Polymer batteries. Black & Decker 20V MAX comes with one Lithium-Ion battery. And Japanese Ryobi P208 One+ has no batteries in the kit. However, Ryobi and B&D are compatible with all batteries of other power tools of their manufacturers. Nevertheless, all batteries have a similar run time – about 30 minutes. And having two batteries, Milwaukee can run for up to 60 minutes.
Charging time slightly varies, since Milwaukee charger performs fast 30 minutes charging. Ryobi and B&D drills need 60-80 minutes to full the batteries.
While Ryobi and Milwaukee drills have the same ½ inch chuck, American Black & Decker 20V MAX features a bigger 3/8 in. chuck.
The first two power tools also offer LED light for better control over the working process. B&D drill doesn't have any illumination.
Ryobi has the broadest set of clutch positions, where you can choose between 24 variations. Milwaukee uses 16+1 clutch options, and Black & Decker offers 11 different settings.
The drills are different in the RPM mark. Here, we see that the most powerful is the Milwaukee model with its 1800 RPM. Ryobi takes second place with 1600 rotations per minute. And B&D drill produces up to 1500 RPM.
Ryobi P208 One+ features a very convenient magnetic fastener for the extra bit. Such construction allows you to free your hands and still have an additional tool in touch. None of the other two drills has such a fastener.
Of the three models, only Milwaukee 2606-22CT M18 has a carrying case.
Also, Milwaukee is bigger than the other two drills and almost three times heavier. It weighs 9 pounds, while Ryobi and Black & Decker have 3 pounds of weight.
Comparison Table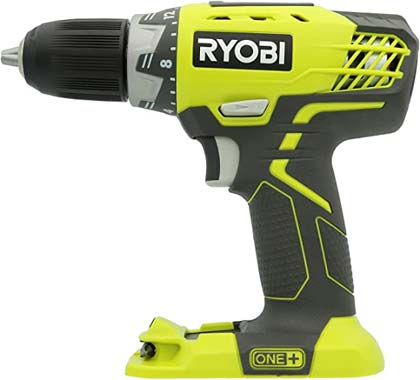 Ryobi P208 One+ 18V is a versatile, handy cordless drill, which offers a very captivating design and high professional virtues.
The drill has a compact, bright green and black body with dimensions of 12 x 3 x 9 in. The item weighs only 3 pounds, which means it can be applied in all hard-to-reach places without causing much hand fatigue.
For the so low price, you get a tool-less bit change, variable speed options, illumination, and compatibility with all Ryobi batteries.
So, the P208 One+ doesn`t require chuck keys to change a bit. Unique ½ inch chuck construction clenches the necessary bit and safely locks it.
Moreover, the model is aimed at providing maximum freedom for your hands. The handle bottom has a magnetic fastener, where you can put an extra bit for quick access and change.
Ryobi offers the 2-speed gearbox with 24 different position options of the clutch. The user can adjust to tasks of various complexity.
Though adding variable speed and powerful torque, the manufacturer does not equip the cordless drill with a separate battery. However, Ryobi P208 One+ is compatible with all Ryobi 18V Lithium-Ion and NiCad batteries. It`s a useful option for those who already have some Ryobi power tools in usage.
Nevertheless, the absence of an additional battery is rather a shortcoming than a plus.
Reviews praise the Ryobi solid handle grip and rubber coverage, as well as LED illumination of the working surface.
Thus, inevitably having some disadvantages like the lack of battery, Ryobi P208 One+ 18V is definitely worth its money and deserves a leading position among other cordless power tools.
Pros
compact dimensions
anti-slippery rubber coverage
magnetic handle for an extra bit
tool-less bit changing
2-speed gearbox
24-position clutch
LED light
compatible with all Ryobi 18V batteries
affordable price
Cons
no battery included
chuck construction is subject to breakage
no case for storage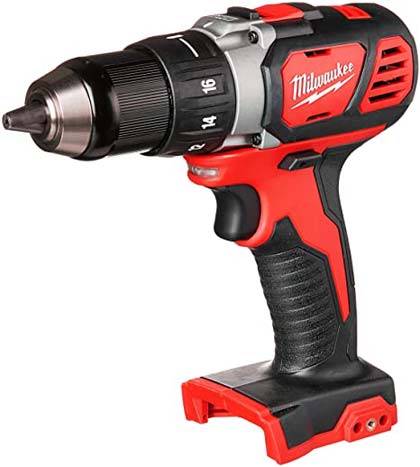 Milwaukee offers a bigger and heavier model, the kit of which has also been expanded. The 2606-22CT M18 features a dashing red body, made of plastic and metal components.
Though being more reliable and durable, such construction adds some extra weight, so the drill weighs 9 pounds and measures 13.6 x 14.8 x 4.7 inches. Nevertheless, it still belongs to the category of compact tools.
The drill itself has a ½ inch grip chuck, which operates by means of a ratchet to optimize grip strength and minimize slippage. The chuck is lightened by LED lights over the trigger.
If you're looking for a genuinely potent drill, Milwaukee 2606-22CT M18 can provide you with excellent power. High weight and a bit enlarged dimensions are partly atoned by 4-pole frameless motor, which produces up to 1800 RPM. Thus, the power tool can please both DIYers and professionals.
You can be sure the drill won`t overheat or overload, as it comes with REDLINK intelligent protection.
Apart from the cordless drill itself, the customer gets useful plastic case for storing, which comes with two M18 REDLITHIUM compact batteries and M18 and M12 Multi-Voltage charger.
The option of two batteries is a huge advantage, as when the first one is discharged, you don't have to interrupt the work and wait for recharging. Just change the battery and keep drilling.
The Multi-Voltage charger also makes its contribution to the fast charging. It takes only 30 minutes to restore the battery. The item comes with a 2-year warranty. Milwaukee 2606-22CT M18 combines the features of a professional yet simple tool with long-lasting operation time.
Pros
solid plastic & metal body
½ inch single-sleeve ratcheting chuck
LED light
powerful 4-pole frameless motor with 1800 RPM
REDLINK overload protection
two batteries
multi-voltage charger
fast 30 min. recharging
a carrying plastic case
Cons
rather pricey
batteries tend to lose the ability to hold a charge over time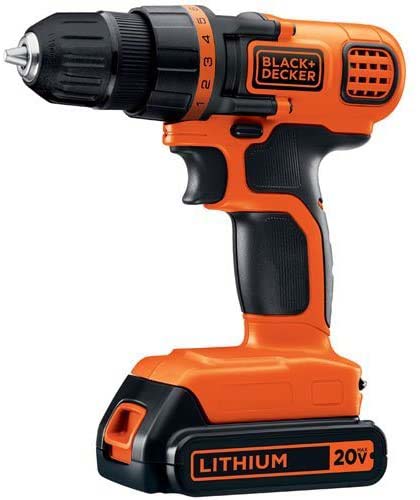 Well assembled, convenient, and functional Black & Decker 20V MAX can justly count on the high mark in this cordless drill review. The model consists of a durable body with a 3/8 inch grip chuck and 11 clutch settings.
The kit also includes a double-ended bit. The choice of clutch position and the bit allow the user to work on different surfaces and materials like wood, plastic, drywall, metal, etc.
Besides, a motor features variable speed option, which both help deal with the most complicated materials and locations and avoid overloading of the instrument. Such construction also reduces the load on your hands. And a processed material saves its structure without extra damage.
The 20V MAX set also includes a 20V MAX Lithium-Ion battery and a charger. The battery was improved for longer run time, at the same time-saving compactness. Besides, like the Ryobi drill, this instrument is compatible with the batteries of other Black & Decker power tools.
The drill itself is comparable with the Ryobi tool, as it weighs slightly over 3 pounds and measures 10.6 x 3.7 x 8.5 inches. The MAX lays comfortably both is man's and woman's hands.
However, the cordless drill offers no storing case and extra bits.
Pros
compact dimensions
3/8 in. tool-less chuck
11 clutch settings
double-ended bit
variable speed
capacious battery
compatible with other Black & Decker batteries
broader bit set for extra money
affordable price
LED lighting
Cons
no storage case
so users complain that they cannot loose the chuck when necessary
Design and Dimensions
Milwaukee 2606-22CT M18
Milwaukee power tool features a red and black plastic body. Here, we also see reinforcing metal inserts, though without rubber handle. The 2606-22CT M18 weighs 9 pounds and has 13.6 x 14.8 x 4.7 inches dimensions. It's OK for a man's hand, but women may find it rather heavy and bulky.
Chuck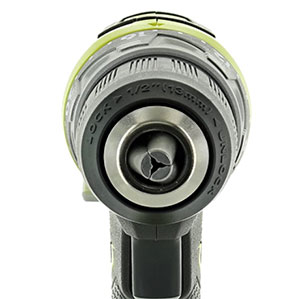 Ryobi P208 One+ 18V
The Japanese P208 One+ uses a ½ inch chuck, which doesn't need special tools for bit changing. It has a grip construction with locking.
Milwaukee 2606-22CT M18
Milwaukee has a similar ½ inch grip chuck with a tool-less bit replacement. Besides, it is a single sleeve ratcheting for better grip strength and less slippage.
Black & Decker 20V MAX
Black & Decker power tool is equipped with a bigger chuck, which measures 3/8 inches. However, it's also grip.
Â
Clutch Settings

Ryobi P208 One+ 18VRyobi comes with 24 clutch settings, which is the widest choice among all drills of the review.
Milwaukee 2606-22CT M18Here, the manufacturer says the user has 16+1 clutch options to adjust the tool properly to a particular work.
Black & Decker 20V MAX American cordless drill features 11 different clutch positions, depending on the job and material.
RPM (Rotations Per Minute)
Ryobi P208 One+ 18V
This is an excellent model, the 2-speed gearbox of which can produce 1600 RPM.
Milwaukee 2606-22CT M18
The M18 turns out to be the most potent drill of the review, as it offers up to 1800 RPM. Such rotations are reached thanks to a 4-pole frameless motor.
Black & Decker 20V MAX
Being the most compact power tool, it also comes with the lowest rotation speed, which is 1500 RPM. However, the variable-speed motor deals with different materials and tasks with adequate performance.
Batteries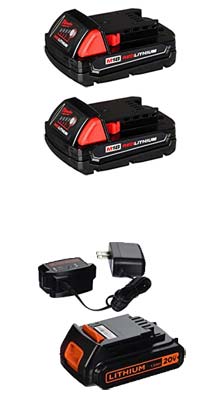 Ryobi P208 One+ 18V Ryobi brand made a big mistake, having determined not to add a separate battery to its Ryobi P208 One+ kit. Still, the drill can use any 18V batteries of its Ryobi One+ drill brothers.
The run time will depend on the intensity of the job you fulfill, but its fade-free power should last for 15- 25 minutes. Recharging takes about an hour.
Milwaukee 2606-22CT M18 Milwaukee offers as many as two batteries in one set. These Lithium Polymer power elements feature 18 volts. Though cordless construction lets you free from any wires, at the same time, it limits the working time. Here, you can simply change the battery and continue work.Fast Multi-Voltage charger will revive the battery within 30 minutes, while the double source of energy allows you to run the drill up to 60 minutes.
Black & Decker 20V MAX The MAX is equipped with one 20V Lithium-Ion battery and a standard charger. One should note that the battery is very compact yet capacious. Full recharging takes about 80 minutes. B&D 20V MAX is enough for 30 minutes of operation.
LED Light

Ryobi P208 One+ 18V When using this drill, you can illuminate your working surface with the help of in-built LED light. The element is mounted into the lower part of the handle near the magnetic recess for the extra bit.
Milwaukee 2606-22CT M18 Just like the previous power tool, the Milwaukee drill also uses LED illumination. The only difference is the location. Here, light is set over the trigger.
Black & Decker 20V MAX The 20V MAX also provides extra lighting thanks to convenient LED. The single unit is located over the trigger.
Storage Case
Ryobi P208 One+ 18V When purchasing this item, the customer gets only the P208 One+ 18V cordless drill without any additional accessories, including a carrying case.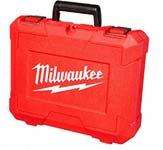 Milwaukee 2606-22CT M18 Among three models, Milwaukee 2606-22CT M18 comes with the broadest kit. There are the cordless drill, two batteries, one charger, and a large plastic case to store all these items.
Black & Decker 20V MAX B&D 20V MAX does not offer any storage case. The only accessories it has are one double-ended bit, one battery, and one charger.
Frequently Asked Questions
1. What should I pay attention to when buying a cordless drill?
An efficient and convenient cordless drill should have some crucial characteristics. So, first of all, pay attention to the RPM factor and the number of clutch settings. The greater they are, the more complicated tasks your tool can perform on different materials.
Also, mind battery power. On average, a lasting cordless drill provides 30 minutes of run time. Chuck size is also quite important, as it allows you to use bigger or smaller bits, depending on the work you should complete. And finally, if your cordless power tool has LED light, it'll become an excellent addition.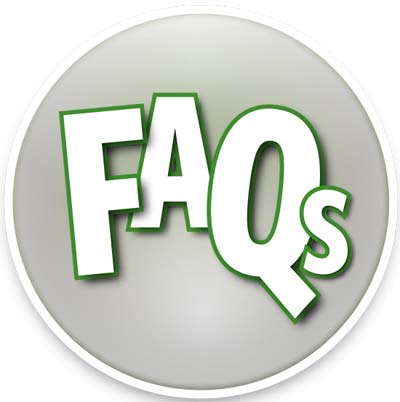 2. Can I buy a separate battery for my Ryobi P208 One+ 18V?
Though Ryobi P208 One+ 18V kit does not include a battery, the manufacturer sells separate power banks, which are applicable to all One+ tools. Besides, if you already possess some Ryobi One+ instrument with 18V Lithium-Ion and NiCad batteries, you can use them for the P208 One+ drill either.
3. How long does the charging of a cordless drill take?
Charging time may vary depending on the drill model and the charger it uses. On average, a battery can be filled within an hour or an hour and a half. However, some drills like Milwaukee 2606-22CT M18 have the chargers of fast performance that take only 30 minutes.
4. Is Milwaukee 2606-22CT M18 or Black & Decker 20V MAX better?
Face to face comparison shows that the Milwaukee drill offers a more extensive set of accessories, settings, and higher performance. However, one should note that the
better power tool
costs several times more expensive than the Black & Decker 20V MAX.
Thus, Milwaukee comes with two batteries and a fast charger. Black & Decker item has one battery and a standard charging element.
Besides, while the B&D drill is equipped with 11 clutch settings and performs up to 1500 RPM, a user of the 2606-22CT model can choose between 16+1 clutch options and work on 1800 RPM level. Plus, Milwaukee protects its motor from overloading with special REDLINK intelligence.Also, the first cordless drill features a carrying case. B&D 20V MAX has none.
Conclusion
As we see, a cordless drill can be as useful as its corded brothers. Moreover, sometimes, it is more convenient for working in hard-to-reach places or a considerable distance from the outlets.
Anyway, a cordless drill is a necessity for every house. We believe that, though three cordless drills present high performance and equality of functions, it`s worth paying extra money and purchase a more expensive Milwaukee item, which surpasses its rivals in some characteristics like batteries, rotations, accessories, motor protection. Still, more affordable Ryobi and Black & Decker models have some advantages to offer. So, the final choice is always up to you.
Further reading and references: