DEWALT dcd996 vs dcd997 vs dcd998W1 vs dcd791B vs dcd796


Being one of the most reliable and popular power tool manufacturers, DEWALT couldn't help releasing the whole lineup of hammer drills for tasks of various complexity. The market offers dozens of models, but today, we'd like to speak about the latest, most powerful, and durable 20V MAX XR series.
The battle is conducted between DEWALT dcd996 vs dcd997 vs dcd998W1 vs dcd791B vs dcd796 drills. One series means lots of similarities, like exceptionally convenient cordless design and the most sophisticated brushless motor.
So how to make the right choice? Keep reading to learn the main differences and customers tips!
Main Differences Between the Models
Here are the most significant differences between the modifications, which may influence your choice:

The first three drills have 3 speeds, while the other two left work at 2 speeds and provide slightly less powerful performance.
Analogically, the DCD996B, DCD997CB, and DCD998W1 are equipped with a reinforced nitro-carburized chuck. The DCD791B and DCD796 fulfill less challenging tasks and have simple metal chucks.
DEWALT DCD997CB is the smartest tool as it features integrated Bluetooth technology and DEWALT Tool Connect free mobile app.
And DEWALT DCD998W1 can intelligently monitor and improve its power thanks to Power Detect Tool Technology.
All hammer drills use 11 clutch settings. But DEWALT DCD791B has as many as 15 clutch settings.
Please pay attention that you purchase bare tools in all cases except for DEWALT DCD998W1 model. Here you get a battery and a charger as well as several more accessories.
Comparison Table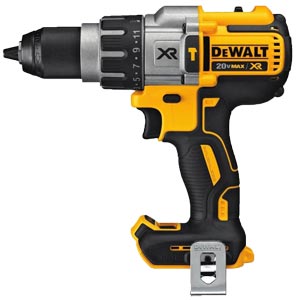 The DCD996B model presents a middle price category hammer drill, which provides exquisite performance despite its affordability. The tool features all the advantages of the 20V MAX XR series common for other DEWALT drills.
First of all, the manufacturer equipped it with a high-efficiency brushless motor and high-performance transmission for improved power and runtime. The tool can drill all types of masonry materials and do it twice better and faster than previous generations of hammer drills.
DEWALT DCD996B is an excellent option for the toughest works as its ratcheting chuck was also reinforced. The unit is made of durable nitro-carburized metal.
Users are free to switch between 3 speeds as well as 3 LED light modes. Customers note the ease of application even in tight areas thanks to compact and quite light design. Besides, a coated and sealed body is resistant to moisture and dust.
Unfortunately, batteries and chargers are sold separately here. Among the drawbacks, we also noticed that trigger and speed switching sometimes get stuck.
Pros
way more powerful than previous DEWALT hammer drills
suitable for the most complicated tasks
can be used as a driver
the best brushless motor
high-performance transmission
3 speeds up to 2000 RPM
3 LED modes
reinforced nitro-carburized chuck
sealed construction
affordable price
Cons
one will have to purchase a battery and a charger separately
trigger and speed switch don't work smoothly
may feel heavy for some users and especially during continuous work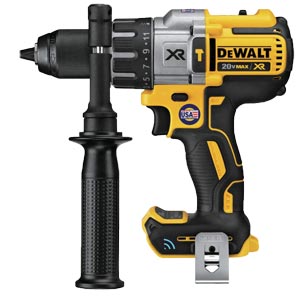 The DCD996B model presents a middle price category hammer drill, which provides exquisite performance despite its affordability. The tool features all the advantages of the 20V MAX XR series common for other DEWALT drills.
Though the previous model has almost no minuses, there is always space for improvements. That's how the manufacturer thought when developing the DEWALT DCD997CB tool. The DCD996B vs DCD997CB comparison will show literally identical design and filling except for one great addition – integrated Bluetooth technology.
Owners of this model can connect this hammer drill to the DEWALT Tool Connect free mobile app and get dozens of maintenance and control opportunities. The app allows for customizing the tool, conducting diagnostics on the battery life, temperature, the number of trigger pulls, receiving alerts, and even tool tracking.
The latter is possible thanks to the Last Seen feature. Thus, you can find your lost tool and disable it if it was stolen.
When speaking about other characteristics, they are absolutely the same as in the DEWALT DCD996B hammer drill.
Pros
smart hammer drill with Bluetooth technology
supports Tool Connect app for customization, easy smartphone monitoring, and maintenance
can be tracked if lost or stolen
protected against unauthorized use and theft
applied for the most complicated tasks
can be used as a driver
powerful brushless motor
high-performance transmission
3 speeds
3 LED modes
reinforced nitro-carburized chuck
sealed construction
affordable price
Cons
battery and a charger are sold separately
trigger and speed switch don't work smoothly
may feel heavy for some users and especially during continuous work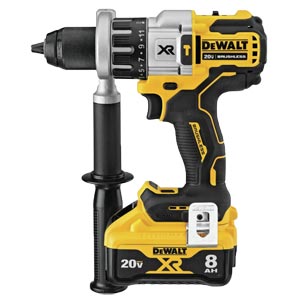 Not always bare tools can satisfy a customer. If you don't have batteries and storage units from your previous instruments, their purchase will become additional financial expenses. In such cases, it's better to look for a kit.
DEWALT took care of this and launched the DCD998W1 combination kit. You get a nice storage bag, belt clip, and a side handle. Moreover, when it comes to the battery, DCD996B vs DCD997CB vs DCD998W1 battle ends with the unconditional victory of the last tool over all the above discussed. The unit comes with a 20V MAX 8Ah battery and charger.
attention
Please pay attention that this model can boast of even more powerful and durable operation due to Power Detect Tool Technology. The system maximizes performance by 29%. Besides, the body became significantly lighter.
Pros
Power Detect Tool Technology for extreme durability and performance
suitable for the most complicated tasks
can be used as a driver
also uses a brushless motor and high-performance transmission
3 speeds
3 LED modes
reinforced nitro-carburized chuck
battery and charger included
full kit with belt clip, side handle, and storage bag
sealed construction
light body
Cons
pricey
wobbles at high speed
a traditional issue with not-so-smooth speed switching
The DCD791B is definitely the best budget option. This model is aimed at preserving a balance between high performance and affordability. However, a lower price means certain sacrifices. Let's look at them closer.
Undoubtedly, the manufacturer kept an innovative brushless motor. We also note the same 3 LED modes. But this time, we have only 2 speed settings.
The chuck alloy also became simpler – engineers used metal without any reinforcements. Engineers managed to reduce weight even more but reduced sealing protection.
In a word, the DEWALT DCD791B is a simpler power tool for less complicated hammering tasks. The manufacturer placed a bet on its driver application.
This tool will provide you with 15 clutch settings, which is 4 more than all other DEWALT hammers have. So, if you're looking for a multi-functional yet budget device for common domestic work, this product is for you.
As usual, customers get a bare tool, and the battery and charger are sold separately.
Pros
ultimate MAX XR power and durability
perfectly copes with most domestic and semi-professional tasks
can be used as a driver
more clutch settings
uses a brushless motor
high-performance transmission
2 speeds
3 LED modes
1/2 in. metal chuck
The most lightweight body
the best price
Cons
battery and a charger come separately
fewer speeds and simpler chuck
not for the toughest tasks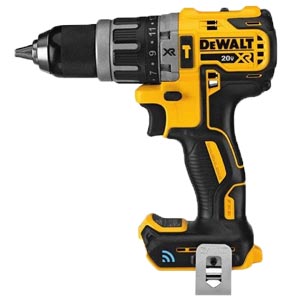 The final representative of DEWALT cordless hammer drills also occupies the medium position in terms of power. It's 57% more potent and durable than non-XR tools but loses in comparison with the first three DEWALT hammers discussed.
Mostly, it's similar to the DCD791B tool. Besides, DCD791B vs DCD796 comparison reveals literally two differences; lightweight design and less number of clutch settings.
Once again, we get 2 speed options. Though professional craftsmen may find it insufficient, two speeds won't be an issue for domestic use as many people never need to apply the high power.
Analogically, the tool is suitable for double use as a hammer drill and as a driver.
Pros
57% more MAX XR power and durability
perfect for domestic, DIY, and semi-professional use
can be used as a driver
equipped with a brushless motor
high-performance transmission
2 speeds
3 LED modes
1/2 in metal chuck
the most lightweight body
budget price
Cons
battery and a charger come separately
fewer speeds and simpler chuck
not for the toughest tasks
Now when you got familiar with the DEWALTs main strong and weak sides, let's go deeper into characteristics comparison.
Face to Face Comparison
Design and Dimensions
When we speak about power tools for tough tasks, dimensions are as crucial as never before. The weight and size of your hammer drill will significantly influence how long you'll be able to work with it and how comfortable it will be. Besides, small models can reach more places.
Here is the list of dimensions for all five DEWALT models discussed:
DEWALT DCD997CB: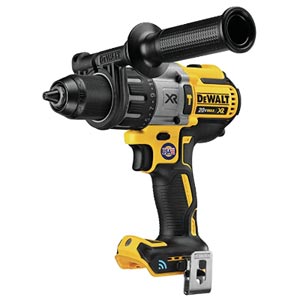 10.08″ x 9.02″ x 4.17″
4.43 pounds
DEWALT DCD796: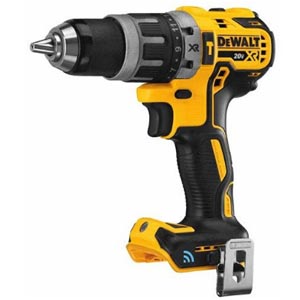 7.5″ x 2.5″ x 8″
2.7 pounds
As you see, drills height, length, and width don't vary so much. But the last two models offer the best weight.
verdict
The design of the tools doesn't provoke any diversity. The brand uses its traditional black and yellow colors. All items are made of metal and plastic, and we'd like to separately note rubber covering on grips for better contact with the hand.
Motor
Motors have been scrutinized in the description section. So let us just quickly remind you that absolutely all DEWALT tools of the 20V MAX XR series, including our five hammer drills, are equipped with brushless motors of the new generation.
According to the manufacturer, such motors consume 57% less energy but provide double power. It results in longer battery life and higher performance.
The voltage required is 110-120 volts.
Speeds and Rotations Per Minute


Here all models can be divided into two groups.
The first group includes the DEWALT DCD996B, DCD997CB, and DCD998W1 drills. These tools offer as many as three speeds for 450, 1300, and 2000 RPM. Max power measures 820 UWO (Units Watts Out). Blows per minute rate reaches 38250 BPM.
The second group unites two other appliances, the DEWALT DCD791B and DCD796. These hammer drills have two speeds, which are 550 and 2000 RPM. Though rotations stayed the same, max power dropped to 460 UWO. And when it comes to blows, they were also slightly cut to 34000 BPM.
verdict
The difference between the groups is not too great, but it influences the performance. The first three drills are omnipotent. The others won't suit extreme professional challenges.
Chuck


Chuck size unites the models. It measures standard 1/2 inches and suits most bits and drills. Moreover, its keyless design allows for using one hand only for quick replacement.
However, more powerful hammer drills require more durability and reinforcement.

That's why the first three tools come with a nitro-carburized metal ratcheting chuck with carbide inserts for superior bit gripping strength.
DEWALT DCD791B and DCD796 have simple metal chucks usual for most hammer drills and drivers.
Clutch Settings
As long as all models are 2-in-1 tools that can be used as hammer drills and drivers, the number of clutch settings is quite important.
The most powerful DEWALTs and the last DCD796 offer 11 settings.
Among all drills, only the DEWALT DCD791B comes with an extended number of settings. Here we have 15 options.
Clutches are quite easy to set. Some users complain about weak holding, but during tests, we noticed no issues.
LED
All hammer drills are equipped with convenient LED lighting with 3 modes, including the Spotlight mode. Thanks to this system, users can conduct work in dark or confined spaces without the need for additional lighting.
Besides, the brand claims this lighting is up to 20X brighter than previous models.
The worklight and its switch are located on the foot of the tool. The worklight is activated when the trigger switch is depressed. You can also change the modes by moving the switch on the foot of the tool.
There are Low, Medium, and Spotlight options. On Low and Medium settings, the beam automatically turns off 20 seconds after the trigger switch is released. The Spotlight will run for 20 minutes after the trigger switch is released.
Batteries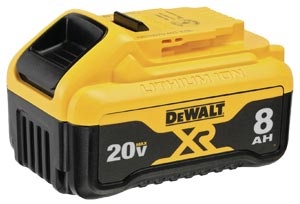 Among five hammer drill models, only the third product DEWALT 20V MAX XR Rotary Hammer/Drill Combination Kit (DCD998W1) comes with a battery and a charger. Here, we get one 8Ah battery.
Others are sold as bare tools. The manufacturer supposes that customers should either have batteries from their old DEWALT tools or purchase a new XR unite separately.
attention
Hammer drills are compatible with older batteries, but the highest power and durability are possible only in pair with the 20V MAX XR batteries. They are 60% more durable than the 20V MAX kits.
You can choose between several options of various price and capacity. The brand cannot provide an exact runtime as this would depend on many different variables as well as other environmental factors. However, we can say drills run for a couple of hours.
The maximum initial battery voltage is 20 volts. The nominal voltage is 18 volts.
verdict
Frankly speaking, the lack of a battery is a big disadvantage for us. If you could use older batteries with the previous series, there is no sense to buy the latest XR power tools and equip them with old batteries. Not only do you spend money on an additional purchase, but you also have to waste time looking and waiting for the unit to come. That's why the DCD998W1 is a clear winner here.
Accessories
Four out of five kits offer tools only. But DEWALT DCD998W1 is an exception. It is a full kit that includes:

one DCB208 20V MAX Lithium-Ion 8.0Ah Battery
one charger
one belt clip
one side handle
one kit bag
Thus, if you'd like to get the ultimate performance and full equipment, choose the Combination Kit.
Other models will be worthy in terms of accessories if you already have batteries and storage bags or are ready to make extra investments.
Guide: How to Choose the Best Hammer Drill?
If you have faced the question of how to choose a hammer drill for your home or professional tasks, try to consider the following moments:

What is the amount of work to be done?
How often are you going to use the tool?
What types of surfaces are you supposed to work with?
What are the scopes of application, depending on the additional capabilities of the tool?
What is your price range?

Among the rich assortment of power tools for domestic and professional application, it's extremely important to mind the key characteristics that influence performance.
Power.
Power must be considered to provide proper loading and performance. Drill power allows for using it on tough materials and conducting continuous works.
Rotations and speed.
Working success will also greatly depend on your tool's speed. Rotation speed indicates the number of revolutions per minute. Please pay attention to the possibility of speed adjustment. This is necessary when performing various kinds of finishing work. Several speed settings also mean the ability to work with different materials.
Chuck.
A hammer drill can be equipped with a keyless or serrated chuck. The latter type is classic, where drill change is performed with a special key. The keyless method allows you to install a new unit in a fairly short time. The quality is equal in both cases, but it's important to mind it to pick up the most suitable and beneficial option.
Impact strength.
Hammer drills may significantly vary in terms of impact strength. Some have a percussion function that can be turned on and off as needed. This option allows you to work with the hardest materials like concrete, brick, metal. In addition to rotational movements, the axis of the device performs shock forward-backward jolts. However, the household hammer drill models are not designed to be used continuously on concrete in a domestic environment. Please also mind that drills are not suitable for woodworking as the tool can cause cracks in the wood.
When deciding which hammer drill to choose, pay attention to the models where the hammer function can be disabled. Such appliances will be truly versatile tools capable of dealing with both wood and harder materials.
Screwdriver function.
One such device can both
drill holes
and screw fasteners into them. This tool can do most of the household chores: hang a picture, screw shelves and handles, assemble and disassemble furniture. Users love them for compactness, nice power, and relatively silent operation.
Battery.
Cordless hammer drills are distinguished by mobility, the ability to work in places far from electricity sources. The type of battery is important. The choice depends on the frequency of use. Rechargeable Nickel-Cadmium batteries are not designed to be stored on a shelf for extended periods. Their purpose is frequent use and work with soft materials.
Lithium-Ion and Hybrid battery models are more powerful and feature a longer service life. But we'd like to note the need for constant recharging of the tool.
Grip and weight.
The shape of the handle is an important parameter for a hammer drill. Classic models are represented by pistol-shaped grips. They are comfortable when performing any actions, but they tire the hand. To avoid such inconvenience, please pay attention to the tool's weight (the lighter, the better). Also, try to choose models with trigger fixators.

Frequently Asked Questions
1. What is the best DEWALT hammer drill?
DEWALT 20V MAX XR (which means Extreme Runtime) series offers the most powerful and durable drills. Among the series, we distinguish the DEWALT 20V MAX XR Premium Hammer Drill DCD997CB model for its performance and smart Bluetooth technology. The model can be connected to your smartphone through the app.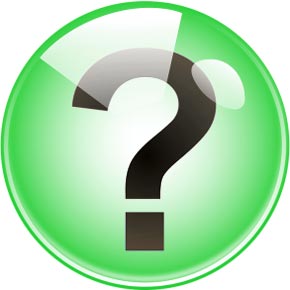 2. Can the hammer mode be turned off on DEWALT hammer drills when not needed?
Yes, you can easily turn it off and on to fulfill various tasks. DEWALT hammer drills can be applied both as drills and drivers.
3. Do DEWALT hammer drills work with 220v?
DEWALT hammer drills require 110-120v only. 220v current is not supported.
4. Are DEWALT power tools made in the USA?
Yes, the manufacturer states all its hammer drills are made in the USA with global parts.
Conclusion
Despite their extreme efficiency and performance, the latest XR hammer drills save reasonable prices. Thus, they are definitely worth buying. Besides, we see several nice options for professional use (DEWALT DCD996B, DCD997CB, DCD998W1) and more affordable tools for domestic application (DCD791B and DCD796).
We still miss batteries in the kits, but otherwise, any of the five products will be a decent multi-purpose addition to your tool set.
Further reading and references: