Kreg K4 vs K5 Pocket Hole Jigs

Nothing can make woodworks easier than hole jig systems. The list of their advantages goes on and on.
Pocket hole jigs are compact, very affordable, don't require special knowledge and skills, suit simple repairs around the house as well as professional tasks, and many others.
Experienced craftsmen are familiar with the Kreg brand, though it may be new for beginners. So, today, we'd like to scrutinize its two popular hole jig models and set them in comparison. Welcome the Kreg K4 vs K5 review.

Main Differences Between the Models
Kreg K4 and K5 models differ in the following characteristics:

Tools have different toggle-clamp systems. Details will be discussed later, but the main difference is the ratcheting mechanism and single vs dual fixation.
Kreg K5 offers a unique 5 stepped drill bit collar that ensures proper positioning of the depth collar on the drill bit.
The second model also has a dust port to attach a vacuum hose. The first (and older) jig system has neither.
If you need more storage space, you should look at the K5 jig that comes with dual storage departments called wings.
Comparison Table
Table could not be displayed.
Kreg K4 is one of the early models of this lineup. The unit is perfect for beginners who try such appliances for the first time and make first steps in woodworks. We note the simplicity of construction and use.
The K4 is made of durable materials. There is a large clamping recess that provides 100% secure fixation of wood pieces. You can work with any widths and thicknesses from 1/2″ to 1 1/2″.
When the piece is set, just choose one of the three-hole drill guides. Every hole has a hardened-steel core that protects the wood, bits and carries a lifetime guarantee. Besides, we get one wood-chip relief to keep the drill bit clear of excess wood chips.
Kreg K4 allows for quick guide block adjustment. You can change its height and position by pressing/releasing the locking pin.
When purchasing this unit, you get both the pocket hole jig and a kit of multiple-sized screws. Thus, you'll be able to start working at once.
However, the things we miss are a battery and a charger (they're sold separately).
Pros
compact
suitable for professional and domestic application
easy enough even for beginners
large and reliable clamping recess
tight toggle-clamp
suitable for works with 1/2″ – 1 1/2″ thick materials
3-hole drill guide with steel cover
wood-chip relief
adjustable guide height
drill-bit stop collar
made of durable glass-reinforced nylon
multiple size screw kit included
Cons
cannot eliminate wooden dust
requires tough attachment to the working surface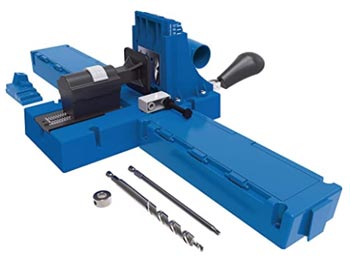 Kreg K5 has become a continuation of the series and got several crucial improvements compared to the previous model. The tool boasts the best features among all hole jigs of the brand.
Basic characteristics stayed the same. Users can work with 1/2 "-1 1/2" thick materials and apply one of three drill holes.
However, the drill guide block received the spring-loaded stop and quick-release function, which makes setting and transportation easier.
We note an improved design with storage departments called «storage wings». Now we have an additional place for bit storage and quick access to tools. Besides, wings add steadiness to the construction.
Engineers developed a new toggle-clamping mechanism. It adjusts without tools or lock nuts. The clamp smoothly slides into place till the "click" sound.
The K5 model solved the problem of dust. Now users can attach set any standard vacuum hose to its swiveling dust collection port and remove pollution at once.
Apart from the jig, stepped drill bit & stop collar, and stop-collar setting block, the kit includes one 6″ square-drive bit and a plug sample pack.
Pros
compact and simple design
suitable for professional and domestic application
toggle-clamping mechanism
spring-loaded stop and quick release drill guide block
suitable for works with 1/2″ – 1 1/2″ thick materials
3-hole drill guide with steel cover
adjustable guide height
stop-collar setting block
dust port
storage wings
made of durable glass-reinforced nylon
Cons
handle and locking mechanism is made of plastic
the plastic dust port is also not as durable as wished
wings may feel flimsy when attached to the base
requires tough attachment to the working surface
Face to Face Comparison
Design and Dimensions
Pocket hole jigs are extremely compact tools. Still, they may be rather awkward for storage. It is especially true for the second product with storage wings.
Kreg K5 measures: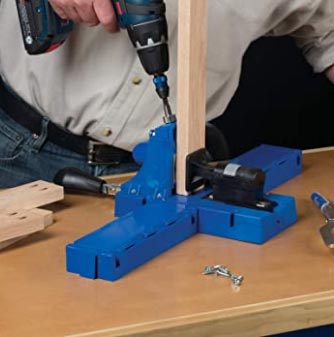 23.5″ x 5″ x 9.5″
4.9 pounds
The manufacturer uses a united design. Both tools are made of resistant glass-reinforced nylon.
Despite its visual fragility, this composite material withstands great pressure and accident drilling.
Drill Guide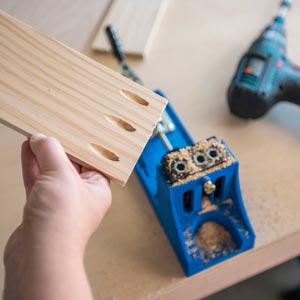 In terms of the drill guide, you can pick up any of the two products. You'll get three-hole drill guides that prepare right angles. The distance between the holes is 9/16″, 7/8″, and 1 7/16″.
Guides themselves easily adjust their position to allow you to work with the various thickness (from 1/2″ to 1 1/2″). Once the optimal height is chosen, use special drill stop collars to fix your tool.
If necessary, you can remove the guide, for example, to perform cleaning or provide more convenient storage.
As we've already mentioned, holes are covered with hardened steel. Such protection contributes both to holes' durability and drill saving.
However, Kreg K5 also comes with a 5 stepped drill bit collar that ensures proper positioning of the depth collar on the drill bit and makes setup even easier.
Jig Secure
The manufacturer allows us to secure jigs to the workbench in several ways.
Firstly, each unit has holes to secure it with screws solidly. However, not everyone has a lot of space on the bench to have the jig fixed.
That's why we would recommend using Kreg multi-purpose Face Clamps or any common bar clamp or C-clamp.
Toggle-Clamp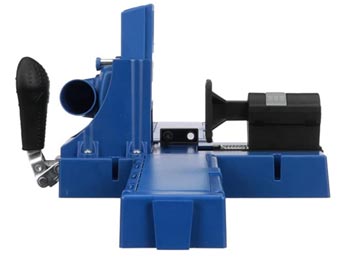 Kreg K5
has a dual clamping system. There are a ratcheting clamp assembly and a toggle-clamp. The workpiece is secured from both sides, and adjustment is performed in several steps.You press down on the ratchet release and slide the clamp assembly. Then move the toggle handle to the full-down position and slide the clamp assembly forward until the pad contacts the workpiece.A huge advantage of the ratcheting clamp mechanism is its adjustment that requires no tools and effort. However, many complain about its mostly plastic design, which doesn't look durable.
Dust Collection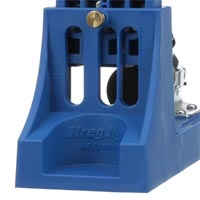 The early K4 modification comes with wood-chip relief holes. Such a system is designed to help deal with dirt after all works so that you'll be able to clean your guide from chips and dust.

Unfortunately, the relief is effortless when it comes to the dust elimination right during the drilling process.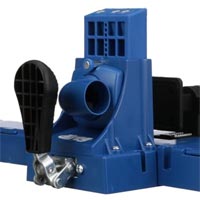 The Pocket-Hole Jig K5 significantly improves visibility and control, thanks to a removable dust port. It means users can attach a vacuum and suction dirt immediately. Port swivels so that you can turn and position it exactly where you need it. Dimensions suit the majority of standard vacuum hoses.
Accessories
Kreg produces various kits with or without bits, clamps, etc., so that customers can choose the most appropriate number of accessories for the money. Please check the Kreg kit range on Amazon or the official website if you want more or fewer units.
The models that we discuss come with the following accessories.
Kreg K5 includes: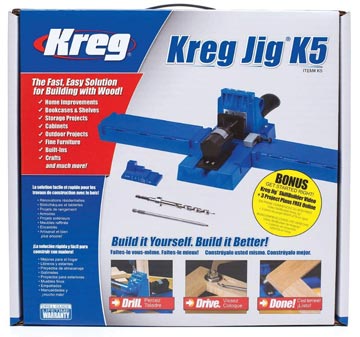 stop collar
step bit
driver bit
two support wings with storage
swiveling dust port
stepped drill bit & stop collar
Guide – How to Choose the Best Pocket Jig System?
Though Kreg company has become a pioneer in jig system development, nowadays, there are lots of less famous and cheaper alternatives (especially in the Chinese market). Besides, even the Kreg itself counts almost a dozen modifications. That's why we decided to make a customer's guide on how to pick up a worthy jig.


Jig size and the number of drilling holes is quite important. There are lots of compact models with just one or two holes with low price. At the same time, please mind that small systems usually require certain skills. They are awkward in proper positioning and fixing, and you'll have the practice to use such a system. Beginners are better to choose more expensive bigger systems with 3-hole drill guides.
Pay attention to the strength of workpiece fixation. If your wood piece moves in the most inappropriate moment, your whole work may be ruined. And we don't want it, do we?
The thickness and material of your workpiece significantly influence the tool choice. Delicate and thin plywood requires far less drilling power than thick oak panels.
Returning to fixing the topic, please always check how solid your jig can be attached to the working surface. Cheap systems have nothing to offer. More expensive and fuller kits come with clamps or at least holes for screws.
Dust collection technology will improve visibility and make maintenance easier. Dust port for vacuum hoses is the best option.
The durability of a jig material is crucial. It should withstand great pressure and possible drilling.
Accessories are not compulsory parts. Besides, they influence the price of the tool. But if a product has special screws, bits, face clamps, it's a good product. You'll probably have to purchase them later, so it's better to get them now.
Frequently Asked Questions
1. Are pocket hole jigs worth buying?
Even if you're an experienced craftsman, you'll never be able to make as neat screwing as with jigs. These appliances help perform hidden connections with no glue or hundreds of screws and take literally seconds. That's why if you often deal with woodworks, we highly recommend you purchase such a thing.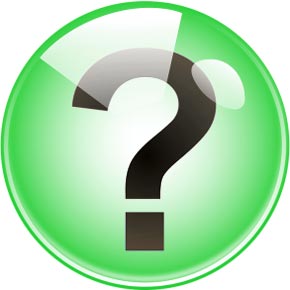 2. Are Kreg pocket jigs easy for beginners?
Yes, jig systems are designed in such a way to allow for performing wood works like a pro even if you try these tools for the first time. Kreg jigs are easy to install and use.
3. Can I use Kreg pocket jigs both as mobile and stationary systems?
Yes, Kreg tools provide everything necessary for stationary and mobile use.
4. Can I use other bits apart from Kreg drill bits on my Kreg jig?
Yes, you can apply other drill bits. However, original drill bits that come with Kreg tools allow the Kreg screws to be used properly and produce a tighter fit.
5. How much is Kreg face clamp?
The brand offers several models.
Conclusion
We consider Kreg jigs huge time-savers that provide a fast, easy solution for works with wood and mounting. Both systems help you reach an almost seamless connection in all home improvements, from bookcases and shelves hanging to professional crafting.
Face to face comparison showed that Kreg K4 and Kreg K5 are not different in functionality. Their main advantage is supportive features that contribute to the comfort of use. Undoubtedly, the newer K5 offers more tips like dust port and storage space. On the other hand, Kreg K4 is more affordable and comes with a screw kit.
Anyway, the Kreg pocket jig will become a worthy addition to your tool kit and will hardly gather dust on the shelf.