The Best Paintless Dent Repair Tools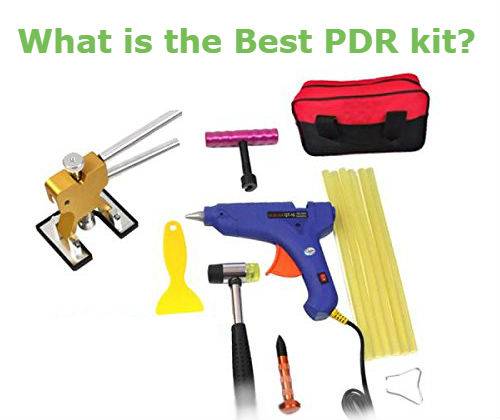 Are you worried about the dents on your car and the high garage shop charges? If so, then here's some good news for you. You can now clear all dents with paintless dent repair tools, commonly known as PDR tools.
What is a PDR Tool (Kit)?
Whether you run a professional auto garage or you are just a DIY auto-enthusiast, a PDR toolkit is a must-have tool. However, shopping for the best PDR kit is a big issue. So today, we have sampled the best PDR kits to buy. Without further ado, let's go straight to the review of the best paintless dent removal kits.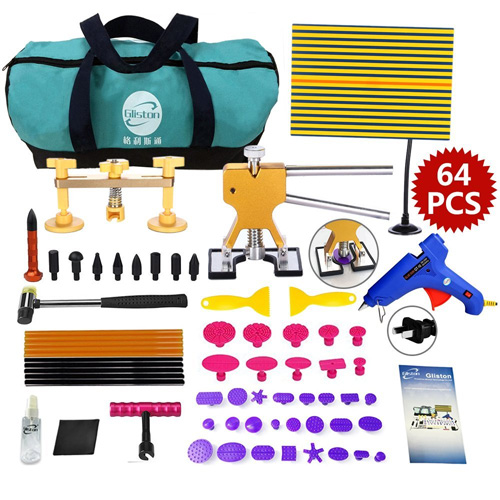 Another great PDR kit is the Gliston PDR kit. You can hardly find a more versatile and all-around PDR option – this item includes as many as 64 pieces. It has all the tools you need for the perfect job. You can use this kit to repair minor and major dents as well as hail dents. Before going deeper into this review, here are some of its pros and cons.
This kit offers instant dent repair, regardless of the extent. There are elaborately designed hand tools that will help you restore your car's panel without compromising on the car's factory finish. Among some of the unique tools, its pack includes a reflector board, rubber hammer, T-bar, and a cleaning cloth for your maintenance.
Even inexperienced people with no dent repair skills will find its application quite easy. However, it may require a little bit of supervision to make sure you are using the right tools for the right job. Unlike the Yoohe PDR that has very few traditional PDR tools, the Gliston PDR's tools may be confusing. Even though it may look quite expensive, the price is justified by the fact that you get 64 pieces.
The Gliston 64 Pc PDR can be used for a wide range of purposes. If your car suffers a dent from an accident or after getting hit by hailstones, it will sort it out. You can also remove dents from different surfaces, including fridge panels.

Pros
2 options (64pc and 89pc)
Comprehensive application
Easy operation
100% warranty
What's included?
Reflector board
Hot melt glue gun
Gold dent lifter
Bridge dent puller
Rubber hammer
9-head metal tap down pen
10 red glue tabs
24 purple glue tabs
2 rubber scraper
1 short T-bar
1 empty bottle for alcohol
1 clean cloth
5 black hot melt glue sticks
5 yellow hot melt glue sticks
Verdict
Even though this PDR kit is quite expensive, it offers value for the money. It combines many hand tools that make dent removal very easy, instant, and affordable. It requires little mastery, thus making it great for beginners. If you want a comprehensive PDR kit, then you should consider buying this kit.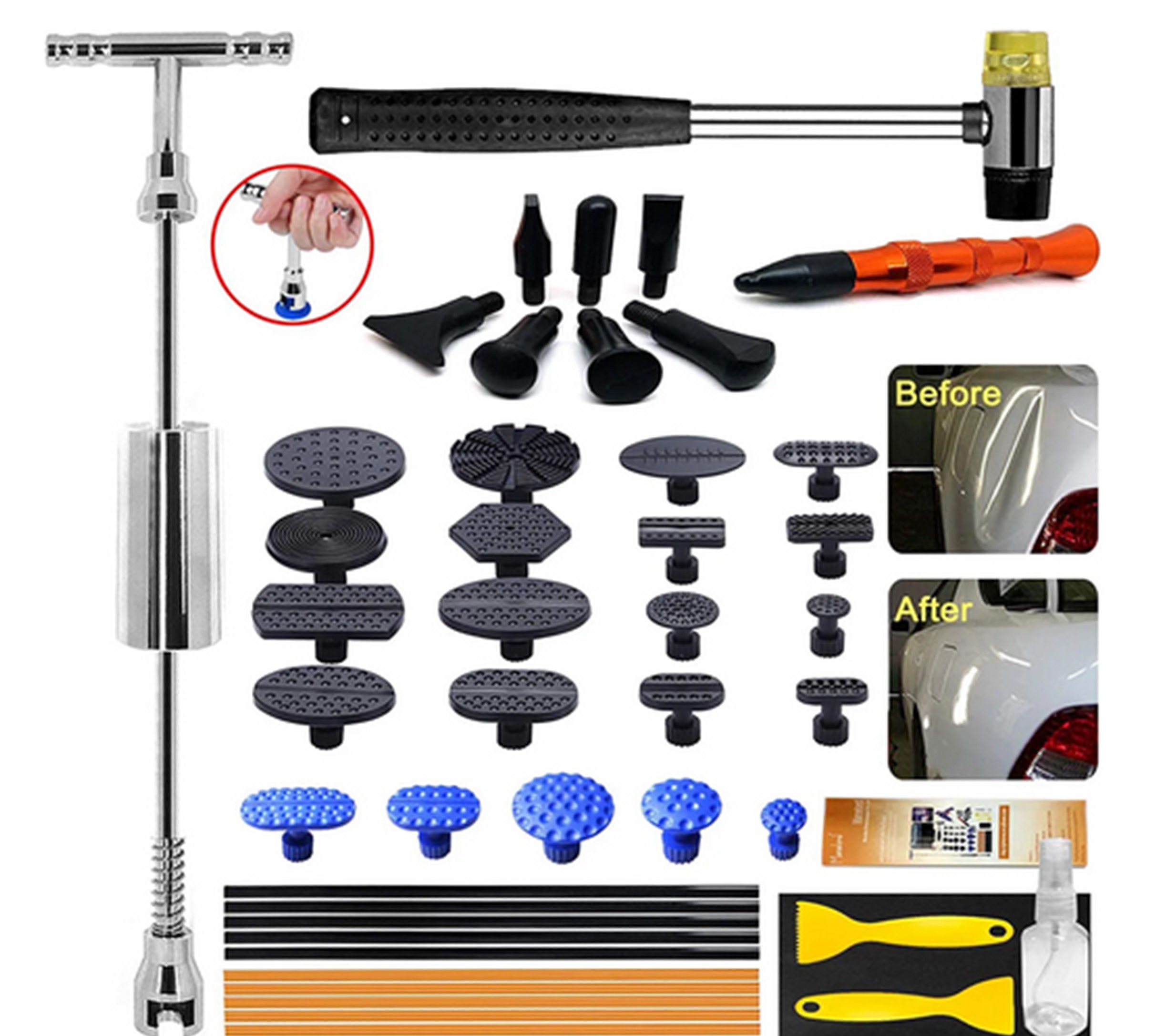 On the one hand, it means you can perform fewer repair works, which is a pity for professionals. But on the other hand, common users won't feel any discomfort as they get everything that's needed for basic tasks. That's why we consider this PDR tool to be the optimal choice in terms of price and efficiency.
We have a large option of tabs for dents of various size, shape, and depth. Let us separately mention their high-quality rubber and plastic materials that are safe for original paint.
On the contrary, the T bar dent puller attached is made of tempered high-carbon stainless steel for ultimate durability. Thus, you're provided with reliable, ergonomic leverage. And a unique arched bridge allows for adjusting the spacing to better fit the dents.
As usual, a rubber hammer, two types of glue sticks, and a detailed repair steps introduction are included.
Pros
Affordable price
The optimal number of accessories
A comprehensive application for all metal surfaces
Easy operation
Durable yet gentle materials safe for original car paint
Cons
A glue gun is not included
Pulling is really hard here and requires lots of strength
What's included?
T bar dent puller
Hammer
21 plastic tabs (16 black and 5 blue)
Tap down pen with 8 nozzles
5 black hot melt glue sticks
5 yellow hot melt glue sticks
2 plastic shovels
Alcohol spray for quick glue removal
Verdict
Manelord Auto Body PDR kit will please both beginners and professionals, especially minding its price. It's suitable for all auto dents. The versatility of accessories means the product will be of assistance in many domestic metal surface dent repairs. If you have dents on fridges, washing machines, doors, steel shelves, etc., try the Manelord instead of spending hundreds of dollars on professional help.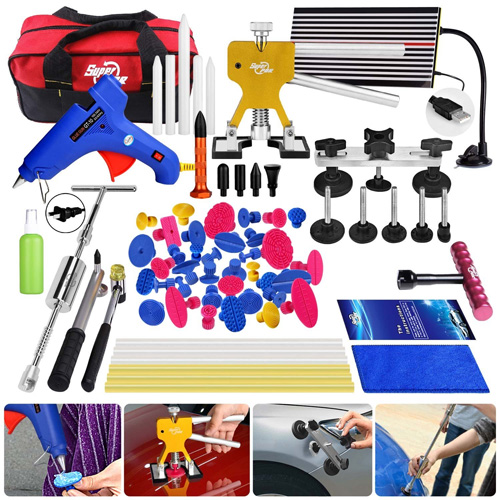 This is another great PDR kit from Super PDR, a renowned brand in the manufacture of car accessories and equipment. It offers comprehensive dent repair just like the Gliston PDR kit. However, it is even more expensive than Gliston. Let's look at the pros and cons before going further.
The Super PDR 68Pc Kit is a great purchase for any garage shop or DIY enthusiast. It is very easy to use thanks to a full kit with all the tools you will need to get the job done. Super PDR included an easy guide for beginners. All the details are explained in this user guide booklet. Besides, it is very versatile in terms of utility. You can use it to remove dents and repair hail damage, among many other cases.
Unlike many PDR kits, you can trust this particular kit for major dents. It has a 2-in-1 slide hammer with spring rings for easy operation. There's also a gold dent lifter with padded feet for a tight and precise grip for maximum pull power. The LED reflector board, on the other hand, helps you check where the dents are. When light reflects on the panel, the areas where the light rays bend tell you where the dent is. With this kit, you will remove dents, hail damage, and door dings with ease without compromising on the paint.
By design, this kit sports a smooth texture that feels nice in your hands. The parts have been manufactured using high-grade materials for durability.
Pros
Comprehensive tool (68pcs)
Wide application
Easy to use
LED reflect board
High-grade materials
What's included?
LED line board
2-in-1 T-bar
Golden dent lifter
100W glue gun
Metal tap down
5 nylon tap downs
6 pro glue sticks
36 pro tabs
Rubber hammer
Dent hammer
Cleaning cloth
Holder puller
Alcohol bottle
Guide
Verdict
The Super PDR 68 Pc Paintless Dent Removal kit is what you need for all your car dents. Even though it is very expensive, it is still a worthy purchase when you compare it with what you'll be charged in a garage shop. Above all, it is ideal for beginners and offers instant dent removal.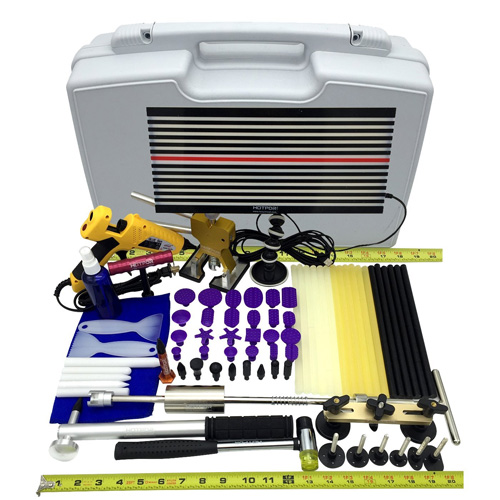 Another superb purchase for car owners is the HOTPDR 78Pc PDR kit. It has been designed to suit even amateurs. The product offers precise dent removal courtesy of the LED reflector board that enables users to see exactly where the dent is. Even though it is quite expensive, you get real value for the money. Here are some of its most notable pros and cons.
This kit comes with all the necessary tools that will help you remove dents and other damages. It is very easy to use as you need only basic skills. With the HOTPDR 76Pc Paintless Dent Removal Tool Kit, you can remove dents in minutes. So, no matter whether you apply this PDR tool in your garage or even by the roadside, dents are no longer an issue if you have this kit.
When it comes to dent removal, this kit offers exceptional performance. You can pull dents with ease without damaging the panel. Above all, the paint remains intact, thus eradicating the need for a paint touch up. This makes such a dent removal approach very cheap compared to the huge bills associated with garage shops.
What's included?
Plastic box
LED line board
2-in-1 T-bar
24 pcs PDR glue tabs
PDR T-bar
Golden PDR bridge puller
7 pcs bridge puller tabs
Rubber hammer
5 pcs white tap down
PDR dent hammer
Metal tap down tool
9 pcs PDR tap down tips
Golden dent lifter
100W glue gun(USA plug)
2 pcs plastic shovel
Alcohol bottle
Cleaning cloth
6 pcs black glue sticks
6 pcs white glue sticks
6 pcs yellow glue sticks
Pros
Wide application
For all skill levels
LED dent detection board
Easy to use
Verdict
Even though this PDR kit is expensive, it is the best kit for any car or garage owner. With 78 pieces, you have everything you need to restore your car's panels without requiring any paint touch up. Its action is instant, so, you can remove that dent with zero hassle regardless of where you are.
Buying Guide: What to Look for in the Best Paintless Dent Removal Kit


If you are a first-time buyer, getting the right kit can be quite a challenge. To make things easier for you, we have listed some of the most important factors that should be considered before purchasing a PDR kit.
Versatility
How wide is your preferred PDR kit's application? PDR kits can serve a lot of other purposes apart from dent removal. With this in mind, we recommend you to buy a kit that will do more than just dent removal. Check whether it can repair hail damage, door dings, and other dent related damages on other surfaces apart from car panels.
Ease of Use
There are PDR kits for different user levels. You can buy a kit that is ideal for a beginners, while others are for professionals. If you are a beginner, go for a kit that is ideal for beginner. Check a user guide – this will help you a lot. Advanced users are recommended to make sure they get a professional PDR kit.
Price
Price is a major factor when buying anything. There are expensive and cheap PDR kits in the market. For this reason, it is important to narrow down your search with regard to your budget.
Frequently Asked Questions
1. Are dent repair tools useful for all car dents?
Dent repair tools can eliminate small dents of simple shape. Unfortunately, on large and complicated damages, they are useless, and professional help is required.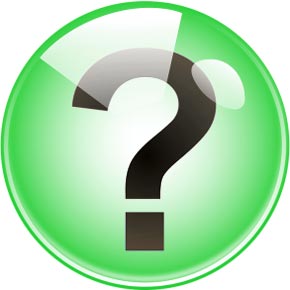 2. Are PDR tabs for dent pulling reusable?
Yes, the units can be used many times. The tabs are usually made of durable plastic or rubber.
3. Do I need special glue for a dent repair tool?
Products use simple glue sticks that are melted in common glue guns. However, some manufacturers offer different glue compositions with stronger or weaker viscosity for dents of various complexity.
4. How can I remove glue from my car?
The glue used for dent repairs is easily removed with alcohol. Many manufacturers include it in the kits.
Wrap Up
Paintless Dent Removal or PDR kits are the best solutions for repairing minor and some major car dents. Such kits are very easy to use. But, most importantly, they are incomparably more affordable when you see garage shops charge. Besides this, once you repair a dent with a PDR kit, the paint remains untouched, and your car's factory finish remains intact. If you love your car, it is important that you get a good PDR kit. It will help you maintain your car's great shape instantly without compromising on paint and factory finish.