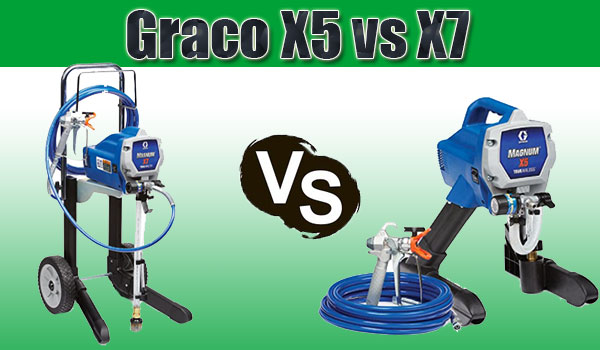 Paint sprayers conquer the market. Many DIYers and craftsmen have already appreciated the main pleasures of their application in all types of interior and exterior projects. And Graco devices are among the leading.
Get ready for the Graco X5 vs X7 battle! The models offer Airless control and spraying that allow us to significantly optimize the paint consumption and increase speed.
Painting works become more beneficial, but the question of optimal choice is as crucial as never. Let's sort it out together.
Main Differences Between the Models
Graco X5 and X7 were developed as two variations of one appliance. They share lots of similarities, but there are also some distinguishing features. Main differences concern power. Here is the list of differences to mind:

Graco Magnum X5 is a portable sprayer. Its X7 brother comes with a transport chart instead.
Both systems have a 25 ft Airless hose. However, the X5 can work with 75 ft hoses, and the X7 supports hoses that reach 100 ft in length.
Graco X7 uses a slightly more powerful motor with a higher HP rate.
The sprayers' maximum pressure is the same, but the X7 also offers greater GPM (gallon per minute) output.
Finally, Graco X5 is compatible with spraying tips up to 0.015 size. The X7 supports them all, plus works with 0.017 tips.
Comparison Table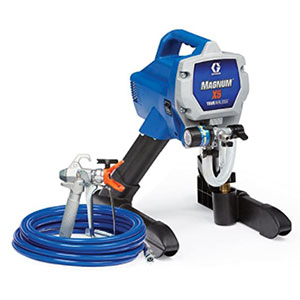 Graco Magnum X5 perfectly suits for professional and domestic application in indoor and outdoor projects. Graco sprayer is incomparably better than common brushes/rollers as it uses less paint and makes even thin paint layers. The model copes both with wall and chair painting as you can manually control the flow by adjusting pressure. A Stainless Steel Piston Pump is included.
One of the main advantages of this product is its portable design and easy storage.
We love a convenient carry handle and compatibility with a
long 75 ft hose
for extra reach to all areas.
The X5 model allows for spraying directly from the paint bucket since you can put the tube right into the reservoir. Don't worry about clogs and tube cleaning. The sprayer is compatible with most garden hoses through the Power Flush Adapter. Water rinses extra paint left within seconds.
If clogging happened, users can apply the RAC IV Switch Tip and reverse the tip to sort it out. The X5 model supports various tips with 0.015″ of maximum size.
Indeed, we cannot do without some drawbacks.

Firstly, this is not the lightest unit, but people note it needs a little bit more weight as it moves easily when you pull the hose.
Secondly, before you get used to the sprayer, there may be lots of paint wasting and stains. Also, you'll have to choose the paint more thoroughly as Graco sprayers don't work with all mixes.
Pros
convenient portable design
perfect for outdoor projects as supports a 75 ft hose
sprays directly from the paint bucket
supports various tip sizes
high working pressure
adjustable pressure settings
Stainless Steel Piston Pump
RAC IV Switch Tip to deal with clogs
easy cleaning with Power Flush Adapter and garden hoses
uses much less paint and leaves thin and even coating
affordable price
Cons
originally, users get a 25 ft hose; longer hoses are sold separately
moves easily if you pull the hose
requires certain skills and training
may leave stains
requires definite paint types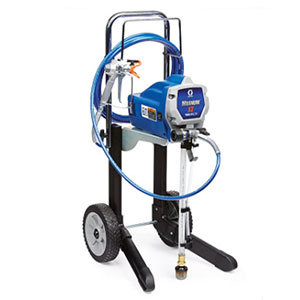 Graco X7 sprayer became the next generation and got several improvements. Overall, the product was designed for more large-scale projects, especially in outdoor application. To perform greater works, engineers equipped the sprayer with an extremely long 100 ft hose.
Besides, comparing Graco Magnum X5 and X7, we note an increased flow rate. These allow for painting even multi-story houses. As usual, the pressure is adjustable for all types of projects.
Graco X7 is not a hand-carrying model like the X5. It became bigger and heavier, but a portable design was preserved thanks to a convenient cart. Moreover, users can now set paint buckets on the cart and transport them around the workspace.
Many craftsmen choose this option as it supports more tips. Compatible tip size was increased up to 0.017″.
When it comes to other characteristics, they coincide with the previous sprayer. You'll also get a Stainless Steel Piston Pump, RAC IV Switch Tip to remove clogs, PowerFlush Adapter to connects a garden hose for fast and easy cleaning, etc.
The moments we recommend to mind are a great weight and complicated transportation, certain experience in use, and a long time for the sprayer's preparation.
Pros
perfect for professional outdoor projects
supports a 100 ft hose
sprays directly from the paint bucket
supports more tip sizes
increased flow rate
adjustable pressure settings
Stainless Steel Piston Pump
RAC IV Switch Tip to deal with clogs
easy cleaning with Power Flush Adapter and garden hoses
uses much less paint and leaves thin and even coating
transport cart included
the cart features holding forks for easy paint bucket transportation
Cons
pricey
once again, longer hoses are sold separately
requires certain skills and training
may leave stains
requires definite paint types
Face to Face Comparison
Design and Dimensions
According to the official information on the Graco website, the discussed paint sprayers have the following dimensions:
Graco Magnum X7:
37.0″ x 19.3″ x 15.3″
27 pounds
As we've already mentioned, the first product is portable, which is clearly seen in its weight and size. The X7 model is too heavy and bulky, but a cart solves this problem.
Users note the extreme durability of the sprayers since the manufacturer uses reliable materials. Inner parts are made of aluminum, brass, stainless and plated steel, carbide. The cover features fluoroelastomer, leather, nylon, PVC, polypropylene.
Original products have a bright blue color.
Motor

Both systems use universal motors that work from a regular outlet. The required voltage is 120V.
Engines have a 9 amp rate, but similarities end here. The Magnum X5 motor features 0.5 HP or 372.9W. Graco X5 vs X7 comparison shows that the latter model needs more power. That's why we see a 0.625 HP engine for 466.1W.
Pump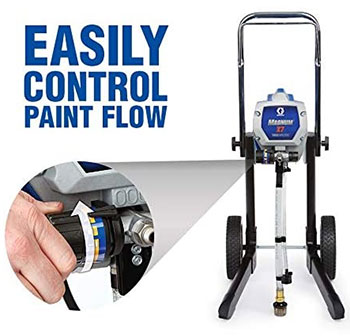 Graco uses Piston type pumps and builds them in the sprayers. Both systems provide 3000 psi maximum pressure, and you can manually adjust it to match your current task. There are four possible pressure levels:
High spray for the maximum 3000 psi
Low spray that doesn't exceed 1500 psi
Prime/Clean setting for spot tasks where pressure varies between 500 and 1400 psi
Roll setting for the lowest 500 psi
To set the level, you should just roll the control knob to match it with the necessary symbol.
Important! The manufacturer recommends always starting operation at the lowest pressure setting and gradually increasing it to an acceptable spray pattern to reduce overspray.
Though the X5 and the X7 reach the same pressure, the models differ in the maximum flow rate. Graco Magnum X5 outputs 0.27 GPM, while its rival works more intensively and provides 0.31 GPM.
Compatible Tips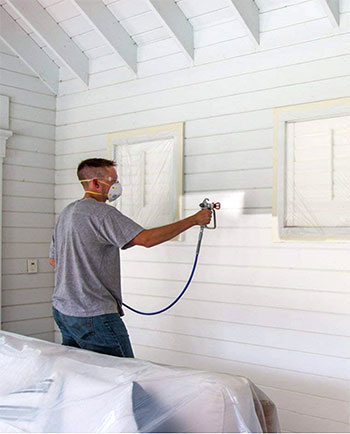 Each paint and coating requires a definite tip size. This moment is crucial as the wrongly selected tool will end in constant clogging and uneven spraying. At the same time, sprayers work with a limited number of tips. The wider options you have, the more types of works you'll be able to perform.
Graco Magnum X5 is compatible with four tip sizes, which are 0.009, 0.011, 0.013, and 0.015.
Graco Magnum X7 has one more tip – 0.009, 0.011, 0.013, 0.015, and 0.017.
Thus, the smallest tools (0.009 and 0.011) are suitable for the lightest lacquer or stain. The 0.013 and the 0.015 tips are used for oil-based paint spraying. And if you need to work with heavy latex paint, you won't do without bigger tips of 0.017.
In original kits, both sprayers offer TrueAirless 515 Spray Tip. This is the only option you get, so be ready for additional investments if you do painting professionally. However, the 515 tip is considered multi-purpose as it suits many coatings, including thin stain as well as thick exterior paints. Thus, DIYers will be quite satisfied.
The tip is also complemented with the RAC IV Switch to reverse the flow and eliminate clogs.
Important! Graco takes care of its customers, especially beginners. When purchasing the sprayer, you'll get a simple and informative Spray Tip Selection Chart that will help you learn the differences and pick up an optimal tool for your needs.
Hoses and Power Flush Adapter


As we've already discussed, the X5 and the X7 generations differ in the length of the hoses they support. The first model can work with a maximum of 75 ft, while the second option is compatible with as long hoses as 100 feet.
Attention! However, both sprayers originally come with the same 25 ft flexible Airless hose. And if you need a longer item, you'll have to purchase it separately.
Airless hoses are used for paint spraying. Devices also feature a flexible suction tube that is immersed directly into the paint bucket. Thus, you don't need additional paint reservoirs or spend time on paint pouring. The tube is long enough for 1-5 gallon paint pails.
To avoid clogs and dry paint inside the hoses, sprayers are equipped with Power Flush Adapter. The unit is an attachment valve that is screwed to any garden hose. Once been installed, the adapter reverses flow inside and rinses the hose with water.
For fast cleaning, you should remove the tip, place the suction and drain tubes in a waste pail, and set the Prime/Clean pressure level.
Attention! Power flushing is the fastest method of cleanup. However, it works only after spraying water-based coatings! Other mixes will come off harder.
Accessories
In terms of kits, Graco X5 and X7 share the same number of accessories. Together with the sprayers, you'll get:

SG2 Spray Gun
TrueAirless 515 Spray Tip
Spray Tip Guard
1/4 in x 25 ft DuraFlex Hose
Pump Armor Storage Fluid (8 oz)
Quick Start-Up Guide
Frankly, we'd like to see more tip options. But concerning the price and efficiency balance, it's not a big loss.
Guide – How to Choose the Best Electric Paint Sprayer?


First of all, experts recommend determining the types of works you're going to perform with your paint sprayer. It's also important to know whether you're looking for domestic and DIY appliances or need a professional tool.
Please always pay attention to the following characteristics when choosing an electronic paint sprayer:

Performance:
This factor determines the speed of the entire device and the speed of work fulfillment. Budget models give out about 0.15 GPM; middle-class spray guns output up to 0.25 GPM. Higher performance is typical for expensive devices.
Adjustable Settings:
Manual models often get by with the bare minimum, such as adjusting the amount of paint supplied. More challenging tasks may require pressure control, spray modes, reverse mode, the ability to change the piston speed, etc. The more, the better.
Tank Capacity:
Since in most manual models, the tank is attached to the pistol, during operation, it has to be held on weight. That's why you can seldom find a paint container with a volume of more than 1-1.5L or 0.25-0.4 gallon. In professional painting stations, there may not be a tank at all. Instead, users get the paint directly from a bucket through a tube.
However, if you chose a sprayer with a paint tank, please don't forget to check its material. Usually, metal or plastic is used. Most often, buyers prefer the second option since such a tank is lighter and the remaining paint level is visible through its walls.
Nozzle/Tip Size:
The electric sprayer is suitable for working with a large number of paints. Consequently, you need a different tip diameter for each coating. Experienced craftsmen recommend checking the compatibility with different tips beforehand.
Hose Length:
This characteristic influences how far you can move away from the compressor or paint bucket if it's a sprayer with separate blocks or a whole painting station. When purchasing a long hose, it's necessary to take into account how far the paint can be "pushed" by the pump with the engine.
Body material
Although an electric sprayer is a rather complex device, it's very difficult to find spare parts for it, especially for budget models. Therefore, in case of a serious breakdown, it's easier to replace it than to repair it. When buying, you should make sure once again that it is made of reliable and durable materials, all parts are fitted to each other, and nothing loosens.
Other important moments to mind include:

sprayer's weight
accessories
noise level
vibration level
type of paint supported
Frequently Asked Questions
1. Can Graco paint sprayers be used for indoor tasks like ceiling and floor painting, furniture finishing?
You can definitely apply a paint sprayer for all types of outdoor and indoor works. All you need is to choose the appropriate coating and tip size as well as set the right pressure.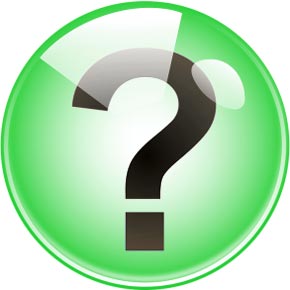 2. What is the best paint sprayer for home use?
Graco Magnum X5
will be the best option for domestic application. The model provides an excellent combination of performance and price. That's why it can even be used as an affordable sprayer for professional tasks.
3. Do electric paint sprayers really save paint?
Paint sprayers coat much thinner than any person or brush can do. Besides, they reach challenging places (like corners) and avoid smudges. All these allow for a significant paint economy. However, please mind that sprayers require certain skills. Your paint consumption may be excessive until you get used to the tool and the right pressure adjustment.
4. How often should I clean my Graco paint sprayer?
Cleaning is required after every use. Otherwise, clogging is possible.
Conclusion
In the course of comparison, we concluded that Graco Magnum X5 provides a perfect balance of DIY simplicity and power for professional tasks. We would recommend it for home and semi-professional application (for example, home workshops).
Graco Magnum X7 is a worthy option for more large-scale projects. It offers greater performance. And at the same time, it's less convenient for indoor use because of the cart and bulky dimensions.
Anyway, both products cost their money and have almost no cons, except for certain painting experience.