DEWALT DCF885B vs DCF887B vs DCF899B vs DCF894B

Are you looking for a powerful impact driver with impressive torque and high quality of construction? Do you want it to be affordable too? Then you clicked the right article!
Let us present DEWALT DCF885B vs DCF887B vs DCF899B vs DCF894B comparison. Today, we'll discuss four best-selling impact drivers and tell you which models and characteristics to pay attention to.
Main Differences Between the Models
First of all, all tools greatly differ in power (RPM, IPM, torque), which we'll discuss later. But apart from this obvious distinguishing feature, there several more differences worth our attention:

The first two power tools, the DCF885B and the DCF887B are pure impact drivers. Two other appliances belong to the category of impact wrenches with driver functions.
The first driver originates from the 20V MAX series, while others are the 20V MAX XR generation «kids». This moment causes the two following differences.
DEWALT DCF885B driver has a brushed motor. Its opponents use upgraded brushless motors.
Consequently, more powerful tools offer 3 speed modes. The first DEWALT tool also features variable speed but without special settings.
The DCF885B and the DCF887B are equipped with 1/4 in. chucks. The DCF899B and the DCF894B have 1/2 in. anvils.
The second model of our review features unique Precision Drive Technology.
The fourth model also has its own peculiarity – the Precision Wrench control system.
Though all tools use built-in LED, the first two appliances have 3 LEDs, and the other two drivers come with a single LED.
Comparison Table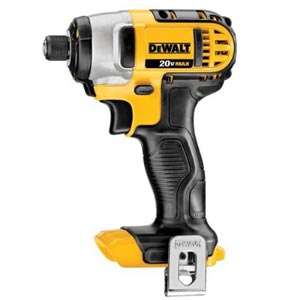 Let us start with a representative of the 20V MAX series. It is the previous generation of DEWALT tools that feature brushed motors and upgraded but not the highest power.
The manufacturer offers quite a standard 1/4 in. hex chuck. The unit provides easy one-handed bit loading so that you don't waste time on tedious trifles.
Users can adjust torque and speed with a trigger. But though the tool comes with variable speed, there are no special settings.
Compact design and three independent LED light points mean the driver can work in tight and poorly lid areas.
DEWALT DFC885B impact driver can be called a decent budget option. We recommend it for professional and domestic use.
If you frequently perform drilling and fastening applications overhead or in tight spaces, this tool will be a wise investment. Also, the manufacturer allows for purchasing a fuller kit with bit sets.
However, the things we miss are a battery and a charger (they're sold separately).
Pros
powerful and durable
1/4 in. hex chuck with one-handed loading
variable speed
three LED lights
compact and lightweight body
budget option
Cons
battery and charger are not included
brushed motor yields in power to the latest brushless units
DEWALT DCF887B provides higher performance and, consequently, can be used for more challenging professional tasks. Though it shares lots of features with the previous model, this product belongs to the latest XR series. Let's quickly highlight its advantages.
XR stands for extreme runtime. Thus, users get a longer operation and greater power. Unfortunately, DEWALT didn't include the XR battery in this kit either.
Moreover, users get the ultimate performance thanks to an improved brushless motor. Now, we can limit power by choosing one of three speed settings.
The driver supports the so-called Precision Drive technology that helps users match the speed to the job fulfilled.
Coinciding features between DEWALT DCF885B and DCF887B are a 1/4 in. hex chuck with one-handed bit loading, 3 LED lights, and the same compact and lightweight design.
The unit is more suitable for professional application. At the same time, engineers managed to save compactness and combined it with a higher power.
Pros
extreme performance and durability of the XR generation
brushless motor
3 speed settings
Precision Drive technology
1/4 in. hex chuck with one-handed loading
three LED lights
compact and lightweight body
Cons
battery and charger are not included
may be unreasonably expensive for domestic use if purchased with a battery kit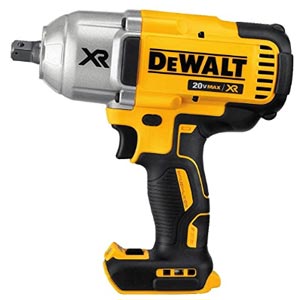 DEWALT DCF899B belongs to the category of combination tools that provide functions of impact wrenches and impact drivers.
Two appliances in one body is an exceptionally worthy purchase. You can perform mounting, demounting and drilling works of fastening elements like bolts, nuts, screws.
Sure, dual functionality means increased price, but it's still more beneficial than purchasing two separate devices.
Firstly, the tool features a brushless motor with improved XR high torque and durability. Once again, batteries and chargers are purchased separately. Three speed regimes allow for optimal torque adjustment.
The driver is equipped with a 1/2 in. anvil with a detent pin for fastening various applications.
As usual, we cannot do without LED lighting, but here we see one light point.
Pitifully, the DCF899B is quite heavy (especially with a battery unit) and not as compact as its driver-only brothers.
Pros
XR power and durability
a 2-in-1 wrench and driver tool
1/2 in. detent anvil
3 speeds
one LED light
Cons
comes as a bare tool
pricey
it's heavy and a little bulky for tighter areas
some users find a detent pin not as convenient as a ring one, but it depends on your preference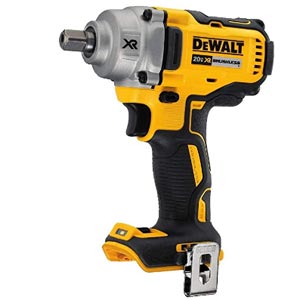 Let us close the model description with another DEWALT impact wrench, the DCF894B multi-functional tool. In a word, here is an identical but more affordable and slightly less powerful device. In terms of price, this product wins the DEWALT DCF899B vs DCF894B battle.
Among positive features, we pay attention to the Precision Wrench control. The system pauses the tool before impacting to help prevent overtightening in forward and lowers speed when fastener is loose to prevent running off in reverse.
Engineers also improved the weight, so this tool will feel much more comfortable in continuous use.
Less powerful fastening torque is the main sacrifice. You'll get up to 330 ft-lbs, which is twice less than in the DCF899B modification.
Pros
XR power and durability
2-in-1 wrench and driver tool
1/2 in. Detent Anvil
3 speeds
Precision Wrench control
one LED light
more affordable price
lightweight
Cons
no batteries and chargers
less power
a little bulky
the same issue with detent vs ring pin
Face to Face Comparison
To choose the most appropriate tool, it's better to learn characteristics. Below, you'll find a detailed comparison of all impact drivers.
Design and Dimensions
Cordless power tools beneficially stand out against corded tools due to their portability and independence from outlets. However, freedom of such application must also be accompanied by a compact and lightweight body.
DEWALT impact drivers measure as follows:
DEWALT DCF887B: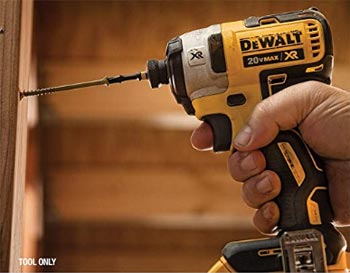 DEWALT DCF894B: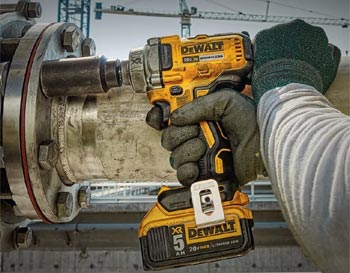 8.06″ x 3.19″ x 9.56″
3.5 pounds
Thus, we see that the bare drivers can boast of smaller and lighter cases, while wrenches+drivers are bulkier.
Design comparison shows almost no difference. All tools feature classic brand black and yellow colors. Cases are covered with durable plastic, and all grips have an anti-slippery design.
Attention! Please pay special attention to the drivers' design to make sure you're dealing with original products. Usually, fake tools differ in appearance.
Every tool is equipped with a trigger, reverse button, and speed switch (except for the DCF885B model).
Verdict: DEWALT has never been saving on the quality of its products. So, we love the drivers' solid and durable bodies. Besides, we can conclude that all tools are small enough for convenient application in tight places. But when purchasing DEWALT DCF899B and DCF894B, we'd recommend trying them for compliance with your requirements.
Motor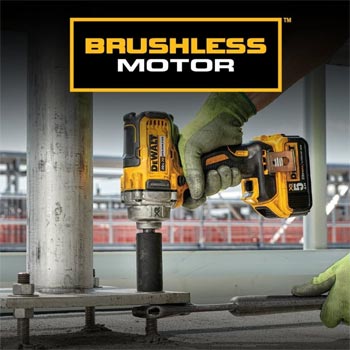 DEWALT DCF885B is the only tool of our review that comes with a brushed motor by the 20V MAX generation. Other drivers feature improved 20V MAX XR brushless motors. Brushless design provides more power with less energy consumption and extreme durability.
Besides, all products are equipped with DEWALT patented electronics that protect them from overheating, overloading, and deep discharge during use.
The voltage required is 110-120 volts.
Verdict: Brushless motors are indeed better in terms of performance, so we'd choose them. However, there are lots of users who prefer familiar brushed units as they never shut tools down under heavy loads. So, here the choice is yours.
Impacts and Rotations Per Minute
All four tools vary in IPM (impacts per minute) and RPM (rotations per minute) rates, and the difference is quite significant in our opinion.
Torque


The first device features the most modest max torque up to 117 ft-lbs. If we compare DEWALT DCF885B vs DCF887B, we'll see that the latter is 20% more powerful with its 150 ft-lbs.
However, impact wrenches show the highest torque power. They work at 700 and 330 ft-lbs, respectively.
Verdict: In all cases, we see awesome tools for domestic and professional application. Bare drivers are more suitable for spot use. Impact wrenches are incomparably superior and will cope with the most challenging tasks. The third model's torque is even enough to injure your wrist if you're not prepared for the power.
Chuck
Impact drivers and impact wrenches somehow differ in this characteristic. The four models can be divided into two groups.
The first two impact drivers have 1/4 in. hex chucks with a quick release anvil for one-handed loading. The anvil accepts and holds 1-inch bit tips. 1/4 in. size is quite standard. Besides, the manufacturer sells full kits with drivers and bit sets included.
Impact wrenches with driving function feature 1/2 in. anvil with detent pin. Detent pin operation is based on a spring-loaded ball that retains the socket. The system allows for much easier and quicker bit changing, but its alternative, a hog ring anvil, provides more reliable retaining.
It's up to you to choose, but please mind that DEWALT DCF899B is produced in both modifications – with the detent and hog ring pins.
Additional Technologies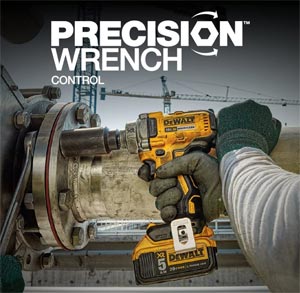 Two out of four drivers boast of additional technologies for improved control.
In addition to normal impacting modes, the DEWALT DCF887B tool features the Precision Drive mode, enabling greater control in lighter applications to avoid damage to materials or fasteners. Precision Drive mode is activated in the first speed and works as a screwdriver in light applications, before hesitating as the screw head reaches the work piece. Then it starts a slow controlled impact to ensure the head ends perfectly flush.
The second device is DEWALT DCF894B. It has Precision Wrench control. This mode grants the user greater control in both fastening and loosing applications.When set in forward, the tool fastens at 2000 RPM until impact begins. The tool will then pause for 0.5 seconds before continuing to impact at a rate of 3100 IPM, providing the user with greater control and reducing the chance of overtightening or damaging material.When set in reverse, the tool will impact at a normal speed and rate of 3100 IPM. Upon sensing that the fastener has broken free, the tool will cease to impact and will reduce speed to help prevent «run-off» of loose hardware.
Verdict:Additional technologies significantly contribute to the ease of work. That's why we highly recommend both tools for beginners. They will also be the best for craftsmen who perform complicated work with fragile materials that require super accuracy.
LED

Both impact drivers come with three independent LED points located around the chuck. Lights turn on as soon as you press the trigger and turn off within 20 seconds after the trigger is released.
Impact wrenches offer single LED lighting. The LED is installed at the bottom of the grip.
Verdict: Triple system is more efficient as even light contribution eliminates possible shadows cast by fingers or tool parts. Thus, you get perfect visibility. Single LED is also powerful enough, but its location is not as preferable as in the first case.
Batteries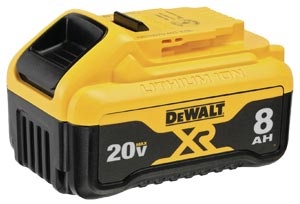 Unfortunately, none of the four units comes with batteries or chargers. So, even if you chose the most expensive kit, you'll have to spend more on the battery.
The first driver DCF885B works with 20-volt lithium-ion batteries of the 20V MAX generation. The batteries provide up to 35% more runtime than the previous 18V batteries.
However, the other three tools are compatible with the latest 20V MAX XR units that now feature 60% more capacity compared with the 20V MAX.
Attention! Though DEWALT DCF885B is aimed at using 20V MAX batteries, it is also compatible with the upgraded XR batteries.
Customers can purchase any battery model from more affordable 5 Ah elements to the most powerful 8 Ah accessories. Interestingly, DEWALT cordless tools use the same batteries. Thus, if you own one of the DEWALT hammer drills from our previous review, you can easily apply its battery for your DEWALT impact driver.
Guide – How to Choose the Best Impact Driver?
If you'd like to look for more impact driver models, you should always mind several crucial characteristics. Our team has prepared a list of criteria to pay attention to.
Energy supply type:
Like lots of power tools, impact drivers may be corded and cordless. Corded drivers have unlimited runtime and, as a rule, are more affordable. But here, you should attentively look at the cord length. Cordless impact drivers provide absolute freedom of movement and application. However, you'll have to recharge batteries from time to time, which may interrupt your work.
Battery included:
If you decided to take a cordless tool, please try to get a kit with batteries included. It's better to have two batteries and change them as soon as one is discharged.
Torque:
The higher torque, the easier it will be to work with tough materials and fixing elements. Powerful models with high torque provide excellent professional performance but consume lots of energy and cost higher. Fore everyday domestic tasks, we recommend simpler models.
Speed control:
The ability to adjust speed and torque is essential for impact drivers. Such a function will allow you to reach the optimal results.
Motor protection:
As long as impact drivers often deal with challenging tasks, motor protection against overloading can hardly be overestimated. When the load reaches a critical level, the system will turn the tool off. Please remember it before purchasing. If you mind professional application, we highly recommend paying extra bucks for this addition.
Socket size:
The choice is vast. There are 1/2, 1/4, 3/4, 3/8 chucks, and each has its pros and cons. Anyway, this feature depends only on your needs.
Apart from these most important characteristics, we also recommend you to remember:

What kind of works your impact driver is supposed to perform?
How durable are the materials it's made from?
Does it have built-in LED lighting?
How lightweight and compact it is?
How noisy is it?
Frequently Asked Questions
1. What is the difference between DEWALT 20V MAX and 20V MAX XR series?
The main difference is the battery power and durability. XR batteries are 60% more durable than 3 Ah 20V MAX batteries. Besides, absolutely all DEWALT XR tools use more potent brushless motors.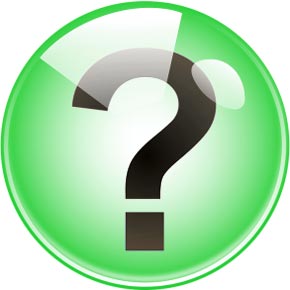 2. Which DEWALT cordless impact has the highest breakaway torque?
If you're looking for the most potent unit, try DEWALT DCF899B impact wrench with 700 ft-lbs. DEWALT DCF894B will be a more affordable mid-range alternative.
3. What Ah batteries are compatible with DEWALT impact drivers?
You can use all 20V MAX batteries for these DEWALT impact drivers, from affordable 3/4/5 Ah units to the most durable 8 Ah. However, the XR batteries will provide the greatest power.
4. Does DEWALT provide a warranty for its impact drivers?
All DEWALT power tools come with a one-year free warranty, three-year limited warranty, and 90-day money-back guarantee.
5. Do DEWALT impact drivers need regular lubrication for proper maintenance?
DEWALT impact tools require no additional lubrication. All you need is to clean dust and dirt with a dry clean cloth after every use.
Conclusion
We can conclude that DEWALT DCF885B is the most affordable impact driver. Besides, it offers excellent performance and durability for the money. The tool will greatly cope with domestic and DIY tasks.
The second and the fourth drivers, the DCF887B and the DCF894B, are decent middle-range products both for home and professional application. We would also recommend them to beginners due to the integrated Precision Drive and Precision Wrench control support.
At the moment, DEWALT DCF899B is the most powerful impact tool by the brand. The unit will cost you a lot, and it's also quite heavy and bulky. If you're an experienced craftsman, you'll definitely deal with it.