Weber Smokey Mountain 18 vs 22


A compact portable hot smoker can offer you unique cooking options unavailable in traditional grills. That's why even if you already own Weber grills, it's time to complement your kit with one of the Weber Smokey Mountain 18 or 22 charcoal smokers.
The manufacturer promises us tender meat falling off the bone and incomparable flavor without a bustle. Many reviews claim Weber smokers are the best for those who prefer cooking with charcoal. Moreover, cookers can be used for various tasks. Apart from smoking, we can perform barbecuing and steaming.
But how to decide on the optimal smoker size? And are there any other essential factors of the models to mind? Let's find it out together!
Main Differences Between the Models
As far as Weber Smokey Mountain 18 and Weber Smokey Mountain 22 belong to the same series, you'll find almost no differences between these modifications. Here are the key moments to note:
The total cooking area is the main difference between the smokers and the main characteristic that will influence your choice. The 22-inch cooker is 245 square inches larger.
Consequently, the grates' diameter also varies.
The first product of the review is equipped with a dual vent system with 3 holes in the bowl bottom and the lid. The second option got 4 vents in the same locations.
While Smokey Mountain 18 has only one handle on the lid, its rival can boast one more handle on the body.
Comparison Table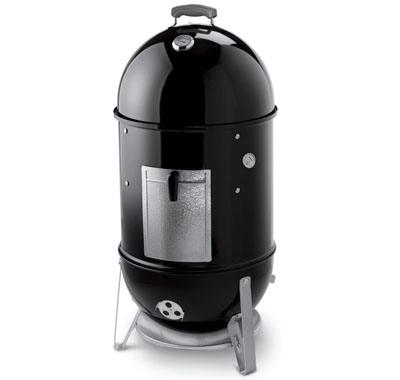 If you're looking for the optimal smoker size, Weber is glad to offer you its 18″ Smokey Mountain. 18″ here stands for grill diameter. The model provides the golden mean of the series in terms of dimensions and cooking area. What are other advantages? Let's look at them closer.
Weber 18-inch Smokey Mountain's main pro is its dual cooking grates that form two levels of smoking. Thus, the cooker is able to contain two large meat dishes like turkeys at the same time, staying quite compact for your backyard.
Classic charcoal fuel helps achieve an authentic smoky flavor at home. A flame is controlled by the dual damper system with 3 individual vents. Their closing and opening lead to higher or lower heat.
A built-in thermometer displays the current temperature. If you need more accurate data, engineers equipped your smoker with a thermometer port for direct food heat sensors.
Anyway, food won't dry or burn thanks to a water pan included. But please mind that the pan limits access to the charcoal.
The lid is also added to the kit, but frankly speaking, we wish for a better design. The lid sits inside of the body top instead of covering it. It means literally no water protection. When it rains, water gets inside your smoker and destroys cooking.
The charcoal door is another issue. The door doesn't seal very tightly, which may lead to accidental opening and temperature loses.
verdict
Though the problems are obvious, they can be overcome if desired. We still consider the smoker one of the most well-balanced products in the market.
Pros
compact design
2 plated steel 18-1/2-inch-wide cooking grates
two levels of smoking
large cooking area for two dishes
damper system with 3 vents
water pan for optimal humidity
a built-in thermometer
a thermometer port for additional food temperature control equipment
made of durable porcelain-enameled steel
easy cleaning
Cons
water pan limits access to the charcoal
lid poorly protects against rainy weather conditions
flimsy door to the charcoal chamber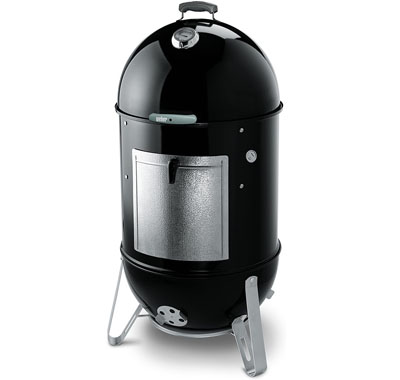 Technically, Weber 22-inch Smokey Mountain offers us the same quality of cooking described in the previous device. However, this modification will greatly interest customers with wider cooking requirements.
You can still enjoy a dual-level system but with more impressive portions. But if we compare the Smokey Mountain 18 vs Smokey Mountain 22, this smoker is made to accommodate 30% more food due to the enlarged cooking grates.
To provide bigger areas with higher heat, the manufacturer ensured 4 vents. The principle of operation is the same.
Stable legs are now complemented with two nylon handles instead of one in the 18″ smoker. More handles mean safer transportation and usage, so it's definitely a pro.
The grate number and basic design stayed unchanged. So did the whole construction with main elements like a water pan, thermometer with one additional port, charcoal chamber, etc.
Unfortunately, the drawbacks follow us together with advantages. All issues with inconvenient lid, flimsy door, and water pan location will disturb the smoker usage.
verdict
Weber 22-inch Smokey Mountain is the choice for those who cook often and for large companies. On average, you can feed 8+ adults in one turn.
Pros
compact design
suits for big families and parties
larger 2 plated steel 22-1/2-inch-wide cooking grates
two levels of smoking
improved damper system with 4 vents
dual handles
water pan for optimal humidity
a built-in thermometer
a thermometer port for additional food temperature control equipment
made of durable porcelain-enameled steel
easy cleaning
Cons
more expensive
water pan limits access to the charcoal
lid poorly protects against rainy weather conditions
flimsy door to the charcoal chamber
Design and Dimensions
The Smokey Mountain series managed to combine excellent cooking capacity and relative compactness close to the one seen in portable Weber grills. Their dimensions are as follows:
Weber Smokey Mountain 22: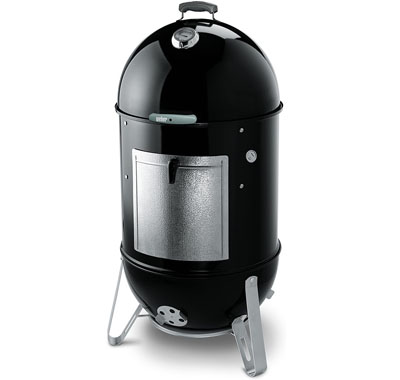 24″ x 23″ x 48.5″ (L x W x H)
68 pounds
Despite the body size, we deal with stationary smokers, which is proved by their weight. Get ready for severe carrying work, especially with the second model that became almost twice heavier.
When it comes to dimensions, neither of the cookers will require lots of space in your backyard or your storage room.
However, as far as smokers are made for outdoor usage only, they must withstand all weather conditions. That's why the brand chose the most durable materials such as stain-resistant steel, aluminum, and porcelain-enameled inner parts. As usual, Weber produces its products to last.
Both smokers feature classic design to fit any landscape and offer stylish black color with a glossy cover. None of the users complained about the paint, so we can conclude it's quite scratch- and moisture-resistant.
Fuel Type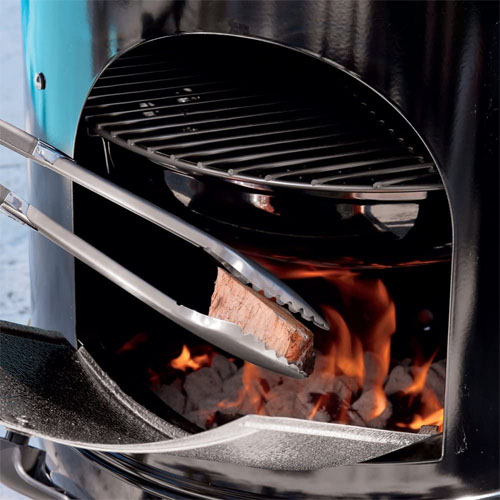 We've already mentioned this feature in the description part. So let us only briefly remind you that our competitors work with charcoal.
You'll find a special charcoal chamber in the lower body part. Charcoal is put on its own grate. You can access the chamber through a door.
In your manual, the manufacturer offers a detailed Smoking Guide with the charcoal amount chart recommended in each cooking case.
To ignite the fuel, use a long-neck lighter or matches and paraffin cubes. You'll need to wait about 30 minutes to reach the necessary charcoal condition and temperature.
attention
Please pay attention that the manufacturer prohibits using charcoal lighter fluid. Charcoal impregnated with it may cause poisoning, serious bodily injury, death, or fire, as well as damage to property.
Cooking Area
The cooking area is an essential factor for all smokers as the smoking process often takes 12 hours and even more. Users just cannot afford to cook that long in several batches.
Smokey Mountain 22″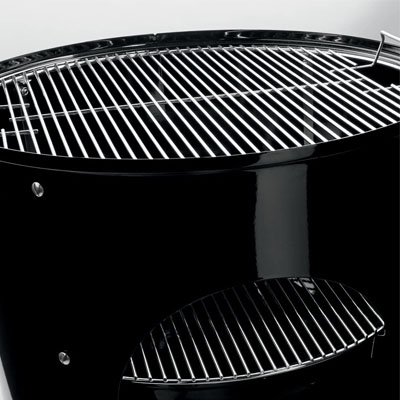 The Smokey Mountain 22″ offers 726 square inches.
When we say "the total cooking area", we mean space provided by both porcelain-enameled cooking grates. Since the grates are almost identical in size, you can divide the total square to get each grill's separate area.
Please also pay attention that though the smokers are called the 18″ and the 22″, their real grates' diameters are slightly bigger and measure 18.5″ and 22.5″.
Users can apply both floors simultaneously when smoking large batches of meat. The 18″ cooker is big enough to feed 4-6 adults with ease. The 22″ is a huge smoker for 8+ people.
Two grates form two cooking 'floors'. The lower grate is called a no-handled cooking grate as it has no handles. This level is perfect for steaming.
The upper grate is a handled cooking grate. Handles are required because this grill is meant to be frequently removed. The handled grate is used for barbequing.
Vents
Though we cannot directly adjust the heat and flame with valves like on Weber Spirit or Genesis grills, both smoking appliances still offer some heat controlling method.
It's called the damper system with vents, and it allows for controlling the heat inside the smoker without lifting the lid.
Engineers ensured simple mechanical open/close technology. When all vents are open, the level and flow of oxygen are increased, and you get the maximum heat. Closing all dampers or vents will cut the oxygen flow and reduce the heat or extinguish the coals.
Smokey Mountain 22″

The Smokey Mountain 22″ boasts a larger cooking area. Thus, we need more intensive heating, which is provided by 4 vents. Together with the lid vents, they form 8 ventilation holes.
Thermometer and Port
The built-in lid thermometers allow us to control the current heat. According to the markings, you can reach 350°F/177°C.
While higher temperatures are used for barbequing, the manufacturer states 250°F to be an optimal temperature for smoking. Thermometers even have a special mark on the scale.
As we've already mentioned, users are recommended to wait for 30 minutes before cooking to allow the smoker to reach the necessary heat. It is also recommended to keep the lid closed all the time. Every time the lid is lifted, it will be necessary to add 15 minutes to the cooking time as the heat is lost.
However, the thermostat is not always enough for accurate temperature control, especially when it comes to the food temperature itself. That's why Weber provided us with additional silicon thermometer ports. Each port has a small round hole and a slot to accept several sizes of heat sensors or probes.
attention
Please pay attention that sensors are not included in the kit. But you can purchase them separately to improve your cooking results and control meat temperatures directly.
Water Pan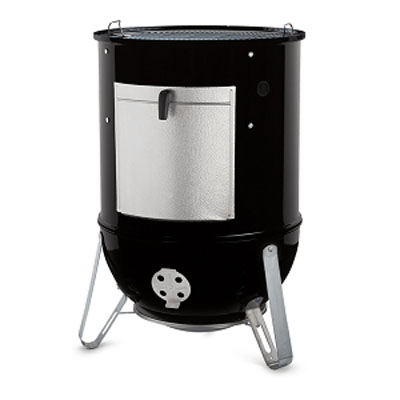 The water pan protects your food from drying and ensures sufficient air moisturizing.
Additionally, the pan often serves as a grease tray for meat juices. The unit is located right above the charcoal, so you can even see it when you open the charcoal chamber lid. Water pans are removable.
Weber recommends filling the water pan with between 2 to 2.5 gallons of water. The amount is enough for most tasks and the whole cooking cycle.
important
Unfortunately, though the idea of the water pan is excellent, we see not the best construction in terms of safety. The problem hides in its spherical shape, which is too deep and disturbs proper charcoal control. The flat design seems to be more efficient.
Safety
The Smokey Mountain is not the most innovational Weber series when it comes to safety technologies.
All you get is a stable bowl with legs to place your smoker on any flat ground. Additionally, the 18″ and the 22″ modifications are equipped with one handle and two handles, respectively, for safer transportation.
There are no extra fixing elements, heat insulation, or fire protection. On the one hand, it's not a problem for experienced and careful users. But beginners and especially families with kids and pets may worry about such a lack.
Buyer's Guide: How to Choose the Best Smoker?
Smokers are neither obligatory nor too expensive units for your home. However, they can greatly please you with delicious food and unique dishes for parties. And if you'd like to get all the best and avoid possible mistakes during model choice, we'd recommend you mind the following factors.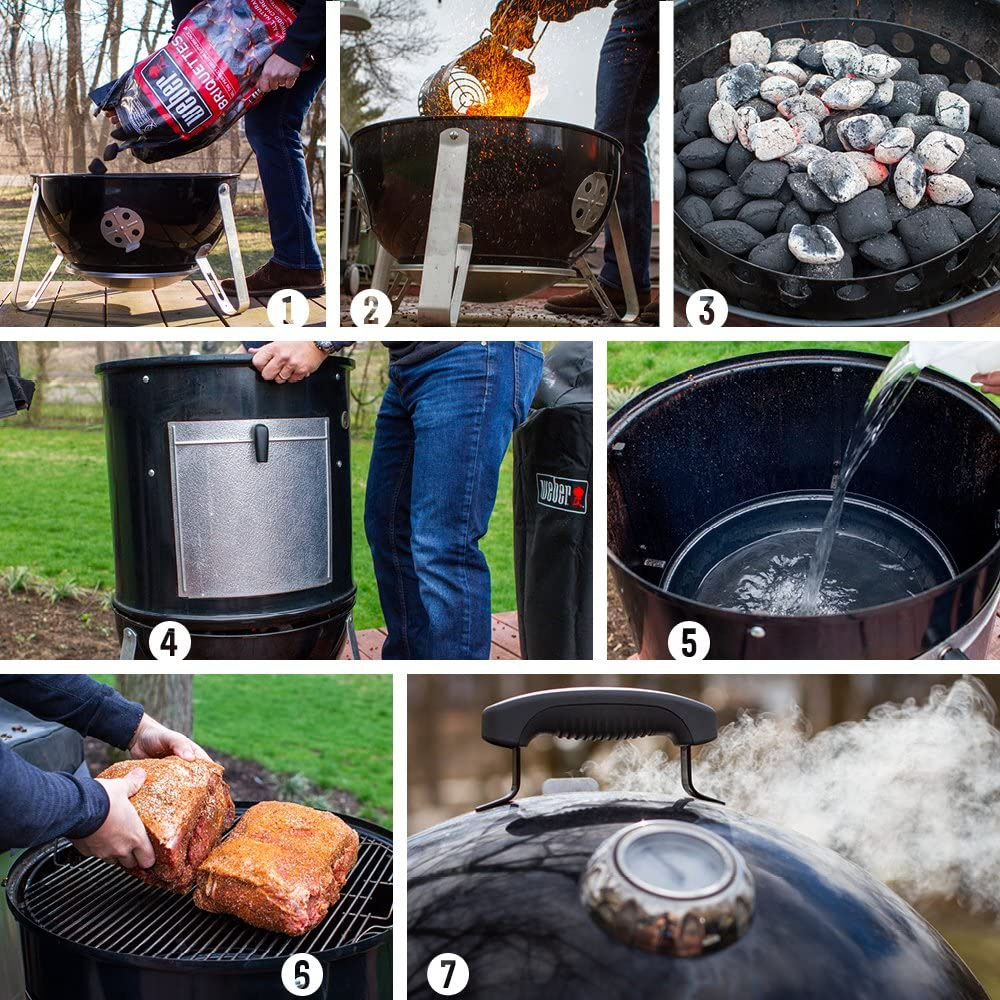 Number of People to Feed. Always consider how often you will use your smoker and how many people you'd like to feed.
Product Material. Since smokers are designed for outdoor usage and tremendous temperature impacts, your product should be made of very durable materials. Good models use stainless steel, aluminum, and other alloys. Inner grills should be safe for food, anti-stick, and easily cleaned.
Bottom and Wall Thickness. A smoker and especially its bottom experiences enormous temperature loads (over 100°C) during the smoking process. Therefore, its thickness must be at least 1.5 mm. The thicker the bowl, the better it will retain heat.
Smoker Depth. Even a small smoker should be large enough inside to provide a considerable space between the grate with food and fuel. This is necessary for proper food heating and flavor.
Door and Chamber Sealing. Engineers ensure reliable sealing of all smoker doors (like for charcoal), lids, and chambers. Otherwise, all the smoke from inside will go straight to your cooking zone.
Stable Legs. Even though smokers are always installed on a flat, prepared ground, they should be stable enough themselves to avoid even the slightest chance of accidental falling and injuries.
In addition to the above-mentioned factors, there is a number of important units that allow you to operate the smoker with the greatest efficiency and convenience. These include:

Tight lid for temperature and smoke retention as well as protection against weather conditions.
Vents or ventilation holes that allow you to create the optimal temperature and constant oxygen flow.
Grease collection system to catch the dripping grease Otherwise, the odors will mix and give the product an unpleasant taste and bitterness.
Thermostat and food temperature sensors.
Frequently Asked Questions
1. Can I try Weber Smokey Mountain 14″, or is it too small for convenient usage compared to the 18″ and 22″ modifications?
Smokey Mountain 14″ is a worthy option for families up to 4 people and for rare usage. However, if you need to feed more people or cook large meat portions, the 14″ unit is not big enough to be practical, and we'd recommend you consider two other smokers of the series.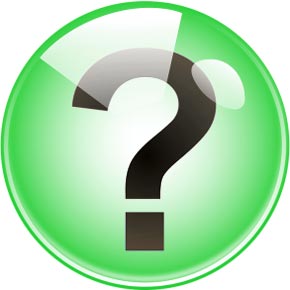 2. Can I assemble my Weber Smokey Mountain myself, or do I need professional help?
All Smokey Mountain series smokers provide simple assembly complemented by a detailed installation manual and even 3D interactive assembly instructions available through the free BILT app. That's why you can install it yourself.
3. Can I use wood instead of charcoal for my Weber Smokey Mountain?
Weber does not recommend completely replace charcoal with wood for your cooking tasks. However, you can add several wood chunks to your charcoal for better flavor and taste.
4. How can I clean my Weber Smokey Mountain smoker?
The manufacturer states it isn't necessary to clean the inside walls of your smoker, except for the ashes removal. However, you can wipe down it occasionally with a sudsy cloth and a damp cloth.
Removable parts such as grates and a water pan should be cleaned with a spray-on oven cleaner and a soft cloth to protect the porcelain-enameled layer.
5. Can Weber Smokey Mountain smokers be stored outside the whole year round?
Though these smokers are made to last and come with lids, it's recommended to store them indoors, especially in cold and rainy seasons.
Conclusion
They say you can never go wrong with a Weber. So, that's true for all its products, including the Smokey Mountains. Smokers proved to be quite efficient in terms of cooking results even though some drawbacks are inevitable.
You may need to invest extra money and time in charcoal chamber door replacement. The lid issue means smokers are better to use seasonally or under a kind of a roof.
Nevertheless, if listing the best moments, we're glad to say the smokers will suit both beginners and experienced cooks. No matter how big your backyard is, it won't require much space. But what model should we finally choose?
verdict
As we all understood, size is the only key moment. With Weber Smokey Mountain 22 you will never have any problems fitting meat pieces. Choose this model for big families, crowded parties, and monstrous pork.
Weber Smokey Mountain 18 is the perfect choice for more moderate smoking for family members and a close circle of friends. If a couple of turkeys and ribs are enough for you, go for the 18″!
Further reading and references: