Traeger vs Kamado – Wood vs Charcoal Grills

Gas, electricity, wood, charcoal; the battle for the best fuel for grill cooking has been going on for decades. If you're a fan of traditional options that provide original smoky taste and flavor to your food, there are hardly better brands than American Traeger and Kamado.
While the first presents an embodiment of classic American grills working on wood, the second name successfully combines Asian notes and non-trivial charcoal cooking technologies. What is the best option for you? Find an answer in our Traeger vs Kamado comparison.
Below, we examined four best-selling grill models:
Grills vary in construction, fuel type, cooking opportunities, and price, so every customer will be able to pick up an optimal model for his/her needs.
Main Differences Between the Models
Before we come to the model description, let us list these very differences. Here they are:

As we've already mentioned, Traeger and Kamado use not radically but different fuels. The first brand works on wood pellets. The second brand prefers classic charcoal.
Traeger grills feature versatile horizontal bowl construction in the shape of a gas tank. Kamado grills are vertical and round, looking a bit like eggs. Please mind that this difference influences the heat spread and cooking results.
Traeger Pro Series grills offer much bigger cooking grates. Kamado uses smaller grates but of more interesting and multifunctional construction. Let's discuss it in the next point.
Only Kamado grills come with a unique patented Divide & Conquer System. This means their grate parts can change their location and height to provide several cooking zones, each with its own temperature to cook several dishes under one lid. Besides, the Classic III model has three height levels, and the Classic II comes with two.
However, only Traeger devices boast warming racks. Its rivals lack the unit.
Traeger grills are smart products with digital temperature controllers. Kamado products use simple vent systems and thermometers.
Traeger Pro Series 575 is the smartest as it's the only one that is compatible with home WiFi, smartphones, and Alexa voice assistant.
Also, the first brand equips its grills with a convenient grease collection system. Kamados have none.
On the contrary, while Traeger lacks simple ash collection and removal, Kamado Joe devices have special ash drawers and ash tools.
Finally, Kamado Joe Classic grills feature built-in side tables and storage hooks.
Comparison Table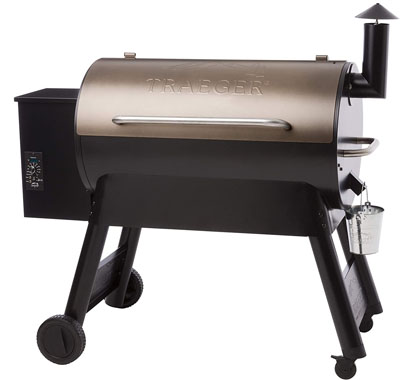 Traeger has always been a supporter of classic forms. That's why its Pro Series 34 grill features traditional versatile construction and wood pellet heating. Users get the ultimate cooking space, better heat spread, and unique taste. The unit is suitable for grilling, smoking, baking, roasting, braising, and barbequing – 6 cooking options under one lid.
The model can contain up to 40 burgers or 8 whole chickens, no one of your guests will stay hungry. The cooking surface is formed by one solid porcelain-coated grate and a warming rack.
However, large space is not the only advantage. The Series Pro 34 grill is a very smart baby that will support exactly that temperature you set, thanks to the Digital Pro Controller. Moreover, monitor both the grill and food temperature with two included meat probes that display the internal meat heating.
The product requires a minimum of maintenance. Ignition is automatic; an integrated grease system with a bucket and a large hopper for wood ensures you won't have to spend your time cleaning or pellet adding.
The grill comes with a wheeled cart. Though wheels are not locking, their all-terrain design ensures stability on any ground. Unfortunately, the cart itself offers no storage areas, which is a huge drawback.
Other minuses to mind are a quite complicated ash clean-out system. You'll have to remove grates to get to the ash. Despite the intelligent temperature control, we can say this grill is not the best option for high heat as it reaches about 400°F maximum.
Finally, materials feel cheaper than you expect for the price.
All in all, we recommend Traeger Pro Series 34 grill for all users, including even inexperienced people. The unit is pretty smart but easy-to-use. That's what you pay for. Besides, the cooking area really impresses.
Pros
large cooking area for up to 40 burners
can perform 6 types of cooking
easy to use
non-stick porcelain-coated grate
a warming rack included
smart Digital Pro Controller for accurate temperature setting
two meat probes included
grease collection system with a bucket
large pellet hopper
integrated cart
all-terrain stable wheels
Cons
pricy
no storage areas included
difficult ash cleaning
not for the highest heat cooking
not very durable body materials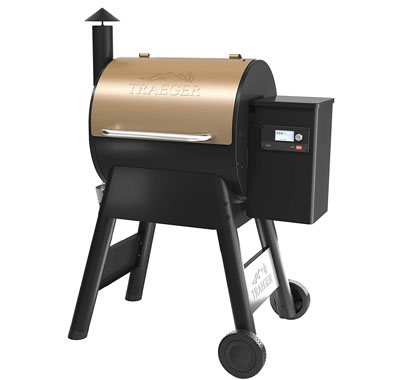 The Pro Series 575 is similar to the Pro 34 in many ways. We see the familiar versatile body, original wood-pellet fueling, ignition, and grease collection. However, the main reason to buy this model is its even smarter characteristics.
The grill supports the WiFIRE technology. Thus, you can connect your grill to home WiFi and control cooking from the app. WiFi support also means compatibility with voice assistants like Alexa.
App control includes convenient temperature adjustments like in the oven. Besides, there is also the well-known Digital Controller and one meat probe.
The final improvement is faster heating. The unit boasts of the D2 Direct Drive drivetrain that catalyzes pellet burning and causes increased heat.
All in all, this Traeger grill is smaller than the Pro Series 34 but still quite spacious. Here, you can cook 24 burgers, 5 rib racks, or 4 chickens. A warming rack is traditionally included. Thanks to the grates, temperature adjustment, and wise heat distribution, we can use just one grill as a multipurpose unit for grilling, smoking, baking, roasting, braising, and barbequing.
Users also state this modification becomes more stable as it features only 2 wheels combined with 2 legs. Perhaps, moving is not that easy, but you don't have to worry about falling and the like.
Despite smaller dimensions, smart functions will cost you more. Users love the grill's easy cooking. The results are marvelous, so we can recommend it for family use and innovation fans. But the price still seems too high.
Please also mind that the legs and body are not super sturdy. The Pro Series 575 doesn't feel like a premium product. Many complain about WiFi connection issues, which is complicated and fails frequently.

Pros
sufficient cooking area for up to 24 burners
can perform 6 types of cooking
convenient app control through the WiFIRE
possibility of voice control through Alexa
faster heating thanks to the D2 Direct Drive system
non-stick porcelain-coated grate
a warming rack included
smart Digital Pro Controller and one meat probe included
grease collection system with a bucket
large pellet hopper
integrated cart with wheels/legs
Cons
expensive model
materials and construction feel flimsy
WiFi technology requires improvement
no storage areas included
difficult ash cleaning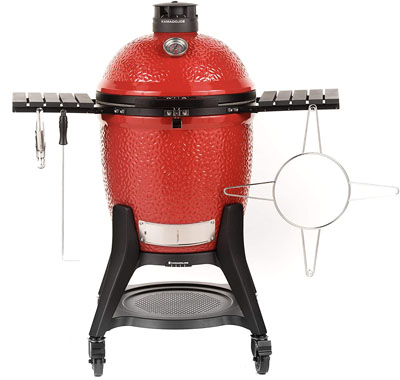 Traeger vs Kamado Joe comparison reveals dozens of essential differences, starting from its charcoal fuel type. But the first feature meets us right in appearance.
While Traeger grills prefer versatile construction, the Kamado Joe has a unique shape – SloRoller Hyperbolic Smoke Chamber. Thus, the grill creates unique airflow to distribute smoke and heat in recirculating. Food inside is heated evenly without cold spots.
The bowl is ceramic, which also contributes to the final taste.
Kamado Classic III comes with a grate divided into halves. Users get two half-moon grates and the 3-Tier Divide and Conquer Cooking System. Such a technology allows for placing food on several levels and cook several dishes at different temperatures simultaneously.
You can grill, sear, roast, smoke, or bake – all in one body.
Grates measure 18 inches in diameter, forming space for 10-12 burgers. But you'll see no warming rack here.
As well as there is no smart temperature adjustment. You can use the Kontrol Tower Top Vent to increase/decrease the airflow and heating. An integrated thermometer displays the current heat.
Luckily, Kamado Joe offers small but handy storage space that consists of two compact side tables with 8 hooks and a storage shelf on a steel rolling cart. The cart is wheeled, and two of the wheels have locks.
Ash removing is a piece of cake with a slide-out ash drawer and an ash tool included. However, the grill cannot collect grease.
Apart from the drawbacks discussed, there are some more cons to mind.
Kamado Classic III is a perfect model for true gourmets and chefs who prefer dish diversity and taste to quantity. Better choose for family use.
Pros
compactness
unique bowl shape for improved heat spread
unique leveled cooking grates for simultaneous cooking of different dishes
multifunctional grill with 5 cooking methods
reaches high temperatures
airflow and heat control through the top vent
thermometer
provides storage and preparing zones
a wheeled cart with locks included
easy ash removing
Cons
expensive
no warming rack
no grease collection system
moderate cooking area
flimsy top vent
ceramic splits easily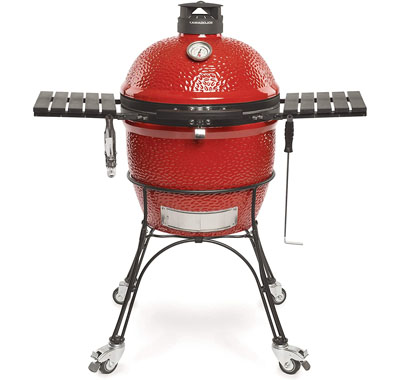 As you can see from the name, this Kamado model is an earlier modification of the Kamado Joe 18 inch we discussed above. Thus, we see very similar features but in simpler implementation.
Functionally, users get the same 18 inches of cooking grates. The only change is a simpler 2-Tier Divide & Conquer with two cooking levels and two half-moon grate parts. The body itself is smaller, though they still use ceramic material.
Once again, Traeger and Kamado differ in the temperature scales offered. The Classic II provides very high cooking temperatures up to 750°F. That's possible thanks to the familiar Kontrol Tower Top Vent.
You'll also see that an integrated transport cart lost its bottom shelf.
Let us briefly say that other characteristics such as a removable ash catcher, dual side tables, storage hooks, and easy-to-open Patented Air Lift Hinge lid stayed the same. However, please mind that drawbacks also didn't change. We miss grease collection and worry about the flimsy vent and fragile ceramic body.
Kamado Joe Classic II is a more popular ceramic charcoal grill of the brand despite its simpler design. The reason for such people's love is a smaller price. At the same time, the functionality doesn't suffer very much. We'd recommend the product as a perfect choice for small backyards and various grilling and smoking ways.
Pros
more compact and lightweight unit
easier assembly and usage
unique bowl shape for improved heat spread
two half-moon leveled cooking grates for simultaneous cooking
supports 5 cooking methods
reaches high temperatures
provides constant airflow for heat control
thermometer is included
comes with two tables and hooks as cooking and storage zones
a wheeled cart
easy ash removing
more affordable
Cons
still pricy
not for feeding an army
no warming rack
no grease collection system
flimsy top vent
fragile ceramic body
Face to Face Comparison
Here are our grills' brief descriptions. To find the optimal unit, you'll need to look deeper at their characteristics and consider them in comparison.
Design and Dimensions
All models belong to the category of stationary grills. Below, we listed the dimensions and weight for each product.
Traeger 575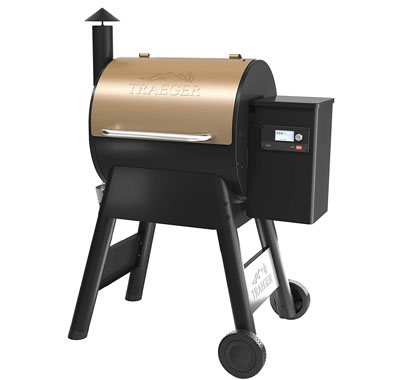 Traeger TFB57GZEO Pro Series 575:

53″ x 41″ x 27″
128 pounds
Kamado Joe Classic II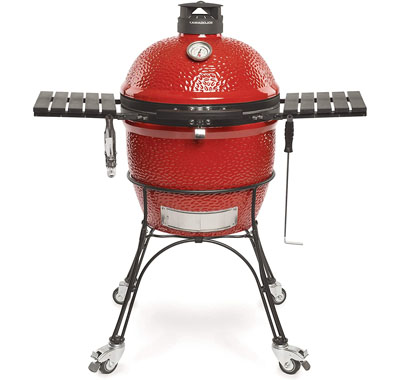 Kamado Joe KJ23RHC Classic II 18 inch:

26.4″ x 26.4″ x 36″
232 pounds
Their weight and dimensions don't allow us to use them on-the-go. But all grills come with wheeled carts, which makes moving easier.
We can also say grills are quite compact to fit any cooking zone in any backyard. It's especially true for Kamado products. While winning in dimensions, they lose somehow in weight, being almost twice heavier than Traegers.
Design reveals more differences. One more time, the Traeger brand prefers versatile construction and dark colors with bronze elements. The body material is stainless steel.
Kamado grills look like bright red eggs made of ceramic. The shape contributes to greater compactness and a unique method of heat distribution.
Fuel Type
Though Traeger and Kamado Joe uses traditional open fire heating, users note the difference in cooking results.
Kamado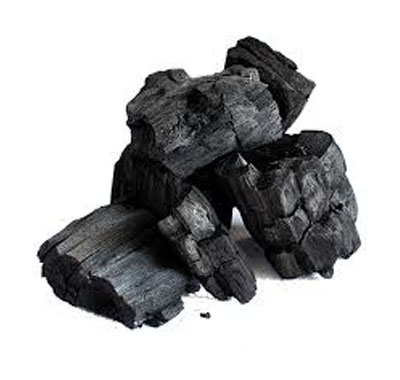 Kamado prefers common charcoal fuel, which cannot leave the food taste and cooking process unaffected. It's a more traditional and well-known heating way. Charcoal lays right inside the grill bowl in a special chamber.
However, we've got no quick access to the fuel and cannot add charcoal during cooking in case we need it.
verdict
In our opinion, Kamado wins in terms of that smoky taste and flavor, which you can get only with charcoal. But Traeger grills offer a much more convenient and capacious hopper for easy refilling. So, the choice is yours.
Cooking Area
Traeger Pro Series 575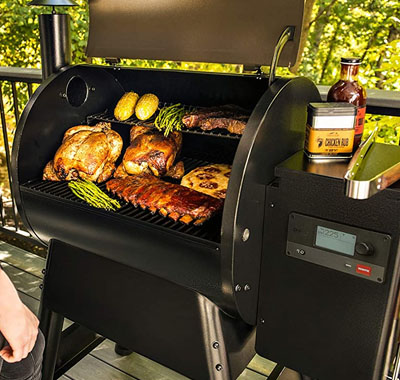 Here, we see the same porcelain-coated steel grates with one fixed position. We note smaller dimensions. Since the whole unit was made more compact, its main cooking area shortened to 418 square inches.
But the total area is bigger and forms 575 square inches, which is stated in the product's name.
Traeger Pro Series 575 can fit 2 chickens, 3 rib racks, and 12 burgers.
Kamado Joe KJ23RHC Classic II 18 inch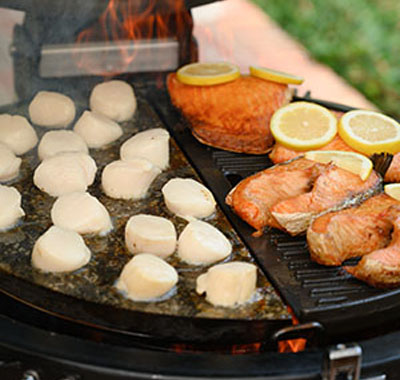 In general, the Classic II grill comes with the same round grate that measures 18 inches in diameter and 254 square inches of cooking area. Consequently, we can cook the same 10-12 burgers simultaneously.
The material used is powder-coated cast iron.
But the «II» in the name stands for 2-Tier Divide and Conquer Cooking System. It means that two half-moon parts have only two levels for height adjustment.
verdict
While Traeger grills can contain more products, Kamados offer more interesting multi-level grate adjustments to cook various dishes at various temperatures. The features are hardly comparable, but you can choose the one you need more  – capacity or diversity.
Warming Rack System
You might have noticed that in the previous paragraph, we mentioned "a total cooking area" and "the main cooking area". But we did it only towards the Traeger grills.
Traeger vs Kamado comparison shows us that the first brand equips its products with warming racks. These are additional grates that allow you to keep food warm while a new batch is on the grill.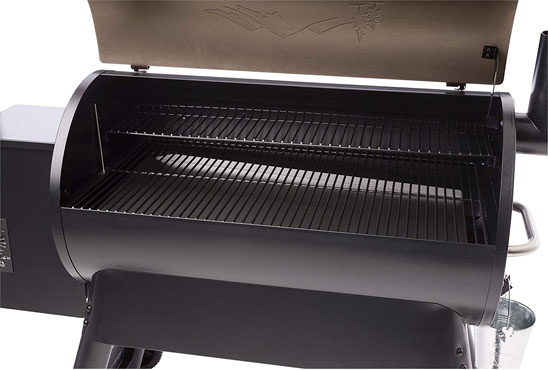 The Pro Series 34 has a 238 sq. in. warming rack that can contain about 16 burgers.
Its little brother comes with a bit smaller rack of 157 square inches. But that will be enough for 10 burgers.
Kamado Joe grills cannot boast warming racks, which is a huge loss in our opinion.
Temperature Control
Traeger Pro Series 575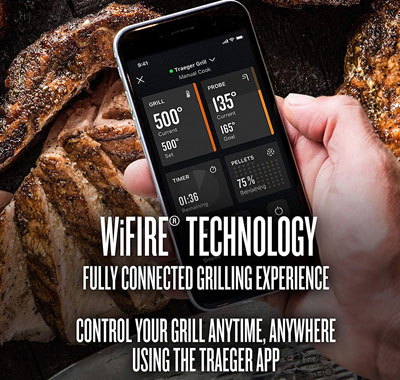 The Pro Series 575 boasts a similar smart control digital display. However, it got a bigger touch screen for a simpler setting.
As usual, users rotate a dial to move up and down through the display menu and to adjust the temperature. Once you chose, press the center of the dial to make a selection.
By the way, this grill can reach higher temperatures up to 450 °F. Other modes, including Shut Down Cycle and Smoke are the same.
You'll also get one meat probe with an integrated plug-in hole and results displayed on the screen.
But all these features are not the best thing in the Pro Series 575. This Traeger grill is the smartest option since it supports WiFIRE technology. Thanks to it, you can connect your grill to WiFi and the Traeger app to control temperatures from your smartphone. Moreover, the product is compatible with Alexa for voice commands.
important
Please mind that digital controls and probes require an electricity supply. That's why apart from wood pellets, you'll need to get an outlet for something like that near your Traeger grill.
Kamado Joe II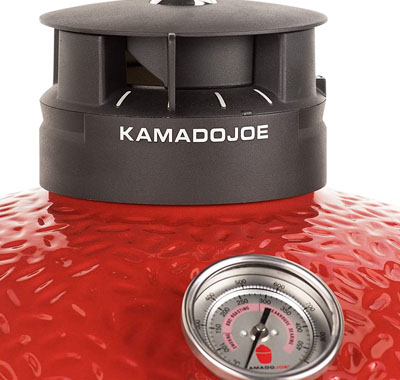 The Classic II generation offers absolutely identical temperature control with the help of a Tower Top Vent and lid thermometer.
Open and close the vent to change airflow inside your grill. This will allow you to smoke from 225 °F all the way to searing at 750 °F.
verdict
Verdict: Once again, customers face a dilemma. Traegers provide extremely convenient and smart temperature control. But you'll sacrifice high temps, which is a minus for many recipes. Simple Kamados don't have such a problem, and they're the best for intensive grilling.
Grease Collection
Though food juices falling on charcoal and wood add this lovely smoky flavor, their excess may also cause flare ups.


Traeger brand deals with the problem and equips its grills with a convenient grease collection system. It includes a grease drip tray that directs excessive liquid and a bucket where grease finally comes.
Kamado Joe grills have nothing to offer for grease collection.
Ash Removing
However, when we consider the ash collection, the situation changes dramatically.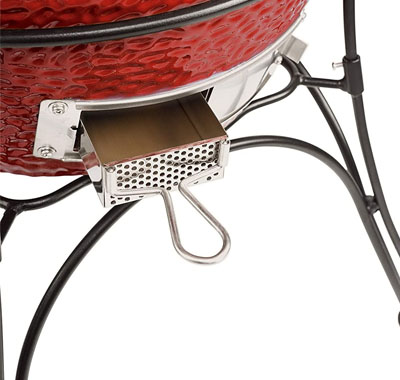 Both Kamado models are equipped with a removable ash drawer installed right under the charcoal chamber. Burned particles drop into the drawer, and all you need is to remove and throw it later. In addition to this, you get an ash tool to collect hard-to-reach or clogged pieces.
But Traegers lack any ash trays and tools. So, cleaning will take much more time and effort. To remove burned pellets, you'll have to remove all grates and pans first.
Storage Space
Kamado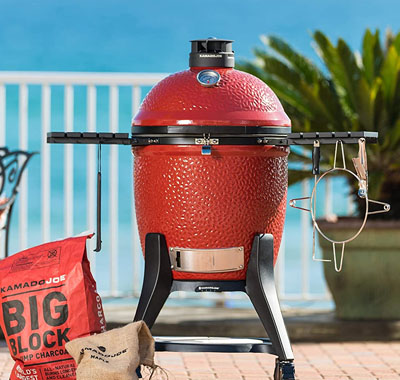 Kamado Joe units are much more versatile in this respect. Each of the two models comes with two side tables. The tables are small and wooden with a metal frame, i.e., quite solid. That's enough to place a cutting board, a bowl of ingredients, or spices on them.
Please mind that tables are fixed, so you cannot fold them when unnecessary.
Tables boast integrated hooks for cooking tools. Altogether, they form 8 hooks to have spatulas, tongs, and the like at hand.
The only difference between Kamados is a cart shelf. While the Classic III is equipped with one, its Classic II brother lacks any shelves. The storage surface is useful to keep fuel, extra grates, and something bulky.
Buyer's Guide – How to Choose the Best Wood and Charcoal Grill?
Charcoal and wood grills significantly differ from gas or electric devices. That's why it's important to focus on certain characteristics that will be important for your comfort and cooking results. While choosing a charcoal grill, please mind the following things.

Decide on the Fuel Type: Wood pellets and charcoal are not that different and may even substitute each other if construction allows. Still, it's better to use the fuel type required by the manufacturer. Then, charcoal is simpler, more familiar, and cheaper. Pellets are cleaner, more convenient in storage but more expensive, may ignite longer and have unpleasant additives if we speak about cheap products.
Consider the Purpose: What is your grill for? This is one of the essential questions. There are simple portable models that can be conveniently transported in the car truck. By the way, charcoal and wood grills are considered the most convenient for on-the-go usage. But a larger product with advanced functionality is the best option for home use in the backyard.
What Tasks Should the Equipment Fulfill: All grills can be divided into three categories: classic models where you can only grill food, grills with a smoker function, special construction of which allows you to smoke food too, and barbeque grills that combine all these options and some more. Naturally, the more multipurpose unit you need, the higher the price.
Grill Material: Nowadays, you can choose between grills made of stainless steel, covered with porcelain enamel, as well as made of special dense ceramics. Steel devices are the most affordable, simple yet durable. Porcelain-enameled grills fit more food, retain heat better, and prevent sticking. Ceramic models are usually spherical, egg-shaped, and not the most capacious but superior in quality. They retain heat longer and offer much more cooking methods, though the price is high.
How Many People You Will Feed: This influences the size of the cooking surface and the dimensions of the whole unit. Usually, manufacturers produce models in 2-3 sizes of the cooking surface. So, you can pick up a grill for family picnics, a friendly get-together, or a large company.
Cost or Capabilities. If you plan to use the charcoal grill only for the family and at home and do not intend to cook professionally, a simple model will do. It's advisable to take a model with additional options such as smoking and barbequing. If you plan to do professional cooking, pay attention to the large, multifunctional installations. With them, you'll be able to bake whole poultry, rabbit or turkey carcasses, cook several dishes at the same time.
Frequently Asked Questions
1. Wood or charcoal: which fuel type is better?
Both options have their pros and cons, depending on your needs.
Charcoal is cheaper, burns longer, guarantees good even heat. With it, the cooking process goes easily and predictably. But we cannot say the same about cleaning as charcoal makes everything dirty.
Wood pellets are usually more convenient in storage and refilling. Besides, they feel much cleaner to work with. Sophisticated chefs can pick up regular pellets or pellets with various flavors. Price is a significant drawback of wood pellets. Besides, there is a risk of getting products of poor quality with harmful additives and unpleasant smells.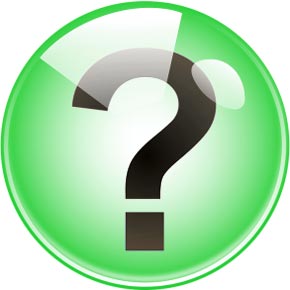 2. Traeger vs Kamado: which grill brand is better for meat and vegetable cooking?
Both manufacturers produce reliable grills but for different cooking purposes. But we'd recommend Kamado Joe grills for chefs.
Traeger provides more cooking space to feed more people simply and tastily.
Kamado offers smaller grates, but you can experiment with dishes, various ingredients, and simultaneous cooking at different temperatures.
3. Are ceramic Kamado Joe grills better than regular grills?
As we said, ceramic wins in terms of heat retention. This is simply marvelous for cooking but extremely worrying in the application. Ceramic breaks easily, so you cannot afford to drop or hit your ceramic grill.
4. How to collect Traeger Pro Series 575 grill to WiFi?
Firstly, please download the Traeger app from the Google Play Store or the App Store. Then make sure the Main Power switch of the grill is in the ON (I) position and the grill controller display is on the home screen. Ensure your smart device is connected to the WiFi network to which you want your grill connected. Open the Traeger app and follow the instructions.
For more detailed information on how to use the app, go to traegergrills.com/wifire.
5. Why is the temperature in my charcoal grill fluctuating?
Temperature fluctuations are normal for wood and charcoal grills. Any significant fluctuation could be the result of wind, air temperature, improper use, or lack of grill maintenance.
Conclusion
Once again, Traeger models don't feel like premium models but offer excellent cooking performance and lots of space. We love them for smart temperature control (which is a rarity), meat probes included, very nice price, and convenient refilling.
Traeger Pro Series 575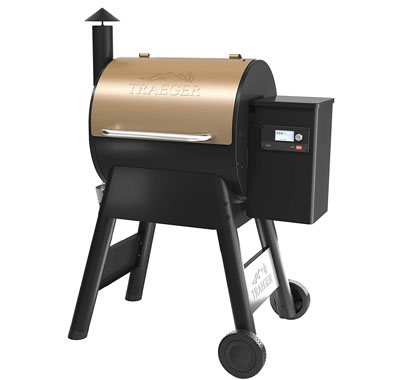 Traeger Pro Series 575 grill is smaller and pricier, but it's the best, smartest, and most convenient grill in terms of remote control via a smartphone and even voice commands.
Kamado is made simply marvelous both in appearance and material quality. This is the best brand for those who look for eatable masterpieces and not for the quantity of food. Anyway, be ready to put up with a high price and basic temp control.
Kamado Joe Classic III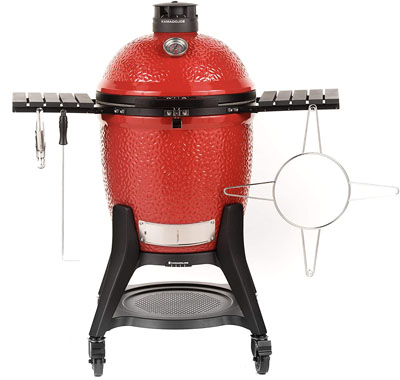 Kamado Joe Classic III is your choice if you need even more temperature levels and are ready to pay for the latest model.