Weber Q1000, Q1200, Q2200, Q1400, Q2400 – Which one to choose?

Every picnic lover has a dream; a true grill for delicious and easy meat cooking. Weber offers everything we may need. The brand developed the whole series of Q grills from simple, convenient, and portable models to the full pack of all Weber inventions for ultimate comfort.
Today, we're going to compare them all. All products seem to save flavors and provide perfect roasting in minutes, but the question of the optimal choice for a limited budget is still vital.
Do you long for your perfect option? Then join us in this investigation!
Main Differences Between the Models
Before the main comparison, let's briefly list the most significant differences between the Weber grills: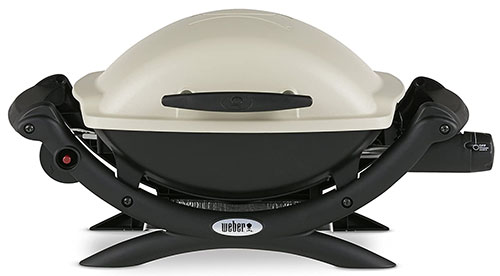 The Q1000 is the best budget option for true barbeque and picnic lovers.
The grill works on liquid petroleum gas. Heating is quite even and fast; besides, you can preheat the grill for 10 to 15 minutes before cooking. The burner valve allows for easy temperature control, and push-button ignition helps start burning.
The model provides a 189 square-inch total cooking area. High-quality materials serve for durability and easy cleaning, even in on-the-go conditions.
Weber offers fully assembled products and guarantees a compact and light body.
However, the affordable price means you'll have to sacrifice a thermostat. Also, many users complain about the inconvenient gas-connector location. It's set too close to the handle, which complicates its fixing as well as control. Finally, when the lid is open, the grill is a little bit out of balance and can fall over.
Pros
easy cleaned durable materials
works on gas
burner valve included
push-button ignition
preheating function
189 square-inch cooking area
catch pan underneath for meat juice collection
compact body
budget model
Cons
no thermostat for temperature monitoring
inconvenient gas-connector location
unbalanced lid and body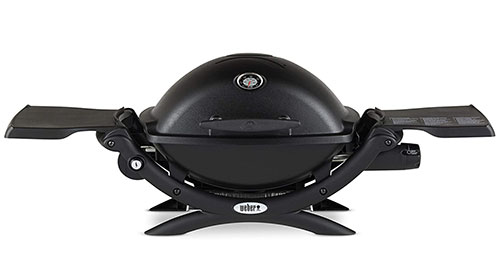 The Weber Q1000 vs Q1200 comparison will show an identical design with several crucial additions.
First of all, the manufacturer added so long-expected thermostat. Now, temperature adjustment and control are the same as in professional restaurant ovens.
We also love dual "wing" tables on the sides of the grill. The units fold out and provide handy space for cutlery/glass/napkins storage.
The Q1200 stayed portable, but we note bigger dimensions. However, as always, the cooking area available forms 189 square-inch.
Engineers saved convenient electronic ignition and control burner valve with several settings. Otherwise, the model completely coincides with the G1000 version.
This generation allows for choosing between several color options for bright picnics.
Unbalanced lid and gas-connector problems weren't solved, but they seem to be the only cons among numerous pros.
Pros
easy cleaned durable materials
works on gas
burner valve included
push-button ignition
preheating function
thermostat included
189 square-inch cooking area
catch pan underneath for meat juice collection
compact body
budget model
Cons
inconvenient gas-connector location
unbalanced lid and body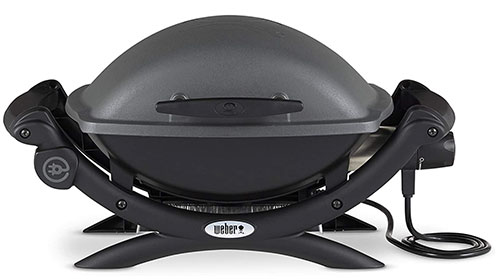 Weber Q1400 generation provides an excellent way out for those who feel anxious about gas usage or prefer backyard parties to remove picnics. The model works from a common outlet but roasts at the same level of quality.
But please mind that some users note the loss of temperature shortly after lid opening. Another moment we don't like is a short 6 ft cord.
Electric operation is the main reason for a higher price. In terms of functionality, the model is closer to the older Q1000. You'll get no thermostat or fold-out tables. Also, ignition is absent since you don't need it in an electrical heating model. But the cooking area and burner control are saved.
Nicely, dimensions and weight didn't change much, so the grill stayed portable even despite its home aimed usage.
Weber Q1400 is a truly sweet electric alternative to the gas supplied models. It features the lowest price among all brand's electric grills but still seems slightly overpriced for us.
Pros
easy cleaned durable materials
works on electricity
suitable for home use
burner valve included
preheating function
189 square-inch cooking area
catch pan underneath for meat juice collection
compact body
Cons
slightly overpriced
lacks thermostat
short cord
can lose temperature
"classic" issues with gas-connector location and lid-body balance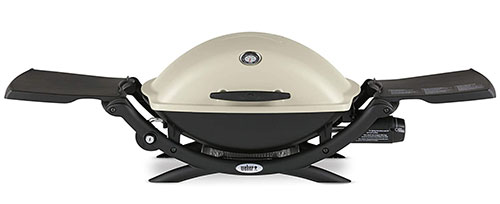 While the Q1200 was designed as an improved version of the Q1000 model, Weber Q2200 boasts of even more innovations for roasting in chef style.
Apart from a thermostat and extremely handy folding tables, the grill offers a significantly increased cooking area. Now, users can work with 280 square inches of the total surface. Moreover, bigger space requires more energy, so the G2200 is more powerful in terms of thermal units (BTU).
Also, we note inevitable dimensions and weight growth, so the model became more massive and difficult for transportation. It's really heavy, which is a minus. Weber Q1200 and Q2200 both work on gas. Temperature adjustment is easy as usual.
Weber Q2200 will suit for bigger parties and picnics as you can cook more meat in one turn. We would also recommend it for large families.
Currently, the model with great improvements will cost you the same price.
Pros
easy cleaned durable materials
works on gas
32% more cooking area
more powerful
burner valve included
push-button ignition
preheating function
thermostat included
catch pan underneath for meat juice collection
Cons
very heavy
may feel more difficult for transportation and on-the-go use
inconvenient gas-connector location
unbalanced lid and body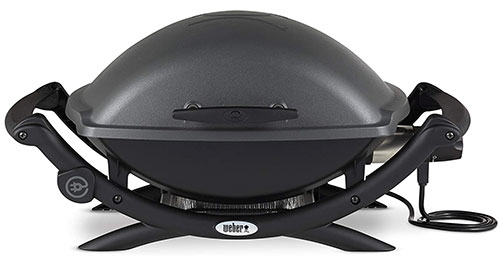 We close our models' list with another representative of electric grills. Weber Q1400 and Q2400 require electricity supply, but while the first was a basic-level option, the Q2400 borrowed some pleasures of the previous products.
If you want to get the maximum 280 square-inch cooking area in an electrical grill model, choose this product. The brand guarantees just the same excellent flavor and taste with even roasting as seen in the gas modifications.
Unfortunately, the manufacturer didn't improve the cord. Among drawbacks, you should also be ready for a heavy body, though dimensions are smaller than in the Q2200 grill.
Like the Q1400, Weber Q2400 is perfect for home parties but for more people. In our opinion, it hardly suits for picnics because of the supply method and weight.
The unit is also quite simple in terms of equipment as it features no thermostat, fold-out tables, etc.
Pros
easy cleaned durable materials
uses electricity
suitable for home use
32% more cooking area
more powerful
burner valve included
preheating function
catch pan underneath for meat juice collection
Cons
overpriced
very heavy
no thermostat
short cord
gas-connector and balance problems
Design and Dimensions
Weight and dimensions are essential characteristics for any BBQ grill as they are supposed to follow you wherever you go with maximum comfort. The models presented have the following dimensions.
Weber Q1400: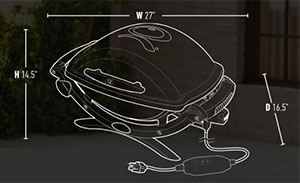 23.5″ x 27″ x 20.5″
29.5 pounds
Weber Q2200: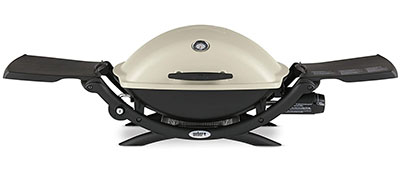 25.1″ x 51.4″ x 26″
42.5 pounds
Weber is a professional and experienced manufacturer; that's why its products feature a very compact size. But when it comes to weight, the last two models lose this battle.
However, whatever product you choose, you'll definitely get high-quality materials. All grills feature cast aluminum lid and body resistant to weather impacts and corrosion. Inner parts include porcelain-enameled cast-iron cooking grates and stainless steel burner. Grates eliminate burning and food particles adhesion, which makes cleaning significantly easier.
Most models boast plain moderate colors like chrome in the Q1000 and gray in the Q1400, Q2200, and Q2400. However, if you miss bright colors, pick up Weber Q1200 that offers as many as 6 options from classic black and white to cheerful orange and red.
Fuel Type
As we said, the manufacturer produces grills of two fuel types.
The Q1000, Q1200, and Q2200 are gas grills that require Liquid Petroleum Gas only.Gas is stored in special cartridge cylinders. Unfortunately, they are not included in the kit, so you'll have to purchase them separately. There are two capacity options – 14.1 oz. and 16.4 oz. Cylinders are attached on the grill's side and require no additional tools for installation.

Attention

Please remember that gas is a quite dangerous substance that may cause poisoning and fire. Liquid Petroleum has an odor similar to natural gas. So please pay attention to this odor and always check your grill on possible leakages.

Weber gas grills are equipped with a gas pressure regulator. Inside, under the cooking grates, they have a D-shaped burner tube where gas evenly distributes and comes out in flames through numerous portholes.

The second fuel type is presented by electrical grills Weber Q1400 and Q2400. These models work from a common outlet and require 120V.You don't have to purchase additional cartridges here or worry about leakages. Just plug your grill via a 6 ft cord and enjoy cooking.Instead of a burner, the Q1400 and the Q2400 feature a heating element. Its location and aim are the same.
Many users believe gas to be better for flavor, taste, and even roasting. However, we note that both heating systems cover all cooking area and evenly heat it for thorough roasting. The only issue may hide in temperature retention as gas grills stay hot longer with less energy consumption.
verdict
The choice of the most appropriate fuel type is absolutely yours. On the one hand, gas is more dangerous, but with proper safety measures and compliance with the rules, there is nothing to worry about. Besides, gas provides you with freedom of movement, no matter where you want to go.
Electricity is safer, but you're tired to an outlet and cannot go to the picnic in a forest, mountains, beach where electricity is not provided.
Cooking Area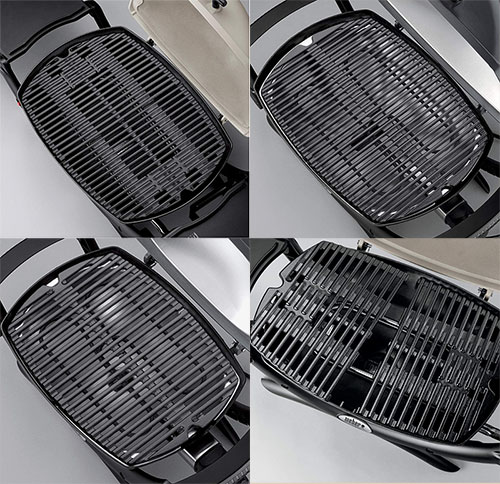 All models are equipped with dual cooking grates.
verdict
Undoubtedly, the more the cooking area, the better. However, we would recommend you mind that big grills are bulkier and, consequently, are not so convenient in transportation. Pick up the largest models if you like giant parties. Otherwise, 189 square inches is more than enough.
Ignition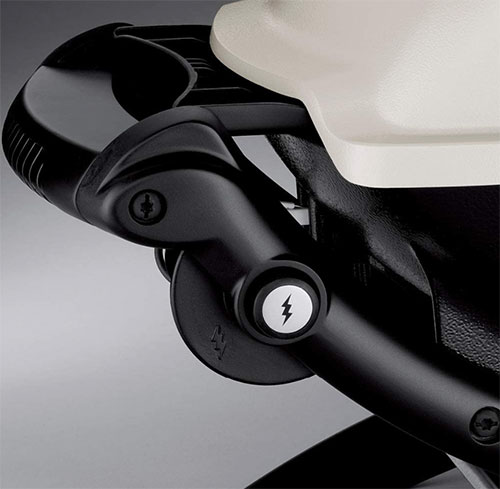 Gas grill models offer a convenient electrical push-button for quick ignition. The button is located on the right front side and works from a regular battery.
To burn the grill, you should push the burner control knob in and turn it to the start/high position. Then press the igniter button several times until so it clicks each time.
important
Attention! It's important to close the lid beforehand and wait for several seconds after ignition to allow the gas to burn.
You can also ignite the burner the old-fashioned way with a match.
Electrical Weber Q1400 and Q2400 grills have no ignition as they automatically start heating as soon as you plug them.
Burner Valve
Weber grills feature adjustable temperature control with a burner valve. You can't specify a certain temperature but can evenly change it with the valve turning. The scale starts with OFF and reaches the High position.
The minimum temperature available is 150°F. The maximum temperature is 600°F or 300°C. Heating to this level takes about 20-30 minutes.
The manufacturer also recommends performing a preheating procedure before each use. Just set the valve to the High and wait for 10 to 15 minutes.
Thermostat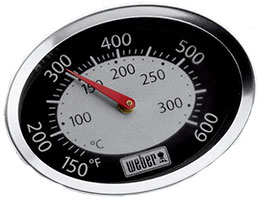 A thermostat is a crucial addition to any grill as it helps set and control cooking temperature with maximum ease and comfort.
Let us briefly remind you that only Weber Q1200 and Weber Q2200 come with this unit.
However, if you'd like both to save on the grill and get a thermostat, you can choose a cheaper model, purchase a thermostat separately, and install it. Weber offers a nice series of such accessories.
Fold-Out Tables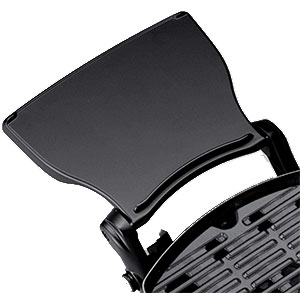 Once again, only the Q1200 and the Q2200 are complemented with dual fold-out tables. These elements cannot boast large dimensions, but they significantly contribute to the ease of cooking and storage.
Tables allow you to get quick access to tool accessories like a spatula or hands-free locking tongs.
The only drawback is that the tables are not very durable and solid. Plastic design means we cannot load them too much. The maximum you can put there is a couple of beers, plates, or glasses.
Catch Pan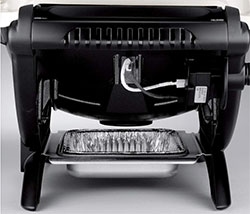 All Weber grills are designed to protect the environment and prolong cleanliness. The inner grease collection system funnels grease away and directs it to a removable catch pan. This easily collects meat juices, never allowing them to dirt the grill and surroundings.
The addition is essential since excessive grease may cause pollution and even fire.
Weber also allows you to line the removable catch pan with a Weber disposable drip pan, which will help keep the removable catch pan cleaner longer.
Accessories
In fact, the kits are quite modest. Apart from the grills themselves, the brand offers:

thermostats (in certain models)
one drip pan
user's manual
5-year warranty
That's it. Unfortunately, the most necessary units are sold separately here. Most of all, we lack a portable chart.
You can also spend some more money and complement your kit with other handy accessories such as a set of cooking tongs, spatulas, barbeque cover, etc.
Guide: How to Choose the Best BBQ Grill?
There are lots of nuances in choosing a BBQ grill for picnics and backyard use. Lots of things should matter. First of all, answer the following questions:

How often are you going to use it?
How many people are you going to cook for?
Where are you going to place it? Perhaps, you're looking for a portable model for summer journeys?

Grill Size.
The size of your grill directly influences the amount of meat and other food that may fit there. If you choose a small grill for a large family, you'll have to cook in several turns, which is often inconvenient. Don't forget to calculate how often you will use the grill and how many people will eat your delicious masterpieces.
Grill Materials and Weight.
Portable, chart grills, and electric models are usually made of metal, which is the best option in terms of heat retention and lightness for ease of transportation. Stationary grills can include fireproof bricks, and here, weight doesn't matter.
Wall Thickness.
If you plan to use your grill from time to time, thin walls (about 1 mm) are sufficient as they will warm quicker. The oftener you apply your grill, the thicker walls you need.
Safety.
In fact, fuel type may influence the safety feature. Thus, electric grills are considered to be the safest. However, regardless of the type chose, the grill must be fireproof and insulated to prevent burning. A lid is another thing to mind as it also ensures the safety of using the barbeque.
Fixity.
To set up a grill, you will have to look for a relatively flat and clean area in your backyard. In a perfect world, you're supposed to specially prepare your grill surface in advance, like laying out the floor with decking or wooden planks. But this is not always possible, so the stable position of the grill is an important factor. Choose models that stand firmly on legs or choose portable and electric grills that can be placed on a table or chart.
Accessories.
When choosing, please firstly pay attention to whether the grill is transformed into a compact, easy-to-carry unit. Also, choose the right kit depending on the purpose you're pursuing. Some models come with additional cooking accessories, covers, maintenance and cleaning solutions.
Frequently Asked Questions
1. What is the best Weber Q grill?
We would recommend you pay attention to the Q1200 and the Q2200 modifications. They suit both domestic and on-the-go use, boast excellent heating power, and have the widest kit, including thermostats and fold-out tables. The only difference is the cooking area size, Weber Q2200 is bigger.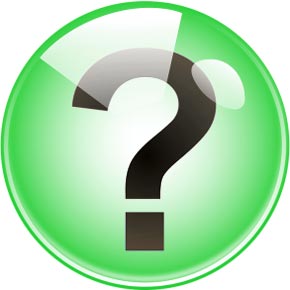 2. Can I use my Weber Q electric grill indoors?
Though electric models are designed for domestic application, safety rules strictly prohibit their usage indoors. All grills produce dangerous CO2 gas that will cause poisoning and even death. You may apply your electric grill on the balcony, terrace, and other open spaces.
3. Can I leave my Weber Q grill outside?
The Q models can be stored outside. Units are made of stainless steel and cast aluminum, which means they are resistant to various weather conditions. Your grill won't rust or fade. The lid will protect the inner parts. However, we still recommend you to remove your grill inside we not in use. This will significantly prolong its life.
4. How long do Weber Q grills last?
With proper storage and maintenance, your Weber grill may last up to 10 years.
Conclusion
The comparison allowed us to make the following conclusions on the Weber grills.
Further reading and references: