Leatherman Wave, Surge, Charge – which one to choose?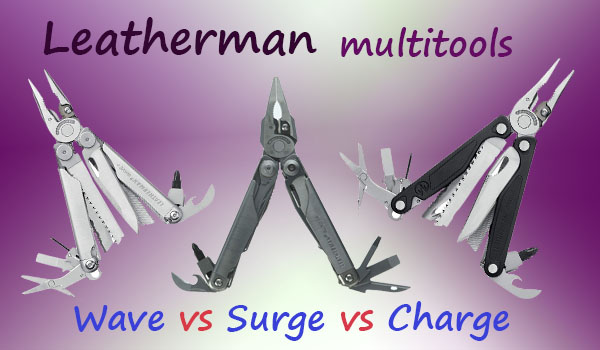 If you are looking for the best multitools, you can never go wrong with Leatherman.
This is the most popular brands in this industry and arguably the best. The company offers several types of multitools available is a range of models.
In this article, we have compared Leatherman Wave, Surge and Charge which are the best selling models.
We will put the three in a face to face comparison, analyzing all the critical factors that should inform your purchase decision.

To start, here is a short history of the company and the highlights of the three multitools.
About Leatherman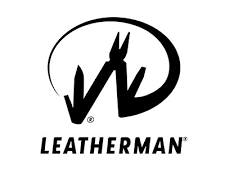 Established in 1983, Leatherman is an American company that manufactures high-quality multitools and a wide array of pocket survival tools including pocket knives.
It is, however, famous for the EDC tools and has been labeled as the industry leader. The founder, Timothy S. Leatherman came up with the idea of a single, versatile and lightweight tool that could accomplish more than one task.
In the first year, the company had instant success, selling over 30,000 units and since then, they have never looked back.
The success of the company is much accredited to its cutting-edge designs and product dependability. Unlike most competitor brands, this company manufactures all its products in the USA, though some materials are sourced from overseas.
In 2006, the company was up against an 18m lawsuit for false advertising. In the allegations, it was found that indeed, Leathermans are not 100% American as the files and corkscrews are from Europe, while the pliers' jaws are from a US company that shifted production to Mexico.
But the court noted that since only 5 out of the 30 components that make up the multitool are imported, there was no case to answer. At the end of the day, 83% of the components are locally sourced, and this exceeds the 70% threshold.
As mentioned earlier, Leatherman is famous for its multitools, and the battle for the best multitool pits Leatherman Wave vs. Surge vs Charge.
But there are other models including the Pulse, Fuse, Skeletool, Wingman, Juice, and Squirt, among others.
Comparison Table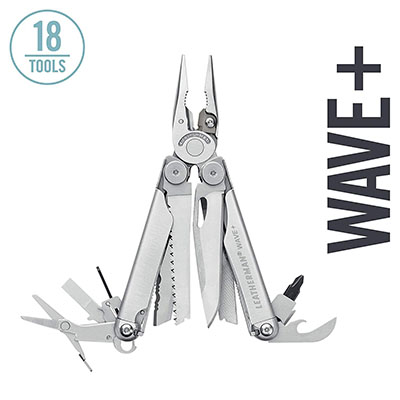 The Wave Series is the most popular in the full range of Leatherman multitools. At the time of its release in 1998, it was the first tool that offered users access to other tools when the main pliers head is closed.
Today, the latest Wave models boast some of the best features you'd wish for in an EDC multi-tool.
Over the years, the series has been evolved, and today, the Wave series boasts five different models.
Two have been retired, and these are the Wave Original with 16 tools and Limited Edition Damascus Wave with 15 tools.
The remaining three are the Wave + with 18 tools, Heritage Wave + and classic leather sheath with 18 tools and the Black & Silver Wave, a Limited Edition with 18 tools also.
In this comparison, we will dwell on the Wave + which is the bestseller in this series and is also customizable.
It comes with replaceable wire cutters and is available in two colors; stainless steel which tags along with a black nylon sheath and the black Wave which comes with a MOLLE black sheath.
If you want value for money, this is the best Wave multi-tool.
The Charge Series is also a popular range in the Leatherman portfolio and was made available in 2004. It features a more robust design and offers excellent versatility and value for money. Just like the Wave, there have been changes, and today, the series boasts nine different types of multitools.
The first two models were the Charge Ti and Charge XTi, full-sized multitools discontinued in 2008. Charge Ti has 17 tools while Charge XTi has 16 tools.
The list also featured a collaboration between Leatherman and LED LENSER, and we got the Charle AL PREP KIT which has also been retired.
In 2007, four more models were released, and these are Charge AL with 17 tools, Charge ALX with 18 tools, and Charge TTi with 19 devices.
Today, the line has been expanded with newer models including Charge TTi RealTree Camo, with 18 tools and the new Charge+ TTi Damascus with 19 tools and these two are Limited Edition variants.
There's also the affordable Heritage Charge+ with 19 devices, the customizable Charge + and Charge+ TTi both with 19 tools and the new Charge+ Forest Camo also with 19 tools.
In this review, we will discuss the Charge+ which is a bestseller and actually the most affordable model in the Charge Series. Above all, it is available in two colors; stainless steel and black.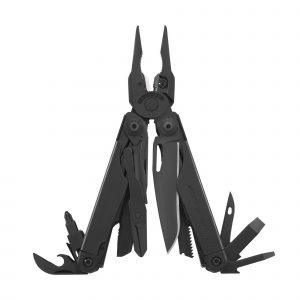 If you want the best heavy duty and full-size multitool, look no further than the Surge.
The Surge Series was introduced in 2005 and owed much of its design to the 2004 Wave. However, It is bigger, better, and most importantly, it comes with more tools.
So far, there are two Surge models in the market.
The first is the original Leatherman Surge which includes 21 tools and is available in two colors; black with a MOLLE black sheath and stainless steel with a black nylon sheath.
It was updated in 2013, and the original version was rested because of several flaws which were now fixed in the 2013 Surge.
We also have the Black & Silver Surge which also comes with 21 tools, but this is a Limited Edition so you might not find it on the shelf every other day.
In our multitools comparison review, we will go with the Surge original as it is the bestseller and is readily available.
Leatherman Wave vs. Surge vs. Charge
Now, let's get to the core business of the day; comparing the three multitools. As we said earlier, in this review we will compare Charge Plus vs. Wave Plus vs. Surge 2013.
Buying the best brand is the first thing you should do if you want value for your money. Leatherman is among the best brands but then, what else should inform your decision?
The best approach here will be to compare the factors we consider when buying multitools. We will be highlighting what each model offers for every aspect and declare the best choice.
Activity


Before setting out to buy a multitool, assess the activities you engage most in so that you end up with the right Leatherman.
Different contexts call for different tools. For example, an electrician's needs may not be the same as those of an adventurer.
While Leathermans are much considered versatile, it isn't always the case. Here is what the Oregon-based brand recommends for different activities.
The Wave Plus is an excellent multitool for everyday carry as it is lightweight. It packs all the tools the day to day DIY enthusiast would need. It is also an invaluable addition to any adventurer's gear.
The Charge Plus resembles the Wave in many ways including the applications. It is lightweight and easily portable making it best for the outdoor fans, EDC multitool, DIY enthusiasts among others.
Lastly, the Surge is for the big boys. If you want a full-size multitool, this is your choice as it comes with more tools. T is ideal for the carpenter apprentice and professionals. I wouldn't recommend it for EDC because if the weight and size, and again, you won't need all the 21 tools.
verdict
Winner: I wouldn't say that there is a better choice because each one is special in its way. What a carpenter apprentice may not like is what could be resourceful for a camper.
Design, dimensions, and weight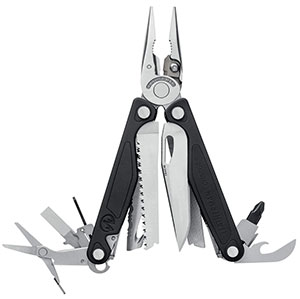 An ideal multitool should be ergonomic, compact and lightweight. Also, everyone wants something aesthetic and appealing though this is a secondary consideration.
A compact and lightweight design are fundamental if you are looking for every day carry (EDC) multitool.
So which of the three Leathermans is the best here?
The Wave Plus is a compact multitool that measures just 4-inches when fully closed and weighs about 300 g (0.7 lbs).
Charge Plus is similar to Weave as they are bot 4-inches when closed, but Charge is slightly heavier weighing about 350-400 g (0.9 lbs).
The Surge is a medium option. It measures 4.5-inches when closed and weighs 335-350 g (0.76 lbs).
verdict
Winner: If you are looking for portability, Wave Plus is the best choice. Surge may sound like the loser here but remember it comes with extra tools so definitely; you expect it to be heavier and a bit larger.
Number of tools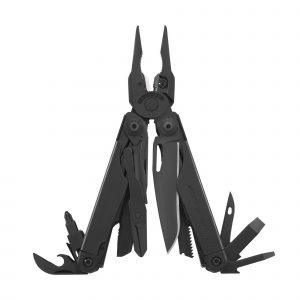 This is perhaps the most important consideration when shopping for a multitool.
Ideally, you want a kit that has the most amount of tools.
So, what do Charge Plus, Wave Plus, and Surge offer?
The Wave Plus comes with a set of 18 tools.
In Charge Plus, you get 19 tools.
Lastly, the 2013 Surge tags along with 21 tools.
verdict
Winner: You'd want to go for the Surge anytime because it has the highest number of tools. However, there are other Dynamics. So, in as much as you want the highest number of tools, it's imperative that you understand the tools themselves, and what they do. That takes us to our next topic.
We will be comparing the tools that Charge, Surge, and Wave come with. So, if you are green about multitool features, brace up for a Leatherman tools exploration.
Blades


You will agree with me that cutting needs are common so among the must-have tools you need is a knife blade. All multi-tools have blades, but then, there is variety – from the serrated to the non-serrated and the short blades to large blades that can handle larger cutting tasks for example rope, cordage, rubber, and styrofoam.
The Charge Plus has been designed with two knife blades as well; you get a flat blade and a serrated one but are. The duo is identical to the Wave Plus, especially in terms of dimensions. They are both 2.9-inches and have a 2.7-inches cutting edge just like the Wave. At the back of the serrated blade, we have a cutting hook. The Leatherman Charge flat blade is S30V Stainless Steel while the serrated blade is 420HC Stainless Steel.
verdict
Winner: It is quite hard to decide a winner here because there is no much difference between the three. While the Surge may have a larger pair of blades, the .05 length difference is negligible. However, the extra cutting hook that comes with the Charge makes it a worthy purchase if you need this additional cutting ability. It also has an upper hand courtesy of the S30V stainless steel which maintains its sharp cutting edge for longer and is easier to sharpen.
Scissors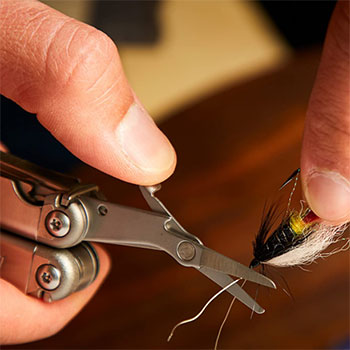 You will need to cut paper, fabric, and other similar materials very often and in this case, a knife blade won't be beneficial. If you don't have a pair of regular scissors with you, your Leatherman will come in handy as it is equipped with scissors.
Almost all full-size multitools come with scissors, but there may be differences in the size, functionality and cutting ability as well.
Wave Plus and Charge Plus have a similar pair of scissors. They are both identical in shape and size and work based on spring action.
One problem is that the duo have not so good construction, and the scissors' springs may not hold up for very long is you are a heavy user.
As for the Surge, we have a bigger pair of scissors that work on the same spring action principle and will hold up much longer than Wave and Charge. If you want to cut larger materials, this is your best choice.
verdict
Winner: Even though the difference is size is negligible, you'd get more out of the Surge than the Wave and Charge. Also, the fact that the spring action in Surge is more robust than the other two should tell you that Surge is the best choice here.
Saw
There are some cutting tasks that the serrated blade can't handle, so Leatherman brought on board a saw. This is a standard tool in many multitools but let's find out how efficient it is in the three Leathermans.
Charge Plus comes with a wooden saw similar to that in the Wave Plus. Measuring 2.9-inches just like the blades, it is located just next to the serrated blade. It cuts through the small planks, PVC and other materials of the sort easily.
verdict
Winner: Here, we could go for the Surge if you are not concerned with the extra weight. The Blade Exchanger makes switching from the knife blades to saw blades a buzz. The saw blade is also larger meaning you can cut larger limbs, sticks, and planks more easily than using g the smaller Charge and Wave wooden saw.
Blade Exchanger

The Blade Exchanger is a new feature which holds the blades and saw in position and allows the tools to be swapped out. This is a similar feature to the Bosch jigsaw blade.
Only the Surge comes with the Blade Exchanger. Easily swap out the blades and even use the Bosch Jigsaw blade. Even though it is loose and wiggles a little bit, it is firmly attached and won't snap out.
verdict
Winner: Charge and Wave lack the Blade Exchanger but does this make them less desirable? Well, the fact that the Blade Exchanger makes swapping out blades possible and easier makes Surge the best choice.
Drive bits and screwdrivers
You will agree with me that screwdrivers take a lot of space and carrying them around is a pain in the ass. They are bulky, and you can easily lose them.
Fortunately, Leatherman incorporates screwdrivers and bit drivers in their multitools so you can quickly drive screws on the go.
Let's examine the kind of drivers that accompany the Charge Plus, Wave Plus and Surge 3.
The Charge Plus includes a single medium size flat head screwdriver for tightening and loosening small screwdrivers.
Additionally, there are two bit-drivers. The bits can use both Leatherman's proprietary bits.
Regarding the included bit drivers, you get:

Square Driver #1 & #2,
Eyeglass Screwdriver,
Hex 5/32 & 9/64″,
Hex 1/8 & 7/64″,
Hex 3/32 & 5/64″,
Hex 1/16 & 0.050″,
Phillips #1-2 & 3/16″ Screwdriver,
Screwdriver 1/8″ & Torx #15.
Surge comes with three pieces. We have the two traditional drivers made with tough steel shanks.
They are both flatbed screwdrivers and come in two sizes;

small 1/8″ flat blade screwdriver
large 5/16″ screwdriver.
The other piece is an exchangeable bit driver which uses the 3/16 bit fitting only yet we expected it to have the standard ¼" bit driver.
With the Surge, you get:
Phillips #1-2 & 3/16″ Screwdriver bit drivers.
When it comes to Wave Plus, we have a medium sized screwdriver for loosening and driving in small to medium screws.
For more flexibility, there are two bit drivers; a large one for large screws and a small one for the tiny screws.
Unfortunately, just like the Surge, it doesn't use the standard ¼" bit driver; only the Leatherman proprietary bits.
The included bit drivers include:

an Eyeglass Screwdriver
Phillips #1-2 & 3/16″ Screwdriver.
verdict
Winner: There are three things to consider when finding who's the winner in this Leatherman Wave vs. Surge vs. Charge multitool drive bits and screwdrivers battle; the number of screwdrivers, number of bit drivers and the bits included. As far the dedicated screwdrivers are concerned, Surge carries the day because it comes with a large and small screwdriver while Wave and Charge have the medium screwdriver only. As for the bit drivers, the Wave and Charge are the best because they come with two bit drivers (large and small). Lastly, if you want the most number of bits in the package, grab the Charge Plus as it comes with a 9-piece kit.
Please note, while the Surge and Charge don't work with standard 1/4 inch bits, you can purchase bit extenders and work with the standard size bits.
Wire cutters
These tools come in handy when you want to cut wires; whether soft or hard wires. Most Leathermans feature wire cutters, but they vary from one model to another.
Let's compare the wire cutting tools offered by Charge, Wave and Surge.
The Wave + and Charge + are quite similar here. They have two wire cutters; one for cutting soft wire and another robust one for hard wire.
On the other hand, the bigger Surge comes with the two wire cutters for hard and soft wires alongside stranded cutters. A small opening allows you to get clean wire cuts without damaging the inner strands.
verdict
Winner: Definitely, the Surge is the best because of the extra function.
Awl
One of the newest features in multitools is the awl. For starters, an awl is a tool that allows you to punch holes through leather and other hard materials that require high accuracy and precision.
Only the Leatherman Surge has an awl with thread loop. This is one of the features that make the Surge the best multitool despite the Wave's popularity.
verdict
Winner: If your work involves punching small holes on leather and other hard materials, you definitely have to get the Surge. The Wave and Charge lack an awl.
Ruler
Even though it's measurements are limited because of the compact size of multitools, there are those small-scale measurements you can take with your multitool if you can't access your regular tape measure when working on small projects.
The ruler has been a standard feature in most of the Leatherman multitools, and the three models include it. You can measure up to 8-inches / 19 cm.
verdict
Winner: We don't think there is a winner here because they can all measure the same lengths. Contrary to our expectations, the larger Surge doesn't have an edge here despite its larger overall size. For that reason, it's a draw.
File
One of the best tools to be added to a Leatherman is the file. Now, you can enjoy the service of sandpaper in a single device. In addition to that, you can sharpen your cutting tools on the go without carrying the entire regular file.
When buying a multitool, always go for a model that offers a file for both tasks.
The Leatherman Wave +, Charge + and Surge 3 come with a sturdy dual-design file.
On one side, you get a panel that replaces regular sandpaper though it doesn't guarantee the best results on all surfaces. There is also a diamond coated file for sharpening your chisels, blades, and scythes at the job site.
The file in the three multitools measure almost the same as the knife blades, so you have to be patient when working as it covers just a small area when filing.
verdict
Winner: There is no winner as far as the files are concerned. All the three offer the same features and functionality, so this shouldn't be a concern.
Bottle/can opener and wire stripper
Multitools feature bottle and can openers, so you need not the keyholder bottle opener or a penknife.
You might also need to strip wires efficiently and safely so it would be essential to find out whether these three come with a wire stripper.
The Leatherman Charge, Surge and Wave all come with bottle/can opener which come in handy when opening drinks. Besides, you can cut open tin cans. If you are a camper, this is a feature you don't want to miss out on.
You also get the wire stripper in all the models. This is a notch on the side of the bottle/can opener.
verdict
Winner: There is no match here as all the three models feature the can/bottle opener. These are the most important tools as the wire stripper isn't so practical. The blade will do a better job, in a better fashion.
Aftermarket accessories and services
You also need to know which are the accessories and add-ons you can buy separately to increase productivity and convenience with your multitool. Let's see what attachments are compatible with the Charge Plus, Wave Plus, and Surge.
1. Leather sheath
The standard nylon sheath isn't the best as it doesn't hold up the weight very well. A leather piece comes in very handy as it is firm and won't say your trouser.
There is a leather sheath by Leatherman that fits the Surge very well.
Charge, on the other hand, has a black leather sheath and a natural brown for the Heritage series.
As for the Wave, you will have to put up with the standard nylon sheath.
verdict
Winner: No winner here because the extras come as separate purchases. As far as the Leatherman Wave vs. Surge vs. Charge discussion goes, they offer the same thing.
2. Customization
If you want your name engraved on your multitool, Leatherman has got you covered.
Some models are customizable while others are not. Let's see which is the best customizable Leatherman.
The Wave +, Charge + and Surge are all customizable making them the perfect gifts. However, note that not all the Wave and Charge models can be engraved.
verdict
Winner: Each model supports different customizable tools, so we cannot highlight one winner here.
3. Bit extenders
Leathermans have been criticized a lot of their proprietary bit sizes, but at least they have offered a solution.
You can now increase productivity with a bit extender. This is a kit that includes additional bit drivers.
The Surge comes with some bits, but this is not enough as you can't use standard 1/4-inch bit drivers which are the standard. Fortunately, with the Leatherman bit extender, you can use the standard drivers.
As for the Charge Plus, you can also purchase this bit extender, but we don't find it a necessity bearing in mind it comes with almost all the bits you will need. But bearing in mind, you can't use the standard 1/4-bits.
Leatherman Wave Plus users will also find a bit extender very resourceful considering it also comes with few bit drivers. Of importance, you can use the standard 1/4-bit drivers with the Leatherman bit extender.
verdict
Winner: All these are extras you pay for separately so there can't be a better Leatherman based on the bit extender.
4. Carry-on accessories
Leathermans come with several attachments that allow you to carry them safely and conveniently.
Below are the carry and safety accessories available for the Charge, Wave and Surge.
The Surge, Wave and Charge all come with a pocket clip and lanyard ring.
verdict
Winner: No winner here again because the three Leatherman work with the pocket clip and lanyard ring.
Warranty & after sales
The warranty covers you in the unlikely event your tool gets damaged. On the other hand, after sales encompasses customer support and availability of resources like accessories and a knowledge base perhaps.
The Surge, Charge, and Wave all come with the same 25 years warranty. I was amazed by the genuineness of the company which actually replaced my Leatherman Wave original. As far as accessories are concerned, there is plenty to choose from as earlier discussed.
verdict
Winner: There's not a better choice here as the trio are from the same brand and offer the same terms.
Leatherman Wave vs. Surge vs. Charge Winner
There is no winner in this multitools comparison review because they are each designed to suit different needs. All we can say is that they are all great multitools built to last and offer handy help when you don't have your toolbox around.
We recommend the Leatherman Wave Plus if you are looking for a lightweight and easily portable multitools for outdoor adventure. It's also the best affordable Leatherman.
The Charge Plus is an excellent deal for electricians and those who need to drive screws often as it comes with 9 bit drivers.
Lastly, the Surge is for those looking for a full-size heavy-duty multitool as it comes with the most number of tools.
Frequently Asked Questions
1. What year did the Leatherman Wave come out?
The first Leatherman Wave came out in 2004 but has been revised twice. We have the 2007 revision and the recent Wave.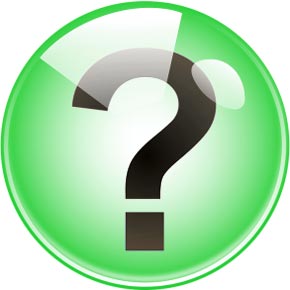 2. What year did the Leatherman Surge come out?
The first Surge was introduced in 2005. In 2013, it was retired, and a new Surge was introduced, this is the current model.
3. What year did the Leatherman Charge come out?
The Leatherman Charge came out in 2004.
4. Are Leathermans legal in the US?
A Leatherman multitool has a blade, and that means it's a weapon. If yours doesn't have a blade, there's absolutely nothing to worry about.
Well, the US has only one Federal law regarding knives, and it prohibits switchblades. Leathermans don't have switchblades, so you're good to go.
However, there are further state laws that govern ownership and use of blades. Make sure you are conversant with the laws of each state, especially when moving from one state to another.
There are three principal laws you need to be conversant with. First, are you allowed to own a multitool? Second, are you allowed to carry a multitool? And third, if you're allowed to carry it, should you have it with you in open carry or concealed?
Even though each state has its law, there's how the law is phrased such that your intent matters a lot. If you are pulled over for a random search and the cops find your Leatherman in the glove compartment, no problem. However, when using your Leatherman in a brawl, you're most likely going to be arrested.
5. Can I bring my Leatherman multitool on an airplane?
No, multitools are not allowed inside a flight as open carry or concealed. You can, however, bring your Leatherman multitool as checked-in luggage. As long as they are carefully wrapped, you shouldn't have a problem with security. Just a reminder, there are multitools without blades, and these aren't considered dangerous so you can come with them in the cabin. In fact, there are some TSA approved Leathermans. That is allowed on paper, but you will surely find trouble with the security – they have the last say on what comes on board.
6. Which Leatherman has the most tools?
So far, the 2013 Surge has the most number of tools. It has bigger pliers and blades and packs a total of 21 tools.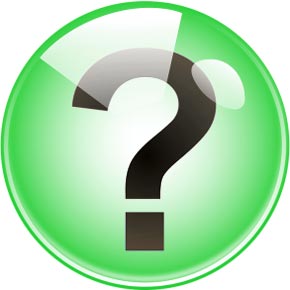 7. What is the best Leatherman for camping?
Surge may sound a great idea here, but it's not the best because it's big and bulky. The Wave + should top any outdoor enthusiast's wish list because it is lighter and has all the tools you'd need. None of the extra tools the Surge offers are a must have for campers.
8. What is the most popular Leatherman tool?
The Wave is the most popular Leatherman multitool.
9. Which is the best Leatherman with awl?
The 2013 Leatherman Surge is the best multitool with an awl.
10. What is the biggest Leatherman tool?
The Surge is the biggest Leatherman and tags along with 21 tools.
11. Are Leathermans Made in the USA?
Leatherman products are assembled in the USA. 83% of the components are made locally while 17% are sourced from Europe and Mexico.
Wrapping Up
That is all we had in this comparison review.
As you have seen, there is no better choice because the three have been specialized for different needs.
But as far as functionality is concerned, Surge is the best courtesy of the 21 tools and when it comes to affordability, Wave Plus is the best bang for the buck.
Lastly, if you want value for your money, grab the Charge Plus, and you won't have to buy additional bit drivers as it comes with nine.
Further reading and references:
Recent Updates
28 of January 2021: As we've stated above, all three Leatherman multitools are customizable models. Now, we get more information on replaceable elements available. Users can complement the Wave +, Charge +, and Surge with wire cutters and files.
14 of February 2021: Leatherman provides engraving service for all its multitools if you order the product from the company directly. All you need is to note you'd like a gift engraving.
11 of April 2021: All three Leatherman multitool products are still available on Amazon and Leatherman official website.