STIHL vs Husqvarna; What is the Best Chainsaw Brand?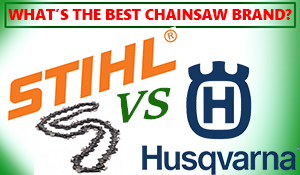 The debate on the best chainsaws has always been around STIHL vs. Husqvarna. These are two of the most popular chainsaw brands in the market. Each of them has a fair share of fans, as well as haters, and there has been no conclusion on which brand is the best;
Husqvarna or STIHL?
The truth of the matter is that most of the opinion out there is subjective. While a hundred STIHL owners may be happy with their chainsaw, a few dissatisfied customers may tarnish the brand. This is the same case for Husqvarna as well as the other chainsaw brands including Greenworks, Makita, DEWALT, and the rest.
For many would-be buyers, settling for either STIHL or Husqvarna may prove to be one big dilemma. One instinct tells you to go with Husqvarna while the other instinct may favor STIHL for some reason.
Today, we want to separate the myths from the facts and find out what the best chainsaw brand is. To start this review, here is an overview of the two brands.

Image

Weight

Power Source

Power output

Operating noise level

Further features

Check
Price


STIHL MS 250 C-Q
5,7 kg
Electric
2,5 kW
94 dB-105 dB
QuickStop Super Chain Brake
Reduced-Emission Engine Technology
Check Price

STIHL 261 C-M
4.9 kg
Gas
3/4,1 kW/bhp
104 dB-116 dB
Anti-Vibration System
Pre-Separation Air Filtration System
Side-Access Chain
Reduced-Emission Engine Technology
M-Tronic™

Check Price

Husqvarna 460 Rancher
12.79 lbs
Gas
3.62 hp
104 dB-114 dB
Smart Start
LowVib
X-Torq®
Combined choke/stop control
Check Price

Husqvarna 455 Rancher
12.8 lbs
Gas
3.49 hp
104 dB-114 dB
X-Torq®
LowVib®
Smart Start®
Check Price
STIHL – is Popularly Known For Chainsaws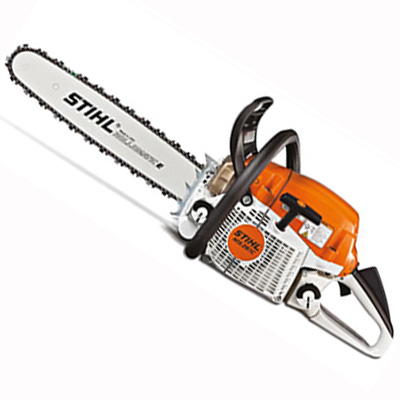 STIHL is a German brand established in 1926 as a manufacturer of chainsaws, trimmers, cultivators and several other types of equipment.
But unlike Husqvarna, STIHL is popularly known for chainsaws probably because Andreas Stihl, STIHL's founder manufactured the first saw. That said, you can see that it has the upper hand in the chainsaws market.
Today, STIHL makes a range of chainsaws for different purposes; from light-duty chainsaws to disaster management saws.
Some of the most popular STIHL chainsaws include; STIHL MS 250 C-Q and STIHL 261 C-M. Some of their popular technologies include M-Tronic technology, Anti-Vibration system, and so on.
Husqvarna – Not Machine Specific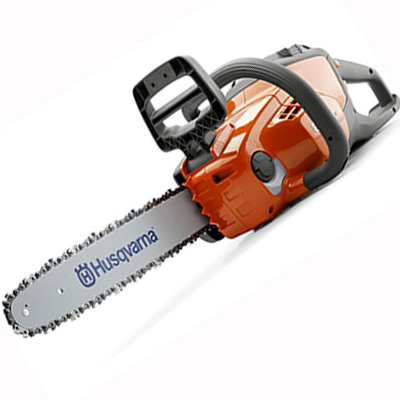 Husqvarna Group is a Swedish brand that manufactures outdoor power tools. Their product portfolio stretches from small power tools like drills and chainsaws to large equipment like mowing tractors and construction tools and equipment.
Having been in business for over 300 years, Husqvarna has successfully built a reputation for itself. In the chainsaws market, it has asserted itself as the best chainsaw brand.
This is after the company invested heavily in a new chainsaw plant back in 2013. It offers a wide range of chainsaws; from domestic/residential chainsaws to professional grade.
Some of the most popular chainsaws from this brand include Husqvarna 460 Rancher and Husqvarna 365. Husqvarna is also behind several top chainsaw technologies including X-Torq, AutoTune, among others.
All you need to know about Husqvarna and STIHL Chainsaws
Now that we know a thing or two about STIHL and Husqvarna, it's time we look at a few things about the two brands.
We will look at some of the critical factors that are considered when buying chainsaws. This will help you make the right choice depending on your needs and expectations in a chainsaw.
We will also offer some great tips on how to ensure your chainsaw give you the best service.
So, without further ado, let's get down to business.
Types of chainsaws
If you have been in the market, you must have realized that there are different types of chainsaws. It is essential to know the different types of chainsaws available.
Also, having an idea of their pros and cons is necessary if you want to make the best purchase decision.
STIHL and Husqvarna offer a wide range of these power tools; from small chainsaws for pruning from time to time to heavy-duty chainsaws for forest harvesting and other large-scale logging needs.
Here are the types of chainsaws that you will find in the market.
Gas vs. electric chainsaws
This is the single largest classification of chainsaws. As you can see, it is based on what powers the engine. While gas chainsaws have gasoline engines, electric chainsaws have electricity powered engines.
So, what are the pros and cons of each chainsaw engine?
Gas chainsaws are by far the most popular type of chainsaws. These are professional grade chainsaws with much dominant performance.
So, if your logging projects are heavy duty, you should consider buying a gas powered chainsaw. The chainsaw uses a mixture of gasoline and oil to power the engine and lubricates internal parts.
But on the downside, they are heavy, and that explains why they are also harder to use. The weight makes balancing a real challenge, so if you are looking for something that is easy to use, an electric chainsaw will suit you best.
Another disadvantage is regarding maintenance. A gas chainsaw requires gas to run and also, frequent servicing is needed.
Also, if you are looking for an eco-friendly power tool, these are not the best; gas chainsaws are louder and emit smoke.
If you are looking for the best gas chainsaw, the war is between Husqvarna 450 vs. STIHL MS 251.
The two come with 18-inch guide bars so they will handle most of the tasks at home. But which of the two chainsaws would you buy?
Personally, I would go for STIHL because of the versatility. While Husqvarna is an 18-inch bar, STIHL can be used with a variety of bars; from 14'' to 18''. It is also cheaper than Husqvarna. But still, I'd feel heartbroken if I miss out on the Husqvarna 450 that has a larger engine; 50.2cc to be precise, compared to the 45.6cc STIHL engine. Its vibration is also lower courtesy of LowVib technology.
On the other hand, electric chainsaws run using electricity. The main advantage of
electric chainsaws
is that they require little maintenance. No gasoline, no oil, or servicing – plug and play.
Regarding environmental conservation, these chainsaws are the best; they are not as loud as gas engines and don't emit smoke. The initial cost of electric chainsaws is also cheaper compared to gas chainsaws.
Though these chainsaws have more advantages compared to the gas option, performance out rightly puts it down. Electric chainsaws are meant for light duty logging needs only. You don't expect an electric chainsaw to harvest a forest the same way gas saws would.
Still, in electric chainsaws, you will find two sub-types; corded, and cordless chainsaws.
The difference is pretty simple. While corded chainsaws have a power cord that connects to the mains, cordless chainsaws have rechargeable batteries.
Each of the two also has advantages and disadvantages.
Corded chainsaws are more powerful and will offer more extended use than battery chainsaws. But then, then, they are immobile as they require electricity. You can't take a corded chainsaw out in the woods unless you are ready to run a generator out there which is just too complicated and more expensive.
But then, this is where a cordless chainsaw comes in. They are much portable, and usage is not restricted. But then, these are for much lighter tasks. Also, they will run for just a short time.
Handling & Ergonomics. What brand is more comfortable using?
If you have used a power saw, you understand how important it is to have excellent handling. The first reason you want proper handling is for your safety.
Many power saw accidents can be attributed to poor handling. The other thing is to facilitate accuracy when splitting timber. But then, how does STIHL compare to Husqvarna when it comes to comfort, handling, and ergonomics.
You will agree with me that one of the biggest problems of chainsaw handling is the vibrations. If you have tried out a heavy-duty or professional grade power saw like STIHL MS 251 or Husqvarna 460, you understand what I am saying. But thanks to the innovation of these two brands, you can get something that is friendlier, with a significant reduction of the vibrations.
STIHL and Husqvarna have revolutionary designs that reduce vibrations by up to a half. This is courtesy of STIHL Anti-Vibration System and Husqvarna's LowVib. Almost all of the heavy duty chainsaws come with this feature. So, if you don't want Hand-Arm Vibration Syndrome (HAVS), these two are brands you can trust.
Top handle vs. rear handle
You must have heard of top handle saws and rear handle saws. The difference between the two is just as the name suggests. With top handle saws, the right hand is on the accelerator while the left-hand on the handle. Remember, chainsaws are designed for right-hand use so even if you are left-handed, you have to learn to do it the same way right-handed guys do.
On the other hand, rear handles are used in specialized professional saws, for example, Husqvarna pole saws or STIHL pole saws. Husqvarna and STIHL have both chainsaws.
But the biggest challenge is handling, but still, these two brands have tried.
From experience, I would go for Husqvarna because it offers a better grip with a 7 degrees offset handle that minimizes fatigue. Husqvarna went further beyond and built some models with heated handles. This is among the reasons that make Husqvarna 235E the best chainsaw for use in winter.
In as much as the design and features should facilitate better handling, it is vital for the operator to choose a saw that they are comfortable handling. A lot of accidents do happen when the operator picks a heavy saw. Remember, while it may be easy to lift the machine, it might not be easy to handle it when it is running, deep inside a log.
Selecting the right chainsaw size
When shopping for a power saw, homeowners undersize their needs. I know a lot of guys who are using the wrong bar size yet they are complaining that their Husqvarna or STIHL chainsaw is inefficient.
That said, you want to make sure that you pick the right size.
So, what exactly are you looking at here?
The first thing you should consider is your ability and strength. There are light saws as well as heavy saws. Make sure to check the specifications and ascertain the weight. Typically, a more powerful chainsaw is heavier.
My advice to beginners is to pick the smallest chainsaw for a start; as long as it can complete the job at hand. As you progress, you can opt for an upgrade.
The second thing you should consider is the guide bar, and this is the most critical consideration is chainsaw size selection. Guide bar length is the distance between the tip of the chain and where the bar ends right at the housing.
There are different bar lengths in the market. While there may not be a limit for what bar length to use, it is recommended that you use a chainsaw with a bar guide 2'' longer than the wood that is to be cut.
The table below will help you decide the best bar length depending on your needs.

| USE | RECOMMENDED GUIDE BAR LENGTH |
| --- | --- |
| Trimming | 12-inches and below |
| Pruning | 12 – 14-inches |
| Limbing | 14 – 16- inches |
| Small to medium trees | 16-inches |
| Firewood cutting | 16 – 18-inch |
| Bucking & heavy tree felling | 18-inch and above |
When choosing a guide bar, note that the longer the bar, the heavier the saw is. Consequently, the less maneuverable and more dangerous they become.
Chainsaw safety; STIHL vs. Husqvarna
Chainsaws make logging a breeze don't forget they are the most dangerous of power tools.
In a research conducted by the International Center for Disease Control, there are more than 36,000 chainsaw accidents. Out of this, around 6,000 victims suffered head and upper body injuries. So, the loss of life is a possibility. But most of the cases are on the arm, hand and leg area. On average, the medical cost of these injuries is around $15,000.
That said, you want to stay on the safe side to avoid chainsaw injuries.
Though you are expected to use your chainsaw safely, several modifications are available to improve user safety. It is essential to go for a brand that is keen on user safety.
Fortunately, STIHL and Husqvarna are very mindful and are known for some of the industry's leading safety features.
STIHL builds some of its saws with STIHL Quickstop Plus Q and additional braking features that can be manually activated. The system engages immediately the operator releases the rear handle. This extra feature is available only in STIHL MS 391. The rest of the STIHL gas chainsaw have STIHL Quickstop, the primary chain stopping system. But you will find that this technology is not 100% effective as it only works if the operator activates it or using inertia when the kickback force is so strong.
But then, STIHL wins the battle here considering Husqvarna only has the standard inertia activated chain brake. The extra Quickstop Plus Q gives STIHL an edge over Husqvarna. But remember, no chainsaw eliminates 100% risk of kickbacks.
Apart from the inbuilt safety features, there is a range of protective gear that will help you be much safer.
Remember, in as much as the power saw has safety features, accidents still happen and the right protective equipment will shield you from injuries in case of the worst.
So what are some of the safety features offered?
STIHL has a range of protective gear including apron chaps, eye protection, chainsaw boots, head protection, hearing protection and so on. This is the same case for Husqvarna. But credit goes to STIHL for their revolutionary hearing protectors.
Kickbacks
Like earlier said, chainsaws are not toys and can cause tragic accidents and loss of life. One of the common chainsaw accidents is kick backing and happens when the saw is forced back and up simultaneously. This dramatically exposes your upper body to cuts now that the saw is out of the operator's control.
But fortunately, we have low kickback bars and chains that help to reduce kick backing. Both STIHL and Husqvarna are kickback safe, but may not guarantee you 100% safety.
Always make sure to wear protective gear just in case.
But what causes kickbacks and can you avoid it? There are two possible causes of kickbacks. It may happen when the tip of the guide bar comes into contact with another object.
It also occurs when the bar is pinched by wood on either side of the cut. Kickbacks can end up with a fatality, but fortunately, there are safety measures you can follow to manage kick backing.

Never cut with the kickback zone
Whenever you are not cutting, use the brake
Check the chain tension before starting
What's the best Eco-chainsaw? Husqvarna vs. STIHL
With the rising awareness of environmental conservation and also local regulations, you want to buy from a brand that champions for ecological preservation.
STIHL and Husqvarna are among the leading brands that manufacture eco-friendly power saws.
While electric power saws may have less impact on the environment, gas chainsaws contribute significantly to environmental degradation. When the fuel burns, the fumes are released into the air. Besides, they are louder, so you are at risk of getting Sensorineural hearing loss (SNHL).
At least Husqvarna has shown some commitment towards conserving the environment. One of their unique features is X-Torq that ensures low fuel consumption and consequently, lower emissions. This feature is in the newer models, the likes of Husqvarna 445 and Husqvarna 450E.
On the other hand, lower electric models have savE, a feature that allows the operator to run at high or low power. STIHL also has a similar system that also reduces the amount of fuel burnt which will also reduce emissions.
But here, Husqvarna carries the day.
Warranty and aftersales
What brand offers a better warranty policy? This is an important question when comparing STIHL vs. Husqvarna. You want to get a brand that provides the most extended warranty. Besides that, genuineness is fundamental.
STIHL and Husqvarna are among the top brands, so you expect an extensive warranty. But you will realize that there are different warranties for each chainsaw type.
One thing you will note is that STIHL offers two types of warranties depending on usage. There is one for residential and domestic use and another for commercial use. Battery powered chainsaws have the most extended warranty; 3 years for home use and two years for commercial use.
On the other hand, gas and electric chainsaws have 1-year warranty each for residential use and only three months for commercial use.
Also, Husqvarna has the same warranty model that is usage-based. But then, it remains my favorite when it comes to warranty and after sales because of the Handheld Limited Consumer Extended Warranty. This is a new policy that extends the warranty of two-stroke gasoline power saws to 3 or 4 years.
Regarding warranty and aftersales, I highly recommend Husqvarna because of the extended warranty. I have also seen several cases where customers are complaining about the warranty policy. It seems STIHL is very strict with their warranty policy so you'd want to read and understand it lest you void the warranty.
Husqvarna vs. STIHL. Which brand offers the best durability?
Everyone wants something that will last forever. So, you must be wondering, what's the best chainsaw when it comes to durability? Is it STIHL or Husqvarna?
STIHL and Husqvarna are two of the best brands in the market. Besides the excellent performance, it is their durability that makes them stand out from the crowd. Regarding build quality, I must commend both brands for their choice of the best materials and design. But then, does this make the difference? No, there is more to durability than build quality.
Maintenance is a critical aspect that determines whether any tool will last for two weeks or 5 years.
Maintenance is the only explanation you can give when one chainsaw lasts longer than the other, yet they are the same model, bought at the same time and subjected to equal wear and tear.
A chainsaw is like your car engine; if you treat it well, it gives you excellent service. That said, you want to keep your chainsaw in top condition to ensure it lasts longer and also to keep running costs down.
Husqvarna and STIHL Chainsaw Maintenance Tips
Regardless of whether you are a seasonal user or frequent operator, you have to mind about the maintenance of the chainsaw.
There are several features that you may require to make maintenance easier. This is an area where Husqvarna and STIHL offer each other a run for the money.
So, what's the fuss about STIHL and Husqvarna's maintenance? We are going to look at all the maintenance needs that these chainsaws require.
Chain maintenance
The first thing you should consider is chain tension. But what exactly is chain tensioning? This is the adjustment of the chainsaw's chain to make sure it is neither very tight nor too loose. Chain tensioning may look very easy, but in the real sense, it requires high precision and accuracy. If you wrongly adjust the chain tensioning, you are likely to use more fuel because the motor is struggling to compensate for the loss. But these two brands have made it easier for operators to adjust the chain tension correctly.
STIHL comes with a Side-Access Chain Tensioner design while Husqvarna has a side-mounted chain tensioner.
But here, I like Husqvarna because models like Husqvarna 440E II can be adjusted without any tools courtesy of the tool-less chain tensioning system. For STIHL, you might require some tools.
In the event, the chain becomes dull, use a sharpener to return in in form. Sharpening the chain is very important. This is because using a dull chain is not only slow but also dangerous. You should also consider replacing the chain after prolonged use.
The chain also needs to be oiled regularly. Husqvarna and STIHL offer two types of oiling approaches; manual and automatic oiling.
Manual oiling is in these small saws for seasonal or light use, but professional grade saws have automatic oiling. But you can always oil them manually if you wish.
Engine maintenance
Many of the Husqvarna and STIHL electric chainsaws don't have any problems with the motors. But this is different in gas chainsaws. Gas saws have powerful performance, but maintenance is intensive.
So, what exactly needs servicing in your Husqvarna and STIHL gas power saw.
Air filters need frequent cleaning. A dirty air filter will cut down the performance of your chainsaw. Consequently, productivity goes down, and running costs go up. Typically, air filters should be cleaned after 5 hours of use. For seasonal users, wash it after 15 tank refills.
STIHL is an excellent saw here as it comes with Pre-Separation Air Filtration System. This feature filters out the large debris before reaching your filter. Husqvarna has not been left behind as it also has a centrifugal air cleaning system that will remove large debris before they reach the filter.
Another thing that needs to be checked regularly is the gaskets and spark arrester. These parts need to be often cleaned as the soot can cause spark arrester failure. This is why at times, your chainsaw will start and then stall. In case these parts are too clogged, consider replacing the muffler gasket, spark arrester, or both.
On average, a Husqvarna bundle of spark arrester and muffler gasket will cost you around 30 while with STIHL, you will pay a $40.
Spark plugs also need to be checked and replaced as often as possible. This is because gas chainsaws use a mixture of gas and oil, which is known to corrode spark plugs more. Make sure to clean them after around 40 hours of use.
The last important thing to note about your gas chainsaw is the fuel and fuel filter. As you all know, the fuel filter must be cleaned or replaced frequently. This is to keep at bay any residue that may get into the carburetor. This is quite straightforward but mixing the oil and fuel is the biggest challenge.
I will tell you for the fact that wrong gas/oil mixture is the most significant source of problems in many gas chainsaws.
Husqvarna and STIHL gas power saws have two-cycle engines meaning the oil is the only lubricant. Without oil, the engine will suffer burnout in no time. But then, adding a lot of oil won't be of help, in fact, it will damage your engine. Make sure to read the recommended mixture ratio for your specific model.
Guide bar
This is a critical component that needs to be in top condition always. Just like all the other parts, it requires frequent maintenance and in this case, daily maintenance if you are a regular logger. But is it imperative to check the guide bar? Definitely yes. A worn out or dirty guide bar will make cutting easy or even damage the chain. So, what should you do to avoid this?
On a daily basis, make it a practice to remove dirt and oil from the grooves on the guide bar. Otherwise, you won't have any other issues with the guide bar unless it is worn out. But how do you identify a worn out guide bar?
Here are three signs your guide bar is ready for replacement.

Parts of the blade overheat leaving a shiny bluish color
The bar itself is cracked or bent, or visibly worn out
The groove that the chain rides on becomes shallow and wide.
STIHL and Husqvarna Troubleshooting Guide
Chainsaws, just like all the other power tools will break down at some point. This can be stressful considering it will affect productivity. Besides, you may have to incur some costs and worse enough; your chainsaw might be dead forever.
But in most of the cases, it is only a simple reason that is causing the failure. In this section, we are going to look at some of the problems to expect when using your STIHL or Husqvarna chainsaw. This is a general power saw troubleshooting guide so it may also cover other brands.
Before doing any procedure, make sure to remove the spark plugs or unplug the saw from the mains. You don't want it to start unexpectedly.
1. Chainsaw won't start – If you have a gas engine, there could be a problem with the spark plugs. Also, it could be the carburetor that is clogged so cleaning it using a carburetor cleaner might solve the problem. For battery chainsaws, it is probably your charge that is very low.
2. Chainsaw starts and then stalls – If you have used the power saw for some time, the likely problem is a clogged spark arrester. Clean it or replace it depending on its condition. It could also be due to a clogged carburetor or the wrong idling adjustment.
3. Chainsaw chain is not turning – Before doing anything, make sure the chain brake is not engaged. If that doesn't work, then the first culprit is a worn out clutch. This is the same problem with a car that won't move when the clutch is released.
4. Chainsaw is not cutting – This means the chain itself is the problem. The solution could be sharpening the chain or replacing it. The chain tension may also not be right; it shouldn't be too tight or too loose.
5. The chain is clattering – The problem is with your chain tensioning; increasing the chain tension should solve this.
Our Recommendation
We are in the closing stages of this STIHL vs. Husqvarna comparison review, and it's time we give you our recommendation.
To be honest, both of the brands are good at their game, and it is quite hard to call a winner. But what I can tell you is that Husqvarna usually is cheaper than STIHL.
But still, the latter often is available at great discounts. If you want to receive the latest deals and discounts, please sign up for our price drop alerts.
Away from the Husqvarna vs. STIHL debate, choosing the right tool for the right job is the surest way to productivity. Make sure you buy the right saw that will complete the task.
This is the most important factor when shopping for chainsaws. The brand you buy, whether STIHL or Husqvarna doesn't matter!
If you like our article, please rate it.
---