Different Types of Ladders Explained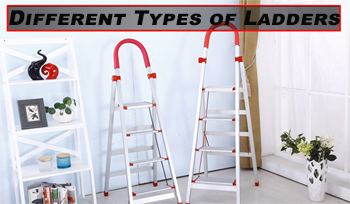 Everyone knows too well that whenever you want to access high areas, having a ladder is a necessity. However, what most people may not be conversant with is the fact that there are myriad types of ladders that are intended for different kinds of jobs.
Being well-informed about these different types and their specific functions is the very first step at making rightful decisions when it comes to investing in the correct one as well as ensuring that the involved tasks are completed effectively and safely. With more advanced designs and features in the market, distinguishing the different types may be quite daunting, especially for the inexperienced buyer.
However, the solution lies right here as we discuss the four main ladder types, their functions and their features.
Extension Ladders – The Home Depot
Otherwise known as straight ladders, these ladders are the most popular type. They are probably the tallest of them all, and the most used in accessing very high areas such as roofs and tall walls.
Table could not be displayed.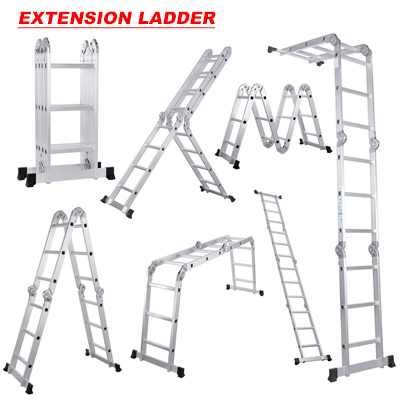 Unlike
step ladders and stools
, the
extension ladder
is not self-standing and requires some form of support like a wall, tree or house for it to lean over.
Extension ladders are made of two parts: the base and fly.
The base is the lower part that is always placed onto the ground. The fly refers to the moveable part that extends above the bed to form the top part, allowing the access of higher heights.
Actually, at first site just out of the box, the extension ladder often looks so short, but after spreading it out, its height is such that it is used to access the highest areas. The sliding and securing of the sections of the extension ladder is made possible by a side rail, rung, special hooks known as rung locks, ropes and a pulley system. To prevent slippage of the ladder while in use, its foot features an anti-slip safety feature.
The most common materials used to make extension ladders include aluminum and fiberglass. If you plan to use it in areas with exposure to electrical lines, then the fiberglass option is better. On the other hand, for rugged environments with exposure to too much impact, the aluminum option will perform better.
Extension ladders are categorized into 5 duty rating groups with their type, environment of use, level of strength and maximum weight limit outlined below.

| Type | Environment of use | Level of strength | Maximum weight limit |
| --- | --- | --- | --- |
| IAA | Rugged | Special duty | 375 Pounds |
| IA | Industrial | Extra duty | 300 Pounds |
| I | Industrial | Heavy duty | 250 Pounds |
| II | Commercial | Medium duty | 225 Pounds |
| III | Household | Light duty | 200 Pounds |
With the above table, you are able to gauge how much weight you are allowed to go up the specific ladder with. This ensures that your safety is always sustained. Before you go up the ladder, you should ensure that it is well positioned and secured to the ground to prevent the possibility of accidents.
To get the perfect extension ladder, you have to ensure that the materials used can handle impact without being damaged and its build quality should be high. It should offer multiple heights and should be lightweight for easier portability. With these, be sure to get yourself the perfect extension ladder.
Step Ladders – The best versatility
Among all the ladder types, the step ladder is the most commonly used, thanks to its versatility.
Table could not be displayed.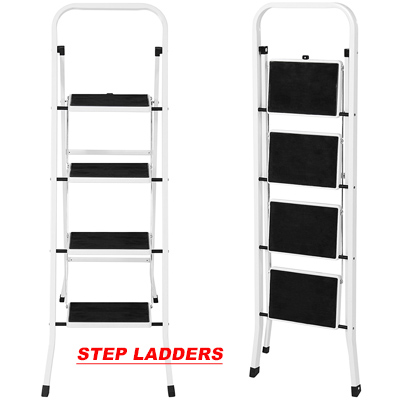 Unlike the extension ladder,
the step ladder is self-standing
and requires no wall, tree or surface for support. Whether it is at the center of a room or in an open field, this ladder will stand independently without leaning over a wall and work efficiently.
The main types of step ladders include the single-sided, twin, multi-position and foldable step ladder.
These different types of step ladders are used in a wide range of areas starting from construction sites to different rooms of the house and different areas of your compound.
Since step ladders are common in the home environment, most of the materials used in making them are lightweight yet strong and durable.
The most common materials include aluminum, steel, wood and fiberglass. In addition to strength and durability, it is important to consider the materials used with respect to whether you will be using this ladder indoors or outdoors, as well as the different conditions it will be exposed to such as electric connections, corrosive substances and water/moisture damage.
For safety purposes, most step ladders usually come with locking features, treaded steps and rubber grips.
Step ladders are also classified into 5 duty rating categories with their type, environment for use, maximum height limit and maximum weight limit highlighted below.

| Type | Environment of use | Maximum height limit | Maximum weight limit |
| --- | --- | --- | --- |
| I | Industrial | 3-20 Feet | 250 Pounds |
| IA | Industrial | 3-20 Feet | 300 Pounds |
| IAA | Industrial | 3-20 Feet | 375 Pounds |
| II | Commercial | 3-12 Feet | 225 Pounds |
| III | Household | 3-6 Feet | 200 Pounds |
When operating a step ladder, it is a must that you obey its duty rating to prevent possible injuries, destruction of property and even death. It helps to know the right and safe way to use the ladder. In addition to these, if you plan to use it indoors, then find one with versatile designs such that it can be converted into a shelf or a side stand.
For the best experience, you have to find one that is durable and sturdy enough to cater for the user's weight and the impact resulting from using it in rough environments such as construction sites. Versatility is also an important factor to consider.
Step Stools – The Best for Kids
Featuring a similar design to that of the
step ladder
, the
step stool
is much smaller in size and lighter in weight, particularly designed for indoor use.
Table could not be displayed.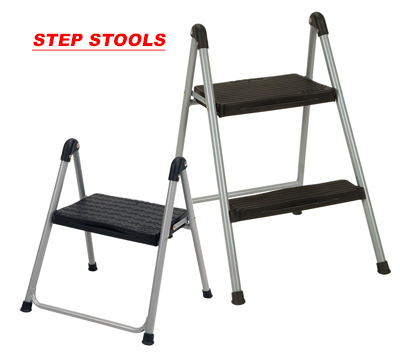 Whether you want to hang your painting or access the topmost shelf in the kitchen or bathroom, then the step stool is the perfect ladder for you.
Most of them feature 1, 2, 3 or 4 steps and they are commonly found in bedrooms, kitchens, garages, laundry rooms and other rooms within the house. Most of them feature foldable designs for easier storage and portability. Just like the step ladder, this step stool is self-supporting and requires no wall to lean over, and they also have treads or rubber on their steps, locking systems and rubber grips to ensure your safety during use.
For increased support, the top shelf is usually wider, providing ample legroom to stand onto when reaching higher areas.
Step stools are made of strong yet lightweight materials to match their indoor environment.
The most popular materials for these stools include aluminum, wood, steel, fiberglass and strong plastic.
The most common duty ratings for step stools are specified below alongside their maximum weight limits.

| Type | Maximum weight limit |
| --- | --- |
| I | 250 Pounds |
| II | 225 Pounds |
| III | 200 Pounds |
Since they are mainly meant for indoor household use, there is no need to specify whether it is commercial, heavy duty, rugged or industrial.
These household ladders come in a diversity of designs as per the tastes of different owners and buyers.
It is usually best to choose the most versatile designs, specifically those that can be converted into shelves or side stools or side stands when not being climbed onto.
Just like any other ladder, the best step stool is durable, versatile, easy to operate and safe to use. These are the main qualities you should consider when purchasing one.
Telescopic Ladders – The Best for Outdoors
A telescopic ladder is best described as a perfect improvement of the extension ladder. Its innovative and versatile design makes it possible for it to slide out and in, easily adjusting its size.
Table could not be displayed.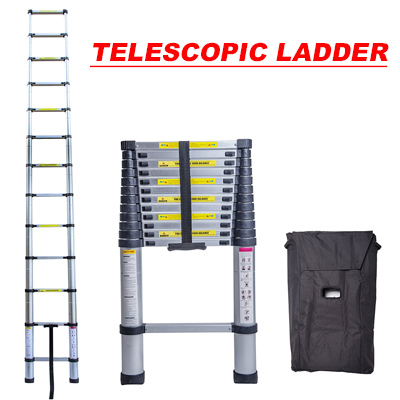 Just like its extension counterpart, this ladder is also designed to reach the highest heights such as walls and rooftops when spread out. It retracts to an incredibly small size, which can be stored in a closet but is not as bulky as the extension ladder.
Thanks to its adjustable size, this ladder is absolutely the most versatile model the world has ever seen.
To ensure that you are safe when using it, this ladder features the tab locking indicators that are colored to ensure that you know when all the tabs are locked and the ladder is ready and safe to use. This prevents possible injuries that may result from its sections retracting when climbing up the ladder. This is especially very hazardous if you are already at high levels. It also features anti-slip feet to secure it strongly onto the ground as you climb it.
The materials used in making telescopic ladders must always be very strong and durable to ensure supreme safety of the user. The best material for telescopic ladders is aluminum. Steel and fiberglass are also used in some brands.
The most common brand of the telescopic ladder is Telesteps.
Different brands and models of telescopic ladders come with different duty ratings with their respective maximum weight limits as shown below.
| Type | Maximum weight limit |
| --- | --- |
| IAA | 375 Pounds |
| IA | 300 Pounds |
| I | 250 Pounds |
| II | 225 Pounds |
| III | 200 Pounds |
As much as telescopic ladders offer unmatched versatility and space saving options, much care should be taken when using them.
First, you need to ensure that all the extracted sections are well locked or secured before going up the ladder. You also have to ensure that you do not exceed the weight limit as this could break it.
Similar to extension ladders, telescopic ladders are commonly used in the outdoors and in construction sites where there is high impact and exposure to destructive environments and elements.
For this reason the strength, sturdiness and durability of the materials used should be considered first. You should also look at the versatility and safety features that come with the different brands before making your final choice.
Conclusion
When shopping for ladders, it is very important to understand the particular type of ladder you want, as well as its features and functions. By knowing these, you will definitely spend your money where it deserves to be spent and even better is the fact that all related jobs will be done to perfection and the user will remain safe.
The types of ladders in the market keep increasing by the day, but with the above guide, there is no longer a reason to worry about making the wrong investment decision.