The Best Step Stools to Buy in 2021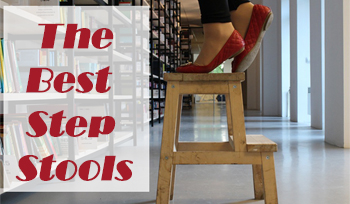 Time and again, we find ourselves in need of a little more height and step stools have proven to be the best companion at such times. For this reason, they have always remained a popular hit on many homeowners' wish lists. Actually, if you are into stuff like home and décor and other DIY projects, you needed to have one like yesterday.
However, for many guys out there, shopping for these little helpers has always been the challenge. But not anymore! Finally, after intensive tests and 1st hand experience with these stools, here is our list of the best step tools that you need to check out today!

Image

Model

Material

Weight

Folding Portable

Check
Price

Rubbermaid RM-P2
Plastic
5.8 pounds
Check Price
VonHaus
Steel
11.4 pounds
Check Price
Cosco Signature
Aluminum
5.5 pounds
Check Price
Delxo WK2061A-2
Steel
11.4 pounds
Check Price
Delxo WK2062A
Steel
11.88 pounds
Check Price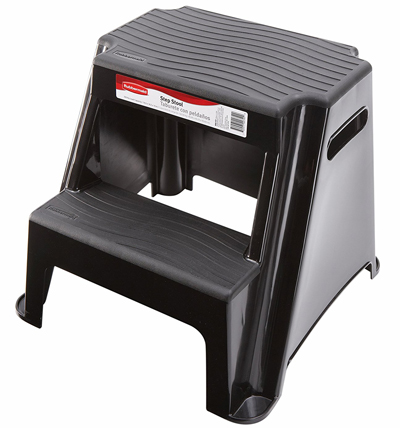 Pros
Kids friendly
Very lightweight
Easily portable
No opening or folding accidents
Cons
From a personal experience, this stool is best for kids. Time and again, you will find kids trying to reach the countertops and even sinks. Even though they do this mostly for the bad reasons, at times it's for the good reasons. My daughter always wanted to help with the dishes but she couldn't reach the sink. So, her mother asked me to get her something and a friend recommended this. Right now, it is among the best selling plastic step stools in the market.
Rubbermaid is a molded plastic step stool ideal for home use. Even though it requires quite some ample space when storing it, it is very lightweight and using it is pretty straightforward; no opening or folding, just place it upright and you're good to go.
Two years down the line, I have seen no serious hazards like what we witness with folding step stools and ladders. Now that I've said it's best for children, don't fail to buy it thinking it is not sturdy enough. My wife is 205 lbs. and she doesn't complain about anything. She uses it to reach the kitchen cupboards and also the bedrooms top wardrobe compartments. We also tested it with Bobby who is 274 lbs. He confirmed something I was 50/50 about. When putting your foot on the first step, there is a wobbling force that makes it look like it will flip back. Surprisingly, when on the top, it is very solid without any shaking whatsoever.
Unfortunately, Bobby couldn't stand on it wholly even for a second to test its weight load.
This stool is best for kids because it is easy to use and has been made from plastic so you won't have to worry about your kids injuring themselves. It also has an impressive weight load limit considering it is a plastic stool. Unfortunately, it doesn't meet up to its expectations of 300lbs and takes up quite a large storage space.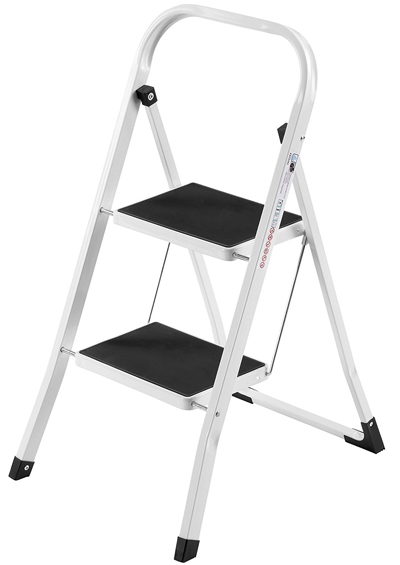 Pros
Very cheap
Foldable for easy storage
Easily portable
Cons
Not heavy duty
Skids on stone floors
If you are on a budget and you badly want a folding step stool, this is what I can advise you to buy. It retails at almost the same price as Rubbermaid, a plastic stool and is 50% cheaper than Delxo. I understand that to many, the saying, 'you get what you pay for' has worked for them. For me, I believe in the same but on some deals, I have differed and this is one of them.
I won't say that VonHaus is in any way better than the likes of Delxo but then it keeps up with them at an affordable price. Just like its counterparts, it has a metal body, is foldable, has two steps and has been labeled as a 330 lbs. stool though we all know that can't hold 330 lbs.
However, I would advise that if you are not on a tight budget, consider coughing out a few more bucks and get a more superior stool and here's why. First, its frame looks really frail as well as the general build; if you are thinking of taking it to the garage, that's a big NO. Even from its look, it's just for lightweight and seasonal tasks in the office, kitchen, shops, and so on. It also lacks a handle as we'd expect and the feet are just not for stone floors. It is infamous for slipping something I learned when I took one home from a bookstore I run. At the bookstore, it worked just fine considering it was a hardwood floor. Regarding the weight load, let me not talk much but my wife couldn't go up the second step – remember she's 205 lbs. I tried it out and even though I managed the second step, I couldn't be up there for 3 minutes. So, from our deduction, this stool is ideal for guys weighing around 150 lbs. because I weigh 180 lbs. and I couldn't feel safe up there.
3. Cosco Signature – Very Lightweight & Portable step stool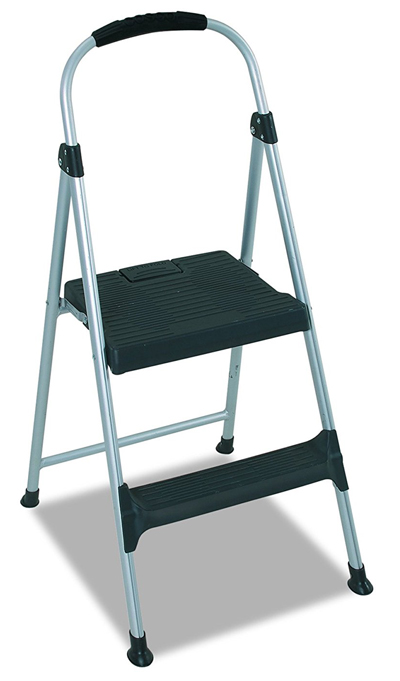 Pros
Very lightweight
Easily portable
Spacious top step
Cons
Narrow and weak first step
What if your project involves moving long distances at short intervals? This will be a great buy if your answer is yes. It is a steel step stool and still manages to rival the plastic stools like Rubbermaid. At 5.5 lbs. you won't feel the weight of moving around with it plus the latching mechanism is very simple and not complicated like Delxo.
It measures 22.1 x 18.3 x 38.2 inches and weighs 5.5lbs. only despite being a metal step stool. The folding mechanism is very easy to use and durable.
If you have many 1-minute tasks that require some height, I recommend you get this one.
I've used it for quite some time when taking inventory and restocking the bookshelves and it has given me good service. What has made it last for this long is its portability.
Most of the sales staff are ladies so a heavy stool will be frustrating considering on a normal day each may need height like five times daily. Another thing I noted, when my wife was on it for a short period, it could stand the weight without much of a problem. It is only until she started shaking that there was some wobbling.
The top step is very large, in fact, commendable. However, the first one is very narrow so if you just need a small height, the first step will let you down and stepping on it, in fact, makes it start to wobble like it is off balance. But on the positive side, the legs have high-grade rubber that first prevents skidding by giving it a good grip. They also prevent any form of damage on your floors, whether hardwood or stone floor.
Cosco Signature is an ideal stool if you want something that is easy to carry around and stand on for short periods. However, the first step is not accommodating and is very frail.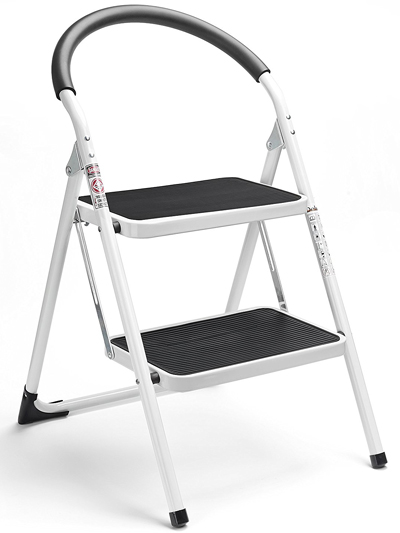 Pros
Ideal for heavy-duty use
Doubles up as a chair
Padded handle grip
Cons
This step stool combines a heavy duty design and durable construction to accommodate up to 300 lbs. Besides, you can use it as a chair courtesy of the wide steps and curved top handle. So, if you are out and about your DIY projects and you feel tired, don't sit in the yard, you have a chair to sit on.
This step stool features the same construction like that of the WK2062A. We did put it under thorough tests and the results were remarkable. Bobby was able to stand on it and notably, the squeaks and shakes were lesser as he used the top hand grip when climbing it. This is among the features that this model outshines the other model with.
I also liked the wide steps that come with grips for improving traction regardless of the working conditions. The wide steps also serve as a great seat together with the curved top bar.
Another thing I liked is the fact that the curved handlebar gives you more room unlike the WK2062A's that you can hit with your knees when going up.
On the downside, we had a little problem opening and folding it because of the locking latch mechanism. This latch lock is released by gravity so you need to first tilt the stool over before snapping it up or opening it. Another problem is regarding its weight – 11 lbs. is too heavy bearing in mind other folding stools and step ladders like Cosco and VonHaux weigh much lesser.
The Delxo WK 2061A-2stool is a sure way of killing two birds with one stone. You can always climb on it when working and rest on it as well during the breaks. However, carrying it around will be a headache!
1. Delxo WK2062A – Best Heavy-Duty Step Stool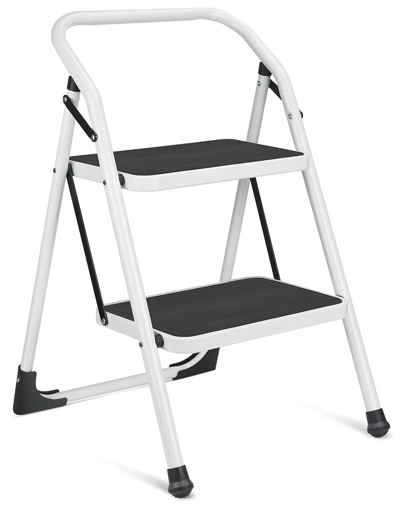 Pros
Heavy duty use
Durable construction
Easy to fold and close
Cons
Quite heavy
Skids on some floors
This remains my best step stool and I have 3 of them save for 1 that got partially burnt in a house fire. What I like most about it is the fact that it can support higher weights than most of the step stools in the market. Even though it will definitely strain 330 lbs. which is the listed limit as per the manufacturer, at least it's the only one that comfortably did anything higher than 250 lbs. Besides, it is very durable.
Regarding portability, folding and safety, there's nothing deep to go into. It has accommodating steps with padding to prevent slipping. The legs also have rubber padding to protect sit from skids when you are working as well as the floor. Generally, it has whatever that comes with the likes of Cosco and VonHaus. However, what caught our attention is the weight it can support.
I knew that for average guys weighing up to 220 lbs. would be able to work on it but now we had to test the big guys. The first step and Bobby, was all good and in a moment, he was on top of it but with our hands on the stool to help reduce the shaking and most importantly, the skidding that is synonymous with this stool. After it settled we left it and that was a whopping 274 lbs. on the Delxo. We added a 12 lbs. car jack and still Bobby was steady enough up there. However, from how mine looks after a year of intensive use in my bookstore, I can tell that it will definitely start becoming rickety with heavy use especially with guys weighing 200lbs. plus. But I have its story especially its construction.
Even from fast sight, you realize it has more solid and high-grade materials. The joinery is also sound and none of the 4 I've owned has ever had their screws worked out. On the downside, this stool is quite heavy. Even though the storage space is reasonable, the 11 lbs. weight makes it quite heavy considering the likes of Cosco weigh only 5 lbs.
Even though it is quite expensive, this is a great step stool for heavy duty use. I would recommend it for adults weighing up to 300 lbs. However, note that it is quite heavy and skids on hardwood floors.
Step Stool Buying Guide
In this section, we will tell you a few things that need to be at your fingertips when shopping for a step stool. You see, with step stools, it is more about its functionality and not the usual stuff like the brand, aesthetics, and so on. Personally, I love flashy things but that's something I'll tell you for free, with step stools, these shouldn't be your areas of focus. This is what takes us to our nest subtopic for today.
Factors to Consider when Shopping for Step Stools
1. Molding vs. Folding
It's obvious that you will only need your step stool on some occasions only. This means that during the rest of the times, you will want to store it to avoid having too much clutter around your house. With this in mind, you need to get a stool that won't give you problems when it comes to storage.

We have molding (non-folding) and folding stools. If you have enough room in your house, a molding stool will be a great choice. On the other hand, if you have limited space, get a folding step stool because it can be easily folded for storage and also, it makes packing it easier.
2. Material; Plastic vs. Metal vs. Fiberglass
Depending on the use, step stools have been built using different types of materials. So, before setting for a particular stool makes sure the material used is ideal for whatever you want the stool for.

For starters, plastic stools are ideal for light home uses, especially in the kitchen, changing bulbs and so on. If you need to use a step stool daily, plastic is not the best material. There are also steel and aluminum stools which are best for heavy-duty uses and offer more durability. On the other hand, fiberglass is meant for electrical projects because of the non-conductive nature of fiberglass.
Remember, while these 3 are the popular materials, there are other step stools like the Butler Home Decor Step Stool that is made of wood.
3. Duty Rating – What's the Maximum Weight?
What is your weight? Will you be climbing with heavy stuff? This is also an important consideration when shopping for a step stool. Make sure you know the maximum payload that a stool supports lest you end up damaging it when you overload it.

There are 4 duty ratings depending on the maximum weight supported. We have the light duty (200lbs.), medium duty (225 lbs.), heavy duty (250 lbs.) and finally, extra heavy duty (300+ lbs.) Know your weight and chose the best stool wisely.
Also factor in the weight of the tools that you will be going up with. If you are just looking for a simple step stool for basic home needs, anything from light duty to medium duty will be a good choice as long as your weight is supported. On the other hand, for commercial grade projects that will call for its daily use; get a heavy duty or extra heavy duty stool.
However, note that the higher the duty rating, the higher the price, and also notably, the better the durability.
4. Stool Size
You should also know the size of step stool you will need. This is obviously determined by how high you want to get. We have one-step, two-step, and three-step stools.
One-step stools are ideal for light tasks like changing bulbs, reaching the kitchen top counters, and so on. So, if all you want is just a little more height, get a one-step stool like Rubbermaid RM-P2.
For low and medium tasks like stocking up the shelves, fixing curtains, and overhead projects that take time, get a two-step stool that will give you a better working posture.
On the other hand, if you want a versatile and a more practical stool, the three-step is what you need. It is ideal for painting jobs, window cleaning, garages, and many other maintenance tasks that require high heights.
5. Construction Quality & Durability
It is also important to check the build quality of your preferred step stool as it directly determines the durability.
While it may appear that the material used solely determines the durability of the stool, there's more to it. For example, if it is a plastic stool, the question is; what grade of plastic is this? This is the same case when it comes to wooden, metal and even fiberglass step stools. The big question always revolves around the quality and grade of materials.
Another important aspect of build quality is the joinery. There are a lot of cheap step stools that have been loosely joined such that the parts come off every now and then; something that can turn out catastrophic when you are on it. I know, for many of you, it may be hard to ascertain the build quality unless you use it first. A clever workaround is to read customer reviews to know what customers are saying about the stool that tops your wish list.
6. Safety Features
Just how safe will you be when you climb the stool? Safety is a major issue and in fact, it is what pushes most homeowners to get a step stool as opposed to standing on chairs, tables, and ordinary stools. Even though the stability of the step stool is what most customers look for when it comes to safety, there are several security features you should look out for.
First, check the size of the stepping pads. They should be spacious enough to accommodate a better part of the foot. I once had the Finether 209040101 which has very small steps that I once fell from; luckily I ended up with bruises only. Since then, I can't climb anything with a narrow pad, including step ladders.
Besides the size of the stepping pads, the surface should be anti-skid. It should be able to give you the required traction so even if you are working in wet conditions or even in a garage where oil spillage is common, you are assured of not falling off the stool. Check keenly for rubber padding on the stepping platform as it's the widely used mechanism for improving traction.
Before I forget, you should also be worried about your floor. Remember your entire weight exerts a lot of pressure on the floor surface. If you have hardwood, vinyl or any other fragile floors, I highly recommend getting a step stool with non-marring legs. Nothing can be disheartening than finding your hardwood floor dented or scratched.
7. Portability
This is another important consideration when shopping for step stools. An ideal stool, especially for commercial purposes should be easily portable. There are several things to look at when talking about portability.
First, the stool should have a compact and lightweight design, whether it is a molding or folding step stool. Typically, plastic step stools are known to be the lightest but again, if you are looking for a heavy duty stool, it won't be the best. I would recommend a lightweight steel or aluminum stool like Cosco Signature or VonHaus CECOMINOD073237 that weigh around 10 lbs. and don't compromise sturdiness and stability.
There are also step stools that come with wheels that make moving it around easy like the Rubbermaid 2523 that comes with retractable casters. You only need to push it a little bit and you'll get it wherever you want. However, when in use, make sure to put the wheel lock.
Another thing to look out for, especially in molding stools is cutouts on either side. Rubbermaid RM-P2 is among the step stools that have this feature which provides a comfortable and ergonomic grip for better handling when carrying.
These are the most important factors that you will have to address in order to get value for your money. That said, it is still important to factor in the brand you are buying and also cost. It is always important to set your budget and do some window shopping to see what features you should expect at every price point. Then, make a shortlist of all the features you want and then, make the compromise. Remember, you don't always get everything you want so don't feel heartbroken when you sacrifice one feature for another!
Frequently Asked Questions
What is the maximum weight a step stools can hold?
Step stools are as durable as step ladders. These small assistants can hold up to 330 pounds.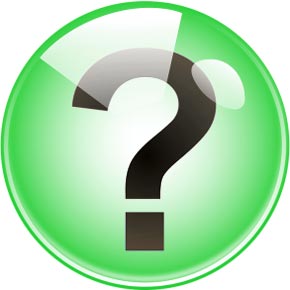 What is the highest step stool?
Cosco Signature is one of the highest two-step stools. It raises you to 38.19 inches.
Metal vs plastic step stools: what is the best?
Plastic step stools are the cheapest, lightest, and convenient in use. However, they are not as durable as more expensive metal models and can hold less weight. Plastic step stools will better suit kids or slim people for occasional domestic use. Metal stools are for heavier people and frequent application.
Step stool vs step ladder: what product do I need?
Step stools are perfect for everyday use when you need to get access to high areas like shelves, dust remote areas, etc. Step stools are safe for kids, light and portable. Step ladders are much higher. They are used for more challenging domestic and professional tasks.
Wrap Up
Now that you know of the best step stools in the market, it's time you make a decision to get one to save you the troubles of climbing tables, chairs, and traditional stools. Besides being uncomfortable, they are very unsafe and form the fact that step stools are safe, you want to make sure that all your DIY projects end without an accident!