Best Milwaukee Packout Black Friday Deals 2020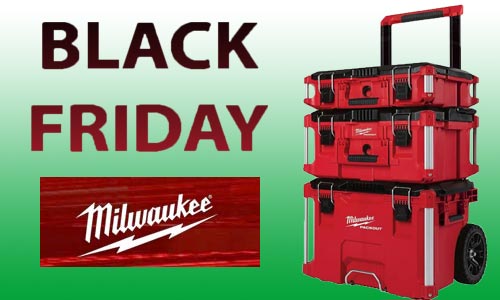 Only a few weeks separate us from the most outstanding sales event of the year – Black Friday 2020!
This year, the shopping festival is planned for the 27th of November.
Today's article is dedicated to the most expected Milwaukee Packout Black Friday deals.
While all attention is usually drawn to tools and instruments, both professional craftsmen and DIYers also highly appreciate sophisticated storage systems.
So, isn't it the right time to start preparations and investigations for the best packout deals?

Best Offers of Last Year
Last year's sales showed an average 25%-30% drop in prices for Milwaukee storage systems.
Among the most popular individual models, customers preferred Milwaukee-48-22-8426 Packout Rolling Tool Box for $89.99, the Packout Large Tool Box for $59.99, and the cheapest Packout Tool Box for $49.99.
The modular systems included the 22″ Packout Modular Tool Box storage system that dropped at almost $100. In 2019, it cost $199 instead of the usual $279.
Milwaukee Packout Black Friday 2020 Offers
This time, the manufacturer and retailers are expected to save the last year's best-sellers. So, if you didn't have time to get the toolboxes for your power tools and instruments in 2019, you may try this November again.
Milwaukee Deals
374.96 $ 338.24 $ YOU SAVE: 36 $

85.6 $ 59.97 $ YOU SAVE: 25 $

116.62 $ 99.96 $ YOU SAVE: 16 $

56.25 $ 43.64 $ YOU SAVE: 12 $

75.52 $ 67.84 $ YOU SAVE: 7 $
The combination of all three boxes in the 22″ Modular system with rolling driving drops to $129, which is even more beneficial than last year.
Small portable cases with foam inserts are one of the best Milwaukee Packout Black Friday products. Units suit absolutely all tools as users can cut a necessary shape. Milwaukee 42-22-8450 PACKOUT Tool Case Foam Customizable Insert is the best-selling model in this category. Though now it costs almost $80, let's hope for a $20 drop in price.
The brand also offers excellent organizers for small particles and materials. Depending on their size, prices vary from $50 to $110. During Black Friday, you can save up to 30%.
Among compartment boxes for small parts, we mostly like Milwaukee PACKOUT 11-Compartment Small Parts Organizer and 48-22-8431 PACKOUT Low-Profile Organizer. At the moment, the units cost $63 and $48, so $15-$20 off will be quite welcomed.
Finally, please make sure to pay attention to their series of backpacks. Milwaukee backpacks are very popular storage systems for easy instrument transportation and work «in the field». This year, we especially wait for discounts on high-resistant Milwaukee PACKOUT Backpack 48-22-8301 with convenient small pockets, soft departments for power tools and sensitive equipment. The product is $128, so the brand may cut it to $90-$80.
We also highly recommend you visit the Milwaukee official site as they often post coupons and codes for additional discounts.
How to Find the Best Milwaukee Deals on Black Friday?
The best way to get the current info on Black Friday is to subscribe to our blog. Our experts monitor the best deals and update the reviews to provide you with the most beneficial offers.
Please also make sure to subscribe to Milwaukee's official website and the biggest retailers, such as Amazon, Walmart, Target, etc.